Let's begin with a reflection on the North Carolina game. Getting stomped on defensively is never fun, and the performance on that side of the ball was truly embarrassing. It's easy to say Virginia Tech was down multiple safeties, but the Tar Heels ran the ball at will and if stopping the run is dependent on safety play, there's already a problem.
On the bright side, however, in spite of a slower first half no one would be complaining about a 45-point showing against UNC if they did not know the other side scored 56. The Hokies gained 6.43 YPP, a total surpassed in 2019 only in games against Rhode Island, Wake Forest, and Georgia Tech — none of whom have UNC's talent. The offense scored .577 points per play, well above their 2019 average of .443. Khalil Herbert gained 7.67 yards per rush against a Tar Heels defense that gave up 1.94 and 2.11 against Syracuse and Boston college, respectively. Oh, and he is leading the country in yards per game and 2nd in yards per carry at 10.44 on the season.
It's an unfortunately small sample size, but Hendon Hooker's passer rating — if eligible — would rank 6th nationally, just ahead of Trevor Lawrence.
Try to enjoy what we are seeing on offense this year — without it this team would likely be ending the bowl streak (if there was a wins requirement).
On to the next opponent, the Boston College Eagles...
When I think of Boston College football, three things come to mind:
LB's that are tackle machines
Run-heavy power offense
Performance slightly above mediocrity
Unlike against Michigan, Nebraska, or Ohio State, there is not a single memorable game in the Hokies' series against the Eagles, and certainly not a specific play. None whatsoever. I keep trying to think of one and am drawing a blank here. So no need to even discuss the issue in the comments.
Anyway, the 2020 version of the Eagles features plenty of #1 and #3, but #2 is hardly recognizable. The Eagles rank 8th nationally with a 56.71% passing percentage, and leading RB David Bailey would have fewer carries per game than Braxton Burmeister had the quarterback played the second-half Saturday.
Does that mean the Hokies should fear the potential air attack given a thin secondary?
Where the Season Stands
Virginia Tech is currently 2-1. The actual and predicted score difference and odds of winning each game are:
The odds of each possible regular season win total are now: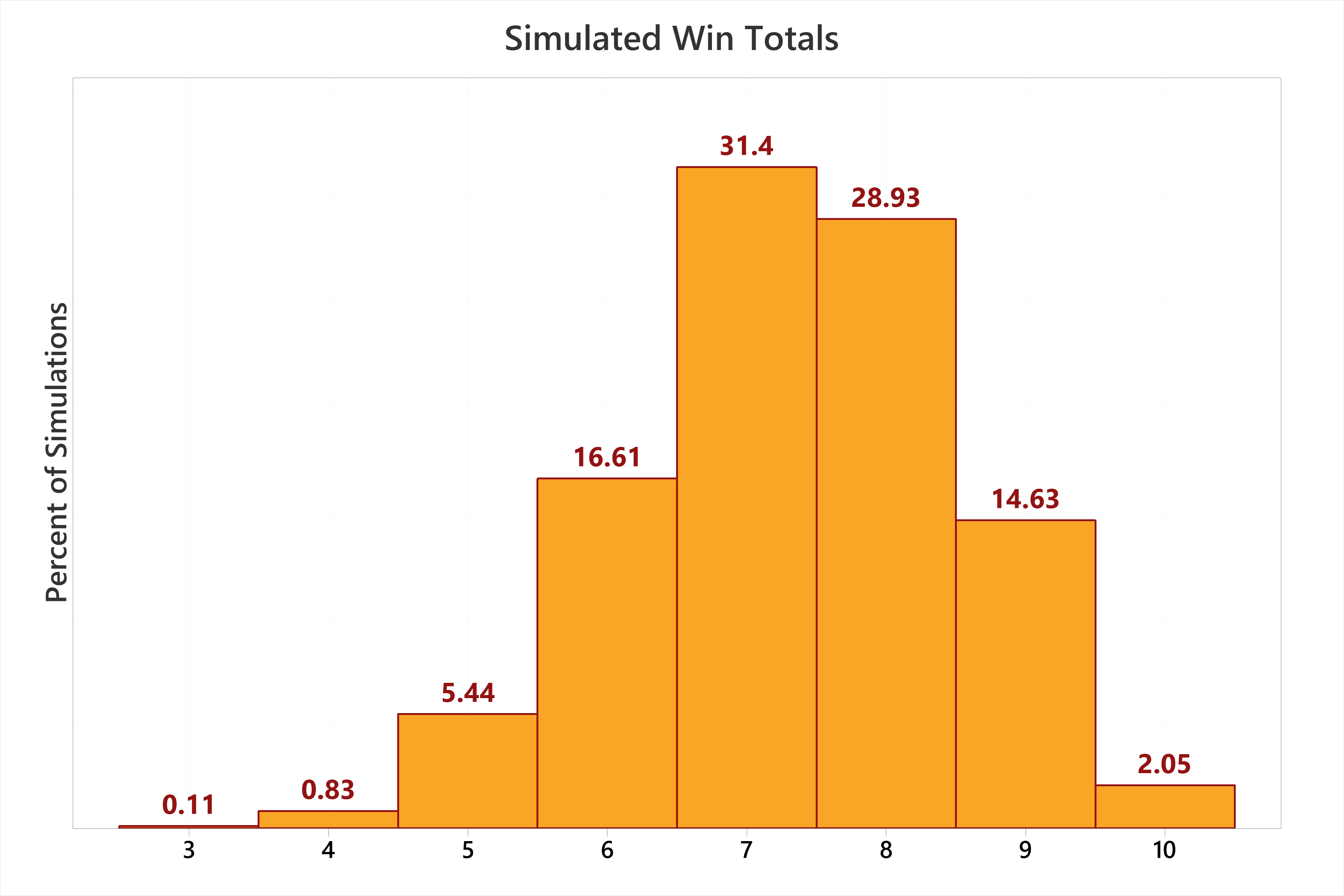 The U back?! It is obviously early in the season; there are plenty of question marks on defense and week to week the availability of various starters changes wildly. So take this as even less predictable than usual. Still, a 94% chance of a winning record and 46% chance of finishing 8-3 or better isn't terrible.
Based on FPI, the odds of each ACC team beating the ACC teams on their schedule is: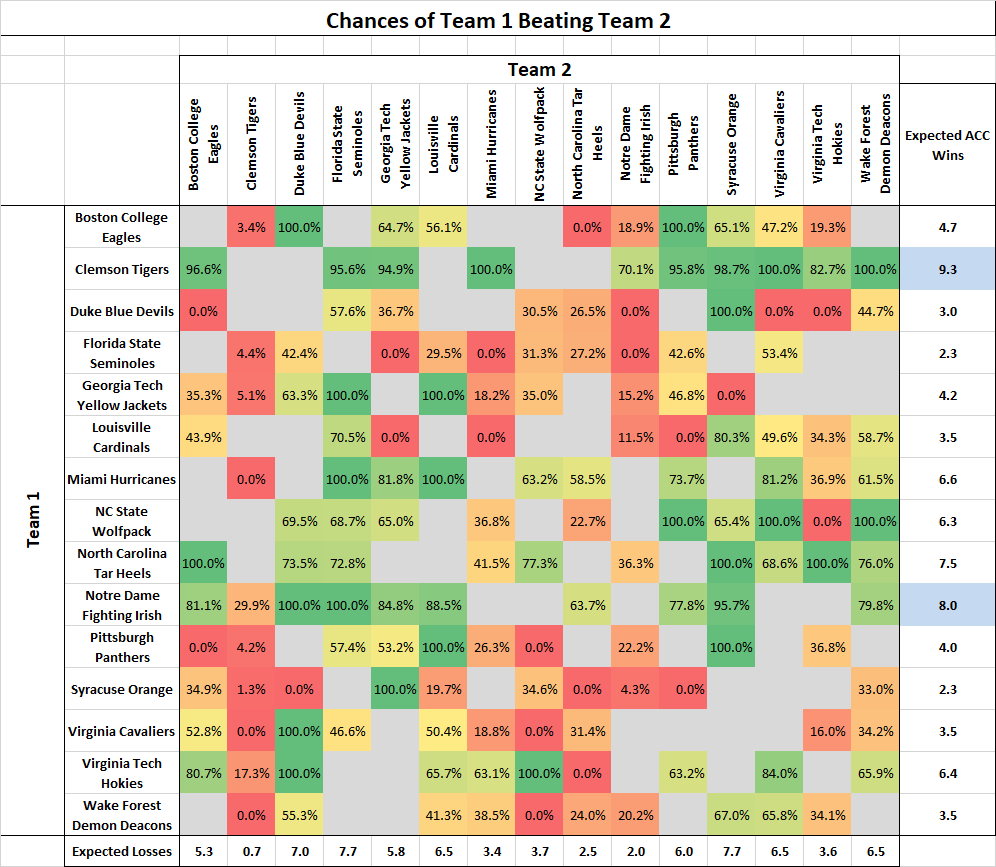 As expected entering the season, the front runners for the ACC Championship Game are Clemson and Notre Dame. But UNC isn't far behind, and they play Notre Dame, so pencil that in as a huge ACC game. The second tier of teams — still with viable paths but needing a couple of the top teams to falter — consists of Miami, NC State (!), and Virginia Tech. The Wolfpack benefit from not playing either of the top two teams.
Virginia Tech Leads the Nation In...
Field goal percentage, with Brian Johnson at 5/5 on the season. Sure, it's early, but there are only 18 teams that have attempted at least one field goal and made 100% on the season. Interesting, BC is 5th nationally in FG% allowed at 33.33%.
Rankings and Computer Predictions
The computer rankings and predictions for each team: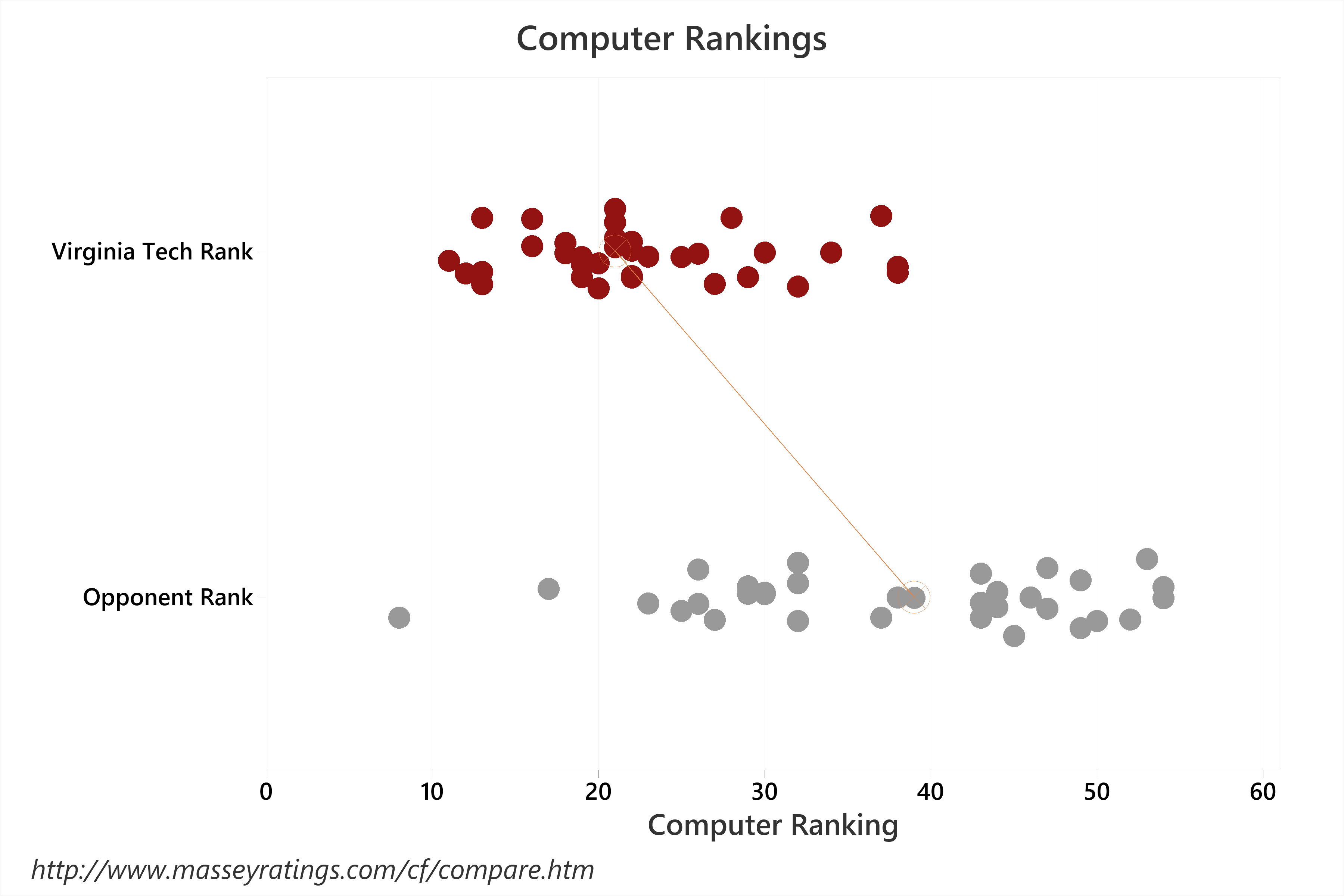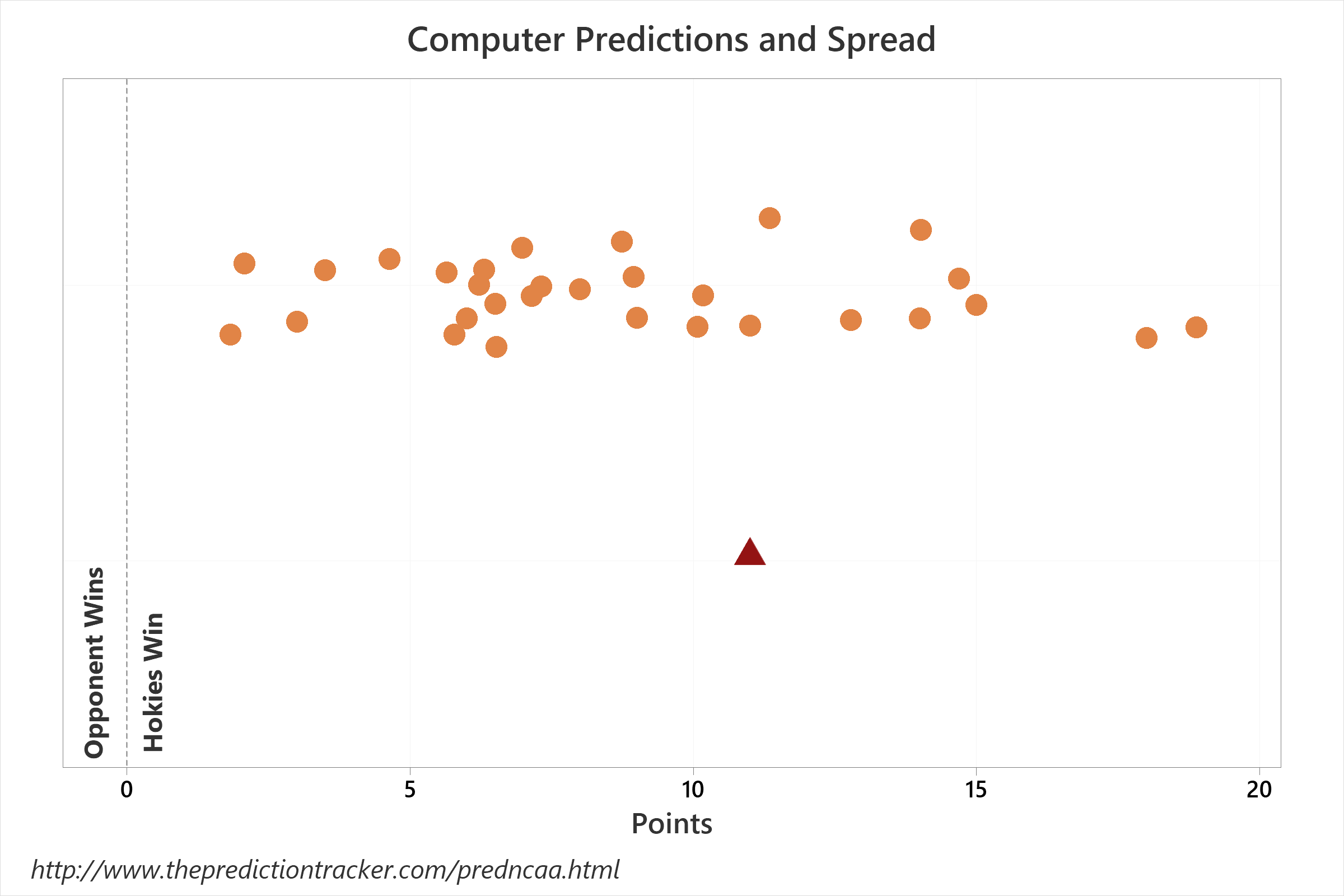 Keep in mind that many rating systems are excluding teams that have not yet played, so everyone is getting a bit of a rankings boost right now. Still, every prediction has the Hokies beating the Eagles and they center around the current spread of 11. The odds of an 11-point favorite winning is 79%.
Next is a look at any overall offensive or defensive advantages:
Neither team is thrilled with middling defensive performances thus far, but Virginia Tech has a clear offensive advantage that translates to a moderate overall advantage. Will starting Hendon Hooker at quarterback extend that gap further? Will the Hokies have enough bodies on defense to bounce back from last week's humiliation?
Who To Watch Out For
Naturally BC has playmakers at the LB position, but this team also features solid performance in the passing game. This could be interesting to watch as literally no Boston College quarterback has ever done anything memorable against Virginia Tech and we don't really need any further discussion on the topic:
QB Phil Jurkovec leads the Eagles' pass-happy offense with 38 attempts per game (8th nationally) resulting in a rating of 145.14 (29th nationally)
Jurkovec's top target is sophomore Zay Flowers, who averages 19.29 YPC (29th nationally) for 101 YPG (15th nationally)
The LB duo of Isaiah McDuffie and Max Richardson are 2nd and 3rd nationally in tackles at 41 and 38 respectively; the pair has also combined for 9 TFL
Statistical Key to the Game
Improved offensive play hasn't been a mirage, and I haven't seen a playmaker at running back like Herbert since Ryan Williams or David Wilson. That offensive FPI rating is with the QB1 only playing about one half of a football game thus far — with Hooker's ability to stretch the field, look for the run game to get even more explosive.
The defensive struggles, on the other hand, aren't just due to COVID absences. While I tend to believe UNC will prove to be the worst defensive performance of the year, I'm not optimistic that the unit will end up anywhere better than an average defense. Hamilton requires time to get the right athletes into his scheme and that doesn't happen mid-season.
The Eagles will try to attack the secondary by air, and if successful the Hokies will have to choose whether to continue getting burned by the pass or drop more players into coverage and get burned on the ground. Virginia Tech will need to limit their opponent's YPA to less than 7.5 — not an excellent mark by any means, but enough to outscore them and walk out 3-1.
Statistical Prediction
I'm anticipating more defensive frustration, but nothing like the level seen against UNC. Assuming COVID doesn't wreck the starting team, I think Hooker and company come out firing on all cylinders and don't care that the defense can hardly get off the field because points will be easy to come by.
Virginia Tech 41, Boston College 31
As always a thanks to ESPN, Football Outsiders, cfbstats.com, and Minitab Statistical Software.