Often, using statistics to predict what will happen in a game is like driving while looking in the rearview mirror; you have a clear picture of what has passed, but may miss what's ahead. For the Hokies, the Pinstripe Bowl features a mish-mash roster, heavily affected by NFL draft and transfer portal departures, and a remixed coaching staff. In this case, Virginia Tech's on a divergent road for another trip altogether. It's hard to draw too many conclusions about what to expect when evaluating different personnel.
With that said, Maryland is in a much more stable position and not facing the same volume of attrition as their counterpart (at the time of writing this). Barring a surprise strategy — unlikely given their favorable matchup in the air — we have a pretty good idea of what to expect from the Terrapins.
Where the Season Stands
Virginia Tech is currently 6-6.
There is little at stake for Tech in this game in terms of strictly winning or losing. Sure, it makes the difference between finishing over or under .500, but the majority of the fan base has higher expectations than that. Obviously winning would feel great, but like most bowl outcomes, the takes on the final score will probably be an overreaction anyway. More importantly will be any nuggets derived about upcoming changes in 2022, and what fans see from players that have not seen the field much, if at all, in 2021. I don't expect much from the former given limited time and multiple staff positions still open or inactive. However, the latter could be interesting. Consider what will be missing from each offensive position group when the Hokies take the field: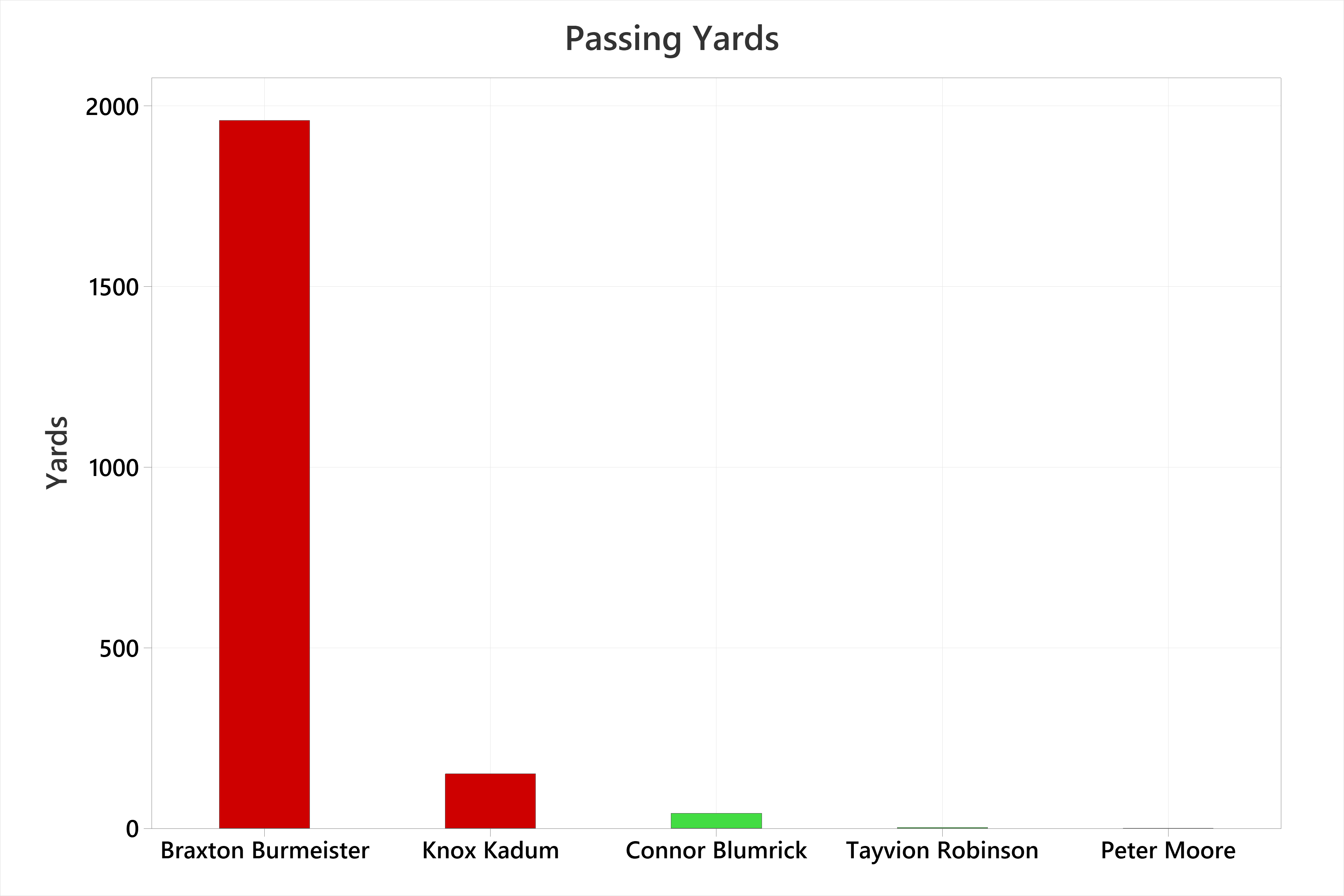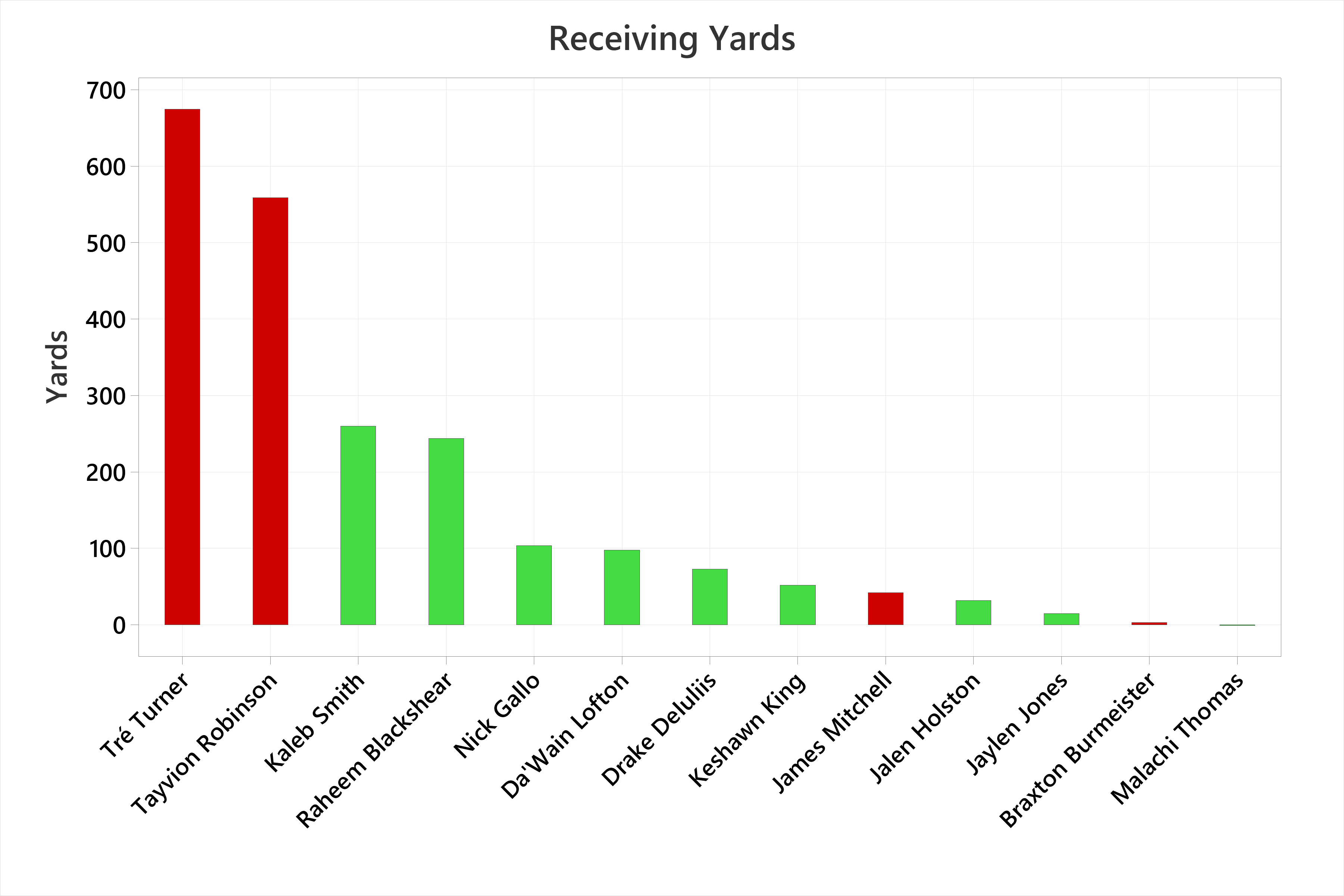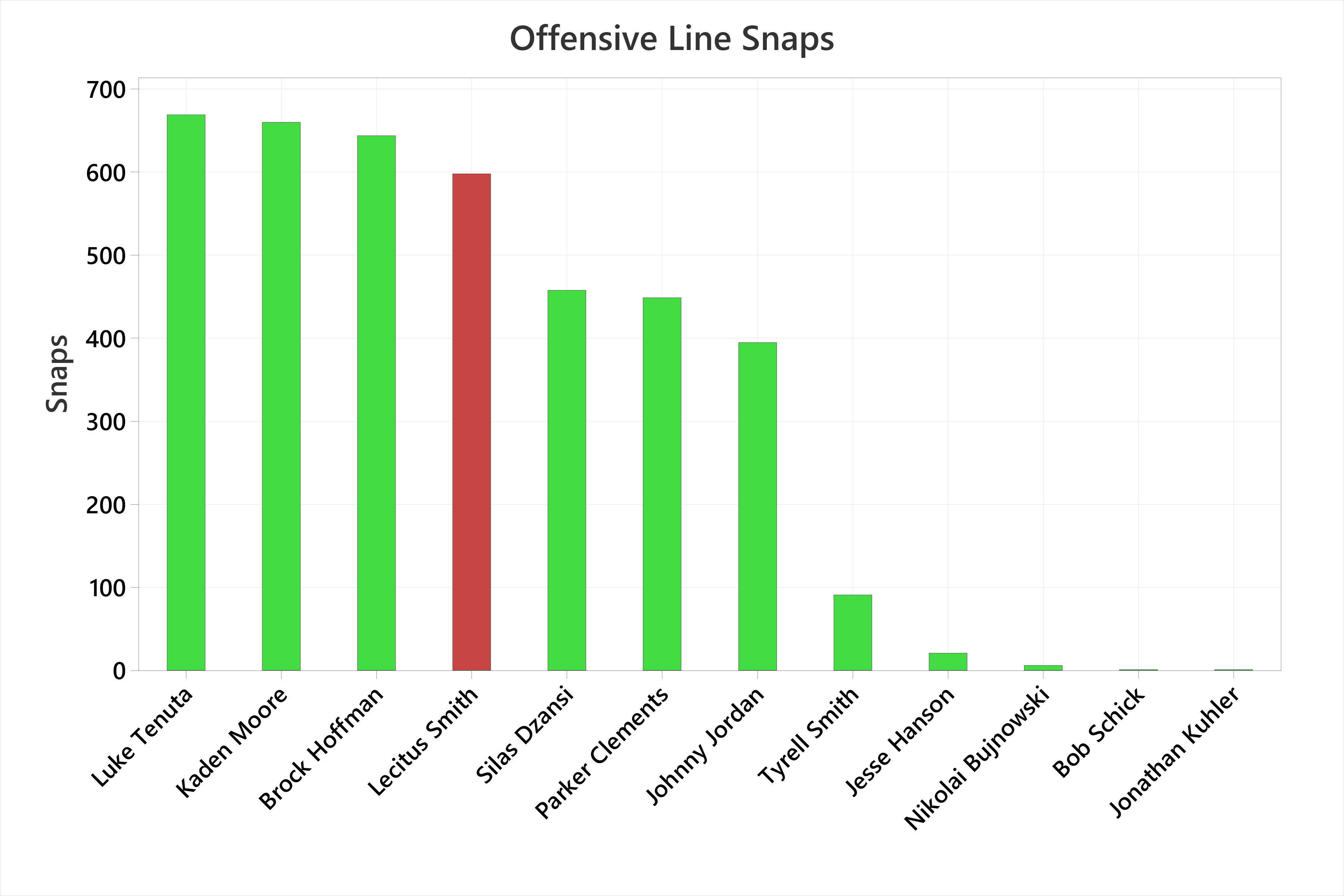 More on the absence of Braxton Burmeister in a moment. The bright spot is that nearly the entire offensive line will play, and good line play elevates all others on offense.
Using tackles, here is what will be available on defense:
Tackles, of course, aren't the best measure for all defensive performances. However, it is still somewhat of a bright spot as the leading tacklers will all take the field. Among the notable contributors missing, Jermaine Waller is the biggest red flag. Defensive backs are best measured through stats like QBR when targeted as well as the underlying statistics like receptions, completion percentage, and YPR. As we will see, Maryland is a pass-first offense and missing an excellent cornerback can't be good for stopping the Terrapins.
Hokie Highs...
Virginia Tech finished the regular season 1st in the ACC (4th among P5 teams) with a rushing percentage of 60.54%. The team turned run-first to deal with an already limited quarterback getting injured (multiple times), and as painful as the offense was to watch, they were surprisingly effective given opponents knew what to expect: The Hokies were 37th-nationally at 4.8 YPR. Not exactly lighting the world on fire, but firmly in the good quadrant of rushing effectiveness: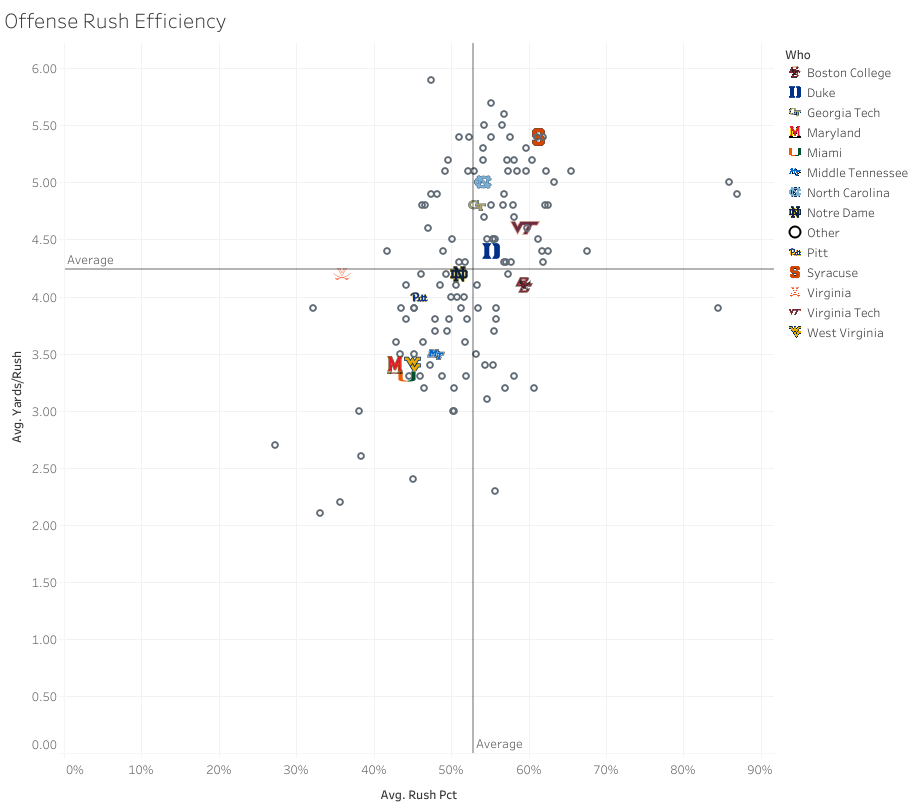 Note that Maryland sits among the least effective rush offenses the Hokies face this season.
Rankings and Computer Predictions
The computer rankings for each team:
Virginia Tech is similarly-rated to Maryland, but those ratings are based on a team coached by Justin Fuente playing with its starting quarterback and top two wide receivers. By FPI, past performance predicts the Hokies would win by about a touchdown. However, the Hokie team that takes the field in New York will be coached by interim head coach JC Price and will feature Connor Blumrick throwing the ball to... Kaleb Smith? The spread has moved considerably since opening. Virginia Tech is currently a 3-point underdog, giving them a 41.1% chance of winning.
Next is a look at the overall FPI rating and offensive versus defensive efficiencies: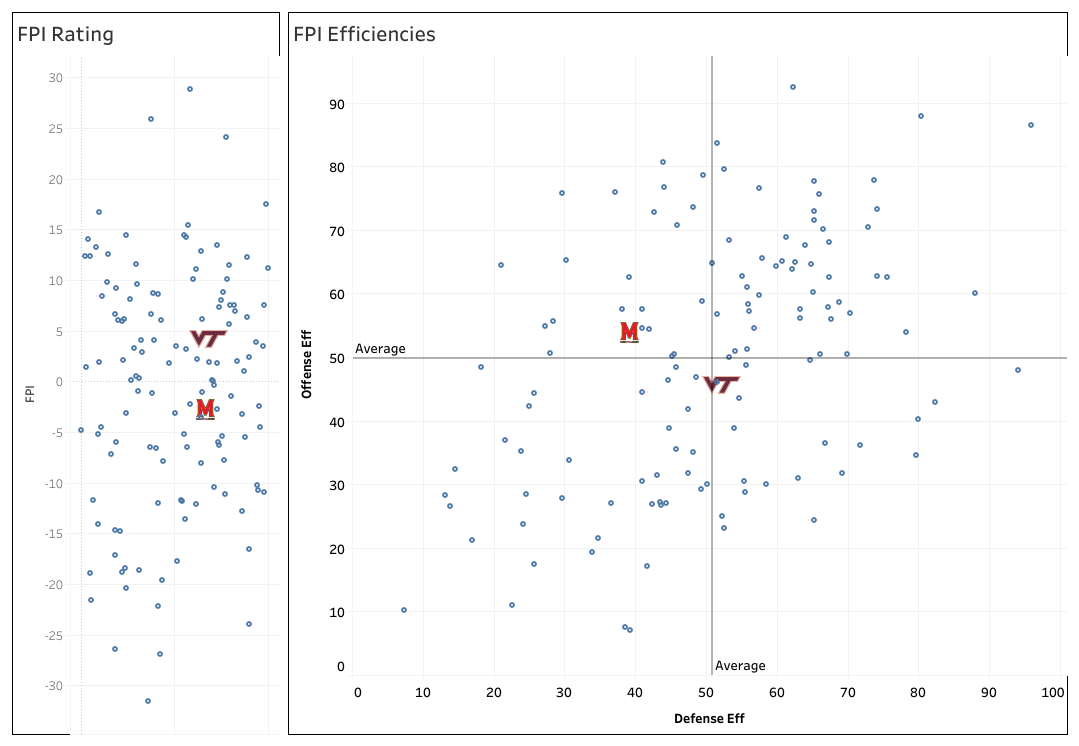 Virginia Tech is the better rated team by FPI due to significantly better defense; the good news is that much of that unit will play. But Maryland's defense will face a depleted Tech offense, and Maryland's offense was already better than Tech's.
What the Numbers Say
Maryland has passed on 55.8% of downs, 14th nationally and 7th among P5 teams. In terms of both overall ability and run/pass split, their offense is very similar to Virginia's. The biggest difference is that the Terrapins have been slightly less explosive with a slightly higher completion percentage: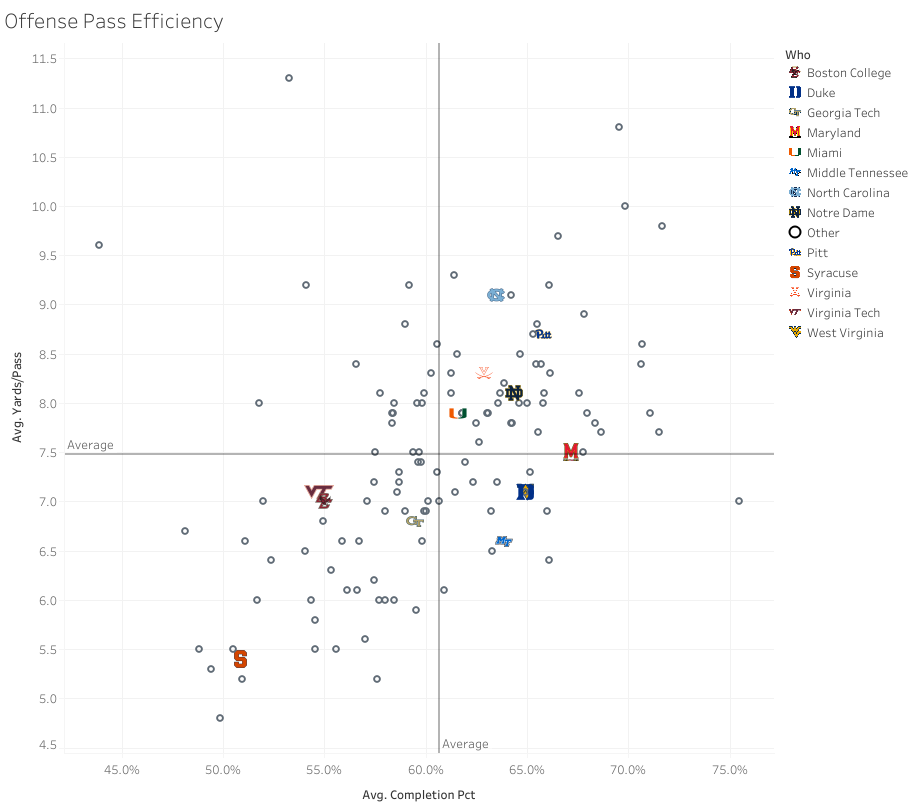 Maryland is 9th nationally with 58 passing plays of 20+ yards; they have fewer pass attempts than the 8 teams ahead of them so the percentage is among the best in the country. Waller's absence may prove the most significant loss for the Hokies; not only does this make coverage weaker against an explosive passing team, but it also makes creating turnovers more challenging. Maryland is above average at avoiding sacks (41st nationally) but below average (71st nationally) in interception percentage: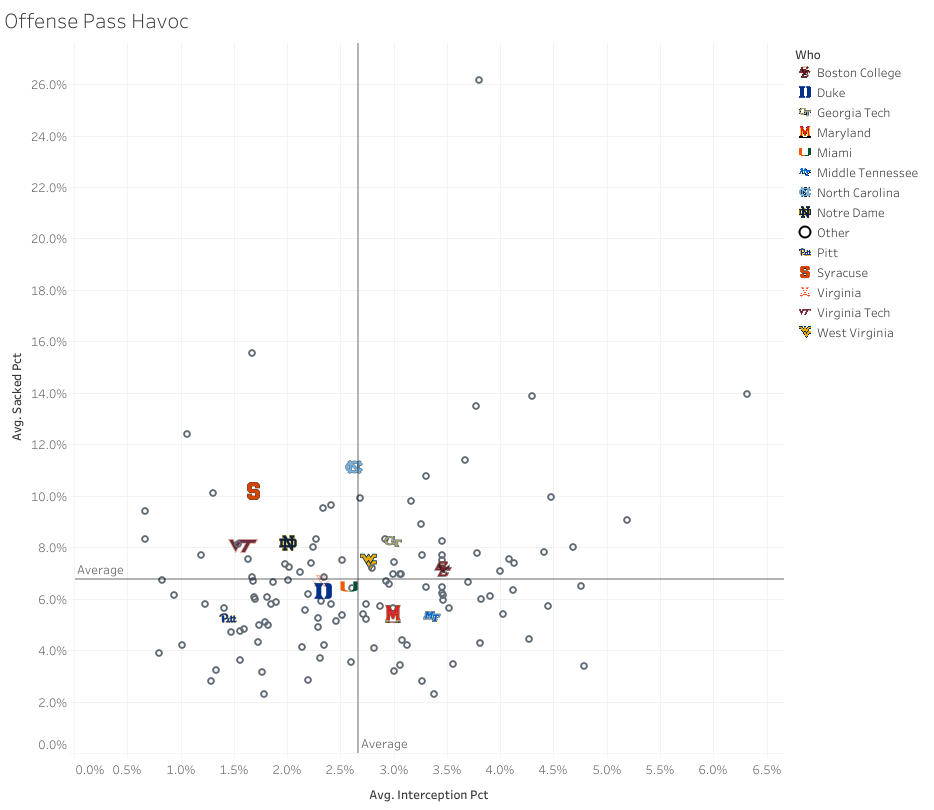 Defeating the Terrapins will likely require good secondary play to limit explosive passes, and winning the turnover battles to gain more scoring opportunities. Maryland is 119th nationally in turnover margin at -0.8/game. Giving the Hokies further potential advantage in a potentially close game, the Terps are 104th nationally in penalties with 7.2 committed per game and 110th nationally in FG kicking at 62.5%.
A comparison of other team stats:
| Category | Team Stat | Virginia Tech Hokies | Maryland Terrapins |
| --- | --- | --- | --- |
| Offense | Yards/Game | 375 | 425.4 |
| | Yards/Play | 5.5 | 5.7 |
| | Rush % | 60.50% | 44.20% |
| | Yards/Rush | 4.8 | 3.7 |
| | Yards/Pass | 7.3 | 7.7 |
| | Completion % | 54.10% | 67.40% |
| | TO Margin/Game | 0.4 | -0.8 |
| Defense | Yards/Game | 397.9 | 438 |
| | Yards/Play | 5.6 | 5.9 |
| | Rush % | 52.80% | 52.80% |
| | Yards/Rush | 4.4 | 4.1 |
| | Yards/Pass | 7.4 | 8.4 |
| | Completion % | 57.10% | 60.60% |
| | TO Margin/Game | -0.4 | 0.8 |
Life without Burmeister
Winston Churchill famously said "democracy is the worst form of government – except for all the others that have been tried." This largely reflects the status of Braxton Burmeister — for all of the faults and disappointing play, he was clearly the Hokies' best quarterback this season. His loss is a big one for the team unless Tahj Bullock is some kind of stud and the best kept secret out of Blacksburg. I'm doubtful that is the case and while I'd love for him to get some reps, I don't have high expectations.
As a passer, BB3 has the highest QBR, completion percentage, and YPA of the team's quarterbacks. He led the team to the 16th-best interception percentage in the country. As a runner, he had a higher YPR than Jalen Holston or Keshawn King; he was, however, bested by Blumrick by 1.5 yards per rush. That said, the gap almost entirely disappears when you take away a single 44-yard rush against Miami, and Blumrick managed just 2.8 yards per carry against a Virginia defense that, as a reminder, my 93-year-old grandmother could get 3 YPC against: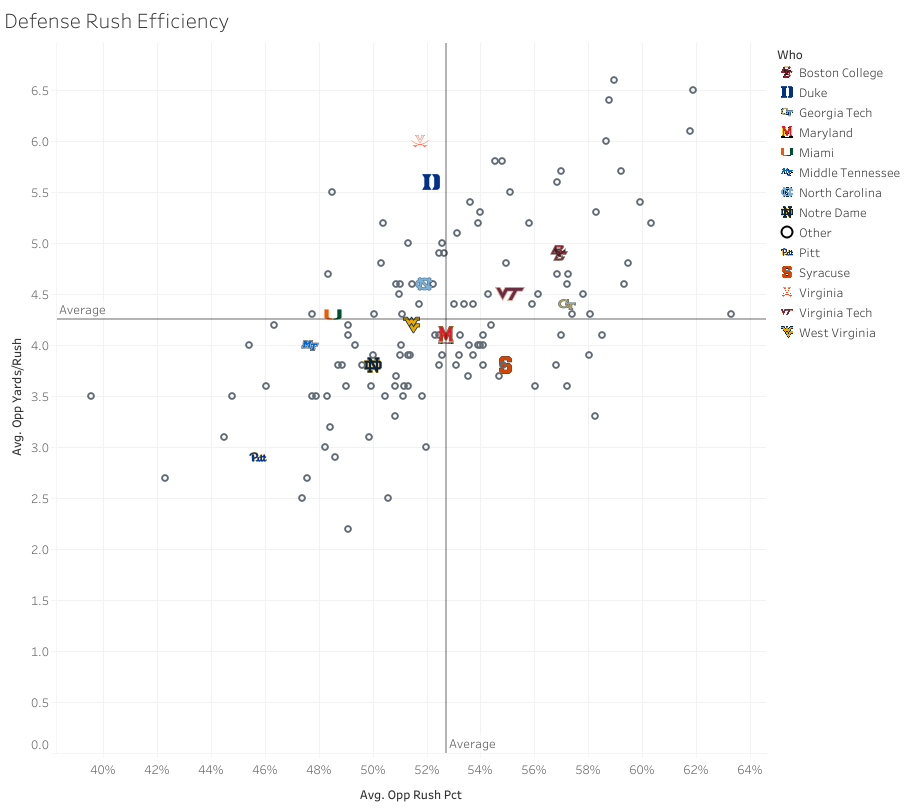 Now Blumrick ascends to starter without Tech's top two receiving threats (top three if you count James Mitchell). Blumrick, a quarterback with 41 rush attempts and 16 pass attempts on the season, must try to run an offense seen as even less of a passing threat than those stats already suggest. Per the graph above, Maryland isn't a dominant rush defense but is certainly average and should be able to keep the Hokies in check unless their pass defense is bad enough to turn Blumrick into a threat through the air.
Which it just might be:
We're not talking Duke/Georgia Tech bad (teams against which the Hokies averaged about a 200 passer rating), but worse than Pitt, Syracuse, West Virginia, North Carolina and Virginia. Among those teams, only Pitt was effective against the pass as the team went over a QBR of 140 against each of the others.
Who To Watch Out For
Maryland isn't loaded with talent, but you can't talk about individual players without starting with the familiar (and hard to pronounce) name taking snaps:
QB Taulia Tagovailoa — brother of Tua — has a passer rating of 149.26 and has accumulated 3,595 yards on the season (12th nationally). PFF rates him the 20th-best QB in college football.
CB Jakorian Bennett is 6th nationally with 16 passes defended including 3 interceptions.
Statistical Prediction
If things go south, I don't think it will be because Tech's offense is completely unable to move the ball. Not that I have high expectations, but I don't think the Hokies will be shut out or anything. My bigger concern is that without Waller, Tagovailoa will pick apart Tech's pass defense and the Terrapins will score too many points for the diminished Tech offense to keep up with.
That said, this is a really bad Terp defense, and I see a lot of similarities with the Virginia game. It may not matter that Maryland knows Blumrick will run or hand off on most plays and there is little deep threat; they may simply be unable to stop it. Throw in a turnover or two and a missed field goal and a close matchup quickly tips in favor of the Hokies, many of whom are playing their last college game.
Virginia Tech 31, Maryland 28
Thanks to ESPN, Football Outsiders, teamrankings.com, cfbstats.com, and Tableau for the data and visualizations.