Tony Robie was built for it. That's according to a man that would know best — former Virginia Tech wrestling coach Kevin Dresser.
From the countless hours on the mat to his appreciation for the daily grind, Dresser acclaimed Robie had a passion for the sport of wrestling and the coaching industry. That dedication, Robie proudly said, came from his desire to be a Division I head coach someday.
So when Dresser left Virginia Tech after 11 seasons to become the wrestling coach at Iowa State, Robie got his chance. He was named the interim coach in February of 2017. By March of that same year, Hokies athletic director Whit Babcock stripped that label and promoted Robie to the full-time head coach of one of the ACC's premier programs.
"We are proud that Tony Robie will continue to lead our wrestling program at Virginia Tech," Babcock said in a statement at the time. "Tony has been loyal to Virginia Tech over the years and is respected by our student-athletes, as well as his peers in the wrestling community across the nation. He has done a very good job as our interim head coach, and we recognize the role he played over the past 11 years in building our program into a nationally elite one. We aspire to keep it that way and elevate it even further. Tony has proven his mettle as a leader, a recruiter and a teacher who represents all that we stand for at Virginia Tech. We looked at a number of candidates and Tony rose to the occasion. We have great confidence in him."
Thus far, it's a move that's paid off. Tech hasn't missed a beat since Robie's promotion and is currently ranked No. 9 in the latest National Wrestling Coaches Association Coaches Poll. The Hokies are one of four ACC teams ranked in the top 10 ahead of Sunday's conference championships at the Petersen Events Center in Pittsburgh, Pa.
"It was very clear that was Tony's career path," Dresser said. "He's done a phenomenal job, but it doesn't surprise me. I knew that he would be very good wherever he went. He was instrumental in helping us build that program."
At Edinboro University Robie wrestled under former Olympic gold medalist Bruce Baumgartner. He was a two-time captain, a three-time Eastern Wrestling League champion, a three-time Pennsylvania State Athletic Conference champion, two-time All-American, racked up a 126-23 record and was inducted into the school's Hall of Fame in 2008. His coaching aspirations began in earnest towards the end of that world-class career.
"You're so focused on what your own personal goals are in your own athletic career at that particular point — I don't know how far into the future I was looking at that point," said Robie. "I felt like, definitely at some point during that [senior] season, I knew I could be a pretty good college wrestling coach and felt like I could lead guys well and was a good leader. At that point, I thought, 'Well, maybe this is something I could do for a living and make a career out of it.' That was the first time I really started to think seriously about it."
Prior to joining Dresser in Blacksburg, Robie spent seven years as an assistant at the Division I level as he coached 23 All-Americans and a national champion at Michigan. There he was well-respected for the one-on-one work he did with Ryan Bertin, which resulted in Bertin's 2003 NCAA championship — the Wolverines' first national title in 18 seasons.
After Michigan, Robie took over a program at Binghamton University in New York that has been discontinued after the 2003-04 school year because of budget constraints. He also had previous assistant coaching stops at West Virginia and his alma mater, Edinboro University.
His tenure with Dresser was a match made in heaven. Robie was named the associate head coach in 2006 and during his time as an assistant, the Hokies managed top-10 finishes in five different seasons and elevated to one of the top programs nationally.
"Tony was involved with everything we did on a daily basis," Dresser said. "We had a conversation every day for probably 11 years. He was my right-hand guy, my main guy. I can't say enough good things about him. He was really good in all phases of the job. We stay in touch. I think we have a great relationship. I text the heck out of him."
While the relationship between the two goes beyond the mat, the two also said they've benefited from each other on it. Dresser may have been the man in charge then, but they both said there were pieces of each other's coaching style that the other started to implement into their own. They're both now considered two of the best in the country.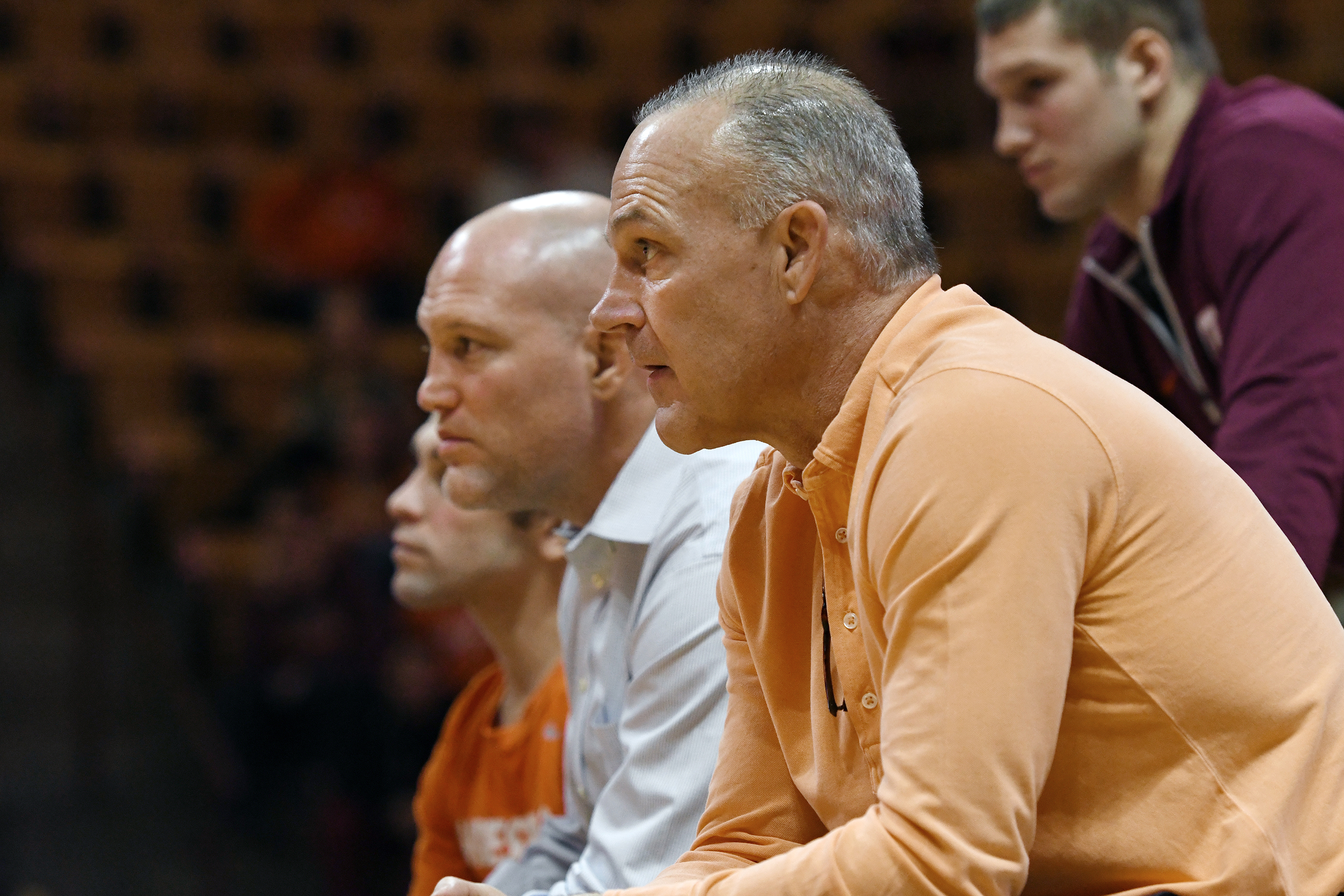 "He's an incredibly hard worker and a smart guy," Dresser said. "I learned things from him and I'm sure he learned things from me. I have been blessed over the years to have good assistant coaches and Tony was awesome."
Even though they're separated by nearly 1,000 miles, their relationship remains strong. The two remain in touch often, bonded by what they accomplished together at Tech.
"Anytime you work that long with somebody, you're going to rub off on each other," Robie said. "I think we both rubbed off on each other and we collaborated on a lot of things. Kevin has been successful everywhere he's been in his career. I was definitely able to take some things he did and try to build on them and build on what he helped create here at Virginia Tech. As much as anything, one thing we both had in common was a really good work ethic. We committed to what we did. I think that was the cornerstone of what we built Virginia Tech wrestling on. It was just trying to carry that over into what we're doing and maybe personalize it a little bit more."
Naturally, when Robie was handed the keys he made Virginia Tech wrestling his own, but didn't stray too far away from the fruitful program he and Dresser built.
"There were some changes, but I wouldn't say there were significant changes," Robie said. "I was with Kevin for a long time. So a lot of the stuff we had implemented, we had done together. We were a pretty good team. I felt like the environment that we created was successful. There may have been some slight changes but overall, I think the philosophy of the program stayed the same. It was a good transition. I felt like I was ready to be a head coach. At a certain age, especially in our sport, you kind of outgrow being an assistant coach. It's harder to get on the mat, get in there and scrap, wrestle with the guys. For me, I was at that point where I was really looking for an opportunity to get a head-coaching job. They're hard to find in our sport. There aren't a lot of jobs and openings on an annual basis. Sometimes they may not be in places that work out for you personally. I was very fortunate that this one worked out perfectly for me."
It didn't take long for Robie to make a splash in his new role. Not only did the Hokies not miss a beat as one of the nation's best teams, last season freshman Mekhi Lewis became the first Tech wrestler to win a national championship.
Robie unsurprisingly called that one of the highlights of his coaching career. But with Lewis' wins came increased exposure on the Hokies' wrestling program and more pressure to find success as a team. That's something the second-year coach hasn't shied away from.
"It was an extremely special moment," Robie said of watching Lewis win the title. "As a freshman, to go into that environment and do what he did in the fashion that he did it was pretty impressive. He's a tremendous athlete, but I was really happy for him because I knew the type of work and commitment he had put in to accomplish that goal. I knew what kind of person he is and what kind of character he has and what kind of work ethic he has. To me, I was thrilled for him to accomplish that goal. To do it as a freshman and knowing where he's come from and how many people have influenced him — it was definitely a proud moment for me and for the Virginia Tech wrestling program. He's our first NCAA champion and hopefully the first of many."
In August, however, Tech announced that Lewis would not compete for the Hokies in the upcoming school year and instead redshirt in an effort to train for the Olympic trials in April.
It was a move Robie said he knew would immediately impact Tech's team success, but one that he felt was necessary because of the magnitude of what it would mean for Lewis' career. At the time of the move and still today, Robie said he has full faith in Lewis' chances of making it.
"I'm excited about the future of the program," Robie said. "I really do think our best years are in front of us. This year, we've struggled a bit here recently and that's been a challenge for us. We made some decisions before the season started in terms of redshirting some guys and we knew that would affect some outcomes. At the end of the day, that certainly has. If you look at what we have in the barn with some young guys that aren't in our current lineup, with Mekhi coming back and with some of our recruiting guys, I'm really excited about the future. We're going to have some great teams, great individuals, several national champions and a bunch of ACC titles. The ultimate goal is to win a national team title."