via @markumansky
Unfortunately I couldn't make it to Blacksburg today, but I was able to keep up with the scrimmage via Twitter (@VT_Football, @RaleighHokie, @HokiesJournal, @NormWood and #Hokies), live stats and video on HokieSports.com.
Thoughts on the Highlights
What a block by Martin Scales on Bruce Taylor to spring Tony Gregory for nine yards.
Beautiful blocking on David Wilson's 22 yard scamper. Drager pulled around backside to kick out the end, Brooks pulled and sealed off at the second level, backer. David Wilson did all the rest. It's a lofty comparison, but Wilson on that run he reminded me of Adrian Peterson, his re-acceleration after taking a hit was unbelievably quick.
ZOMG, we're rolling the quarterback out of the pocket! What great touch on LT3's pass to Drager, contrast that with the zip he put on the ball to MD7.
LT3's interception to Dyrell was way under thrown. Growing pains to be expected all season.
Notable Tweets
These Tweets caught my eye, and here's what I think.
Blake DeChristopher, get well, get well soon, we wish you to get well.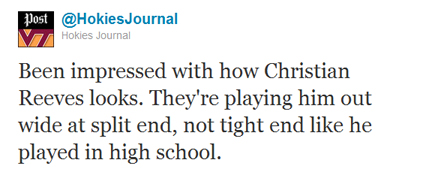 A popular theory about Reeves during his recruitment was he'd play receiver, that seems to be the case.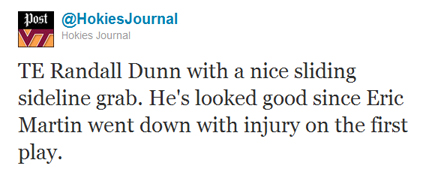 Hopefully it's nothing serious, but man, tight end has gone from one of our deepest to thinnest positions pretty quickly.

Myer's biggest issue has always been his consistency, he has a bigger leg than Journell. Going perfect (2/2) on the day will certainly make the Frankinator have a little more confidence in him.

Inexcusable. Concerning. Fixable.
Statistics that Stood Out at Me
Logan Thomas went 4 of 8 for 79 yards with a pick and a touchdown. Mark Leal completed 6 passes for 116 yards with one TD and pick.
David Wilson only carried 5 times, but for 57 yards, that's 11.4 yards a clip.
Danny Coale and Scott Demler each punted three times, Coale averaged 42.7 yards, Demler 40 yards.
Cody Journell hit field goals of 35, 22, and 35 yards, but missed a 44 yard attempt. Meyer was perfect on kicks nailing a 52-yarder and connecting on another of 28 yards.
Luther Maddy led the team with 8 tackles, 4 solo, 4 assisted.
For those of you that were there in person I encourage you to leave your observations below for the benefit of everyone who couldn't make it.