A couple of years ago, I wrote an article for SouthernPigskin.com outlining that season's ultimate ACC roadtrip. This year for The Key Play I am resurrecting it. The king of college fooball roadtrips ... well college football in general is the SEC. RV's fill the lots for games at every school, and usually by mid week for the biggest games. Literally a rolling family of love/hate. Their fans are Livin' the Dream, so why not me?
In my mind in order for it to be accomplished for me, I imagine there was an alternate dimension like Phineas and Ferb. In that dimension I am a trust fund baby, in my mid twenties and do not have a receding hairline. I've left my house to the butler and packed my important belongings (a toothbrush, my cornhole set, 2 pair of jeans, a small collection Virgina Tech and brewery shirts and hats) into a Clubhouse Tailagate like Airstream. Hook that bullet up to my truck and hit the road for the fall. I do wonder if I can get it in a dark gun metal sheen, as an ode to the lunchpail. Of course I would need a first and second mate to accompany me on this journey, i.e. drag me back to the airstream from drinking, debauchery and potentially jail.

Silver Home
My Mission:
Attend a game at every ACC stadium
Hit every non Saturday game
Hit the best games if at all possible
Go to as many good OOC locations as possible, (no, Cincinnati isn't must see.)
Drink regional beer
Eat as much BBQ as possible
Become the Cornhole Kaing of the ACC

Cornhole Kaing plays on these
Be warned ... this is long!

Doak Campbell
Week 1
Thursday 9/1 Wake Forest at Syracuse
Miles: 531 Hours on road: 9 hours 14 minutes
Regional Beer: Ithaca Flower Power IPA
Food: Spiedies - ever get a chance at these marinated meat sammies, indulge
Notes: Not the best game to start the season, but it's a start and also before Syracuse gets cold and drab.
Saturday 9/3 Northwestern vs Boston College
Miles: 308 Hours on road: 5 hours 26 minutes
Regional Beer: Alchemist Heady Topper IIPA (Vermont Beer that needs to be acquired!)
Food: Umm, fresh Maine Lobster
Notes: A nice matchup to start the season
Monday 9/5 Miami vs Maryland
Miles: 439 Hours on road: 7 hours 46 minutes
Regional Beer: Heavy Seas Small Craft Advisory Uber Pils
Food: Blue Crabs
Notes: Third game in 5 days, ending with the first look at Terps Edsallball and Miami hamstrung from the Shapiro hot mess.
Week 2
Saturday 9/10 NC State at Wake Forest
Miles: 348 Hours on road: 6 hours 6 minutes
Regional Beer: Foothills Baltic Porter
Food: Lexington Style NC BBQ
Notes: So begins the the supersize me portion of my road trip, the BBQ trail.
Week 3
Saturday 9/17 Oklahoma vs Florida State
Miles: 535 Hours on road: 9 hours 53 minutes
Regional Beer: Cigar City Cubano Espresso
Food: Gulf seafood, served as unhealthy as possible
Notes: Some Gulf seafood, a very good beer and a great game ... sets the bar for the trip early.
Week 4
Saturday 9/24 Florida State at Clemson
Miles: 357 Hours on road: 6 hours 48 minutes
Regional Beer: COAST Boy King DIPA (will need help, not distributed that far west.)
Food: Big Dave's BBQ Ribs & fixin's
Notes: Back2Back FSU games, no matter if FSU wins or loses the week before OU, this game is dicey!
Week 5
Saturday 10/1 Clemson at Virginia Tech
Miles: 298 Hours on road: 5 hours
Regional Beer: Pisgah Vortex II Russian Imperial Stout (Ok, so this NC brewery side trip adds a couple hours to the trip, not included but this beer is fabulous.)
Food: Mikes Grill ... I need a burger
Notes: Now it's Clemson to face the 2nd part of a 2 week gauntlet on away turf. Great time of year!
Week 6
Saturday10/8 Louisville at North Carolina
Miles: 201 Hours on road: 3 hours 27 minutes
Regional Beer: Top of the Hill Brewery, been around for years, this bar needs to be scene at least once.
Food: Chopped NC Bbq from Allen & Son
Notes: Another OOC matchup, don't embarrass us, Carolina. At worst, very good BBQ and Franklin Street.
Week 7
Saturday 10/15 Florida State at Duke
Miles: 11 Hours on road: 25 minutes
Regional Beer: Fullsteam Cali Common
Food: Hog Heaven BBQ
Notes: Here for the weather, beer and more damn BBQ!

The NC BBQ Trail
--BREATHE-- The halfway point. On the easy drive to Charlottesville, I'd pull over in Farmville and do a few Chinese fire drills to freak the pretty boys of Hampden-Sydney out , then be on my merry way.

Touchdown Jesus
Week 8
Saturday 10/22 NC State at Virginia
Miles: 168 Hours on road: 3 hours 27 minutes
Regional Beer: Blue Mountain Full Nelson Pale
Food: Go grab something around the Corner, don't wear VT clothing when ordering.
Notes: Go State.
Week 9
Thursday 10/27 Virginia at Miami
Miles: 981 Hours on road: 16 hours 21 minutes
Regional Beer: The Funky Buddha Sex Panther Black IPA
Food: Cuban cuisine which means yes ... more Pork. WIN.
Notes: The first oh shit drive of the roadtrip and I have to see the Hoos and the canes?
Saturday 10/29 Clemson at Georgia Tech
Miles: 663 Hours on road: 10 hours 56 minutes
Regional Beer: Sweetwater IPA and lots of them!
Food: The Varsity, no, it's not good, but it's a tradition, hope you don't get sick.
Notes: Doubling down on the long drive, another 11 hours on the road 20 hours to get there to party Friday night at The Porter Bar and Brick Store Pub. Saturday after the game, I'd deserve to rest in Cheetah ... all night! Hang around a couple extra days to make a jackass out of myself with some nerds at a Halloween party or 3.
Week 10
Thursday 11/3 Florida State at Boston College
Miles: 1106 Hours on road: 18 hours 13 minutes
Regional Beer: Harpoon Leviathan - Baltic Porter
Food: Lobster... again, duh!
Notes: Holy crap, long drive, but another good matchup, good food, beer and good ball.
Saturday 11/5 North Carolina at NC State
Miles: 708 Hours on road: 12 hours 32 minutes
Regional Beer: Big Boss Big Operator Belgian Strong Dark
Food: Clyde Cooper BBQ
Notes: Dang, another 12+ hour drive to catch the 2nd game of the weekend. UNC with a strong chance to beat State now that they aren't getting Butchered on the sidelines.
Week 11
Thursday 11/10 Virginia Tech at Georgia Tech
Miles: 410 Hours on road: 6 hours 49 minutes
Regional Beer: Terrapin Rye Squared
Food: 5th Street Ribs n Blues http://www.ribsnblues.com/
Notes: Get to the ATL as fast as I can, more time for Porter, Brick Store and pregame Cheetah victory celebration.
Saturday 11/12 Boston College at Notre Dame
Miles: 675 Hours on road: 11 hours 55 minutes
Regional Beer: 3 Floyds Dreadnaught IIPA, a special beer from the best brewery in the midwest
Food: It better be some Abe Froman sausages cooked in beer!
Notes: Quick turn around from Georgia, but one doesn't think twice about missing a good game in South Bend.
Week 12
Thursday 11/17 North Carolina at Virginia Tech
Miles: 900 Hours on road: 15 hours 5 minutes
Regional Beer: Bull & Bones Brewhaus
Food: Lane Stadium Smoked Turkey legs, doublefisted
Notes: I promise to piss on the side of the road through the hate staet of West by God Virginyee. This game is likely to decide the Coastal?
Saturday 11/19 Notre Dame vs Maryland (FedEx Field, Landover, Md)
Miles: 279 Hours on road: 4 hours 51 minutes
Regional Beer: DC Brau Penn Quarter Porter
Food: Cluck-U Chicken Wings
Notes: Finally a short Thursday - Saturday turnaround. Edsall OOC statement game no. 2.
Week 13
Friday 11/25 Boston College at Miami
Miles: 1060 Hours on road: 17 hours 43 minutes
Regional Beer: Again find some beer on the road in North Florida like Bold City Duke's Cold Nose Brown
Food: Stone Crab and Key Lime Pie
Notes: The last long drive, by now road weary and partial stockholder of 5 hour energy drinks.
Saturday 11/26 Florida State at Florida
Miles: 337 Hours on road: 5 hours 39 minutes
Regional Beer: Swamp Head Stumpknocker Pale
Food: Fried Gator tails.
Notes: No rest for the weary, this game is the next day, driving thru the night. Certainly Bob Seger's Against the Wind is played at some point that night.
Week 14
Saturday 12/3 14 ACC Championship Game (Bank of America Stadium, Charlotte, Nc)
Miles: 451 Hours on road: 7 hours 46 minutes
Beer: Republic Hop Rod Rye (it's not local, but it's my favorite beer and I am going celebrate a great roadtrip the best way I know how.)
Food: The ENTIRE Midwood Smokehouse menu (finish strong: smoked wings, bacon wrapped jalapenos & Eastern NC style BBQ)
Notes: The Queen city a matchup of 2 top 10 teams, VT and FSU. Cold, dreary weather made for the men from Blacksburg.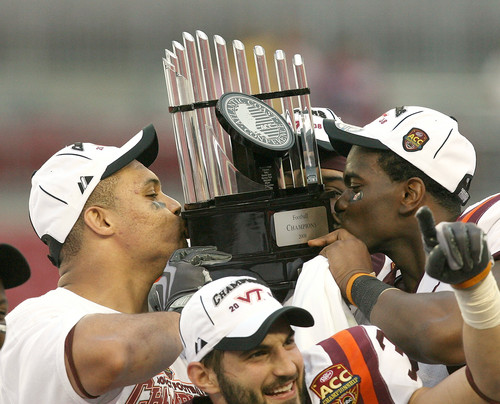 CHAMPS ... AGAIN!
Go home
Miles: 304 Hours on road: 5 hours 21 minutes
Running on Empty by Jackson Brown on repeat.
So there you have it, what a long strange trip it would be. The Ultimate 2011 ACC RV roadtrip. So big, so bad it makes those in the SEC blush, sorta like the Nevy Shapiro/Miami scandal. All I need to do is find my second dimension and cross it for 3 and half months ... check it 5 months, bowl season is next!
Odd -n- Ends
21 games
11,071 miles
175 hours 43 minutes
Number Times Viewed (home)
BC 4 (2)
Clemson 3 (1)
Duke 1 (1)
FSU 5 (1)
GT 2 (2)
Maryland 2 (1)
Miami 3 (2)
NC State 3 (1)
UNC 3 (1)
UVA 2 (1)
VT 3 (2)
Wake Forest 2 (1)
Saddens me that FSU gets so many games, but their OOC schedule and how the other games set up dictated that.
OOC Locations Vistied:
Florida, Notre Dame, Syracuse, neutral locations Charlotte, Nc and Landover, Md
OOC Opponents Coming to the ACC:
Oklahoma, Louisville, Northwestern, Notre Dame
OOC Opponents of Note Missed:
South Carolina, West Virginia, Georgia, Ohio State, Cincinnati, Rutgers, Stanford, ECU, South Florida and Kansas State
Tell me, if you have read this far what ACC games (other than the O&M) do you want to see? The ACC helmet schedule helps.