By

HokieJoe3
on February 15, 2011, 12:06 PM
| 7 comments
It's not even the start of spring practice but I'm already chomping at the bit for start of football season which is exactly 200 days away. VT has just gotten two big V-day gifts in Shane Beamer coming back home as well as the schedule coming out. I personally love the schedule and it's relieving to not have an early tough out of conference game this year for this young Tyrod-less squad.
I can't stress this enough but EVERY GAME IS IN DRIVING DISTANCE FOR STUDENTS (GT drive on Thursday is understandable to miss) and this would be an amazing year to reclaim the mantra that VT has a great traveling fan base. For the current students this should be a big year to respond to some of the older alums that are doubting your fan-dom saying that you've been spoiled by recent run of success and point to there being empty seats at some home games. Help continue the reputation that VT has as a fervent traveling fan base and some of the most rabid fans in the college football.
Here in short is our schedule which includes 2 Thursday night games:
| Date | Opponent | Location | Driving Time from Blacksburg |
| --- | --- | --- | --- |
| September 3rd | APPALACHIAN STATE | Blacksburg, VA | - |
| September 10th | East Carolina | Greenville, NC | 5 Hours |
| September 17th | ARKANSAS STATE | Blacksburg, VA | - |
| September 24th | Marshall | Huntington, WV | 3 Hours |
| October 1st | CLEMSON | Blacksburg, VA | - |
| October 8th | MIAMI | Blacksburg, VA | - |
| October 15th | Wake Forest | Winston-Salem, NC | 2 Hours |
| October 22nd | BOSTON COLLEGE | Blacksburg, VA | - |
| October 29th | Duke | Durham, NC | 3.5 hours |
| November 10th (Thursday Night) | Georgia Tech | Atlanta, GA | 7 hours |
| November 17th (Thursday Night) | UNC | Blacksburg, VA | - |
| November 26th | UVA | Charlottesville, VA | 2.5 hours |
Now for a detail look at each game:
Saturday, September 3rd - Appalachian State @ Blacksburg, VA
This is a great way to start the season and I couldn't pick a better scenario. We are playing the FCS team that beat Michigan in Ann Arbor after the season in which we lost to JMU and I for one love this. I can hear Chris Fowler saying "the Hokies better watch out they did in fact lose to JMU and this App State team is known as giant killers" in my head right now and I love that for the team. App State is a good FCS team and lost only 2 games last year in the regular season to Georgia Southern and Florida while losing to probable future Big East program Villanova in the playoffs. I love the us versus the world mentality and this is perfect for these players to have to prove that they can survive post Tyrod.
I have a feeling this video will get old really quick in season previews for VT fans
Saturday, September 10th - East Carolina @ Greenville, NC - 5 hour drive
This is only a 5 hour drive which is enough for one of those delightful shots of energy I love to take. Also if you work your magic at a party/bar you could have a place to come back for what I've heard is the best Halloween party on the east coast (this ties into reasons to go to the Duke game). I cannot stress this enough if you are a senior at VT and serious about enjoying your last football season along with partying follow my plan on coming back to ECU for Halloween weekend after the the Duke game which happens to be their homecoming (explained more in detail during Duke section). Also this is the first road game and you can't attend all the road games unless you go to the first one.
This is a great second game for the Hokies offense lead by new QB Logan Thomas because East Carolina couldn't spell defense last year (it's known as a big party school, not heavy on academics). This game should be a great game for our defensive secondary to shine since ECU employs a less successful version of Mike Leach's "Air Raid" offense. A bonus is that ECU should be demoralized after getting crushed by South Carolina and being Jadeveon Clowney's first victim (from the hype ECU's QB might not make it out alive). I would love to see our run game explode in this game as well since we all know David Wilson Eats Chick-fil-A on Sundays and also Josh Oglesby should have plenty of motivation being in his home state of North Carolina.
Saturday, September 17th - Arkansas State @ Blacksburg, Va
This brings our team to Arkansas State. I will fully admit as an alum in Northern VA I might not make it to this game but it is another good game that should provide a tune up. Here's one for us to get Logan Thomas to gain some confidence and hopefully get Leal/Young some time to toss around the ol' pigskin. Also I'm sure we should see some highlight reel type runs from David Wilson in the first half. This should be a good sunny day in Blacksburg and time to get to see some of the younger players in there for our noon game blowout win. This game should get you prepared for a couple of great games going on this day.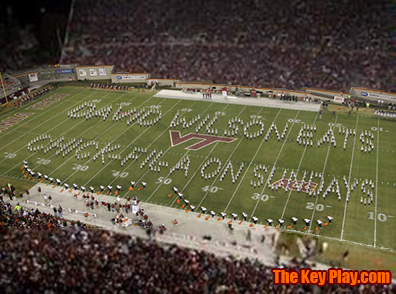 **Bonus Games***
This is an important date for ACC respect with the old guard super powers battling against marquee teams. We have a Pryor-less Ohio State game traveling down to Miami and a likely top 3 Oklahoma coming down to Tally to take on FSU. I expect Ohio State to still beat Miami and I'm happy with that because 1) I think Al Golden is a douche 2) I always hate on Miami. FSU has 2 preseason games to get ready for the Sooners and I really like the Noles to get the upset in the national prime time broadcast so that the ACC can finally get some respect.
Saturday, September 24th - Marshall @ Huntington, WV - 3 hour drive
It's a short 3 hour drive and you can even stop by a strip club sometime along your travel. I really don't know much about the party scene at Huntington, WV but being not too far away could have an easy trip back down to Blacksburg.
As for the football game this is not as easy as some might assume and is a potential trap game. Doc Holliday (no not as cool as the gunfighter) is a good recruiter and hasn't done anything yet to dispel the notion that he could possibly be a good head coach. Marshall only went 5-7 last year but did take in state big brother the distance in OT before barely losing in tragic fashion. Crazy prediction is that I could see Marshall catching an in transition WVU off guard and winning their in state rivalry. I definitely see us winning this game but it won't be a cakewalk and hopefully will provide us a good challenge before heading into our ACC schedule.
Saturday, October 1st - Clemson @ Blacksburg, VA
The first day of October and VT plays the it's first ACC game against an emerging recruiting rival in Clemson. This is a school that is coming in with good young recruits, a great defensive coordinator in Kevin Steele, but also a head coach that is on a bit of a hot seat especially with higher expectations from recruiting success. Not only is this game important for the present as our first ACC game but important for the future in that we can't have Clemson coming in and taking high profile recruits like a Stephone Anthony away from us.
I'm still bitter over losing Stephone Anthony last minute
Clemson will be coming in after playing 2 weeks of tough home games in Auburn and FSU which I expect will lead to them to having a 2 game losing streak coming into Lane Stadium. Last year Clemson went 6-7 but was a missed field goal from beating Auburn and they surprisingly beat NC State. They will be breaking in a new QB in former top VA HS recruit Tajh Boyd and didn't have much of an offense last year so our defense should have a good day. I am worried about our O against their D as even though they lose Daqaun Bowers they have a lot of talent coming into their defense; this will hopefully be the game that Logan Thomas grows into the assured unquestioned leader of our offense for the next couple of years.
Saturday, October 8th - Miami @ Blacksburg, VA
It's the Miami game which is enough for any VT fan. As with many shirts I've seen my sentiment is Muck Fiami. They also have a new tie wearing, UVA loving, recruit stealing, head coach in Al Golden. This Miami team, as always, has talent but it's usually a question of heart for this team which clearly in their bowl game they didn't have when they got crushed by Notre Dame.
Al Golden gets a big thumbs down in my book
Miami is starting the season with a Labor Day game at Maryland which they will smartly follow up with a bye week(they learned from our debacle last year) and then they face Ohio State and Bethune-Cookman before us. I just don't see Miami beating Ohio State and it will be really telling how Miami does at Maryland to show whether the team buys into the new coach.
Miami should be coming against us with a ton of fury but there's a chance they could have not bought into what Al Golden is selling them. My prediction is that they will be looking at this game as a chance of redemption after losing against Ohio State and if somehow they beat OSU minus Pryor this game is downright as huge as Seantrel Henderson. On Miami's offense Princess Jacory or a more experienced Stephen Morris will be protected by a huge offensive line along with having a stable of good backs and WRs. If Miami is smart they will try to run the ball down our throats and this will be a big game to show if our defensive front has grown up; if Bruce Taylor wants to really own the BRRUUUUCCCEEE chant this is a great game to utilize his NFL potential. On defense I predict Miami will likely try to load the box with and utilize their athletic linebackers to pressure Logan Thomas. If we can pass on Miami's shaky secondary that's replacing 2 corners then we will win. A heavy dosage of Lane Stadium homefield advantage will definitely be needed here.
Saturday, October 15th - Wake Forest @ Winston-Salem, NC - 2 Hour drive
This game is basically right down the street from VT and can't think of any excuse not to make the trip, I made it twice during my time as a student. When I've gone there we've owned their stadium and there was a lot of laughter when the Demon Deacon came out on his motorcycle or was dancing in the trippy video on the scoreboard screen. I also remember that the dancers never seemed to stop dancing from on top their platform in breaks from action.
For the football side of things Wake Forest will most likely be coming off a drubbing from Florida State and probably have a losing record with only 1 or 2 wins when we play them. They do have a lot of players coming back and will be returning a RB that rushed for an embarrassing 241 yards against us. This team probably isn't going to be good as they are only in year 2 of the 4 year cycle that Jim Grobe employs and they only won 3 games last year. Honestly WF's schedule looks brutal for them with Gardner-Webb possibly being the only game they are favored in. We should beat this team but VT will be coming in a week after a physical Miami game and hopefully will hopefully have the problem of avoiding positive press clippings to read at this point.
Saturday, October 22nd - Boston College @ Blacksburg, VA
This is always a special match-up since they are our out of division yearly match-up(I rather it was UMD so that I could have a metro accessible game every other year but what can you do). I was at the 2007 Thursday night game in rain when Matty Ice ripped our hearts out and stopped VT from getting a coveted top 5 win. In 2007 and 2008 they were the opponent we took down in the ACC championship, after losing to them in the regular season, so they are a team that we will see 7 times in 5 seasons assuming they don't make the ACCCG in 2011.
This Boston College team could be possibly be undefeated coming down to Lane and have a bye week before playing us. We would have a common opponent of Clemson at this point as they go to Death Valley the week after we play Clemson in what would be Boston College's toughest game of the season before playing us. I imagine that Boston College could be the first ranked opponent we play. They should have a tough defense with a lot of starters coming back and a defensive minded head coach who likes to give mustache rides. Their offense should be improved with Chase Rettig coming back and former VT coach Kevin Rogers as the new offensive coordinator for them. This will be a great football game and, if this season goes the way I think, should start the is "Virginia Tech for real talk or overrated?" talk.
Saturday, October 29th - Duke @ Durham, NC - 3.5 hour drive
Hide your kids, hide your wife because slutty unattractive girls are making power points about their sexual escapades around here. Full disclosure I've personally hated Duke for a long time and loved hearing the teabag Paulus chants a couple of years ago. I really don't know much about how the party scene is at Durham and I heard something about tailgating being banned there but I do have a recommendation of how to approach this game especially for those who want a potentially epic Halloween. ECU is only 2 hours away from Durham and is known for having the best Halloween experience on the East Coast; after witnessing what should be a noon game win for the Hokies head over to Greenville to celebrate at ECU's homecoming Halloween parties with some pirates you met from the VT game there.
I have a lot of respect for Duke's head coach David Cutcliffe because first of all he seems like a good honorable coach and you have to respect a coach crazy enough to not only take the Duke job but re-buff an opportunity at the Tennessee job to stay at Duke. Duke should be in contention for a bowl berth in 2011 and I think when we meet them they should be at 4-3 and I think they realistically end up 6-6 with one of their losses against us. We should run the ball right at their smaller defensive front (paging Josh Oglesby who judging from twitter absolutely hates Duke and had 9.8 yards a carry with 2 TDs in 2009 in Durham) and come out with a good blowout win in front of what I'm hoping to be a mainly VT crowd.
****Bonus Game****
There aren't many compelling games in the ACC for the Coastal division this week besides UVA heading down to Miami on Thursday night. On the Atlantic division side it should be a potentially undefeated NC State playing against a likely 1 loss but potentially undefeated FSU team in a great match-up to see if Florida State will be the media darlings of the ACC heading into Charlotte.
Thursday, November 10th - Georgia Tech @ Atlanta, GA - 7 hour drive
I hate the yellow jackets and know that a lot of GA Tech fans hate us too. If there was a douchebag-o-meter it would overload if pointed at Paul Johnson in my honest orange and maroon tinted opinion. Georgia Tech also has former UVA head coach as the defensive coordinator thus you can see why the other Tech in the ACC should be hated. Last time we played at GT we were the #4 team in the country and got beat 23-28 with PJ bragging about his high school option offense beating Bud Foster; the argument can be made that we lost twice to GT in 2009 as it seemed the team lost focus losing to UNC the following week. This game is a Thursday night game at their house which, being 7 hours away from Blacksburg, should be the alums job to carry on the traveling Hokie fan base.
Paul Johnson just looks downright evil to me, like Jabba the Hut
In this way too early view of next season we are getting into a murky point for speculation but from current analysis I see GT taking a stumble next year. They are losing the Josh Nesbitt who's running has been the engine of the rambling wreck during the beginning of the Johnson era and also lose a good back in Anthony Allen. On defense they will be in the second year of Al Groh's defense but that defense does lose 3/4 starting DBs and 2/4 LBs from last year. This year is going to be very telling on PJ because these will be his recruits making the impact this year.
I think VT should get a win against a GT team that I predict should be struggling to stay in bowl contention at this point in the season. I am really grateful that we are blessed with a bye week to prepare for the option / 3-4 combination that GT delivers that is different than the norm but also they get a bye week to introduce new wrinkles. I see our defense finally delivering a statement performance against the yellow jackets as we have absolutely been torched on the ground by them the last 3 years to the tune of 331 rush yards per game. I think we should run right at GT's 3-4 front behind our senior offensive line to deliver us a statement win on Thursday night that should send Paul Johnson into a hissy fit.
Thursday, November 17th - UNC @ Blacksburg, VA
I can't understate how hyped I am for this game. This is Senior Day on the Thursday night game in Lane Stadium before Thanksgiving Break against a big rival and threat to VT's football supremacy in the ACC. UNCheat is under an NCAA investigation that is taking too long for my liking and has been a constant pain on the recruiting trail for VT. If they don't get NCAA sanctions its easy to see the threat they propose being actually closer to the talent rich 757 than VT and also rumors of them negative recruiting against us as well as their other shady recruiting practices. This game is huge and in my estimation will determine who gets to go to Charlotte for the ACCCG. For history sake this is also a team that last time they entered into the hostile environment of Lane Stadium on a Thursday night delivered us a gut wrenching 2nd loss in a row.
This UNC team, even with all the losses they face with personnel on defense, could be in for a great season regardless of what NCAA sanctions are put on them. On offense they break in a new starter at QB which likely will be Brynn Renner (former VT recruiting target who's Dad played at VT) who some UNC fans wanted to be the starter before the beginning of last season. The UNC offense returns a lot of talent at WR, most of the starting line from last year, and Ryan Houston who sat out last season but in 2009 delivered some spirit crushing runs on our defense. The UNC defense is losing a lot of talent from last year but has some guys such as Coples, Donte Paige-Moss, and Zach Brown that can fill in. This team was the media darlings of the pre-season ACC last year and 3 of their 5 losses last year came by last than a TD. Looking at their schedule you could say they could be undefeated when they play us and they have a bye game the week before they play us.
This is the biggest game of the year for VT in my opinion. The majority of our offensive line are going to be playing in their last home game and in their careers the offensive line has been a weakness for the Hokies; if we are going to win this game it will be won in the trenches. This will be the perfect Beamer Ball game where I see that gaudy record that we have when out rushing our opponents. We need the classic Bud Foster lunch pail game and I'm hoping to see Bruce Taylor collide with Ryan Houston and knock him back in the hole. We need the run game to be on point and for these seniors, that have been the whipping boys for our offensive struggles, deliver a senior on shinging moment. I see through orange and maroon glasses but I honestly see VT either being undefeated or with 1 loss heading into this game and feel if we win this game we can start buying tickets to Charlotte.
Saturday, November 26th - UVA @ Charlottesville, VA - 2.5 hour drive
I've had the unfortunate and rare experience of being a student during Hokies last lost to the Cavs back during the horrible meltdown of 2003. The last time VT lost to UVA the incoming freshman were still in elementary school making fart jokes and writing ridiculous questions during a sex ed class that featured talking dogs (at least that was my 5th grade, shout out to London Towne Elementary). The 2.5 hour drive from Blacksburg is mis-leading because most students will be coming from home and the distance should be a lot less. It is important to show those UVA weenies who's the big school in the state and make Scott Stadium look like a maroon monsoon. They have a glimmer of hope from recruiting but we need to crush that (a friend of mine's facebook status on Signing Day was "London can cry as much as he wants if he keeps signing top 25 classes"). Even if they only have horrible tickets available for purchase you can always stand in the lawn opening which is open seating and a fun place to jeer at UVA students as they sway back and forth singing whatever song they sing after losses.
Best Colin Cowherd Rant Ever - "there's not a softer bunch of cookie dough eating weenies than the UVA football team"
This UVA team should be in contention for a bowl berth this season as their schedule isn't hard and they had flashes last year like their win against Miami. I think they could possibly be 5-1 heading into their game against NC State on October 22nd but I think they could struggle to find wins after that with potentially Duke being the only game they are favored in to close out the season. They have a good bit of players coming back but do lose key players in Verica, Payne, and Ras-I Dowling. Our squad has seen nothing but victories against UVA and I see us delivering another orange and maroon beat down. This is another huge game for our program's future in terms of recruiting and it would be great if we could possibly keep UVA from getting into bowl contention. I see us delivering another Orange and Maroon beat down to the hoos on our way to Charlotte.
***Anybody have predictions on our record, teams in ACCCG, and Bowl Game we head to?***