LULZ
1-0. I cannot tell you how good that feels to write. Again, we're one-and-zero. That hasn't happened since 2008, but you don't need me to remind you of that. You were there for the losses, and you felt the pain and frustration. It's been a disappointing start to the last three years of Hokie football. But today, we got off on the right foot, finally. I'm ecstatic.
I hope this post will be a place where we can share all of our thoughts from the game. Mine are as follows:
-- The offense didn't look that much different than those called by Stinespring, but the execution was that much better. Rolling up 518 yards is all well and good, but not turning over the rock once, especially when the game was over two minutes into the second quarter, shows me the focus was there.
-- Logan had just an OK debut. His numbers were average, and he didn't make any costly mistakes, but he missed some wide open guys, over threw some balls, and fired some lasers when touch was needed. Tomorrow though, the only thing I'l remember is him lowering his shoulder and trucking some mountain-man back to Appalachia.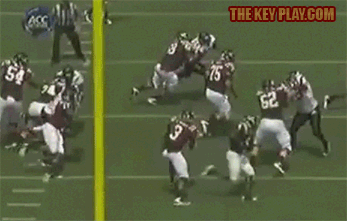 -- Gayle is going to live up to the hype. He dominated the line of scrimmage.
-- David Wilson averaged ten-yards a carry. He looked amazing this afternoon. I mean the kid took his first carry of '11 to the house. Enough said, tone set. The runs that needed to be bounced outside went towards the sideline, and he banged it into the box when called for. Oglesby was a great compliment to Wilson and proved himself capable of reducing DW's load.
-- The offensive line looked pretty dominant pass blocking. The one sack on LT3 was on him. He didn't see a wide open Marcus Davis and if anything he should have made a play to the outside. On some plays the pushed the d-line off the line of scrimmage, but on many Appalachian State was able to fill their gaps. Those runs that DW bounced outside had to go there for a reason.
-- How about that defense? They held a formidable App State offense under 300 yards, a lot of the stops coming from second- and third-stringers. The hyphen played pretty damn well and even picked another ball off. How about that Coop?
-- Demler averaged just 32 yards a punt, which will no doubt have the Frankinator tossing and turning tonight. Other than that Beamer Ball represented itself well. A blocked kick, no missed kicks and we Jayron straight hammed returning the ball.
-- It. Was. Just. Appalachian State. We should dominate them, with the team we have this year, anything else is inexcusable. It's ECU week now.

original via @CourtneyLofgren https://twitter.com/#!/CourtneyLofgren/status/109999002778480640
Leave your thoughts below.
*Feed for the GIFs courtesy of Phreak https://twitter.com/#!/VTPhreak4evr