By

french60wasp
columnist
on November 18, 2013, 11:10 AM
| 70 comments
It is clich to say that football is a game of inches or moments, but it often proves to be the case. Saturday's game against Maryland provided a wealth of frustrating moments, but ultimately two special teams plays haunted the Hokies as they muddled their way to overtime. Walk-on kicker Eric Kristensen dinged a 3-point attempt off the left post that would have given the Hokies a 10-point lead, and the Hokies punt return team gave up a touchdown return to freshman Will Likely that completely took the air out of Lane Stadium. If either play goes differently, perhaps the Hokies pull out a win in a game where they definitely were not sharp. I can't be critical of Kristensen. He was thrust into an impossible situation, and he hit both attempts solidly. Against an average opponent, the Hokies should not have been in a position where kicker needed to win the game. However, special teams as a whole continued to stink. Little was accomplished in the return game. And the coverage teams again struggled as they did against the Hurricanes and Alabama.
Against Miami, the Hurricanes busted two kicks right up the middle of the Hokies coverage, but great hustle and good fortune combined to give the Hokies two reprieves. Against Maryland, one of the top punt returners made the Hokies pay for their breakdown in coverage. The Likely touchdown return came as the Hokie defense was dominating and the offense had mucked their way to what should have been a two score lead. How did it happen, and is this part of a larger trend?
I will begin with a quick tutorial on punt coverage. Virginia Tech uses a standard put alignment, with two "gunners" aligned wide, two wing backs, and a personal protector in front of the punter. The gunner position plays two roles. First, it forces the return team to account for the gunner on a potential fake, removing a rusher. Second, the gunner (being far from the punter) can immediately release up field. Once releasing, they are free hitters without lane or contain responsibility. Their job is to either make the tackle for no gain, or cause the returner to hesitate or go east-west.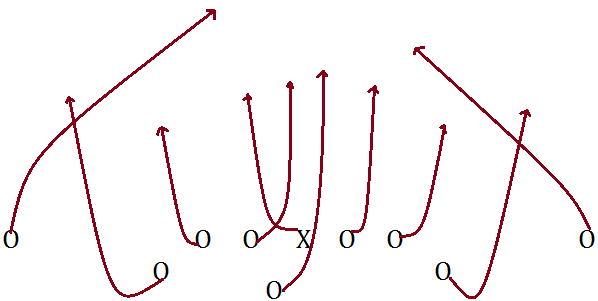 The linemen, wingbacks, and personal protectors have an assigned gap responsibility. They step through their gap, take the first man that comes, and then release to go down field and cover. The deep snapper, which is rarely as athletic as most coverage players, releases from the line of scrimmage almost immediately. The four remaining linemen usually fan out, with each having a lane responsibility. The personal protector (if he does not need to pick up an opponent) releases up the middle and acts as a third "free hitter." The wing backs usually are the last to release, and release wide to take outside contain.
The down side to this type of coverage is the vulnerability right up the middle on low kicks. A kick with low hang time allows the returner to catch the ball with forward momentum before the two gunners can close. A successful middle return almost resembles a trap play to the fullback, where unblocked players go up field taking themselves out of the play. The middle coverage guys (often the least athletic of the coverage players) are at an added disadvantage as they are forced to make a tackle before the entire group can converge on the football.
Frank Beamer's punt unit managed to do everything wrong on this kick. First, A.J. Hughes kicked a low line drive punt. The two gunners (Donovan Riley and I can't catch the name of the other one) are pushed well beyond the point where Likely makes the catch, effectively taking themselves out of the play.
That now leaves 9 players, including the deep snapper and punter, to make the tackle with Likely coming at them. Still, the Hokies players maintain good lane integrity through the catch. Then, things go haywire. Derek DiNardo doesn't break down on Likely, and Likely leaves him hugging air. Tight end Darius Redman mysteriously comes flying into the picture before crumpling on the ground.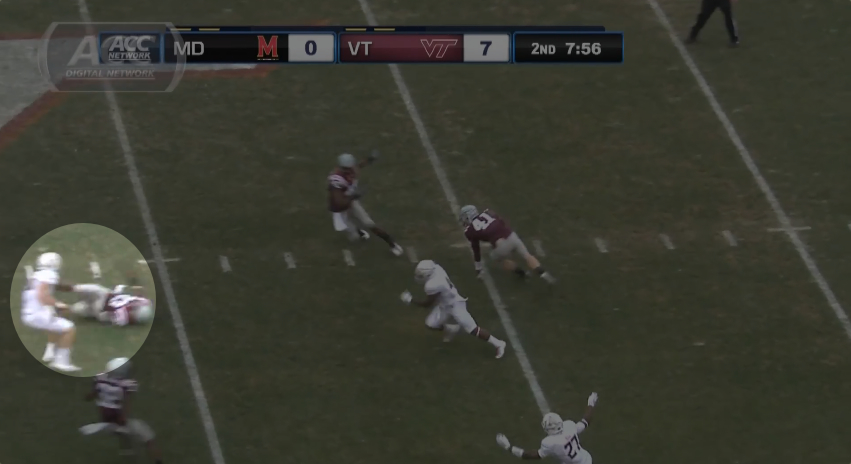 I can't find a definitive camera angle, but with a Maryland player behind Redman and his odd collapse, I am guessing that he was blocked in the back. Another look shows Redman mysteriously knocked down (again, the Terrapin blocker looks to be in position for a block in the back, but the camera only captures the fall), and Woody Baron apparently looking out for a block in the back rather than focusing on the football. Baron ultimately steps outside, opening the lane up wider for Likely.
At this point, the Hokies now have five of their eleven defenders out of position, along with three of the four coverage guys closest to the returner. Josh Trimble is one-on-one with Likely, and he loses. Likely then makes short work of Hughes, and Maryland is suddenly back in a game after essentially mailing it in early on.
It is easy to get on DiNardo and Trimble, but coverage is a team game, and tackling a player one-on-one when the returner is coming down hill is a tremendous challenge. Great special teams play results from getting multiple players to the football before the returner gets that momentum, and that happens as result of a good kick, good gap discipline, and great athleticism.
Hughes has had a terrific season, and punting is such an inexact science that you are going to get a less than perfect kick now and then. The Hokies had solid gap integrity until Redman went down. But, a quick scan of the personnel demonstrates how the Hokies depth issues have really hurt their special teams play.
On coverage, there was a punter, a deep snapper. Darius Redman who has struggled in coverage, but replaced Zack McCray after the Alabama game. Derek DiNardo and Josh Trimble have been solid role players all season, but both players came to the Hokies as walk-on's. Woody Baron, Dahman McKinnon, and Jerome Wright are all freshmen. Tariq Edwards and J.R. Collins are both the only players on the coverage team that were expected to be contributors this season, and both are defensive starters playing a role that I am willing to be that Bud Foster isn't too thrilled with. Meanwhile, there are a wealth of talented players who are athletic and have the experience to tackle and provide coverage, yet are either injured (Devin and Ronny Vandyke, Matt Roth), in trouble (Deon Clarke), left the team (Donaldven Manning, Davion Tookes), or have been conspicuous by their absence from coverage (Chase Williams, DeWayne Alford, Ken Ekanem, and the aforementioned McCray).
Until Knowles long kickoff return on Saturday, the return teams also lacked punch (and especially any semblance of blocking). These are not the guys I'd imagine that Coach Beamer was planning on going to war with this season, even if there are high hopes for the future. Attrition, either by injury, players quitting, or team discipline, has left Beamer in dire need of rebuilding talented depth in order to return to success on special teams. Expect to see many of the talented freshmen in this recruiting class, as well as athletic redshirted players like David Prince and Deon Newsome to have an opportunity to make an impact on special teams next season.