By

TheFifthFuller
columnist
on November 21, 2013, 12:54 PM
| 33 comments
Editor's Note: TheFifthFuller is writing about recruiting. Everything going to hell during a bye week is a continuing theme this season.
In a surprising development, Thekeyplay.com has exclusively learned that Virginia Tech has offered fanship to five-star Comedian/Actress Tina Fey out of Upper Darby, PA. The offer is notable since Fey has ties to rival school Virginia, graduating from there in the early 90s. Tech, however, has a recent history of gaining commitments from recruits with ties to the school, including brothers of current players. That strategy is a small part of the overall "Bitch, please" mentality the Hokies football program has to its in-state rival.
Fey would be a big get for the Hokies. She has demonstrated versatility and a broad reach to a large audience, something that can only help the Hokies national profile. She would also reach a vastly different demographic than recent high profile fan commit Britney Spears. Sadly, as has been the trend with many high profile recruits recently, some overzealous Hokie fans are already strongly lobbying Fey to pick their school.
The following is a letter than I may or may not have written.
----------
Tina,
This news comes in the midst of an extended hate week with LOLUVA this year, and is something very near and dear to my heart. This is something I've felt very strongly about for a very long time, and it's time to stop pretending that it's nothing. It's hard to tell someone you admire and respect that they've made a mistake. But we've all made mistakes in our youth, like that time I decided to cut my own hair with a safety razor when I was 8, or eating at a sushi restaurant in Lawton, OK1. But now, I'd like to focus on someone making the unfortunate decision to spend their college years in a Zima soaked hell.
Tina, this is an intervention. I admire you, I respect you, and I want to tell you it's okay that you went to LOLUVA. Since you are from outside the state and this was before the whole Internet thing, how were you to know what you were walking into? I think if you look back, you'll be able to admit that you made a mistake, and I'd love to see you pull on the maroon and orange and be a Hokie.
We've all seen 30 Rock. We understand Liz Lemon represents the hardworking everywoman who must constantly battle with the arrogant, born-with-a-silver-spoon, "culturally elite", scotch2 drinking upper crust Jack Donaghy...I mean, I don't know how to make the analogy between Virginia Tech and UVa any better. Lunchpail versus condescending elitists. But it's time to face the folly of your youth and embrace the football program that most represents you. Let's watch this interview you did:
I've always found it hard to come to grips with the fact that you are one of the funniest people alive and you went to LOLUVA. Ever since I saw this clip of you talking about how people were at UVa and how you didn't fit in, I knew it was true. You AREN'T LOLUVA, not really. Deep down, you're just like us.
What makes me so confident that you are a Hokie? Let me break it down.
1. You're half Greek. Four time national champion (at hammer throw and weight throw) and native of Athens, Greece, Spyridon Jullien matriculated at Virginia Tech. How many Greek national champions does UVA have?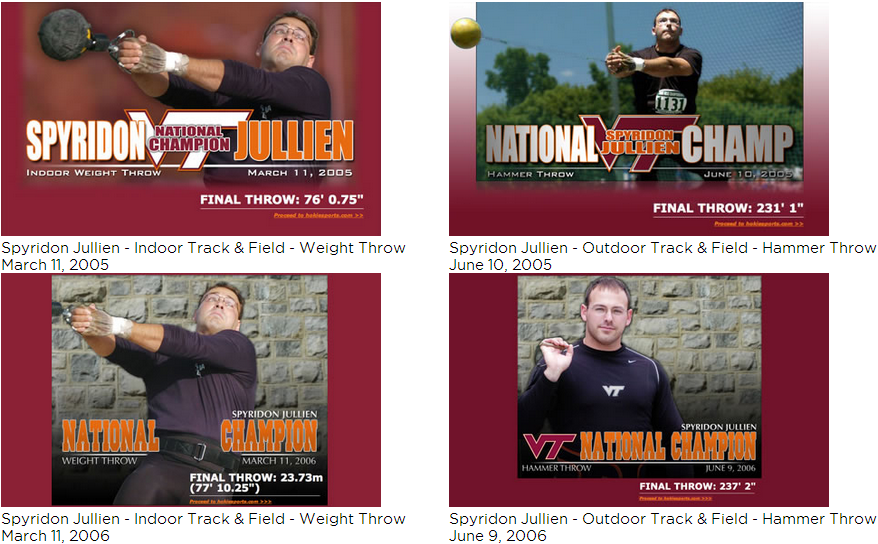 Probably none, and certainly none that are CHAMPIONS OF THROWING HEAVY SHIT REALLY FAR.
2. You mentioned to Katie Couric that at LOLUVA, "All the girls either owned horses or looked like horses." In Blacksburg, this is where keep our horses.
And on Jumbotrons
3. You're from Pennsylvania. At Virginia Tech, we love the Keystone State. The 2000 No. 1 overall recruit in the country, Kevin Jones, is from Pennsylvania. Where did he go to college? Virginia Tech. Same as former Hokie quarterback Jim Druckenmiller, who was 2-0 against LOLUVA. Same as the man with one of the heaviest shoulders in college football, Kyshoen Jarrett. I don't think you can argue with that kind of talent.
Seriously, don't argue with Kyshoen, he might do this
4. You rapidly rose to prominence in the mid 90s with exceptional talent. Remind you of anyone? Oh yeah, Frank Beamer. We beat Texas in the Sugar Bowl, you get hired at Saturday Night Live. We go to the National Championship game, you become head writer at SNL. You spend the 00s running an awesome show that is criminally under watched, we spend that time getting no respect for dominating a conference people don't take seriously. The symmetry is too perfect. You and Frank share a common management style as well, hire talented people3 and get out of their way.
5. Your husband is from Ohio, which is right next to Kentucky. What's in Kentucky? Murray State, where Frank Beamer rose to prominence before returning to Virginia Tech. Oh, and it also just happens to be the alma mater of the greatest defensive mind in college football, Bud Foster. You and Bud are practically in-laws4.
6. You did an absolutely amazing job impersonating Governor Sarah Palin on Saturday Night Live. Tyrod Taylor spent YEARS helping us impersonating a team with an offensive coordinator.
7. I found the following quote on your IMDB page5:
"I studied the usual acting methods at college - Stanislavsky and whatnot but none of it really clicked for me. At The Second City, I learnt that your focus should be entirely on your partner. Suddenly it all made sense."
I can't believe how horribly LOLUVA failed you. Not that you aren't successful now, but that you had to spend years doing shit jobs in Chicago while you learned your trade, education you clearly hadn't received in Hooville. And yes, I did notice that you spent more time in your book talking about working in a skeezy YMCA in Chicago than your time at LOLUVA. Your distaste is palpable.
Tina, now is a time for new beginnings. Don't feel like you'll be letting anyone from UVa down; no one there gives a shit about their football team anyway. Let me ask you one last question: As a writer, do you want to be recruited by a letter with misspellings and grammatical errors, or as an SNL alum, do you want to be recruited in Comic Sans? It's your choice.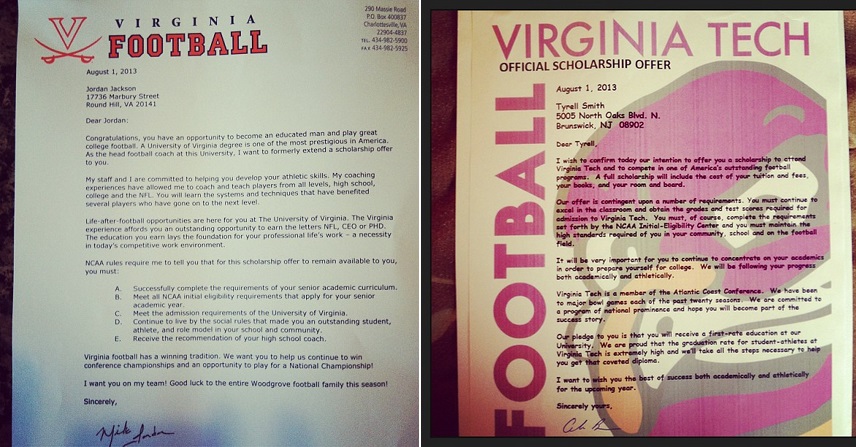 Plus, people are more inclined to laugh when their team wins. Which LOLUVA hardly ever does.
The author went on to plea for his fellow fans to assist him in getting the message to Fey:
The problem here, is how do we get this offer letter to Tina Fey? She has an official Twitter account, HOWEVER. She's only tweeted seven times6, and all in May, 2009. Despite this, she has almost 59k followers, which would neatly fit inside Lane Stadium. So what I need from Thekeyplay.com hivemind is how we get this to her without me getting slapped with another restraining order. Everyone help me INVENT THE FUTURE where Tina Fey is a Hokie.
T. Fuller, V
More on the story will be added as news develops. The one other item we are able to confirm is that Fey does have a brother, which has been a theme of Virginia Tech's recruiting over the last couple of decades.
1Lawton is VERY FAR from the ocean and not known for it's culinary scene
2Or Zima
3Well, for Frank this only applies to Bud Foster and Torrian Gray, jury is still out on everyone else
4Yes, I know that it is almost impossible to be further from Ohio and still be in Kentucky. STOP KILLING MY DREAMS.
5Which means Amy Poehler probably said it, but I'm running with it!
6More tweets than LOLUVA had fans at their spring game