After reading and digesting what the coaches and players had to say, this is what stood out to me.
Last year's troubles with the kicking game are well documented, so it's no surprise identifying a reliable field goal kicker is a priority. "We went through several there last year and didn't make enough of them, so we're going to really put a lot of emphasis on that particular area," Frank Beamer said on a teleconference.
It seems as if the special teams guru has introduced a new practice technique to develop consistency under pressure this spring.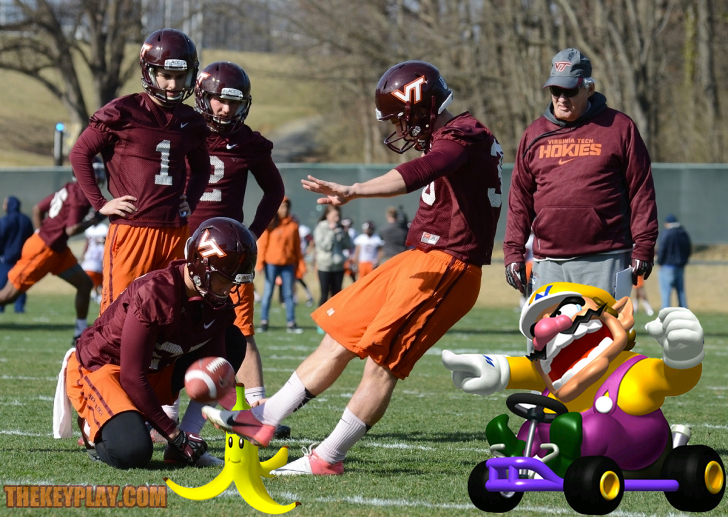 Additionally, the Frankinator dropped this hint on his teleconference regarding fourth string tight end Bucky Hodges, "I think we're going to keep him in there on some of the packages from a quarterback standpoint too." So either Tech's definitely running the Wild Turkey and it's going to work so well no surprise is necessary, or Frank's hoping opponent's devote time to stopping it. Maybe it's both!
Linebacker Chase Williams on whether or not finding a renewed toughness has been a point of emphasis for this team, "We got together and decided it was time to get back to the championship caliber defense, the championship caliber offense that Virginia Tech has had. I think the guys really bought in. We're going to show some toughness this year."
It's encouraging that Williams, a fifth-year senior who has waited for his opportunity to earn playing time, seems to have stepped into a leadership roll. Tech will have to depend on young linebackers this season and in 2015. It bodes well that Williams can set the tone for this year and the future.
Stacy Searels is the new offensive line coach, but he'll use the same methodology to identify his starting five, open competition.
"Basically, the thing we are looking to accomplish this spring is finding five guys that we can depend on to be a cohesive unit. We are going to play the five best guys, regardless. There are some guys who have played a lot more than others who should have a huge advantage of keeping their slot, but there is not one position that there won't be competition ... there is not one position secure. What I want to see most of all this spring is guys playing with tremendous effort, but also understanding all the schemes and techniques for us to be successful. We want to have a group of five guys that want to be known for being the toughest bunch in this league, and it will all start on day one of spring ball."
The jury, at least the one deliberating in the courtroom of my mind, is still out on Searels. I'm extremely antsy to see his unit perform. However, he has said all the right things.
If you head to Lane for one of the open scrimmages (4/5 at 3:00 PM, 4/12 at 11:00 AM, and 4/19 at 11:00 AM), unlike last spring you may see the offense run something other than inside zone right, or left. Willie Byrn explained to reporters that getting up to speed would be faster in year two of Loeffler's offense.
"Last spring, it was hard to even call it a spring, just because we had to work on our huddle the first day. Today, we're working on run plays and some base pass things, but it's much better. We're going to get a lot more work done.
"There's just a different energy I think. Last year we were all kind of, not timid, but we were what's going to happen this spring, how's it going to be, what do we expect. Now we know the intensity we have to come in with. I think we kind of matched the coaches' intensity today. Execution's obviously a different thing, but the effort I think was there."