Oh ECU. You're like seasonal allergies. You come around every fall, are mildly annoying, and occasionally bring me to tears. The next time the Pirates aren't on the Hokies' schedule (2021) I'll be over 30, married for three years (or divorced for 2), and can hopefully write something more than "hopeful grad student" on my resume .
I think it's best that we all agree to treat this game like we always do. Watch it once on a Saturday in September, and then agree to never talk about it again, regardless of the results.
On to the (fake) lines!
Over/Under: 4.5 times the Pirates make you say "oh sh*t, not again."
Brian: Let me give you an example. After James Summers plowed into the end zone to give the Pirates a 21-14 lead last year, I looked at my future father-in-law (an ECU grad) and said "sh*t, not again." And I then I promptly said it each time they scored, and once more for good measure after Brenden Motley's final pass fell incomplete to finish the 35-28 loss.
Moral of the story, Tech has struggled against ECU a lot over the last decade. Three losses, two one-score games, and a bevy of ugliness. A never ending series where the wins don't feel victorious, and the defeats feel relatively normal. Something tells me I'll say this a lot on Saturday, not necessarily because it'll go poorly, but just as a reflex (at least through the first quarter).
Pierson: There are a number of annual foes — Pitt, Georgia Tech, Miami and UNC — that scare me each and every year, regardless of how competitive the games should be. Thanks to Jim Weaver, ECU has become a part of that despised list. You don't want to play the plucky, underappreciated team that thinks you have some sort of geographic rivalry that is of no interest to you; unless they morph into Boise State-West, it's a lose-lose scenario. Beat them on an annual basis and it does little to push the needle for the College Football Playoff Selection Committee. Lose every now and again, and it damages national perception.
Every year there is a Pirate (or two) that haunts your dreams on a bleak Saturday night in September. Guys like Patrick Pinkney, T.J. Lee, Shane Carden, Cam Worthy and James Summers, to name a few. Virginia Tech's defense has looked fantastic this year, but Josh Dobbs broke enough long runs to make me nervous heading into Take 2 of the James Summers Experiment. I am taking the over because, well, ECU makes me into a "glass half-empty" kind of guy.
Over/Under: 71.5 total pass attempts between both teams
Brian: These two teams combine to average 72 passes a game (Jerod Evans averages 28, ECU's Philip Nelson averages 44), so this'll be a close one. I'm going over for two reasons. First, I expect Bud Foster's defense to have a solid game plan to take away the runs from Summers that haunted them in Greenville last year. It'll force the Pirates to turn to the air even more than usual, like they did against South Carolina last week (58 attempts). Evans will also have some avenues to exploit a Pirate defense that showed some holes against N.C. State, so I expect him to sling it around more than he did against BC.
Pierson: I'll take the over. ECU's running game has decreased in efficiency through three games and, not-so-coincidentally, as the opposition has improved. As French pointed out in his brief preview of ECU, Scottie Montgomery's staff has turned to wildcat QB James Summers to provide some semblance of a ground threat. I expect Bud Foster to have his men prepared for Summers this time around, making the Pirates more one-dimensional against a dialed in pass defense. We know that we're going to see 25-30 pass attempts from Evans, so as long as Philip Nelson & Co. approach their season average we should hit this line.
Over/Under: 3.5 passing touchdowns for Jerod Evans
Brian: So, I didn't realize what a spread offense would do to the Hokie record book until I saw this tweet:
Tyrod Taylor's single-season Pass TD record (24 in 2010) already in serious jeopardy. Evans has 10 in his first 3 games.— Zach Mariner (@ZachMariner) September 17, 2016
Like it or not, but the passing game is a huge part of the way the Hokies score. Last week, four of Evans' five TDs came from inside the red zone. It's just an extension of the running game, and by spreading the defense out there'll be more opportunities for the quarterback to exploit. I'll still say under, because a Hokie QB having this kind of success is still hard to fathom. But from what we've seen, it's definitely doable.
Pierson: Through three games, only 1 of the 7 touchdowns surrendered by the Pirates have been through the air. While none of the signal callers they have faced (nor do their systems) approach what's in store for them on Saturday, the ECU pass rush has given teams fits and will be something to watch. The fan in me really wants to take the over here. Having a passing offense that throws 14-plus passing touchdowns through four weeks is an amazing possibility. Sadly, I'm too much of a pragmatist and have to go with the under. It's not like three passing TD's is a bad thing, right?
Truthfully, I'm hoping Foster and Wiles have gotten into the offensive staff's ears to provide a brief history of this frustrating matchup. My ideal Saturday is this:
Hokies win the kickoff and Evans throws a long touchdown pass on the first play from scrimmage;
Hokies force a turnover on the kick return and Evans throws a touchdown pass on the next play from scrimmage;
This scenario repeats itself for 60 minutes, while Bud roams the sidelines screaming, "AGAIN," after each TD pass like Herb Brooks in Miracle.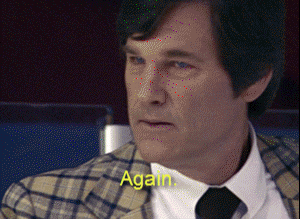 Over/Under: 300.5 passing yards for ECU signal caller Philip Nelson
Brian: Over, just because I'm betting he'll have to throw 55 times. It's easy to get excited about how well the Hokie defense has played against Josh Dobbs and Patrick Towels, but the Pirate attack is a different kind of beast. Bud Foster's crew will have success, but if ECU throws enough times Nelson will be bound to fall into some sort of success yardage-wise.
Pierson: Under. I have an admittedly irrational faith in the Hokies' secondary right now. Do I think they will continue to hold all opponents under 100 yards passing? No, that will almost surely end this week. Do I think this is the most talented defensive backfield in recent memory? Nope, not even close. But they're playing well as a unit and the defensive line has been disruptive enough to force opposing quarterbacks out of rhythm. Nelson is going to sling it, but I'm (irrationally) confident that the Hokies keep the passing game under 300 yards.
Yes/No: Marshawn Williams will have more carries than Travon McMillian
Brian: I'm interested to see what happens here. I know McMillian was banged up due to a faulty block last week, but Williams did show a certainty in his runs that has been missing from most of the backs. He's not fast — which is kind of a problem for running backs — but if he's decisive he'll shoot immediately into the "next back up" conversation. Plus, it's not like McMillian has been super productive. If you take away his 69 yard scamper against Tennessee, the sophomore has averaged 3.5 yards an attempt.
If Williams can hit the hole for a relatively easy gain on most of his carries, how many reps will he steal? It may not happen this week, but I don't think it's outrageous to wonder moving forward.
Pierson: The only way I see Juice finishing with more carries than Travon is if Cam Phillips blows another blocking assignment on the edge.
In all seriousness, I love Juice and I think the three-headed monster that he helps form along with Travon and Shai has the makings of a dangerous, complimentary group a la Ryan Williams, Darren Evans and David Wilson. I think that if Travon hadn't gotten blown up on that screen pass (thanks Cam!), he would have easily outpaced Marshawn in total carries last week. Juice will play a big role this season, but I don't think double-digit carries will be the norm just yet.
Rank 1-5: Who has the most receptions: Isaiah Ford, Cam Phillips, Bucky Hodges, Sam Rogers, Travon McMillian
Brian: Bucky, Isaiah, Travon, Phillips, Sam. It feels like Hodges is ready for a big time performance. He creates the single biggest mismatch on the field with his size, and after a few middling games in a row it wouldn't be a shock to see him get going. McMillan and Rogers are also interesting, because both are becoming bigger threats to catch passes out of the backfield. Just look at Travon's touchdown reception again. If the run is established early, some of these type of counters will be available for the taking.
Pierson: Brian, you sure do love these Rank 'Em lines! Let me give the ol' Brad Cornelsen Wheel of Destiny a whirl...Okay! Ford, Temuchin, Phillips, Rogers, McMillian. History tells us Ford is most likely to get the most targets, unless the opposition has an absolute shutdown corner. Evans seems to be looking Bucky's way more and more often, and rightfully so. And Cam has been a steady option making plays while the defense is preoccupied with Ford and Hodges. While it wouldn't surprise me to see the Hokies try and neutralize ECU's front seven by sprinkling in passes to the tailbacks, I think by game's end the usual suspects will lead the team in catches.
Set your own line: the number of times you forget Ruffin McNeill isn't ECU's head coach
Brian: 10.5 times. I've already forgotten at least three times while writing my portions of this column. For years McNeill was the face of my pain, the leader of the Pirates who was so nice I just couldn't hate him. Believe me, I tried. He and his baggy white windbreaker are now burned into my brain forever.
Pierson: I will say at least four times. I haven't had enough chances to laugh at him wearing UVa gear alongside Bronco and his crew of misfit head coaching castaways.
Matchup Over/Under: 56 total points
Brian: Over. Both teams are good at scoring, and will take their shots against the opposing defenses. It won't necessarily be a shootout, but if the Hokies hover between 35 and 40, it's not unfair to suggest the Pirates get between 17 and 20 of their own. Simple math says bet the over.
Pierson: Under. A 49-0 Hokies win over a stout defense is enough to swing the Pendulum of Sanity WAY TOO FAR in the opposite direction, where reactionary gamblers (**cough cough** Joey Coogan) see this line and bet the farm. They will make wild statements like, "The Hokies scored 49 points — 49 points — against last year's No. 1 defense!" And, "ECU is almost always good for 17-20 points, right? Right?!" VT-ECU is often a tight, hard fought game — not altogether surprising seeing as the two teams play every freaking year. I'm envisioning something along the lines of a 34-17 final score.
Spread: Virginia Tech (-11)
Brian: Is it weird I like the Hokies to cover here? If you take out two incredibly sloppy quarters against Tennessee, Tech has played really well. The Pirates are good, they beat N.C. State and should've taken care of South Carolina last weekend. But the Hokies are coming off a still-surreal 49-0 win over a conference team, and look like they mean business. Give me Tech 41-24.
Pierson: I already threw out my score prediction, so the cat's out of the proverbial bag. I think the Hokies cover the spread behind an offense that continues to get more comfortable in this system as the weeks go on; and behind a defense that will get the job done against one of the less talented ECU offenses in recent years. After consecutive embarrassments against Pirates, I would love nothing more than to see Tech lay the wood on Saturday.
Disclaimer: Some of these are real betting lines, but many of them are fake and none of this is real advice that should be taken seriously.