The Big Eleventy is a pseudo-conference created from a number crunching exercise at the season's end. It isolates the most successful teams of the past 20 seasons by AP poll visibility. Simply put, if a program is ranked more than half the time, it's in. From there, some statistical and metric comparisons are drawn, and a considerable amount of time is taken farting around in Microsoft Paint.
For the first time since starting this project (following the 2015 season), no new teams were added or dropped from the prior season.
These are the teams that just missed the cut (with their percentage of time ranked, followed by the next season they could "join the conference", in parentheses):
Boise State (46.8%, 2019)
Michigan State (43.4%, 2021)
Oklahoma State (44.1%, 2020)
Penn State (43.6%, 2021)
Tennessee (44.0%, 2024)
West Virginia (44.4%, 2021)
Only one program teeters in danger of dropping out next season. As long as Nebraska can manage two weeks ranked at some point in 2019, they would retain conference membership.
I present to you the Big Eleventy conference; 8-bit version.
Admission Criteria, Entire Seasons Ranked or not, and CFB Belt performance
End of Season Success
Metrics and Winning Percentage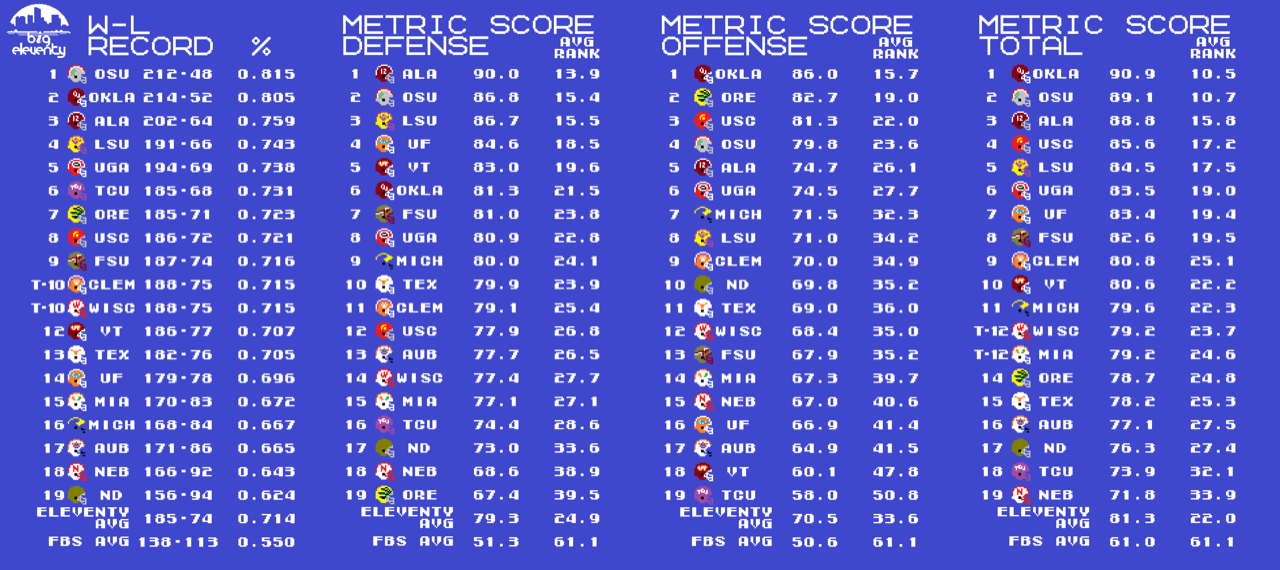 Performance vs. Ranked teams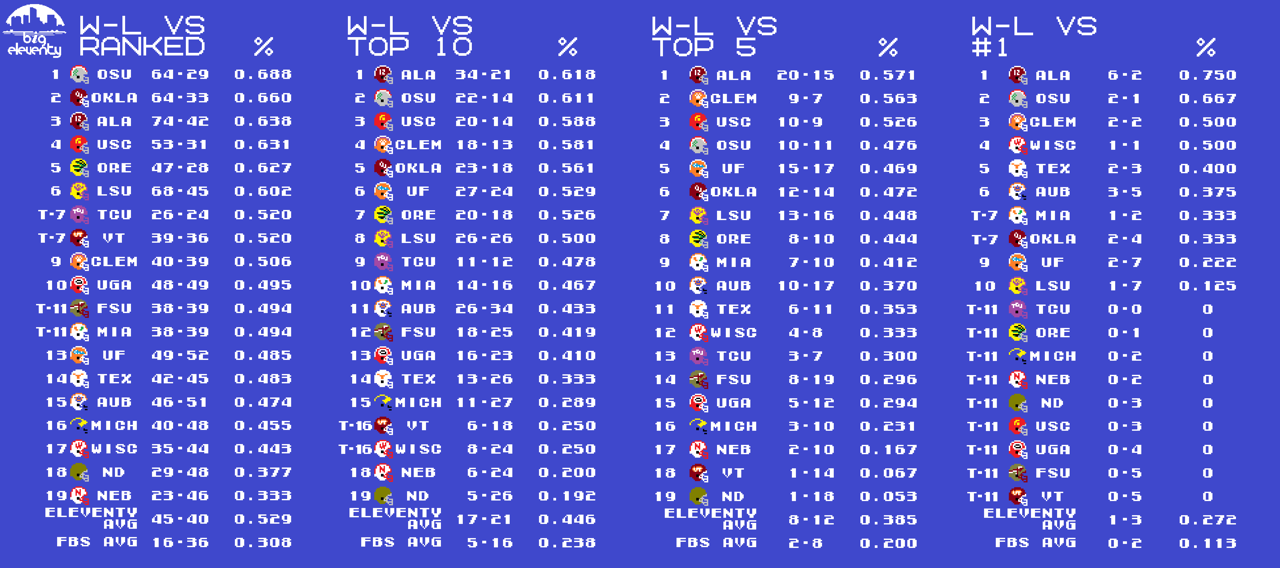 Round Robin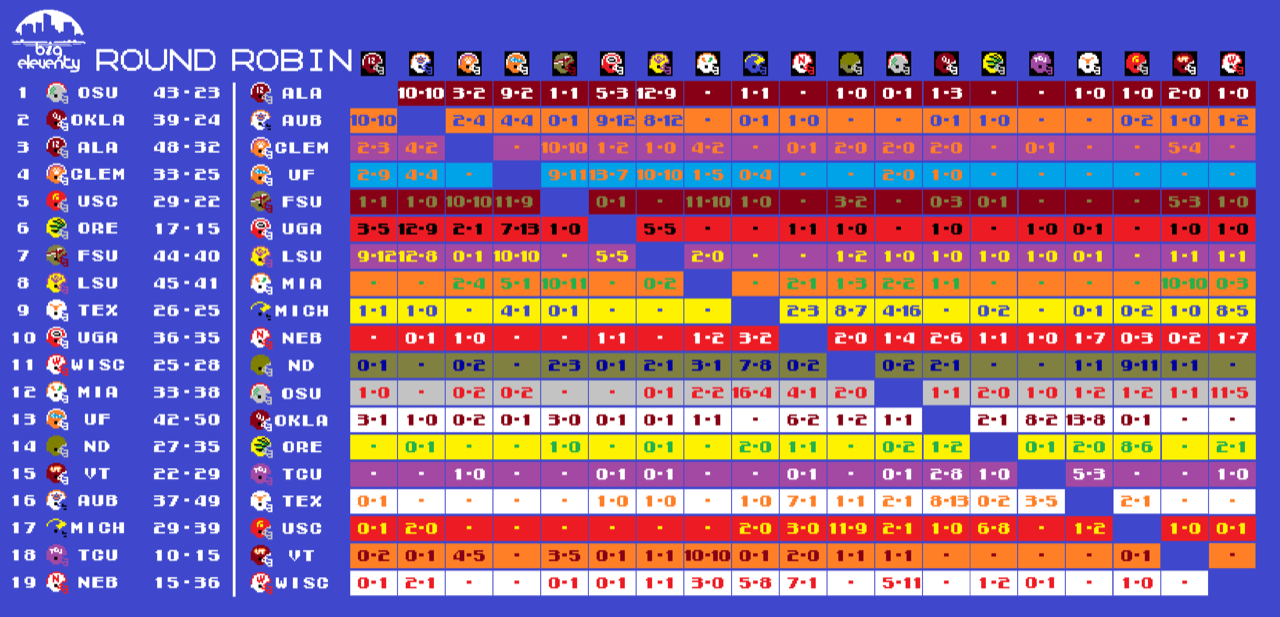 Key Takeaways: There's no sugarcoating how painful last season felt. Virginia Tech opened its campaign with a solid win over an (alleged) vaunted opponent, only to scrape through to bowl eligibility. This season's Big Eleventy will be the last year in which the results of the Hokies' 1999 National Championship run are tallied, as well.
Being ranked more than half the time over the past two decades is good company to be in.
The Hokies are four unranked seasons away from dropping out of this group.
To put this in context of ACC schools; Miami could fall below this threshold in two seasons by resting on their laurels. Florida State could last one more year than the Hokies; Clemson two. Tech is not in terrible shape from a recent historical perspective.
Two of the eight "blueblood programs" are at risk of dropping below this 50% threshhold as well. Notre Dame has as much margin as Miami. Unless Nebraska stays ranked for more than a week this season they're out. (And unless they stay ranked through the next couple seasons, they'll drop <50% soon enough).
From a short-term perspective, it's pretty simple to recognize that the Hokies are coming off their worst record since Bill Clinton took office. With attrition seemingly common in Blacksburg and the 2020 class seemingly full of missed connections, it would be pretty easy to correlate these conditions with a program that's in dire trouble.
There's a reason many fans are pessimistic this offseason, and maybe that's healthy. They expect better results. And Tech is a much better program than those data points would suggest.
I don't claim to have any unique insight into the program. I'm certainly not overcome with any belief that the sky is falling in on the Virginia Tech football program, either. It speaks to the strength of a beloved program that it has fans who pick it apart with precision, pointing out the potential weaknesses and calling out those who seem to be less worried as "making excuses" and "being apologists". Coming off the last Tech losing season observed since the original Jurassic Park came out in theaters; perhaps that's right where we ought to be.
(Not that we're above calling folks out when warranted)
Metric Scores:
I developed a workaround to take different metric rankings, flatten their natural results curve and renumber the results in a 0-100% format. The FEI (2007) & SRS (2005) results are used as far back as available; the SRS (Simple Rating System from Sports-Reference.com) is used prior to that. More detail is available in my Big Eleventy 2017 Rundown.
References:
CollegeFootballBelt.com (no longer active; Ohio State currently holds the "belt")
S&P & FEI Metric Data
AP Poll Data
AP Poll
SRS Metric, Team Records, etc...
Big Eleventy Extrapolated (from 1936 to 2017)
Big Eleventy 2017
Big Eleventy 2016
Big Eleventy 2015