By:

NerdMagic
GIF CONNOISSEUR
on August 22, 2019, 7:20 PM
| 66 comments
FINALLY! SIX PICK HAS COME BACK TO THE KEY PLAY!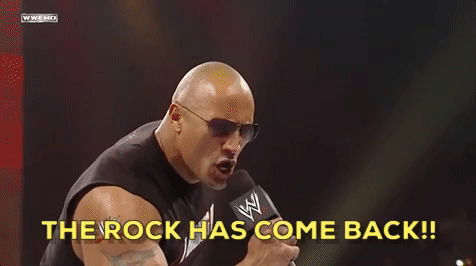 "But Nerd, there are only 4 week 0 games, that's not enough for a six pick!"
I just wanted to get a run in and see how long this takes to format and everything.
August 24
Villanova
@Colgate (-2)
Nerd Fact #1: Colgate was the Patriot League champion last year and was the only team in the league to have a winning record.
Nerd Fact #2: Villanova's Nowooola Awopetu has three O's in a row in his name and I think that's neat.
Pick: Colgate. I'll take the team that was 10-2 last year over the 5-6 squad.
Youngstown St (-1.5)
@Samford
Nerd Fact #1: Youngstown State is coached by none other than Bo Pelini.
Nerd Fact #2: Samford had a very pedestrian 6-5 record last year but I was shocked to see they only lost by 10 to Florida State.
Pick: GIVE ME THE PENGUIN HEAD! *Please note that there is a shocking lack of Lee Corso wearing a penguin head, mascot or real, on the internet.
Miami
@Florida (-7)
Nerd Fact #1: The offseason circus with Tathan "Call Me Tate" Martell rolls on as the transfer not only did not win QB1, he is now potentially a WR. Manny Diaz, first year head coach and notorious yacht rider, claims he is open to a position change. Nerd doubts this.
Nerd Fact #2: The Fightin' Jorts posted an impressive 10-3 record last year, but had as many ranked wins at VT (2).
Pick: Probably the game of the week 0, but I like the Canes to cover for some reason that makes me want to commit sudoku.
Arizona (-11)
@Hawai'i
Nerd Fact #1: Arizona is a lifetime 5-0 against the Rainbow Warriors.
Nerd Fact #2: Hawai'i's QB, Cole McDonald, was responsible for 4000+ yards and 40 TDs last year and returns for his senior year coming off an 8-6 season.
Pick: If this line was -10, I'd think a lot harder, but I think the Rainbow Warriors manage to cover and would not be shocked if they take it outright.
Beer of the Week:
'Nuff said.
***
Overview:
Nova v Toothpaste (-2)
Mr. Pelini's Penguins (-1.5) v Stanford Knockoff
Ibes [Plural] v Jorts (-7)
The Fightin' Rich Rods (-11) v THE RAINBOW WARRIORS
Nerd Note: I will be gathering picks and posting results in a google sheet next week. Week 0 WILL NOT COUNT to the standings, but will get everyone used to the concept. Please post your picks before kickoff for them to be counted. Nerd out.