By:

VPIVMI15
on February 12, 2020, 9:49 PM
| 56 comments
Match Information
Location: Reynold Coliseum - Raleigh, NC
Day & Time: 14 FEB 20 at 7:00pm
Viewing: ACCN and in-person
Updates: Twitter @HokiesWrestling, and Trackwrestling
The Opponent: North Carolina State University Wolfpack
2018-2019 Season and Now
North Carolina State's dual record last year was an impressive 16-3 (4-1 ACC) with a fairly weak schedule, but has swept the ACC regular season and tournament titles. Last year's match against Virginia Tech was a close battle with unfortunately the Hokies on the losing end, dropping a 17-16 dual due to criteria of more team points. This means each team won five bouts, but the Wolfpack score more overall points. Each had four decisions and two major decisions. Virginia Tech did have one upset at 197lbs and 165lber Mehki Lewis was only two points away of sealing the dual for the Hokies.
This 2019-2020 NCSU team is much improved from last year, as seen by their undefeated record of 13-0 (3-0), but does have some similarities to last years team. Their schedule is still fairly average. At the time of the duals, the Wolfpack have wrestled four ranked teams, with only two not ACC programs: #12 Princeton and #15 Cornell, now #21 and #24 respectfully. The other two are #10 Pittsburgh and #8 North Carolina. On the flipside, three of their wins have come against DII programs within the state of North Carolina at the Wolfpack Duals. For the roster, the starters are a dead split between underclassmen and upperclassmen, but is littered with talent. Of these ten wrestlers, five of them are ranked: 141lbs Tariq Wilson (#10), 157lbs Hayden Hidlay (#2), 165lbs Thomas Bullard (#10), 174lbs Daniel Bullard (#18), and 184lbs Trent Hidlay (#3).
Coach: Pat Popolizio
Coach Popolizio, or Coach "Pop", is in his 8th season as the head coach and has improved wrestling's image in the South. Prior to North Carolina State, he was the head coach of Binghamton between 2007-2012 where he brought immediate success. It is safe to say he has done the same for the Wolfpack, having won three ACC Championship titles (2016, 2018, 2019) and coaching seven individual All-Americans; two of these wrestlers would be national champions (heavy weight Nick Gwiazdowski: 2014, 2015 and Michael Macchiavello: 2018). Pat Popolizio's head coaching record is 177-68-2 when combining his tenure at both Binghamton and NC State. He also won the National Coach of the year in 2016.
Popolizio collegiate wrestling career spanned from 1998-2002 at Oklahoma State University. He went to the NCAA tournament three times but was never an All-American and did not win a championship title. There was not any consistent info on his career record.
The Line-Up
125lbs: Jakob Camacho (r-FR, Danbury CT)
Camacho is not ranked at the moment but is very close. The issue is he has four losses and no wins against the current top-25 in his weight class. In his career, he has wrestled four separate Hokies and is 6-1, with his only loss to Sam Latona at the Sourthern Scuffle this year. He did defeat Joey Prata last season, in his first match at the Hokie Open, by major decision. For this season, his record is 16-6 (2-1 ACC) and his career record is 42-8.
133lbs: Jarrett Trombley (r-FR, Owosso MI )
Trombley has faced Collin Gerardi twice before, in the Hokie Open and the Appalachian Open last season. They have split the matches; Trombley winning the first in a 2-1 decision and Gerardi winning the second in a 6-2 decision. This year, his record is 16-7 (1-2 ACC), but his strength of schedule is relatively weak. He has only wrestled two top-20 wrestlers where he lost both bouts. For his career, his record is 37-13.
141lbs: #10 Tariq Wilson (r-JR, Steubenville OH)
Wilson moves up from the 133lbs weight class he has wrestled for the last three years. He has faced Mitch Moore this season at the Cliff Keen Invitational and got very lucky, beating him 5-3 in sudden victory. Against the top-20, he has two wins and two losses. Wilson has been to the NCAA championship tournament twice and earned the All-American in 2018, finishing 3rd. This season his record is 22-4 (3-0 ACC) and is 87-26 in his career.
149lbs: Matt Grippi (r-FR, Bedford Hills NY) OR A.J. Leitten (r-SO, Fort Mill SC)
Grippi is the presumed starter since he wrestled in the most recent dual against UNC. He has appeared in six other duals this season so he is not new to the line-up. He has faced two Hokies in his young career: a 2-1 decision loss to Jake Hart in sudden victory this season and a 14-10 decision win against Caden Darber in 2019. So far, Grippi is 19-7 (0-1 ACC) this season and has a career record of 37-14.
Leitten was the Wolfpack starter going into this season and was his first time in the line up. He has wrestled in six duals as well. It is not clear why he did not wrestle in the last ACC dual. He did sustain an injury in early January at the Southern Scuffle, but has made match appearances since. For 2019-2020, his record is 17-7 (2-0 ACC) and has a career wins-loss of 50-21.
157lbs: #2 Hayden Hidlay (r-JR, Lewistown PA)
Hidlay is the back-to-back ACC champion, a two time NCAA qualifier, and has earned All-American both times; 2nd in 2018 and 4th in 2019. This season he is 24-1 (3-0 ACC) with his only loss is against #1 Ryan Deakin of Northwestern. He has defeated seven other top-20 wrestlers in his weight class, including the 4th, 6th, 7th, and 10th ranked wrestler. He did face Brian LaPrade in 2019, winning 6-4. For his career, he is an outstanding 96-9.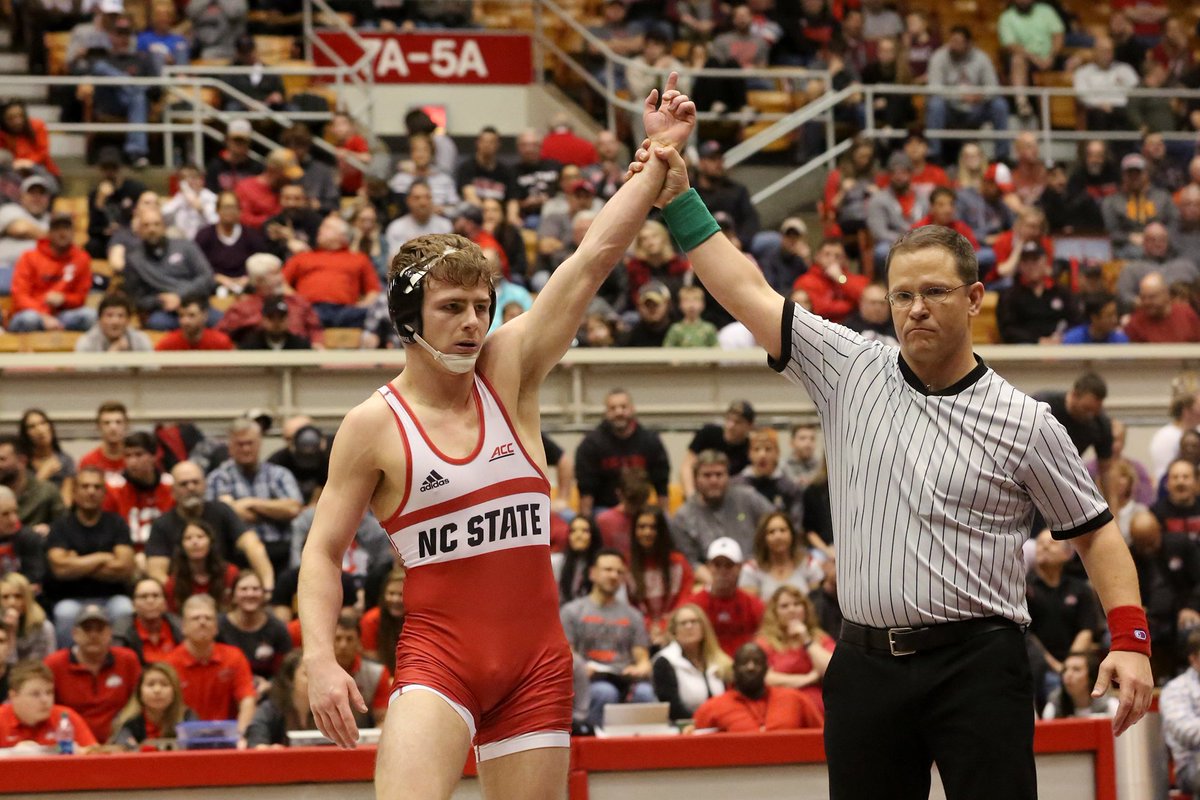 165lbs: #10 Thomas Bullard (r-JR, Lawrenceville GA)
The first half of the Bullard twins. Thomas qualified for the NCAA tournament in 2017 and 2019, while taking a redshirt in 2018 to bump up from 157lbs. He has not faced David McFadden, but has lost to Mekhi Lewis thrice. Thomas had a small injury that prevented him from wrestling UNC, but should be back for the dual. If not, expect to see Tyler Barnes. He is 2-3 against the top-15 and 20-5 (2-0 ACC) for the season. His career record is 74-30.
174lbs: #19 Daniel Bullard (r-JR, Lawrenceville GA)
The second half of the Bullard twins. Daniel qualified for the NCAA tournament in 2018 and 2019, while taking a redshirt in 2017 where he wrestled at 165lbs. He lost all four matches against Hokie grapplers, twice to both Hunter Bolen and David McFadden. He is currently 1-2 against the top-20 in his weight class, but his season record is 22-5 (2-1 ACC). His career record stands at 76-35 for North Carolina State University.
184lbs: #3 Trent Hidlay (r-FR, Lewistown PA)
The younger Hidlay for NCSU, who took a redshirt last season at the 174lbs weight class. He has handled the bump well, going 21-2 (3-0 ACC). His losses are against #6 Louie DePrez (Binghamton) in a rematch and #1 Zahid Valencia (Arizona State). He does have three wins against the top-10 wrestlers at his weight class. The only Hokie he has wrestled is David McFadden in 2018-2019, where he lost 3-2 in tie breaker. His career record is 45-4.
197lbs: Nick Reenan (r-JR, Dallas TX)
Reenan is the former 184lbs starter that has now moved up to 197lbs. He was at one point ranked, but has not wrestled a complete season due to injury. His 2019-2020 record is 5-5 (0-2 ACC) with four of those losses coming against top-20 opponents. He is not the wrestler he once was. He has qualified for the NCAA tourney twice, in 2017 and 2019. He redshirted in 2018 where he had a season ending injury. His career record is 64-28.
HVY: Deonte Wilson (SO, Amityville NY)
Wilson is the returning starting and the only starting wrestler that has not taken a prep year for North Carolina State University . In 2019 he nearly qualified for the NCAA Tournament, but fell one match short. He is currently 1-2 against the 285lbs top-20 and has a season record of 16-8 (2-1 ACC). His career record 38-20
Match Thoughts
Virginia Tech handled Duke University with ease last Saturday, winning 46-3. Six wrestlers where able to pick up bonus and two matches were forfeited by the Blue Devils. The only match the Hokies lost was on Caden Darber first career dual start at the 165lbs weight class. David McFadden did not start as a precaution and getting some extra rest before this Friday's dual. The 184lbs weight class also saw a fill in with Cody Howard getting his first dual start and win. Hunter Bolen was a healthy scratch as well to prep for his next bout.
Virginia Tech goes into its match against NC State with six ranked wrestlers: #16 Joey Prata (125lbs), #19 Mitch Moore (141lbs), #18 BC LaPrade (157lbs), #6 David McFadden (165lbs), #2 Hunter Bolen (184lbs), and #19 John Borst. There are lots of huge match ups, but going over the Wolfpack roster there are many similarities to the Hokies. Obviously the key match ups to watch are 165lbs and 184lbs. These wins will not only decide ACC seeding, but will have major implication on the top four spots in NCAA tournament. But the toss-ups at the ends of light weights and heavy weights, as well as 149lbs, will decide this match.
Predictions
125: Camacho dec. #16 Prata (0-3 NCSU)
133: Gerardi dec. Trombley (3-3 Tie)
141: #12 T. Wilson dec #18 M. Moore (3-6 NCSU)
149: Andonian dec. Grippi (6-6 Tie)
157: #2 H. Hidlay maj. dec. #19 LaPrade (6-10 NCSU)
165: #6 McFadden dec.#10 T. Bullard (9-10 NCSU)
174: #19 D. Bullard dec. Hughes (9-13 NCSU)
184: #2 Bolen dec. #3 T. Hidlay (12-13 NCSU)
197: Smeltzer dec. Reenan (15-13 VT)
285: D. Wilson dec #19 Borst (15-16 NCSU)
When analyzing the head-to-head ACC matches, Prata and Borst are actually underdogs, even though they are ranked. Though I will say Borst has the best shot between the two of them. I have Gerardi and Andonian winning their matches, as they are both wrestlers with higher upside. The H. Hidlay of 2020 is not the same one in 2019; he's even better. Even if LaPrade gives up bonus points, it won't be a huge factor in the dual. No other bouts are predicted to have a maj. dec or above. Robie's decision to rest McFadden and Bolen was wise, as they both will go through a tough row of matches. I think McFadden's loss to UNC's Kennedy Monday will light a fire inside him. For 184lbs, all I can say its gonna be a battle of titans.... Lastly Smeltzer has a real chance of beating a once great wrestler in Reenan. It is truly a shame to watch him struggle through his injuries, but this doesn't mean its a guarantee win for VT at 197lbs.
Its gonna come down to one match and the home Raleigh crowd will be a factor. Coach Pop teaches his wrestlers to dictate the pace in matches, whether "slow and low" or "fast and high". Watch how they lure opponents and exert pressure at different times. Hopefully the Hokies don't get punked like the last time they were on the ACC Network and provide an entertaining dual. This is the dual that will decide if the Hokies have a chance at the 2020 regular season ACC Champions. With a win, Virginia Tech would be in a three way, co-champion, tie with UNC and NC State.