By:

Joe Lanza
PUBLISHER
on April 25, 2010, 7:50 PM
| 6 comments
We were in attendance for the Spring Game on Saturday. Despite warnings of inclement weather, I'd say about 35,000 Hokies made the trip into Lane. The pregame atmosphere was festive and it felt like fall in the 'Burg. A little taste of football (and bourbon) was good for the soul. Our notes are below.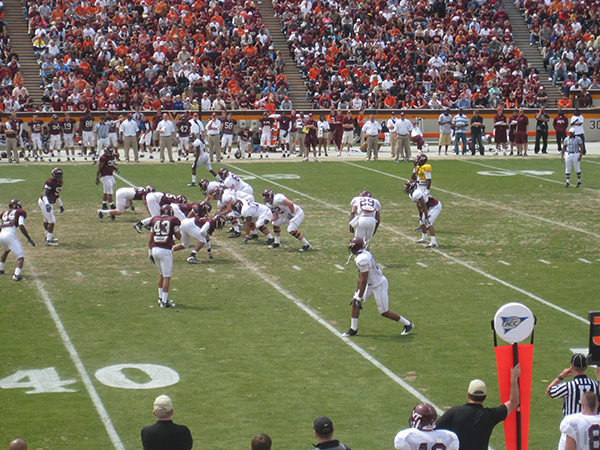 The end of an era, Tyrod's last spring in Blacksburg.
Aside from a few bright spots, the offense was pretty stale and boring. There was very little flow and only a couple of sustained drives.
For the most part, the defensive lines handled the offensive lines. It's not as bad as it sounds though. It wasn't the ones versus ones and twos versus twos, instead the starters and reserves were mixed up. The absence of Painter and Via really weakened the already watered down offensive lines compared to the healthy defensive lines.
Antone Exum is an absolute beast. He's rangy enough to cover the entire field and will come up and pop the ball carrier. He was in on every pileup and gang tackle. He and Davon Morgan, numbers #1 and #2, look slick holding down the secondary.
While he didn't play many snaps, Tyrod was involved with the white team offense for the entire scrimmage. He relayed and decoded the signaled plays for reserve/ practice quarterbacks Will Cole and Trey Gresh. On the sidelines he was coaching up Logan Thomas. You could see first hand the leadership and maturity that Beamer had been talking about the entire spring.
Ryan Williams didn't play because of some tendinitis in his knee. Good call to rest him, but it was disappointing not to see him get a couple of carries.
A slew of NFL Hokies including Macho Harris, Brandon Flowers, Chris Ellis, David Clowney, etc were introduced at the half. I stood up and clapped for Michael Vick.
Steven Friday is really making the most of his opportunity as starter: 4 tackles, 3 for loss, 2 sacks one of which was a hellacious hit on Logan Thomas for a safety.
We met a grandma aged Hokie, who agreed with us that the student section should be moved to behind the visitor's sideline. She also told this joke, "Why is UVa like a possum? Because they play dead at home, and get killed on the road."
Andrew Lanier is no match to block Steven Friday.
For our money this scamper by Tony Gregory was the best offensive play of the afternoon.
In addition to the game, several Hokies were recognized as standouts during practice. You can check out the full list of winners here. We're going to recognize two more here.
Best Spring Hair Style (tie): Nick Sheehan and Beau Warren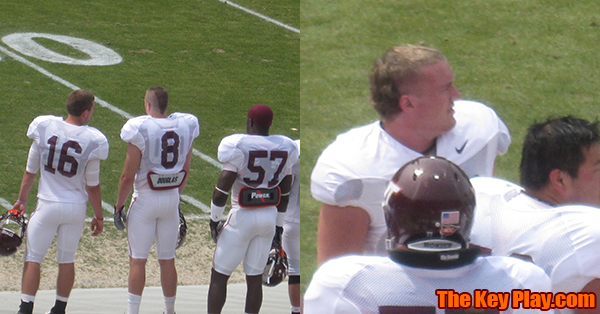 This is 100 tons of awesome, crammed into a 50 ton bag that's smacking all y'all haters right across the face.