By:

Joe Lanza
PUBLISHER
on October 18, 2010, 1:18 PM
| 2 comments
The only letdown in an otherwise dominating performance against Wake Forest a Bud Foster defense that surrendered 21 points. Let's look at Wake's three scoring drives a little more in depth. Note that I use the word drive very liberally, because all the points came on three big plays.
1st Drive
1st and 10 at Wake 22
Wake's receivers are confused as to where they should line up after they get up to the line and motion. Quarterback Tanner Price calls a timeout before the play clock expires.
1st and 10 at Wake 22
After a little play action fake Price rolls out to his right. Steven Friday doesn't bite on the fake and applies immediate pressure. Price throws a low ball for an incomplete pass. Davon Morgan had the intended receiver blanketed in coverage
2nd and 10 at Wake 22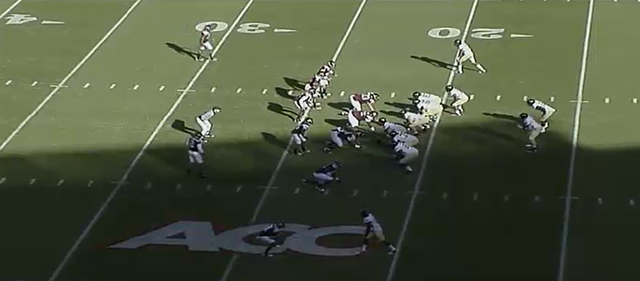 Wake center Russell Nenon snaps the ball, pulls to his left, and kicks out Lyndell Gibson who is over pursuing providing running back Josh Harris all sorts of running room. Both Eddie Whitley and Antone Exum are frozen for a bit while reading the play as it develops. There's no chance of them scraping to the ball and they both immediately start in pursuit down the field. Gibson needs to make that tackle at the point of attack and can't be taken out of the play that easily.
1st and 10 at VT 41
This is a neat play, no doubt a lingering leftover from Wake's option play book. Price and Harris sprint out to their right and it looks like it's going to be a little speed option. But backside guard Joe Looney is pulling around between the frontside center and guard. With five guys in coverage behind them Bruce Taylor and Gibson attack Price. As soon as they are up the field Price flips a shovel pass to fullback Tommy Bohanon who's following behind Looney. I'd like to see us run this play with Evans and Wilson, just look at that hole.
2nd and 2 at VT 33
Exum goes too far up field and can't recover back down the line quick enough to stop Harris in the backfield. Harris slips past a diving Steven Friday. The Wake offensive line totally owned the box on the simple zone read play.
2nd Drive
1st and 10 at Wake 13
What's frustrating about this play is it's the same one Harris busted for 37 yards earlier in the game just ran to the right. Nenon pulls to the right and suffocates Gibson. This time Morgan over pursues and Harris, who has incredible speed heads for day light. In case you're wondering Harris is from Duncanville, Texas and according to Rivals the only other school to offer him a scholarship was Louisiana Tech.
3rd Drive
1st and 10 at Wake 23
The lack of pre-snap info is due to ESPNU comparing Tebow and Brantley with a graphic on screen. ESPNU only showed the end of the play. Rock Carmichael came up the field and made a nice tackle in the backfield (-1 yard) on Harris who was trying to get the right corner.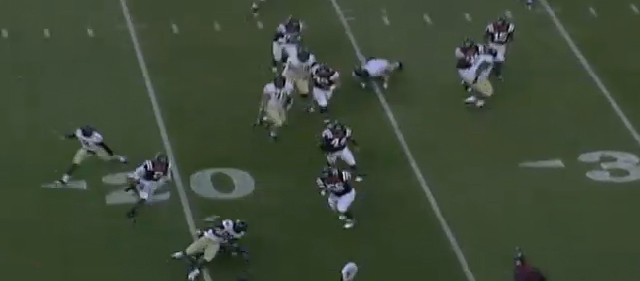 2nd and 11 at Wake 22
Chris Drager does an outstanding job working through a block down the line. Antoine Hopkins rips through his block. Both penetrate and converge on Harris. He has no where to go on the zone read and maroon jerseys fly to the football and stop the run for no gain.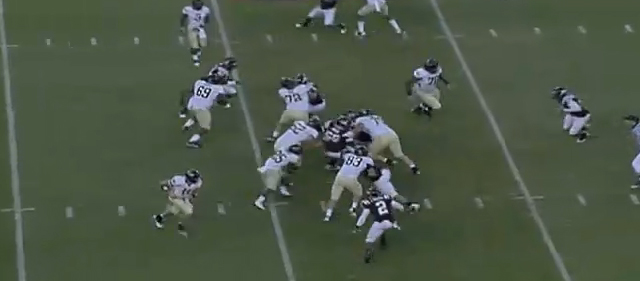 3rd and 11 at Wake 22
Drager shows off his power with a forceful bull-rush, but falls to his knees just short of Price. Price sits in the pocket and delivers the ball to a wide open Chris Givens. Givens runs a deep comeback route. He sprints past an out of position Kyle Fuller who's stuck in the middle of the field for six.
As a whole the defense played well enough, holding Wake to 7 points below their season average of 28. What concerns me is how out of position we were on on the three scoring plays. Keep in mind, on every play of those drives, except on the final 3rd and 11, we substituted in Exum for Jeron Gouveia-Winslow and defended with the Nickel (as we did most of the game). With an extra defensive back on the field Bruce and Lyndell need to be on top of their game. Gibson should have been able to stop Harris' 37-yard gain and 87-yard touchdown run. Instead, he over pursued on got waxed by Nenon. Exum needs to get better against the run. He had a chance to stop Harris' 33-yard touchdown scamper in the backfield, but played too aggressively.
Thankfully we have a chance to fix the mental mistakes against Duke this week, because if we don't, Georgia Tech will eat our lunch.