By:

BeerControlOffense
on September 15, 2010, 5:52 PM
| 21 comments
BCO's College Football TV Viewing Guide
Week 3 is here, and after Saturday night many teams will already be a quarter way through their season. This isn't 'Monster Saturday' on paper, but I am hoping it will be a redemption week for the ACC and compelling for viewers. The slight letdown in national games, coupled with the egg VT has laid to start the season has left me a bit unmotivated. I am not going to lie, I struggled to write this. Monday morning, I felt as if Bud Foster had chewed my ass out for 15 minutes but when Tuesday rolled around it's like he picked me up, told me it was going to be alright and guided me with a steady hand. You, the readers will get my best effort. I am pumped for the weekend, so let's get to the games!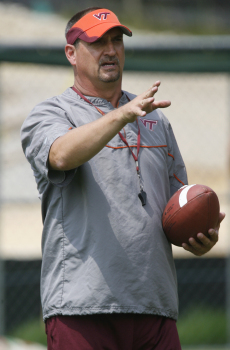 From my holed up man cave, the games this week...
Thursday, September 16th
'Nati +1.5 at North Carolina State 7:30 pm ESPN
Introducing the bell cow for the ACC last week, your NC State Wolfpack. Yeah, the State win over Central Florida was easily the best thing going for the conference last weekend. At this point the rest of the ACC, even the dapper fellows in Chapel Hill, are wishing for a State win over Cincinnati who are now just a mid level Big East team. The loser's conference plummets directly to the basement of pundits' unofficial BCS conference power rankings with media and non-AQ scorn to follow. The winner's gains back a tiny amount of respectability and credibility. Luckily, for State this isn't the same Bearcats team as the past three years. This Butch Jones coached version is more a 'Nati Light, so a win is possible.
What to Look for: With five short days to prepare and both teams having a look ahead game on the horizon this very well come down to who doesn't eff it up the most wins. That's some deep analysis.
Pick: A Pick 'Em, but until State beats a decent team not named UNC, gotta go with the Bearcats to win outright.
Saturday, September 18th
Ar-Kansas +2.5 at ugga noon ESPN / ESPN2
You know how other fans like to give us a shit about the Hokie Bird, right? Well, here's one school that better shut their damn mouths.
Carpetbagger Bobby Petrino has the Razorbacks offense humming along. It really is a joy to watch Ryan Mallett dissect a secondary, that is until the camera pans to the sideline and zooms in on asshat Petrino. In order to win the $EC Arkansas is going to have to get some production from their defense. Ar-Kansas isn't going to waltz into $EC games and just outscore other teams. Above all else, defense rules in the Southeastern Conference. Until their defense is brought up to par, the best Pig Sooie can hope to finish is second behind Alabama.
What to Look for: Scoring. If Ugga will be much improved on offense this week, since they are facing an inferior defense, but without A.J. Green it is going to be hard for the Richt's team to keep pace. Georgia quarterback Aaron Murray only managed 192 yards and no touchdowns against USC last week. One week after facing the conferences 2nd best running attack the dawgs' undersized 3-4 gets to face the conference's best passing attack.
Pick: Ar-Kansas to win outright.
EZU +19.5 at VT 1:30 pm ESPN3
Diving head first into hyperbole, the Hokies' game versus ECU will be season changing and potentially program altering. A loss puts them at 0-3 heading into ACC play with a real chance to finish the season at 6-6 or worse. If the Hokies' season implodes, heads will roll, our friends around the region will gain a lot of recruiting traction and the fan base will splinter. And how about this for a bad omen, Sunday September 19th is Talk like a Pirate Day Play. That does not please me.
What to Look for: Looking past the X's, O's and fundamentals (which I will get to on Friday) the Hokies need to bring some passion on the field right from the opening whistle. Play like you care and hit any mutha wearing purple and gold. ECU's Air Raid passing attack will get yards on the Hokie defense, but will they get points?
Pick: I like the Pirates getting the points. ECU will have their moments, but I think the Hokies right the ship and win in the end.
Nebraska -3.5 at Udub 3:30 pm ABC / ESPN2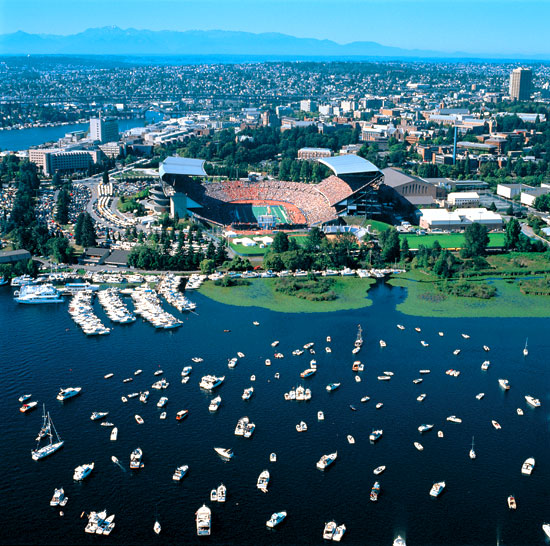 Husky Stadium is as beautiful place to watch a game as any across the country. Good thing for that, since Udub's product on the field has been anything but for quite a while now. Coach Steve Sarkisian is in the process of rebuilding this once proud program and overachieved (5-7) in his first season. The Huskies have a tough draw this week as No. 8 Nebraska steamrolls into Seattle. The Husker defense is still finding itself, showing weakness up the middle, but the offense is sizzling under red shirt freshman QB T-Magic (Taylor Martinez). After their first two games, against inferior opponents, the Cornhusker's rushing attack is averaging 324 yards per game (3rd nationally). T-Magic has rushed for 284 of those yards.
What to Look for: Udub's passing attack and all world QB Jake Locker potentially getting squeezed by Pelini's very good back seven and heavy pass rush. Nebraska's ground game will be effective enough to control the clock, put up points and pressure the Huskies to keep pace.
Pick: Scripted in a way that would give Frank Beamer a woody, Nebraska choke holds Udub into submission defensively and ground-n-pounds them covering the spread.
Clemson at Auburn -7 7:00 pm ESPN
If you think the ACC brass is hoping and praying for a State win this week, if Clemson wins at Auburn, John Swofford will be partying like it's 1999.
Auburn isn't perfect and likely only a fringe top 25 team, but damn, the conference needs a win like this. So far Clemson has proven they can beat the shit out of the football incompetent, now it's big boy football. Clemson's defense is susceptible to the run, which is not a good sign when a Gus Malzahn offense is on your schedule. They will need a breakthrough performance from their defense or face getting run off with their tails tucked between their legs... like the rest of the ACC.
What to Look for: Clemson comes in averaging 7 yards per carry, but this opponent isn't the Blind Boys of Alabama, Auburn's D against better competition is giving up 2.4 yards per carry. The toothless Tigers will need to force Auburn's QB Cam Newton, who so far has been a beast (322 yards 5 TDs passing, 241 yards 2 TDs rushing), to turnover the ball.
Pick: Auburn will own both sides of the line of scrimmage, win and cover.
Iowa -1.5 at 'Zona 10:30 pm ESPN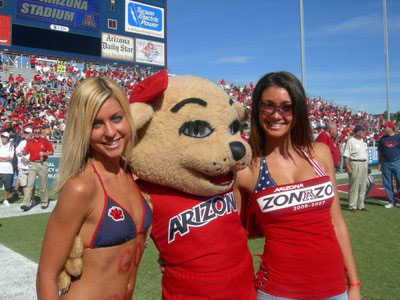 Last week's 'Monster Week', dubbed by the World Wide Creator disappointed. Only Michigan versus Notre Dame (not even on their network) lived up to the hype. While not getting the pub, this is an under the radar but potentially an awesome game. Both teams have been destroying their over matched foes, offensively and defensively. Now each faces a true test, in this week's game of the week. Don't overindulge too early, you will not want to miss staying up past midnight for this game. A classic speed vs brawn matchup, a huge boost to the winner before they head into conference play.
What to Look for: Iowa will want to run to set up the pass while Arizona will want to speed the game up and spread it out through the air. Whoever can force tempo has a great edge in this game.
Pick: Iowa wins by more than a touchdown.
Season to Date
Last week: 2-3-1
Season: 6-3-2
Marathon session beer of the weekend: Duck Rabbit Porter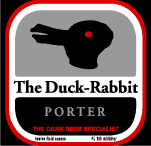 Duck Rabbit is a very small, but well thought of brewery in eastern North Carolina, their Porter is outstanding.