By French, Mason, and Joe
Virginia Tech Hokies (0-0) against Alabama Crimson Tide (0-0)
Time: 5:30 PM
Date: Saturday, August 31, 2013
Place: Atlanta Georgia
Stadium: Georgia Dome (71,228)
TV: ESPN
Radio: Virginia Tech IMG
Spread: Alabama -20
Weather: Dome
The Skinny
On Saturday the Hokies will try for their second win ever against Alabama. Tech's currently 1-11 against the Tide. Beamer Co. is also looking to knock off a top-ranked team for the first time. Virginia Tech is 0-7 all-time against teams ranked number one in the AP Poll.
Keep an Eye On...
T.J. Yeldon: While Eddie Lacy got a great deal of attention last season, T.J. Yeldon quietly became the first Alabama true freshman to rush for 1,000 yards in a season. Also, he ran for 12 touchdowns and over 6 yards per carry. Yeldon has elite cutback ability, tremendous power, the ability to catch the football in space, and he can make elite players miss in the open field.
If the Hokies utilize an 8-man front, they must get enough penetration to prevent a decisive cut by Yeldon. Early in the game, watch Yeldon's yards per carry closely. If the Hokies can keep him under 4 yards a touch, and force Alabama's offensive coaches to get impatient and throw the ball, Virginia Tech has a chance to win the game.
Logan Thomas: Thomas returns to the Hokies after a disappointing 2012 campaign where he struggled with accuracy. Coaches and teammates have openly praised Thomas for his hard work in the offseason, and for grabbing the reins of the offense to become its vocal leader.
Logan's mechanics looked much improved in fall scrimmages, but sometimes he took his eyes off his receivers downfield, and abandoned the pocket before a pass rush materialized.
More than likely, there is still some after effect from the physical pounding he took last season. But, when he remains focused and decisive, it is hard to find a quarterback that can make a prettier throw deep down the field.
If the Hokies can run the football, it makes Thomas much more effective using play-action and taking shots over the top. Also, with Joel Caleb unavailable, don't be surprised if Scot Loeffler uses Logan Thomas as a change up to Trey Edmunds running in between the tackles.
As Bill Roth noted, having a senior quarterback usually results in teams exceeding expectations. Logan has faced intense pressure this offseason. Can he carry the team the way Bryan Randall came back from the Marcus Vick saga to lead the Hokies to a shocking ACC championship? How fitting would it be for Thomas to kick off a magical season by outplaying a national championship(s) winning quarterback on a big stage?
Josh Trimble: Talented whip linebacker Ronny Vandyke was poised for a breakout year prior to suffering a season-ending shoulder injury during fall camp. Enter Josh Trimble, a walk-on who has bounced around different linebacking spots while being a difference maker on special teams. The whip has the dual responsibility of being the end contain defender away from the passing strength while also flying in from the back side and filling the cutback lane on an inside zone play. Foster closed out last season featuring a 4-4 and 46 front where Alonzo Tweedy thrived, and it was clear that Foster wanted to use the 4-4 look with Vandyke this spring. Can Trimble be effective in the place of Vandyke, and if not, will Foster resort to playing the nickel with Kendall Fuller taking over for Trimble?
Hokies Offensive Line: As noted by anyone and everyone, Tech's offensive line play was poor last season. 2012's group failed to create holes in the running game and often looked foolish against blitzes on the interior. While depth is a major concern, Jeff Grimes has a leaner unit that has improved their compete level and fundamentals. The question is, are these five players talented enough to have success against an elite defensive front-seven? All offseason, the Hokie staff preached a return to running the football, but the running game was not featured in public scrimmages by the top offensive unit. Will Loeffler come out and run the inside zone, zone stretch series and establish the power running game? Or will he try to throw a curveball at Kirby Smart? The Offensive line will have to be solid vs the pass rush as well, and we'll learn early in the season how they will fare against complex blitzes. Saban and Smart are as good as any in the business at drawing up ways to free up pass rushers. Giving Logan Thomas time to find his open receivers will require great communication along the front line in order to pick up Alabama's various stunts and zone blitzes.
Jonathan McLaughlin: Jonathan McLaughlin will be the first true freshman to start an opener on the offensive line for Tech since 2006 (Sergio Render). National media, such as Bruce Feldman, have offered up this type of analysis, "VT is starting a true FR Jonathan McLaughlin at LT against Saban's D. Good luck #Hokies". To expound upon that, McLaughlin prepped, enrolled in January, earned the starting job at left tackle, and hasn't looked back. He's 6-4, 310, and will be less than 2 months shy of 20 when he takes the field against 'Bama. He's green, but isn't an 18-year-old kid with just 6 weeks of practice under his belt.
Geno Smith: Alabama's corner and nickel man (Star) won't be playing Saturday after he was suspended following a DUI arrest. That's quite a blow considering Alabama plays in their base 3-4 around 20% of the time. Senior John Fulton is listed as the starting corner in Smith's place. In 2012 Fulton played in 12 games with 2 starts, but he's not a seasoned veteran. An even more inexperienced player, junior Jarrick Williams (11 games played) is slated to start at Star (nickel). Expect the Hokies to go after Fulton/Williams early, and for Nick Saban to give them lots of deep help with safety Ha Ha Clinton-Dix over the top. If Loeffler and Grimes can find a way to get the running game going, and Saban has to compensate by dropping a safety into the box, the Hokie's young but athletic receivers will put a lot of pressure on Smith's replacements.
Tide's O-Line: Fans and pundits alike have noted Alabama's front-five as the team's weakness (relatively speaking). In 2012 Alabama had the luxury of starting the same five offensive linemen throughout the season. Only junior tackle Cyrus Kouandjio and senior right guard Anthony Steen return. They've started 22 and 25 games, respectively. At 6-6, 310 Kouandjio is a prototypical NFL tackle, and Steen is credited with not allowing a sack all last season. Alabama's tasked with replacing 3 players who went to the NFL. Watch to see if Gayle, Collins, Hopkins, Maddy, Dadi, and the rest of the d-line can pressure McCarron, maintain their fits, and disrupt any chemistry Alabama's o-line developed during camp without help from the linebackers or other blitzers.
Amari Cooper: In 2009, Bud Foster bracketed big play wide receiver Julio Jones with a deep corner and an underneath linebacker in almost every passing situation. Alabama QB Greg McElroy struggled to find his secondary targets, which allowed the Hokies to stay in the game despite struggling on offense.
Foster faces a similar challenge in 2013. Cooper may not be as physically imposing as Jones, but he is faster and a better route runner. Frank Beamer likened him to Sammy Watkins, "a guy that's just athletic and can go". Also, Foster faces an experienced quarterback in AJ McCarron, and perhaps the best number-two receiver in college football with Kenny Bell. Anticipate that Foster will rely heavily on his front-seven to force McCarron into inaccurate throws, while attempting to prevent a big play by playing an inverted cover 3 with the two corners and free safety deep instead of doubling Cooper.
When Virginia Tech is on Offense
This offseason the mantra in Blacksburg has been "run the football." The overhaul to the offensive coaching staff was driven by Coach Beamer's desire to reestablish Virginia Tech as a power running offense. Coach Loeffler and Coach Grimes installed a zone stretch scheme that places a premium on offensive linemen who can move laterally with power, and running backs who can make a decisive cutback when a seam forms. Alabama is a tough opening matchup because their base 3-4 defense makes it difficult to establish the zone stretch, and that defense spends the first three weeks of fall camp practicing against the Tide offense, which essentially uses the same blocking scheme as Virginia Tech. Loeffler will look to make adjustments to maximize the strengths of his team while taking advantage of any weakness that the Tide defense presents. One potential soft spot is their adjustment to a four-man front with somewhat undersized personnel against spread looks.
While Alabama runs a base 3-4 defense, against shotgun and spread formations the defense shifts to a nickel look. The jack linebacker moves to a defensive end alignment, and one 3-4 defensive end will move inside as a three-technique defensive tackle. The foursome is very athletic, but somewhat small on the interior. Teams that had success against Alabama in 2012 spread them out, and then ran the football at the defensive end who moved inside. Look for Virginia Tech to spread Alabama out and then run on the interior, using motion and counter action to prevent Alabama's outside linebackers from crashing inside to support the run.
Logan Thomas faces his greatest challenge on Saturday. He not only tests his improved mechanics against the defending national champions, but also must complete passes to a largely untested wide receiving corps with which he has very little on-field chemistry. Alabama has a reputation for being a tremendous man-to-man coverage team, but the reality is that they use disguised zone coverage and blitzes to generate turnovers. Chris Brown wrote an outstanding piece on how the Tide show one defensive look, and then shift to a different coverage after the quarterback settles in for the snap. It will be critical for the inexperienced Hokie receivers to recognize changing coverages and make the appropriate site adjustments to find holes in zones.
No matter how improved Logan's skills are, he can't make plays unless receivers are open. Look for Thomas to target D.J. Coles early to get into rhythm, and then target Demetri Knowles deep to loosen up coverage.
When a team starts young running backs against a multiple 3-4 defense with a wide variety of zone blitz packages, blitz pickup in pass protection becomes a major concern. Trey Edmunds had two bone-rattling blitz pickups during the August 17th scrimmage, but how will he and the other backs fare in live action.
In order to be most effective, it is critical that the running backs make quick decisive reads, even if they make a mistake. Here is a clip of Edmunds being indecisive pass protection in the spring game.
00:14:03–00:14:08
Edmunds anticipates a linebacker blitz from between the right tackle and right guard. When it does not come, he hesitates, and then attempts to chip Ken Ekanem's outside edge rush on Laurence Gibson. Instead, he picks Gibson, allowing Ekanem to get a sack from a basic four man rush.
Over the last three weeks, Edmunds has received a crash course in pass protection. If he has learned well, Alabama's linebackers will remember his name.
In the spring game and the two public scrimmages, the Hokies showed off a total of zero designed LT3 running plays. Prudent logic, why risk hurting the most important member of your offense when you can just slap a yellow jersey on him and wait until game day to rip the bow off the QB rushing package?
On August 31st, expect Virginia Tech to have a vibrant and clever Logan-Thomas-centric rushing attack. With both Chris Mangus and J.C. Coleman, having the capability to line up as a WR in a 5-wide set don't be surprised to see them and other WR's come across the formation in a jet-motion for an inverted veer look.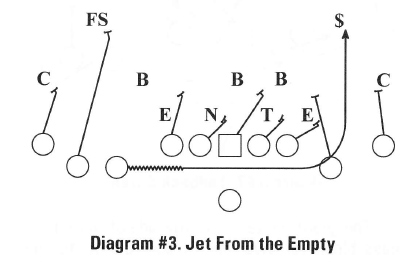 via: coachesdirectory.com
As discussed earlier this summer Scott Loeffler loves him some Inverted Veer.
Loeffler will likely have many counters off this look including a Jet-sweep handoff, an option and a triple option look, as well as some potent play-action looks. Mangus and Coleman aren't the best options for running in between the tackles because of their slight stature, but are home run threats when given the ball on an outside run. Loeffler is creative enough to find ways to do just this and by starting out in a 5-wide formation and then motioning the tailback into the backfield he'll also give himself the option to throw the ball against mismatched linebackers if Saban fails to sub on the correct personnel.
When Virginia Tech is on Defense
In the spring game and public scrimmages, Alabama used three and four receiver formations featuring weapons like Amari Cooper and Kenny Bell. However, in other high profile early season non-conference games, the Tide offense has been much more run-oriented. In the 2012 season opener against Michigan, the Tide ran for 232 yards while McCarron only attempted 21 passes. Nick Saban will likely choose his plan of attack based on his confidence in his offensive line. Expect Alabama to run early and often from 3 wide receiver sets. T.J. Yeldon and Derrick Henry are that good.
As discussed several weeks ago, following Bud Foster's change back to a 4-4 defensive front, the Hokies always line up their rover to the strength of the passing formation, with the whip playing to the weak side of the passing formation. Since Nick Saban's arrival, Alabama loves to run zone to the short (boundary) side of the field from a variety of formations.
00:00:24–00:00:31
Based on the injury to Ronny Vandyke, expect that Alabama will frequently align the passing strength to the wide side of the field and a tight end to the boundary. This will force Josh Trimble (in the 4-4 defense) or the free safety in nickel, and the boundary corner to defeat blocking from Alabama's tight ends and H-Backs. The last time Virginia Tech faced a power running team that ran power away from strength, it was against Stanford, and the whip position did not fare well.
Alabama's passing game hinges on two primary concepts. First is utilization of play-action for big plays. Second, in 2012 Alabama loved to run a variety of "stick" routes, where receivers flood a zone with two routes on the same horizontal plane combined with a deep vertical route in the same third. This creates a "triangle" that occupies two defenders and leaves a third receiver open. This concept was discussed in detail back in May. Time and time again you will see Alabama line up with a tight end and two receivers to the same side. Two of the three will run what will look like curl, in, or slant routes at the exact same depth, while the third receiver or tight end will run the same route at a much deeper depth OR will attempt to catch the deep defender napping and run a corner, go, or fade route. The triangle will put tremendous pressure on the young Hokie corners. They'll likely be playing a deep third coverage. Alabama has talented and explosive receivers who can threaten the cushion of those young DB's, curl back for 10-15 yard catches, and then if those corners bite up, those receivers can beat the Hokies over the top.
All wars are won in the trenches. Alabama lost three offensive linemen to the draft last year and if the Hokies are to have any shot at pulling the upset, then the four men up front for Coach Wiles will have to take advantage of their opponents' lack of experience. The tackles (especially starters Luther Maddy and Derrick Hopkins) will have to be playmakers and not just engage with blockers, but defeat them. Shutting down the run is possible IF the middle of the line is stout and refuses to get pushed around. Maddy can also be an exceptional pass rusher for a defensive tackle and needs to get pressure up the middle on McCarron. Obviously Gayle, Collins, and Dadi Nicolas also need to dole out some abuse when they are allowed to be one-on-one with a blocker in passing situations. Bama's Cooper is too dynamic of a receiver to ask the secondary to cover for long, A.J. can't be afforded much time.
A lot has been said about the two freshmen CB's this year, but Kyle Fuller will play the most important role in the secondary at the boundary corner. Fuller is the nation's best open field tackling CB, but he has struggled in single man-to-man coverage in the past. Fuller is very aggressive at breaking on a WR's first move and can be hit over the top at times (Cincinnati). Against Alabama, Fuller will need to be at least solid in one-on-one coverage. This will allow Foster to run his robber coverages, when he drops a safety into the box. This gives Foster an extra body against the run, something Tech will have to do at times to stop Yeldon, but more importantly, increases the risk of A.J. throwing a pick underneath. Safeties jumping quick hitting routes are very dangerous for a QB and Tech will need to get its hand on a few turnovers to seal a victory on Saturday. If Kyle Fuller can't be trusted to at the very least not get beat deep, Tech's defense will lose a great opportunity to tip the scales in its favor.
What Virginia Tech needs to do to Win
Even in best case scenarios, expect the Hokie offense to struggle against a big, physical, well coached defense. If Virginia Tech wants to have a chance to win against the Crimson Tide, the defensive front-seven must turn in a dominant throwback performance similar to legendary games like the 1995 Sugar Bowl or the 2002 win against Saban's LSU Tigers. The Hokie defensive line must hold up at the point of attack and maintain their gap fits, while backside defenders beat their scoop blocks to make plays in pursuit. Bud Foster's troops must generate negative plays, put Alabama into uncomfortable down and distance situations, and get pressure on A.J. McCarron, who has a history of forcing bad throws against pressure. If the Tide can run the football early, it will wear out Tech's thin defensive tackle group, and force James Gayle and J.R. Collins to focus more on stopping the run than getting to the quarterback.
The Virginia Tech offense can help the defense by winning the time of possession battle and keeping the Hokie defense off the field. It would be tough to pin hopes for a win on the Hokies gashing the Alabama front-seven, but being able to consistently put the offense into 2nd-and-6 instead of 2nd-and-10 will greatly improve the odds.
Logan Thomas must have the best game of his life, and he could be poised to do just that. Loeffler will put him in good positions to attack the defense with his feet which also make Thomas' passing reads easier. Against Saban's rushing defense it's critical to pick up large chunks of yardage. Thomas will need to hit at least one long touchdown pass, but he can't stop there. Pushing the ball down the field to his receivers will be vital to Tech winning. Throwing it short will be necessary on occasion as well. Loeffler was pretty good at getting guys open in short passing situations at Auburn, although he didn't always have the right player to get them the ball. Thomas' great height and arm strength will allow him to make the correct reads and zip the rock into whatever windows he needs to. Here's to hoping that Logan can find the right guy in those short yardage situations come Saturday.
Regardless of the final score, this game is a pivotal moment for Frank Beamer. Will the Hokies compete, and use this game as a stepping stone to a season focused on becoming the dominant force in the ACC again? Or, have the staff changes only distracted HokieNation from a slide back to mediocrity that haunted coaches like Bobby Bowden, Joe Paterno, and Phillip Fulmer? Beamer seems to be invigorated by the challenge. Let's hope that August 31st will be the start, not only to a great season, but also a moment that solidified the program as a perennial power long after the Beamer era concludes in Blacksburg.
Further Reading
Logan Thomas is a natural leader By Andy Bitter
College football: Trimble sons keep their father's memory alive By Mark Giannotto
Nick Saban: Sympathy for the Devil by Warren St. John
Tech players visit War Memorial after assisting on move-in day By Mike Barber