By:

sammyeanes
on January 20, 2014, 2:39 PM
| 59 comments
Editor's Note: Bumped to the front because I'm a sucker for numbers. Thanks for writing, Sammy. --Joe
Last week, news broke that Virginia Tech offensive line coach Jeff Grimes would be departing Blacksburg after one season for the same position at LSU. Grimes is originally from Texas, played his college ball at UTEP and this move gets Grimes closer to his Texas roots. However, the cold, hard fact is at the end of the day, Grimes likely left Virginia Tech because LSU made him a far more lucrative offer than the Hokies could.
As Joe pointed out in an earlier post, Grimes is probably in line for a significant pay raise from the Tigers. This has sparked terrific debate and conversation among the Hokie Nation and right here on The Key Play on both coaching salaries and Hokie Club contributions.
It also provides a nice opportunity to take a look at athletic department revenues among FBS schools and examine where the Hokies stand in that hierarchy. The unfortunate reality for Virginia Tech's athletic department simply doesn't have as much money as LSU. For the 2012-2013 academic year, LSUs athletic department reported total revenues of $117,457,398; Virginia Tech - $69,845,483. That's a difference of $47,611,915. To put that number in perspective, Wake Forest's entire athletic department revenue for 12-13 was $48,830,266.
When you examine numbers even further, you can see just how big the disparity is between the college football have and the have nots. Last week, news also broke that the NCAA is reportedly looking at splitting the five major conferences (ACC, Big Ten, Big XII, Pac 12 and SEC) into its own division, and an examination of the numbers below show that it really is almost unfair that Sun Belt and MAC schools are competing in the same division as the Alabamas, Ohio States and Oklahomas of the world.
Even within the five major conferences, the differences in revenue can be staggering. Texas, who had the highest athletic department revenue in the country for the second straight year in 2012-2013, reported revenues of $165,691,486. Thats more than the bottom three major conference schools Utah, Washington State and Wake Forest combined. Moreover, Texas pulled in more money last year than Virginia ($84,402,712) and Virginia Tech combined.
Clearly more money doesn't always equal more wins. Keep in mind that Texas' last BCS Bowl win came at the end of the 2008 season, a 24-21 win over Ohio State in the Fiesta Bowl. Utah, who ranked 63 out of 65 BCS conference schools in total revenues, also won a BCS Bowl that season, a 31-17 drubbing of Alabama, who reported almost triple the revenue as Utah last year.
However, one thing is clear higher revenues means the ability to hire better coaches, build better facilities, and leverage those to land better recruits. The schools with the better coaches, better facilities and better players win games more often than not.
Before getting into the numbers, a few notes. Keep in mind that this is a very top-line look at overall athletic department revenue by school and by conference. It doesn't include granular details like what percentage of overall revenue comes from football, basketball, etc. or expenditures, coaches salaries and other details. This is simply a broad view of how the top football-playing colleges stack up against one another in terms of overall revenue.
Another thing to note is some schools experienced wild fluctuations in total venue from last year to this year. For instance, Texas A&M reported a revenue of $119,702,222 in 2011-2012 and just $78,530,133 in 2012-2013, its first year in the SEC a difference of $41,172,089. On the other end of the spectrum, Wisconsin took in $146,366,405 in 2012-2013 versus $103,803,040 in 2011-2012, a staggering increase of $42,563,365. These drastic changes are likely due to fundraising campaigns for new facilities, or potentially in Texas A&M's case, exit fees from leaving the Big XII (although Missouri's total revenue increased $20,429,337 between 2011-2012 and 2012-2013).
Some of this is also inexact, as Notre Dame, Pittsburgh and Syracuse are listed in the ACC in these charts, although their revenues for the two years listed should be included in the old Big East. In addition, Texas A&M and Missouri's 2011-2012 revenues should be included in the Big XII. Those schools were included with their current conferences in an attempt to simplify the charts. Hopefully, this data will be available in coming years and the charts can be updated on an annual basis.
Finally, revenue for each FBS school is below except for the three service academies, Air Force, Army and Navy, as their data is unavailable.
All of this information comes from the Equity in Athletics Data Analysis Cutting Tool Website.
BCS Conference Schools Ranked by Total Athletic Department Revenue (2012-2013)
Out of 65 schools in the five major BCS conferences, 13 reported total revenue of over $100 million in 2012-2013. Five of the 13 are in the SEC: Alabama, Florida, LSU, Tennessee and Auburn. The Big Ten also has five schools in the top 13 (Wisconsin, Ohio State, Michigan, Iowa and Penn State). The Big XII has two of the top five in revenue (Texas and Oklahoma) and the ACC (kind of) rounds out the top 13 with Notre Dame.
Virginia Tech reported total revenue of $69,845,483 in the 2012-2013 academic year, down $878,265 from 2011-2012's $70,723,748. Overall, the Hokies ranked 44th in total athletic department revenue among 65 BCS conference schools. Virginia Tech's $69.8 million is well below the BCS conference average of $84,412,123. North Carolina has the median revenue among these 65 schools with $78,141,093.
A couple things jump out after examining the average and median revenues by conference. First, the SEC and Big Ten are clearly in their own league, with average and median revenues in excess of $90 million. The ACC is fifth among the five major BCS conferences in both average revenue and median revenue. If you remove Notre Dame, Syracuse and Pittsburgh from the ACC, the conferences average revenue and median revenue fall to $69,841,967 and $69,004,716, respectively.
The American Athletic Conference checks in with an average revenue of $53,579,524, but if you take Louisville and Rutgers out of the equation, that number dips to $45,968,812. As you venture further down the chart to the Mountain West, Conference USA, MAC, and Sun Belt, the numbers nosedive substantially. The thought of a school like South Alabama, with revenues of $16,328,668 competing in the same division as Alabama or Auburn, who both took in over $100 million in 2012-2013, does appear unfair on the surface.
Athletic Department Revenue by Conference
ACC
Big Ten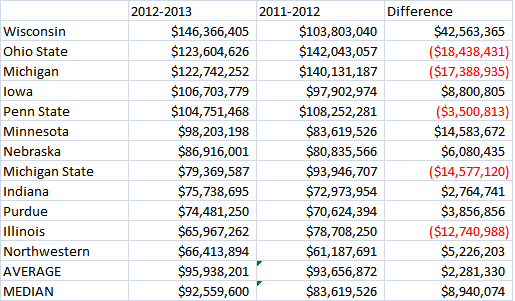 Big XII
SEC
Pac 12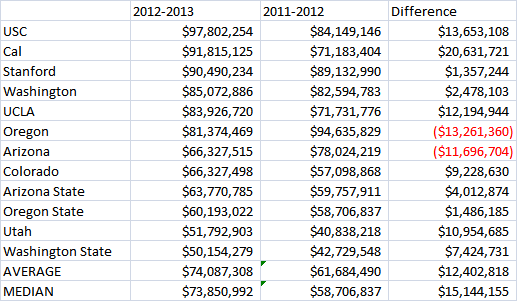 AAC
Mountain West
Conference USA
*Old Dominion and Charlotte will join Conference USA as football members in 2014 and 2015, respectively.
MAC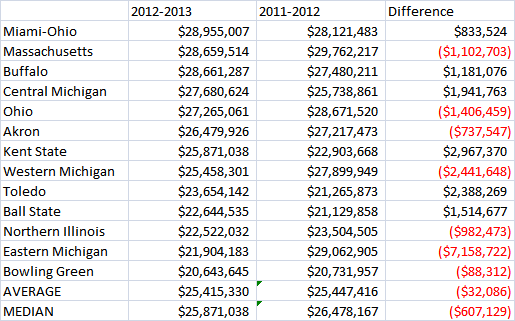 Sun Belt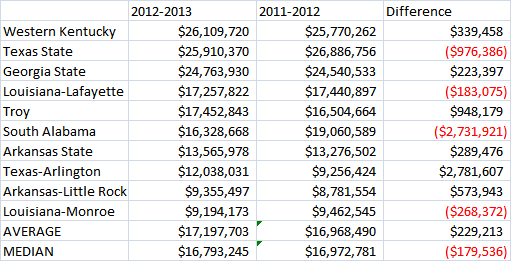 *New Mexico State, Idaho, Appalachian State and Georgia Southern will join the Sun Belt Conference in 2014.
FBS Independents

After digesting these numbers, what stands out to you? What do you think about Virginia Techs place in terms of revenue compared to other schools? How will the ACC's new television contract affect its member schools revenues in coming years? Perhaps a scarier question how will the SEC Network impact its schools revenues in the future?
On a larger scale, when looking at these numbers, do you believe that the ACC, Big Ten, Big XII, SEC and Pac 12 should separate from the other conferences to form its own NCAA division? If so, does the on-field success of schools like UCF, Boise State, ECU and other AAC/CUSA/Mountain West schools do anything to change your mind?