Part 1 (#1 – 10)
Part 2 (#11 – 19)
Part 3 (#20 – 29)
Part 4 (#30 – 39)
Part 5 (#40 – 49)
Part 6 (#50 – 59)
Part 7 (#60 – 69)
Part 8 (#70 – 79)
Part 9 (#80 – 89)
Part 10 (#90 - 99 + Bonus)
Welcome to Part 9 of our list of the best Hokie Football Players to wear each jersey number.
Today, we'll take a look at jerseys #80 – 89. Oddly enough, not a single player on today's list played in the ACC. A couple of guys on today's list went on to win NFL Championships. This list also features Tech's first ever All-American.
So here's the list. (Note: The Honorable Mentions are listed in alphabetical order):
#80 – Antonio Freeman
Antonio Freeman was a star wide receiver for the Hokies during the early 1990s. He was the team's leading receiver for three straight seasons (1991 – 1993). Along the way, he set school records in receptions, receiving yards and touchdown receptions. So he was the guy that set all of the records that Isaiah Ford just broke. After college, Freeman was drafted by the Green Bay Packers, where he exceled. He led the Packers in receiving for four straight seasons (1996 – 1999) and led the NFL in receiving in 1998. Freeman won a Super Bowl in 1997 as Brett Favre's go-to receiver, and he had an outstanding Super Bowl in 1998, even though his team lost. He is probably best remembered for his circus-like TD catch on Monday Night Football that caused Al Michaels to exclaim "He did WHAT?!"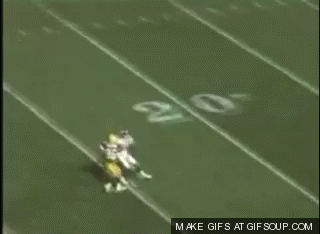 Freeman was inducted into the Virginia Tech Sports Hall of Fame in 2006.
(Honorable Mention: Ricky Scales)
#81 – Mike Burnop
Before he was the radio network analyst for all Tech football and basketball games, Mike Burnop was a pretty darn good football player for the Hokies. In fact, he remains one of the top tight ends in school history. Burnop had the good fortune of being an integral part of the offense during the early 1970s when Don Strock was rewriting the school record books. Burnop set a school record with 46 receptions in 1971; that record still stands to this day. He finished his career with 90 catches for 1,141 yards, both school records for the tight end position. Those two records were recently broken by Bucky Hodges, although Bucky was more of a wide receiver than a tight end. Burnop was inducted into the VT Sports Hall of Fame in 2000. He just completed his 34th season in the Hokies' football booth as a network analyst.
(Honorable Mention: Ken Barefoot, Jarrett Boykin, Justin Harper, Bryan Jennings, Grover Jones)
#82 – Donald Wayne Snell
Donald Wayne Snell was a first-rate receiver for the Hokies during the mid-1980s. He followed in the footsteps of his older brother, Sydney Snell, who was a top wide receiver for the Hokies during the 1970s. Donald caught a school record 13 passes against Cincinnati in 1985; that record still stands today, although it was tied by Nick Cullen in 1990. Snell led the Hokies in receiving in both 1985 and 1986. He was named an Honorable Mention All-American in 1986. Fun Fact: Donald Wayne Snell is the cousin of former Tech volleyball player Sonya Adams. She went on to marry Tech basketball legend Dell Curry. Apparently the Curry's had a couple of sons that played basketball, but I don't know much about them since they didn't play at Tech.
(Honorable Mention: Steven Friday, Ricky Hall, Jermaine Holmes, Ken Lambert)
#83 – Paul Nelson
Linebacker Paul Nelson was a strong tackler during his time in Blacksburg. Nelson had a nose for the football, as he led the team in tackles in both 1985 and 1986. That made him the fourth Hokie to lead the team in tackles for two or more seasons (joining Rick Razzano, Ashley Lee and Mike Johnson). Nelson was one of the defensive stars on the 1986 squad that beat NC State in the Peach Bowl. He was named an Honorable Mention All-American in 1985 and 1986.
(Honorable Mention: Nathaniel Adibi, John Burke, Corey Fuller, Angelo Harrison, Jack Ittner, John Moody)
#84 – Carroll Dale
Virginia Tech's first All-American; that's all you need to know about how important Carroll Dale was to this football program. Back in the days of iron-man football, Carroll Dale starred as both a wide receiver AND defensive end for the Hokies. He led the Hokies in receiving four years in a row, which no other receiver in school history has matched. In 1958, Dale was named the Southern Conference Player of the Year, the Jacobs Blocking Trophy winner and a second team All-American. He was named a first team All-American as a senior in 1959. After Tech, he went on to star in the NFL for more than a decade. During his time in the NFL, Dale started on three consecutive NFL Championship teams with the Green Bay Packers, including Super Bowls I and II. Dale actually caught a 64-yard touchdown pass from Bart Starr in Super Bowl I, but it was called back due to an illegal motion penalty. Dale was the first of seven Hokies to appear in multiple Super Bowls (Carroll Dale, Tom Beasley, Don Strock, Bruce Smith, Antonio Freeman, Vaughn Hebron and Kam Chancellor). Dale, Beasley and Hebron are the only Hokies to have multiple Super Bowl Championship rings.
(Honorable Mention: Tom Petty)
#85 – Tommy Marvin
Tommy Marvin was Tech's top receiver during the early 1960s. He led the Hokies in receiving three years in a row from 1962 – 1964. He is one of only six receivers in school history to lead the team in receiving for three or more years, joining such legends as Carroll Dale, Antonio Freeman and Isaiah Ford. He starred on the Hokies' only Southern Conference Championship team in 1963. Marvin was named to the All-Southern Conference team in both 1963 (second team) and 1964 (first team). He was also named an Honorable Mention All-American in 1964.
(Honorable Mention: Nick Mihalas)
#86 – George Foussekis
Prior to the Lane Stadium reseating of 2012, I had season tickets next to a man that graduated from Tech in the 1960s. I used to marvel at the stories he would tell of the Hokies of old. I once asked him for his favorite Hokie football player of all-time; I fully expected him to respond with Frank Loria, Bruce Smith or any other Hokie legend. But he told me that his favorite Hokie of all time was George Foussekis, whom he called "Relentless!" George Foussekis was a defensive end for the Hokies from 1965 – 1967. Foussekis was named an Honorable Mention All-American in 1965, but enjoyed his best season in 1966. He was part of the dominant '66 defense that included future Tech Hall of Famers Frank Loria and Ron Davidson. Foussekis outshined them all on his way to being named a second team All-American by the AP. He was only the third All-American in school history (joining Carroll Dale and Bob Schweickert) and the first defensive player to earn AA Honors. Foussekis helped lead the Hokies to the 1966 Liberty Bowl; that was only their second bowl game in school history and first since 1946. In 1967, Foussekis was once again named an Honorable Mention All-American. Foussekis was inducted into the Virginia Tech Sports Hall of Fame in 1989.
(Honorable Mention: Jake Adams, Joe Jones)
#87 – Steve Johnson
Steve Johnson was a clutch tight end at Tech from 1984 – 1987. He earned Honorable Mention All-American honors in both 1986 and 1987. He also helped the Hokies capture their first bowl victory in the 1986 Peach Bowl. Johnson scored a touchdown in that game, and famously threw the football into the stands.
BREAKINGFormer #Hokies TE Steve Johnson makes substantial gift to @HokieSports + $25 for 1986 celebrationMORE https://t.co/tRC709GqSo pic.twitter.com/47l2YvvQBx— VT Football (@VT_Football) December 7, 2016
Johnson has been a huge supporter of the athletic program since graduating from Tech. In 2013, the football practice fields next to Lane Stadium were renamed the Steve Johnson Practice Fields in honor of Johnson's contributions to the football program. He recently made a gift of $1,000,025 toward the construction costs of the football indoor practice facility. So why did Johnson include an extra $25 on the check? Well, it was payment for the football that he threw in the stands during the '86 Peach Bowl. Johnson said that VT equipment manager Lester Karlin had been hounding him for years over the cost of that football. According to Karlin, the rest of that million-dollar check was just interest due on the football.
(Honorable Mention: David Clowney, Ray Crittenden, Bob Slowikowski)
#88 – Andre Davis
Andre Davis is probably best remembered for being Michael Vick's go-to wide receiver at Tech. If you look at old highlights of Vick throwing home run balls down the field, you'll likely see #88 on the receiving end. Davis still holds the school record for average yards per catch in a season (27.5 in 1999). That season, he broke the school record for receiving yards in a season with 962 and tied Antonio Freeman's school record for receiving TDs in a season with 9. But Davis was also a first team All-American punt returner in 2000, when he averaged 22 yards per punt return. In a game against West Virginia in 2000, Davis scored three touchdowns in three different ways: a 30-yard reverse, a 64-yard reception and a 76-yard punt return. All three of those TDs came during a seven-minute span in the third quarter.
Davis was also featured on the cover of a 1999 Sports Illustrated issue, which proclaimed that "They (the Hokies) Belong" in the National Championship Game. Yes, Andre, we did belong in the National Championship Game; and you belong on this list.
(Honorable Mention: Billy Edwards, Mickey Fitzgerald, Billy Hardee, Ashley Lee)
#89 – Morgan Roane
Morgan Roane was a standout defensive end for the Hokies during the mid-1980s. In a game against William & Mary in 1985, Roane joined Bruce Smith as the only Hokies to record four sacks in a single game; granted, Bruce Smith accomplished that feat TWICE. The school record of four sacks in a game still stands to this day. Roane was a two-time Honorable Mention All-American (1985 & 1986). He helped the Hokies win their first game in Death Valley against Clemson in 1986. That game is particularly memorable for Hokie fans due to the pre-game taunting. When the Tigers gathered at the top of the hill for their famous entrance into the stadium, Roane and some fellow Hokies stood at the bottom of the hill and screamed at them to come on down already. The Tigers were stunned by the rude greeting; apparently that had never happened to them before. Morgan Roane said after the game, "I just wanted to get on with the game. We were ready to play, and I didn't feel like waiting around all day for them to make some grand entrance." The 20-14 victory over the Tigers was a strong rallying cry for a team that went on to win the Peach Bowl.
Here's our list after nine weeks:
#1 – Isaiah Ford
#2 – Jimmy Williams
#3 – Bryan Randall
#4 – David Wilson
#5 – Tyrod Taylor
#6 – Jason Worilds
#7 – Michael Vick*
#8 – Vinnie Fuller
#9 – Vince Hall
#10 – Frank Loria**
#11 – Xavier Adibi
#12 – Maurice Deshazo
#13 – Bruce Arians
#14 – Torrian Gray
#15 – Don Strock
#16 – Jim Druckenmiller
#17 – Kam Chancellor
#18 – Brandon Flowers
#19 – Danny Coale
#20 – Jayron Hosley
#21 – Rashad Carmichael
#22 – Lee Suggs
#23 – Nic Schmitt
#24 – Ron Davidson
#25 – Frank Beamer*
#26 – Cody Grimm
#27 – Jarrett Ferguson
#28 – Ken Oxendine
#29 – Frank Peake
#30 – Dave Smigelsky
#31 – Curtis Taliaferro
#32 – Darren Evans
#33 – Ken Edwards
#34 – Ryan Williams
#35 – Mike Johnson
#36 – Carter Wiley
#37 – Phil Rogers
#38 – Rick Razzano
#39 – Lyndell Gibson
#40 – Ben Taylor
#41 – George Del Ricco
#42 – James Anderson
#43 – Jimmy Richards
#44 – Terry Smoot
#45 – Cyrus Lawrence
#46 – Jamel Smith
#47 – Nekos Brown
#48 – Nick Cullen
#49 – Chris Ellis
#50 – Ki Luczak
#51 – Jack Prater
#52 – Buzz Nutter
#53 – Kyle Albright
#54 – Kent Thomas
#55 – Darryl Tapp
#56 – Corey Moore*
#57 – Wyatt Teller
#58 – Cornell Brown*
#59 – JC Price
#60 – Woody Baron
#61 – Billy Conaty
#62 – Blake DeChristopher
#63 – Harold Grizzard
#64 – Jake Grove*
#65 – Newt Green
#66 – Scott Hill
#67 – Don Thacker
#68 – Mike Zeno
#69 – Eugene Chung
#70 – Waddey Harvey
#71 – David Pugh
#72 – Wally Browne
#73 – Jim Pyne**
#74 – Derek Smith
#75 – George Preas
#76 – Duane Brown
#77 – Tom Beasley
#78 – Bruce Smith**
#79 – Roger McClure
#80 – Antonio Freeman
#81 – Mike Burnop
#82 – Donald Wayne Snell
#83 – Paul Nelson
#84 – Carroll Dale**
#85 – Tommy Marvin
#86 – George Foussekis
#87 – Steve Johnson
#88 – Andre Davis
#89 – Morgan Roane
*Retired Jersey – the number can still be worn by Tech football players
**Retired Number – the number will never be worn by another Tech football player