By:

ltrepeter2000
Hoops Wiz
on January 9, 2019, 5:03 PM
| 212 comments
GAME INFORMATION
Date/Time: Jan 9th 7PM
Opponent: Georgia Tech
Site: Atlanta, Georgia (McCamish Pavilion)
Radio: Virginia Tech IMG Sports Network
Talent: Jon Laaser & Mike Burnop
TV: ACCNE/RSN
Talent: Wes Durham & Cory Alexander (GT Homer and a UVA Guy)
This broadcast is likely going to be one sided
Live Stats: HokieSports.com
Game Notes: Virginia Tech
Sirius: 135 XM: 193 Internet: 955
#GamedayGuide:🏀 vs. @GTMBB 📍 Atlanta🕚 7PM ET📺 RSN#getBETTER pic.twitter.com/OGXjMSSs8G— Buzz Williams (@TeamCoachBuzz) January 9, 2019
Don't get ahead of yourself
Buzzketball started really slow against the Eagles but worked into second half form quickly to put away Boston College their last time out. Now its on to the Yellow Jackets of Georgia Tech, and the Hokies need to make sure they bring their focus to the game at hand rather than look ahead to a ranked matchup with UVA.
The Yellow Jackets are 9-5 on the season including a 1-0 start to ACC play with a win over Wake Forest. There wins are over Lamar, ECU, UT Rio Grande, Prairie View A&M, Florida A&M, Arkansas, Kennesaw State, South Carolina Upstate and Wake Forest. Their losses are to #5 Tennessee, Northwestern, Saint Johns, Gardner Webb, and Georgia so far.

Georgia Tech is "Coached" by Josh Pastner who has managed to survive as rocky a tenure so far of just about any coach in basketball not named Rick Pitino. Pastner is in his third season with the Yellow Jackets, where he has led them to a 43-40 record with one trip to the NIT. His only previous head coaching stop was 7 seasons at Memphis, where he led them to a 167-73 record with five trips to the post season. That early success has not transferred to Georgia Tech with him. Early accusations, coaches forced to resign and other items have made it extremely hard for Pastner to recruit at Georgia Tech.
Defensively, Coach Pastner loves to use a pressure defense that forces opponents to use up shot clock to even advance to the half court. Once in the half court, the Yellow Jackets have used a variety of defenses, especially zone defense to confuse opponents so far this season. They will vary from a 1-3-1, to a 1-2-2 and also a more traditional 2-3 zone. Defensive pressure though is what they really focus on. They are top 30 in scoring defense, 3 Point % allowed, 2 Point % allowed, shooting percentage allowed and field goals allowed. This is a team that relies on its defense to make its offense go. Creating turnovers and limiting possessions is what keeps this team in games.
Offensively, Georgia Tech runs a constant motion offense but with more traditional size on the court than many of the 4 out, 1 in offenses the Hokies have seen recently. One thing Pastner does not like to hear is that his team is running, he insists his teams sprint, especially off the ball. They are not a prominent offensive team but playing slightly above average offense and exceptional defense is a good recipe for winning at this level. They do not rely on the perimeter shot, taking only 18 shots per contest from outside. They lean more towards transition scoring, and drives to the basket to create shots.
Yellow Jackets Backcourt

Jose Alvarado (#10) 6', 174 Lbs Sophomore Guard returns after a redshirt season due to injury to lead the Jackets in scoring and is averaging 13.1 PPG, 3.9 RPG, 3.3 APG and 1.9 SPG. He is shooting 25% from behind the arc and 42% overall. Alvarado is playing a team high 32 MPG.

Brandon Alston, (#4), 6'5, 195 Lbs is a graduate transfer from Lehigh University and is originally from Herndon, VA. He is giving the Jackets about 23 MPG while averaging 10.4 PPG, 2.1 RPG, and 1.5 APG but has durability issues that limit his time on the floor for the Jackets. He has suffered a torn ACL in one event and a damaged MCL in another that have limited two seasons. He does shoot the ball well, shooting 42% from the perimeter, 54% inside, and 81% from the line, so the Jackets really wish they could keep him on the floor more.

Michael Devoe, (#0) 6'4, 188 Lbs Freshman Guard is the highest rated recruit that Pastner has brought in at #49 in last year's class. He comes in averaging 9.1 PPG, 3 RPG, and 2.4 APG. He is shooting 33% from outside and 50% from inside the perimeter. He is hitting 77% of his free throws as well.

Curtis Haywood II, (#13) 6'5, 198 Lbs, Sophomore Guard is averaging 7.8 PPG, 2.2 RPG, 2 APG and 1.1 SPG, shoots about 35% from outside and 64% inside and 79% from the free throw line.
Yellow Jackets Frontcourt

James Banks III, (#1), 6'10, 243 Lbs Junior Forward Transfer from Texas is averaging nearly a double-double with 9.8 PPG, 8.2 RPG, 1.4 APG, and 2.5 BPG. He was approved for immediate playing by the NCAA rather than having to sit out a season. Banks is going to be difficult to deal with down low all game. Banks does not bother to shoot from outside but his interior scoring is at 61% while shooting 65% from the line.
=
Moses Wright (#5), 6'9, 210 Lbs, Sophomore Forward is averaging 6.1 PPG, 3.8 RPG, and 1 APG is shooting 42% from the field and a dreadful 46% from the free throw line.

Abdoulaye Gueye, (#34) 6'9, 208 Lbs Senior Forward, is averaging over 25 MPG and comes in putting up 4.8 PPG, 3.6 RPG, 1 APG, 0.6 SPG and 1.1 BPG. He is shooting 51% from the field, and only 65% from the line.


Evan Cole(#3), 6'9, 211 Lbs. Sophomore Forward, has only managed to play in parts of seven games so far this season due to an ankle injury. This has given rise to Freshman Forward Khalid Moore (#12) 6'6, 200 Lbs getting some significant playing time this season. They have combined for 11.6 PPG, 4.3 RPG, and 1.9 APG so far this season but in the last four contests Cole has managed to at stay on the floor for about 16 minutes per contest.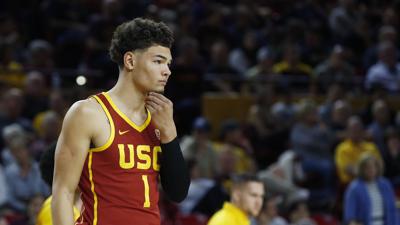 One unknown as of right now is whether Sophomore Forward Jordan Usher is eligible to play in this game. He somehow found a way to transfer mid-season out of USC and be deemed eligible to play immediately in the spring semester, and therein lies the rub, I am not sure if this game is considered Spring semester. Usher was averaging 8.6 PPG, 3.7 RPG and 1 APG for the Trojans over 12 game before shutting down last semester. I am leaning towards we do not see Usher in this contest.
What to expect from Georgia Tech?
The Yellow Jackets are a very disciplined team, which shows in the few fouls, few turnovers and limited shooting opportunities for opponents. Expect high energy with frenetic defensive intensity.
The Yellow Jackets rely on a rotation essentially of eight, with their starting five plus two bigs and one guard off the bench. Expect them to feed the ball down low to Banks and allow him to work with his back to the basket. Banks on Blackshear will be the matchup to watch most of the evening if Blackshear can stay on the floor.
Expect to see Georgia Tech switch defenses several times. I expect to see a 1-3-1 zone to start with unless the Hokies begin hitting perimeter shots. If the Hokies are hitting their shots than the Yellow Jackets will likely switch to a man to man defense or a high 2-3 perimeter zone.
Offensively, expect to see the Jackets move with or without the ball, especially around the perimeter. Pastner is a big fan of pick and rolls, and a high assist to basket ratio. This is still a work in progress with this team so the Hokies need to take advantage of this inexperience to force mistakes and change the possession game.
The Hokies
How will you be developed at Virginia Tech?You will WORK ‼️#Hokies🦃#getBETTER📈 pic.twitter.com/Dq0VFAkNvW— Virginia Tech Basketball 🦃 (@Hokie_Hoops) January 5, 2019
The Hokies need to determine early what going inside is going to be like. The Jackets come in 18th in the country in blocked shots per game at 5.5. If the Hokies are not able to get the Jackets bigs off the blocks than they will need to focus on finding offense through their mid floor or perimeter shooting. This is another heavy dose of zone defense, which fortunately the Hokies have managed to break fairly easy so far this season.
Nickiel Alexander Walker will spend a majority of his time on the high post, forcing the Jackets zone to account for Blackshear on the blocks. This should collapse the zone inwards, allowing good open looks outside. If they are going to over pursue scoring down low than they need to ensure they get fouls called rather than throw away possessions. This is especially critical for Robinson, who needs to be smarter with the ball and cut down on the turnovers.
Due to the effectiveness of the Georgia Tech defense, the Hokies need to be prepared to match that intensity on their defensive end. A bad four minute stretch could make getting a win on the road very difficult.
I would expect a high octane pace to start this game, especially with the early success that Boston College had against the Hokies by using a high energy defensive posture. The Jackets will use cuts and picks and rolls to get dribble drive penetrato. One thing though to keep in mind is that even the Jackets big are long lean players that move up and down the court with ease.
Tech should aim to keep this game as high paced as possible because it is when this offense is at its most effective. They need to take advantage of transition basketball but not out of control. The bad, rushed passes after defensive stops have to be limited to allow the Hokies to build a solid lead in this contest. If the offense is moving then the Hokies can avoid the sluggish play like we saw early against Boston College and others.
Tech needs to be ready to utilize the baseline and the dribble drive pass to keep the ball in an open Hokies hands. Don't succumb to allowing the Jackets to clog the lane and then block shots over the top. Robinson and NAW need to drive and draw contact without allowing the Jacket bigs to get their hands on the ball.
Hill and Outlaw likely decide this game from the perimeter regardless of what else goes on around them. A relatively normal four or five perimeter makes between them will give the Hokies a major edge.
Just about time for @HokiesMBB to rise up on the road! @MikeBurnopVT & I have the call!Tonight's schedule:6:30: @IMGAudio 🚀6:35: 🔑 to the game6:45: @TeamCoachBuzz 7:00: Lineups7:04: Tip vs @GTMBB Let's Go!#getBETTER #TheOriginal12 pic.twitter.com/FkuK2NNusQ— Jon Laaser (@LazeVT) January 9, 2019
In Closing
Georgia Tech will look to funnel offense through the Hokies mistakes. The Hokies have to find a way to play a clean forty minute game. Don't give the Jackets the momentum to stay in this game. Take them apart systematically by playing hard-nosed defense and then not making mistakes on the offensive end to get them going.
The most critical thing for Tech in this game is energy from the start. Tech has to be in this game mentally right from the start. It's a road game, I am not sure what the student environment will be like, but they have to find a way to keep this game even or build a lead early.
This is a game that talent wise the Hokies should be able to run away with it. That's if they come to play 40 full minutes of basketball the way they are capable of. If they don't, than this game could change entirely.
Georgia Tech in the last couple years would have won the lane on both ends. That can still happen and Tech wins the day by getting clean perimeter looks, knocking down mid-range shots, and realizing when driving in isn't going to be effective. That said, this is a much different Hokies team that finally seems to have a focus on rebounding the ball on both ends. Through two games in ACC play, the Hokies are averaging 32 rebounds per game compared to 29 for their opponents. Stay out of the trap the Jackets regularly set down low and everyone should do well.
It's an away game in a mid-week snoozer slot but its still ACC college basketball. They have the talent to beat this team but it will take a total team effort considering the experience they are going up against on the floor. Robinson and others need to find their way to the rim or the line. The Hokies win 71-62 by coming to play defense and converting that into transition and perimeter baskets.