By:

VPIVMI15
on January 21, 2020, 5:19 AM
| 55 comments
Match Information
Location: Cassell Coliseum - Blacksburg, VA
Day & Time: 24 JAN 20 at 7:00pm
Viewing: ACCN and in-person
Updates: Twitter @HokiesWrestling, and Trackwrestling
The Opponent: North Carolina Tarheels
2018-2019 Season and Now
The University of North Carolina's dual record last year was 12-7 (4-1 ACC), finishing 2nd in the conference's regular season standings. For the ACC tournament, UNC would finish third. Last year's match between UNC and VT was a huge disappointment for Hokie fans. The Tarheels won 18-14, where they won two sudden victory decisions and pulled off three upsets at 133lbs, 197lbs, and 285lbs. Each upset had an unranked Tarheel grappler defeating a ranked Hokie grappler.
The 2019-2020 North Carolina squad is much improved, with respectable wrestlers stacked in the heart of the lineup. Looking ahead, they will be scary-good next year. The ranked wrestlers are: 141lbs Zach Sherman (#13), 149lbs Austin O'Connor (#2), 157lbs AC Headlee (#20), and 165lbs Kennedy Monday (#17). For their dual record, they are currently 8-1, but their schedules has been relatively challenge free. Their only loss came against Stanford, who is currently ranked #19. Their ranked wins have come against Princeton and West Point, at #15 and #14 respectively.
Coach: Coleman Scott
Coach Scott is in his 5th season at the University of North Carolina, starting in 2015, and only has been in the coaching business for seven years. His coaching record is 60-30 and he is showing lots of promise in his young career. He has already produced four All-Americans, but none that have won the coveted NCAA championship title. Coach Scott is also still seeking his first ACC wrestling championship, for both regular season and tournament.
Coleman Scott has many accolades in his collegiate and professional career as a wrestler. He is a four time All-American and a NCAA champion in 2008 at the 133lbs weight class. He wrestled for Oklahoma State from 2005-2008 where he amassed a record of 117-24. After college, he won the bronze medal in the 2012 London Olympics for freestyle wrestling at the 60kg category. Just recently he was named a coach of the USA Women's National Wrestling team.
The Line-Up
125lbs: Joey Melendez (r-FR, Norridge IL)
There was some preseason hype to Melendez, but a November injury prevented him to get comfortable in his first season wrestling attached with North Carolina. His record is 4-4, but his redshirt year he was 20-4.
133lbs: Jamie Hernandez (r-SO, Aurora IL)
Hernandez has bumped down from 141lbs which he had wrestled at for the past two year. He also gets the start as Joe Heilmann takes a redshirt to get use to bumping up a weight class. Hernandez's current record is 10-6 and career record is 27-15.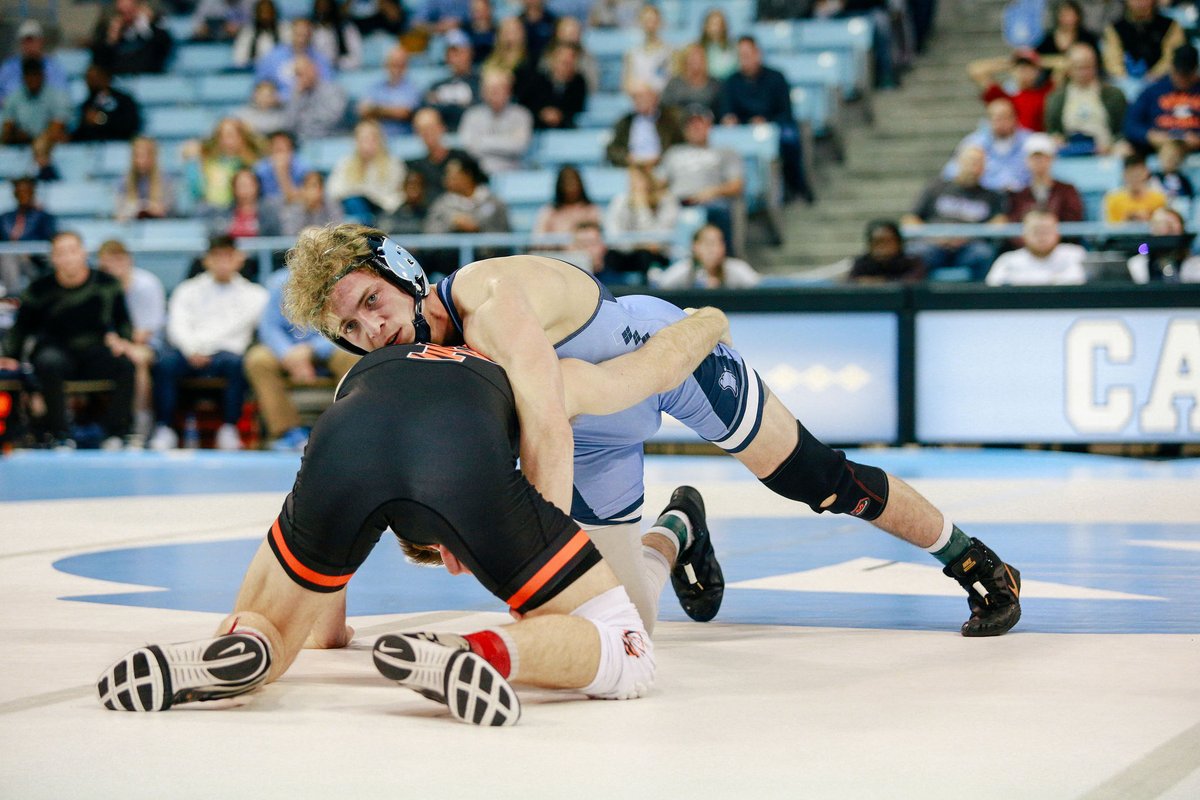 141lbs: #13 Zach Sherman (r-SO, Islamorado FL)
In 2018 he qualified for the NCAA tournament as a true freshman. Before this season, he took a redshirt year where he has drastically improved his craft. He is 19-3 for the year 2020 and each loss has come against current top 10 wrestlers. His career record sits at 48-27.
149lbs: #2 Austin O'Connor (r-SO, Rockport IL)
The North Carolina captain and premier wrestler. He is currently 15-1; his only loss came at Midlands to the current #1 at 149lbs, Pat Lugo of Iowa. He is an All-American who finished 3rd in the NCAA tournament in 2019. His total record is 69-10.
157lbs: #20 AC Headlee (r-SR, Waynesburg PA)
The elder on this squad, Headlee beat Mitch Moore during the regular season in 2018-2019, but Mitch got his revenge in the ACC tournament. He is a two time NCAA qualifier, both at 141lbs. His season record is 11-5, as he jumped two weight classes this year, and his career record is 78-48.
165lbs: #16 Kennedy Monday (r-JR, Arlington TX)
Monday returns to the Tarheel line up after suffering an injury last year. He was originally a 157lber, where he made his only NCAA tournament appearance in 2018. He is 16-4, and all losses were against top 20 wrestler. His overall record is 66-32.
174lbs: Clay Lautt (r-SO, Olatte KS)
Lautt is a fringe ranked wrestler. He was the 165lbs starter before taking a redshirt year in 2018-2019 to bulk up. During that year he pinned Cody Hughes. His current record is 13-4, but he has yet to beat a ranked wrestler. His career record is 41-27.
184lbs: Joey Mazzara (r-FR, Las Vegas NV)
Mazzara joined the North Carolina squad at 165lbs but has bumped up to 184lbs after his redshirt year. He is serviceable in his first year in the starting line up, going 14-9 so far this season. His is 27-19 so far in his young career.
197lbs: Brandon Whitman (SO, Dundee MI)
Whitman is the returning starter at 197lbs. He was a NCAA qualifier last year, but went 0-2. He has wrestled Virginia Tech's Cody Howard this year and came up with a decision loss at the Southeast Open. He is 8-10 this year and 26-25 in his career.
HVY: Andrew Gunning (r-JR, Bethlehem PA)
Gunning finally gets the starter spot for the heavyweight class. His season record is 8-7, but no loss has been by more than four points. His career record as a Tarheel is 53-31.
Match Thoughts
It the first dual of the ACC match schedule and the Hokies will be tested immediately. Virginia Tech goes into this match with six ranked wrestlers: #12 Joey Prata (125lbs), #18 Mitch Moore (141lbs), #19 BC LaPrade (157lbs), #3 David McFadden (165lbs), #2 Hunter Bolen (184lbs), and #17 John Borst. The Hokies did a good job handling their first back-to-back match of thr season. Each wrestler seemed to handle their weight/conditioning well, except for Andonian (which is expected for a freshman, not a knock on him). They were fortunate that Cornell was not at full strength, as VT would have definitely lost.
There will be three ranked matches at 141lbs, 157lbs, and 165lbs. I'm most interested in Moore vs Sherman as they both have the same experience and the same skill set. It will be a coin toss. LaPrade has a very good chance of picking up a ranked win. Headlee does not seem to be handling the bigger opponents well and BC's gas tank is large. The 165lbs match will be intriguing specifically because McFadden has yet to wrestle Kennedy Monday in his career. Unfortunately the true freshman has to go through O'Connor at 149lbs, but if you have watched Andonian wrestle, you know he is fearless with his offense. If he can control his shot follow through and get rolled, he can keep it close.
Predictions
125: #12 Prata dec. Melendez (3-0 VT)
133: Hernandez dec. Gerardi (3-3 tie)
141: #13 Sherman dec #18 M. Moore (6-3 UNC)
149: #2 O'Connor maj. dec. Andonian (10-3 UNC)
157: #19 LaPrade dec. #20 Headlee (10-6 UNC)
165: #3 McFadden dec. #16 Monday (10-9 UNC)
174: Lautt dec. Hughes (13-9 UNC)
184: #2 Bolen maj. dec. Mazzarra (13-13 tie)
197: Smeltzer dec. Whitman (16-13 VT)
285: #17 Borst dec Gunning (19-13 VT)
Each team is gonna go on a run, but I see Virginia Tech squeaking it out at the heavier weights. Like in all close matches, it comes down to who can prevent the opponent from getting bonus points. Prata is gonna have another close match, but I do not believe that Melendez is 100% back from his injury. DMac always has a chance for bonus points, but I went conservative. Even though McFadden is seen as a big 165lber while Monday is viewed as small for that weight. There is some uncertainty if Smeltzer will wrestle Friday, since he gutted through a dislocated pinky finger on Sunday. If not, then Cody Howard will get start and he has beaten Whitman before. 141lbs and 197lbs will be the matches to decide it.