2019 OL Bryan Hudson of Georgetown, Ky.'s Scott County HS didn't need to make his college choice the April of his junior year.
As one of the country's top offensive line recruits, Hudson could've easily taken his time and continued to be courted by the premier Power 5 programs in the country. With offers from everywhere from Alabama to Ohio State, and a 4-star (0.9184) ranking from the 247Sports Composite, Hudson would've been in high demand right up until Signing Day 2019, if he'd wanted to wait.
Instead, Hudson pulled the trigger on April 10 and committed to Virginia Tech. It's a decision he says he made a bit earlier than he'd originally planned, but one he feels completely comfortable with these days.
"The one thing most people have been telling me about this process is, 'You'll get a feeling that some place is just right for you when you get on campus and you'll just feel it when you're talking to the coaches and walking around and experiencing the whole thing,'" Hudson told The Key Play. "And on every visit that I went on, I got that feeling from Virginia Tech."
Hudson says he ended up falling in love with Blacksburg "more and more every time I went down there," visiting four times in all. And with that sort of feeling about the school, he saw no reason to wait any longer.
"With me, and I know with a lot of recruits these days, it started really early and and it got really tiring for me," Hudson said. "That's not necessarily the reason I made a decision this early or earlier than I'd originally intended. But the main reason why was I'd seen everywhere I was considering and I just felt like I was ready to take that step."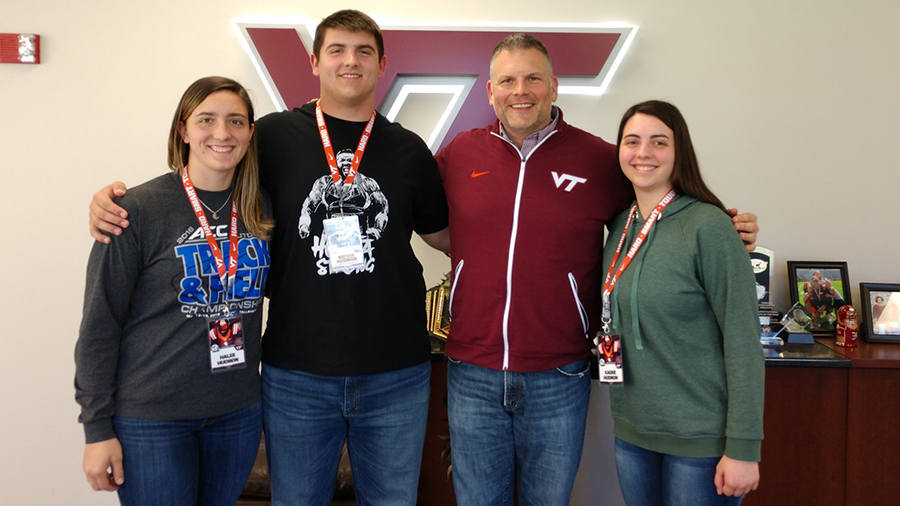 Hudson and his family with Justin Fuente on an unofficial visit to Virginia Tech.
But when any recruit as highly regarded as Hudson commits this early in the process, fans and coaches alike are bound to get nervous that other suitors will earn their way back into a prospect's good graces. Yet Hudson doesn't see himself looking elsewhere, even after deciding so early.
"I'm not really one of those kids that would make a commitment and make that choice and then go visit other places," Hudson said. "The way I look at it, it's kind of like dating when you're already engaged."
That sounds about right to Hudson's head coach at Scott County, Jim McKee. Outside of extreme changes in Blacksburg, McKee has no doubt that Hudson will be a Hokie.
"My personal experience with him as a young man is he's always done what he's said he was gonna do, and so have his parents," McKee said "They put a lot of time and effort into this. If something major happens like Coach Fuente left or Coach [Vance] Vice left, maybe they'd need to back up and punt. But I would be surprised, if the train stays on the track, that they wouldn't ride it right to Blacksburg."
That's surely music to the ears of the Hokies' coaches, who Hudson says he informed in person on Saturday about his big decision.
"I'd kind of given them the idea a little bit before I came down, but I hadn't told them until I got there personally," Hudson said.
Once Hudson arrived, Fuente welcomed him to his office, where he immediately spilled the beans.
"As soon as I told him and committed, he got up and gave me a big old hug and invited everybody in," Hudson said.
Yet Hudson says he wanted to wait to share the news publicly for one simple reason.
"I wanted to call the coaches that had extended contact with me from other universities, I wanted to tell them personally," Hudson said. "I did all of those Monday night, which was pretty hard."
With that job done, Hudson felt comfortable unveiling a special video he'd made up, which featured Hudson throwing a VT-emblazoned discus in a nod to his roots as a track star.
Thank you to everyone who has helped me with this process. I'm truly humbled by the faith shown in me by the 24 schools that have offered. I'm thankful to my parents, my coaches, teammates, family & friends. I've found a HOME where I will further my football and track career... pic.twitter.com/4bt5yGPAsU— Bryan Hudson (@HudsonBryan) April 10, 2018
Indeed, he says the Hokies' willingness to let him try his hand at both sports if he came to Tech was a big factor in his decision as well.
"Obviously, football, to me, is the number one but it's important for me to be able to do that," Hudson said. "They've made it clear to me that I'll definitely be able to do both...and both the track coaches and Coach Fuente and them, they've talked a lot about it as well, not just with me. It was important to me, and I felt like it was important to them to make sure I knew that it was an option."
McKee says he was well aware of just how important track is to Hudson throughout the recruiting process, so he gave him a simple piece of advice: "At some point in time, get the line coach, the head coach and whoever's in charge of track and field in the same room."
"Don't just let them say, 'Oh yeah, it'll be no problem,'" McKee said. "You want to know how this is going to work, what's my day gonna look like? How am I gonna meet my responsibility for everything I need to do? It must've gone pretty well, because he wouldn't have committed anywhere if he felt like they weren't supporting his efforts in track and field."
McKee went so far as to call some of Hudson's track accomplishments "incredible" and even went on to offer up this superlative: "He's the highest recruited, most decorated athlete in the history of our school, no question, and we've had some good ones."
Hudson says the Hokies have been similarly impressed with his abilities, enough to tell him that he could play just about anywhere along the line when he gets to Blacksburg. McKee agrees with that assessment, noting he's even served as the team's backup center for the last few years.
"You win games with winners and that's what he is," Hudson said. "It doesn't matter if he plays guard or tackle."
McKee says Hudson primarily plays left tackle (and defensive end) these days at Scott County, albeit in the team's "Wing T" offense, so he isn't doing a wild amount of pass blocking on the blind side. But McKee doesn't foresee that being a problem in the slightest for Hudson at the next level.
"If anything, I'd rather coach a guy that came out of a Wing T system because he has no preconceived notions about pass blocking," McKee said. "So I can take him and I can mold him exactly into the type of pass blocker that I want him to be... Brett Favre ran the wishbone in high school, and that turned out good for him."
McKee also expects that Hudson's unique combination of size and athleticism will set him apart as a difference-maker at the next level, giving him a shot at a pro career someday.
"Can he play early? Hopefully not. If he plays early, that means Virginia Tech's offensive line talent level is not where it needs to be," McKee said. "But can he eventually be an All-ACC type player at Virginia Tech? Absolutely. Could he be an NFL draftee someday? Absolutely. Is he going to have to catch some breaks? Sure. Is he going to have to stay healthy? Sure. is he going to have to keep working? Absolutely. But he can be an NFL player."
It helps that McKee expects that Hudson is strong enough for the college game right now, noting that he power cleans 315 pounds and benches 370 (he hopes to have Hudson at "400 by the time he reports).
@HudsonBryan looking smooth throwing up 370 pic.twitter.com/wCalSF5Gja— Coach McKee (@cards_football) November 21, 2017
Hudson is more reticent to say he's ready just yet, saying he's eager to start working with Vice, Ben Hilgart and the rest of the strength staff right away.
But he has a long time to wait before that can become a reality. He doesn't plan to enroll early, as that would interfere with his track season, though he plans to spend lots of time in Blacksburg over the coming months.
"I'll definitely make it back to Virginia Tech," Hudson said. "I'll definitely get back over there as much as I can."