Two satisfying benefits of a bowl game are: 1) It gives a coaching staff an extra handful of practices to evaluate the players that will be counted upon to play a more important role the following season, and 2) Perhaps more importantly, a bowl win gives the seniors that have sacrificed their bodies for our enjoyment an opportunity to go out in style. For senior offensive linemen Caleb Farris, Laurence Gibson and David Wang, the Military Bowl represented an opportunity to finish their career with a good performance after being part of a personnel group that came under harsh criticism from the fan base through their time in Blacksburg. For Coach Searels and returners like Wyatt Teller, Augie Conte and Wade Hansen, the Military Bowl provided more experience and repetitions to continue to develop critical cohesion up front.
As a former offensive linemen who has bristled at the criticism many of these kids have received, even while often being critical of their performances myself), I was pleased as punch with the performance of the Virginia Tech offensive line against Cincinnati. The seniors all delivered excellent performances and the collective offensive line group finally showed cohesion and dominance against the Bearcats front.
Cohesion in Zone Blocking
Mason did a masterful job highlighting how Scot Loeffler used the pistol formation to disguise run calls against the Bearcats. J.C. Coleman ran with conviction, and coupled with Loeffler's adjustment, the Bearcats couldn't outnumber the Hokies at the point of attack.
As you should know, all the X's and O's in the world don't mean anything if the players can't execute the design. Watching the film (including many of the plays that Mason highlighted), I was oblivious to the design, and far more enraptured at how cohesively the Hokies blockers executed their assignments and physically dominated.
Let's start with this third quarter run by J.C. Coleman. Loeffler uses a two tight, pistol formation and runs an off tackle zone play.
As an old offensive line guy, this play gets me all kinds of hyped. It starts with a kid that I know I had serious doubts about from a blocking perspective, Bucky Hodges. Every opponent that game-planned against Loeffler's offense this season knew that Ryan Malleck was by far the best blocking tight end on the Hokies roster. Hence, most defensive coaches would expect a run play from a two tight formation to follow Malleck on the right side, and unsurprisingly the Bearcats have numbers to that side. Loeffler shows confidence in his neophyte tight end and instead runs behind Hodges to the left.
Let's break the run down by freezing the video after the hand-off has taken place. This is where you can see the beauty of the play. At the moment that Coleman has to read his cut, every single defender that can impact the play is accounted for. It all starts with Hodges.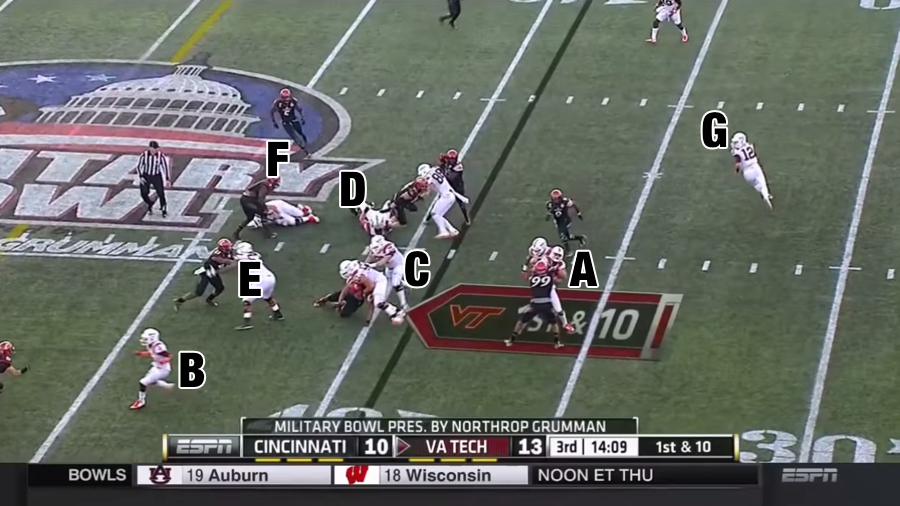 Hodges has effectively sealed defensive end Jerrell Jordan (No. 99) to the outside without any double team assistance. Hodges blocking has improved significantly and allows him to stay in the game when Loeffler selects to use run blocking personnel groupings. His presence also makes play-action far more dangerous than if he was replaced with a plodding blocking tight end. Hodges blocking, which was a worrisome subject in the off-season last year, was vastly superior to the secondary tight ends that the Hokies utilized down the stretch in 2013. More on this in a moment.
Isaiah Ford gets inside leverage on the Bearcat corners. All he needs to do is keep his body in between Coleman and the corner.
Teller and Farris combination-reach block the defensive tackle and pancake him. The block is so effective that Teller gets tangled up and loses his feet. If Teller could stay upright, he could go to the next level and perhaps Coleman would have a long touchdown run.
Augie Conte cut blocks the backside defensive tackle. As I have noted in past film reviews on zone blocking, the back side defensive tackle often is the most disruptive player on a zone stretch. Conte has eliminated him. Ryan Malleck also has cut the defensive end, which is not pursuing well because of the threat of Brewer on the bootleg.
Here is where you can see the most improvement. Early in the season, the Hokie offensive line AS not getting push on the front four, and as result the linebackers and safeties were not effectively being blocked. As you can see here, Laurence Gibson has enveloped one inside linebacker, while
Wade Hansen has gotten just enough of the other inside linebacker's legs to slow down back side pursuit.
Michael Brewer's bootleg fake helps slow Hansen's linebacker and briefly ties up a safety.
Timing is critical on zone blocking. Those linemen that are releasing to the second level have to make sure that the first level is accounted for. Early in the season (East Carolina stands out as an example) those zone blocks saw double teams where the second blocker released too early and the defensive linemen defeated the second man trying to scoop him, or they held on to the double team too long, which freed up the linebackers and safeties to make tackles without being blocked.
Here is another example of beautiful execution. Loeffler spreads out his tight ends and uses Sam Rogers as a true fullback on an inside zone. This time, the Hokies have to account for the six Bearcats defenders with the five offensive linemen and Rogers.
Laurence Gibson cuts off the back side defensive end and turns him to the outside. David Wang chips on the defensive tackle and then gets to the linebacker at the second level. With Wang's help, Farris turns the defensive tackle outside. Note that Wang doesn't release his block until Farris has the defensive tackle under control, but still gets squared up to the linebacker. Rogers leads on the other linebacker, while Conte drives the defensive end to the sideline.
The most physically impressive block is delivered by Wyatt Teller. Teller has thrown numerous pancake blocks, but for Teller to be great, it requires perfect fundamental execution to go with his explosive physical ability. Teller has to get his body between the defensive tackle and the running lane. Ideally, Teller would get his head inside of the tackle, but instead his head contacts on the right side of the defensive tackle's neck. But Teller is so strong and his feet are so good that he punches through the defensive tackle's left shoulder and moves his feet around. His feet are stellar right here. He turns the defensive tackle, and coupled with Wang and Farris's blocks there is a terrific running lane for J.C. Coleman to scamper through.
Get a Damn Mean-On and Put Them On the Ground
I am a complex individual who enjoys the nuance of a bucket step, timing, aiming point and hand position on a block, but as a former coach of mine once said, all of that doesn't do any good if you don't "have enough lead in your pencil." Football may be strategic and have very specific techniques that can help improve chances of success, but football will always be a game where the object is to assert physical dominance over your opponent.
Against the Bearcats, the Hokie offensive line whipped their tails play after play up front. I saw the convergence of technique, cohesion, and violence to create huge running lanes for J.C. Coleman.
Are you ready for big time analysis?
Bucky Hodges drives the defensive end into the sideline (despite being hit in the throat/illegal hands to the face.) Laurence Gibson has a defensive back on roller skates.
Caleb Farris has his man on the ground. Wyatt Teller has escorted his man seven yards away from the football; where he has chosen to play a rousing game of patty cake instead of pursue the ball carrier. Conte's man has to retreat nearly seven yards to get off Conte's block (if Conte can keep his feet, this is a touchdown). This is caveman football, pure and simple.
Additionally, unlike some past Hokie efforts, the dominance was sustained in short yardage situations. Controlling the line of scrimmage meant sustaining drives, and by sustaining drives the Hokie offense kept Bud Foster's defense off the field as the Bearcats surged a little late in the football game. It also meant scoring touchdowns in the red zone, which was one of the major areas where improvement was needed last season.
On short yardage, it is impossible to account for all defenders. In order to be successful an offense must dominate at the point of attack, and then cut off the most dangerous back side pursuit threat. When that happens on quick hitters, unblocked players that must pursue can't get to the back in time.
On this play, cohesion and dominance come together perfectly for the Hokie offensive line. The Hokies run what Vince Lombardi would have called a "wedge" play. Everyone drives hard through their inside gap, and the back must hit the bubble created between the last blocker and the edge defender. Play side, Augie Conte and Wade Hansen double team the defensive end and cave him inside. Bucky Hodges (again demonstrating that he can be a very solid blocker even on short yardage,) drives the outside linebacker to the inside. Hodges is MASHING here. Coleman doesn't hesitate, and slips through the bubble created by Hodges. That is all it takes, a seam and the will to go through it.
I tell you, I am awful glad to finish this season on a high note. Obviously, next season's offensive line has questions. Pass protection must improve, and that starts with reviewing the blocking scheme and communication and working out where that went awry this season. I'd assume that Jonathan McLaughlin will move back to left tackle, so Coach Searels will need to either commit to moving Augie Conte back out to right tackle and find a right guard; or hitch his wagon to Wade Hansen and work hard to develop his pass blocking technique. Searels will also need to find a center, as the Hokies won't have a single player on the roster who has snapped in either a college or high school game besides Eric Gallo and Billy Ray Mitchell (who will likely stay outside). Also, with Braxton Pfaff, Colt Pettit, Mitchell and now Austin Clark in the mix for spring football, Searels has more depth and can run a more physical and competitive spring program.
Even though there are concerns, the positives are significant. Wyatt Teller is already an All-ACC caliber player and will make an NFL paycheck. Jonathan McLaughlin has the experience of a season on the blind side if Searels chooses to return him to left tackle. Augie Conte looked much more comfortable in the last two games of the season, and despite his challenges pass blocking, Wade Hansen was very competent run blocking. This group is substantially bigger and stronger than some recent offensive line groupings, and they don't lack in athleticism. Plus, this spring (barring a boatload of injuries), there will be competition pushing the top guys, instead of a collection of walk-ons and projects being decimated by the top defense. Perhaps this group will give Mr. Upper Deck "Hey Block Somebody" guy a reason to be quiet next fall!