To open, a brief "By the Advanced Numbers: What the Hell Happened in Bristol?". After a quarter against Tennessee the Hokies looked like a potential top 10 team. Virginia Tech drove the ball easily against a formidable defense and shut down a dynamic offense. Then Tech crumbled. There are a number of reasons for the collapse, but let's focus on one of the more stat-oriented ones. Over the long run, teams recover about 50% of fumbles that occur, and there's little evidence that certain teams are actually "good" or "bad" at recovering fumbles.
On the field at Bristol, the ball came loose seven times. Tennessee recovered all seven fumbles. For those not good at the maths, there is a 1-in-128 chance of that happening. Now it wouldn't be fair to say that with better luck Virginia Tech wins the game, but with a 3-4 or 4-3 split the game is much, much closer. The Hokies outgained the Volunteers not only in total yardage, but also yards per play. The Hokies ended with a 21-point deficit thanks to turnovers coupled with the field position where they happened, and penalties.
But hey, Virginia Tech played in front of the biggest crowd to ever attend a football game and that's really cool. Be honest: if ten years ago someone said a college football game would be played in front of 156,990 people, you would have never guessed that the Hokies would have been one of the teams selected. Now Tech's task is to defend its undefeated ACC record.
Last season Boston College featured one of the best defenses in the country, and one of the worst offenses. So naturally the Eagles hired Scot Loeffler. While one might scoff at the idea that the new OC is an upgrade, keep in mind that the 90th-ranked offenses he put together in Blacksburg are technically much better than Boston College's offense from last year.
Note: Detailed offense, defense, and special teams ratings are not available until midway through the season. Until that time, "By the Advanced Numbers" is an abbreviated column.
Where the Hokies Season Stands
Virginia Tech is currently 1-1. The actual and predicted score difference and odds of winning each game are:
The odds of each possible regular season win total are now:
In 10,000 simulated seasons, Virginia Tech finished 11-1 once. Just sayin'.
Rankings and Computer Predictions
The computer rankings and predictions for each team: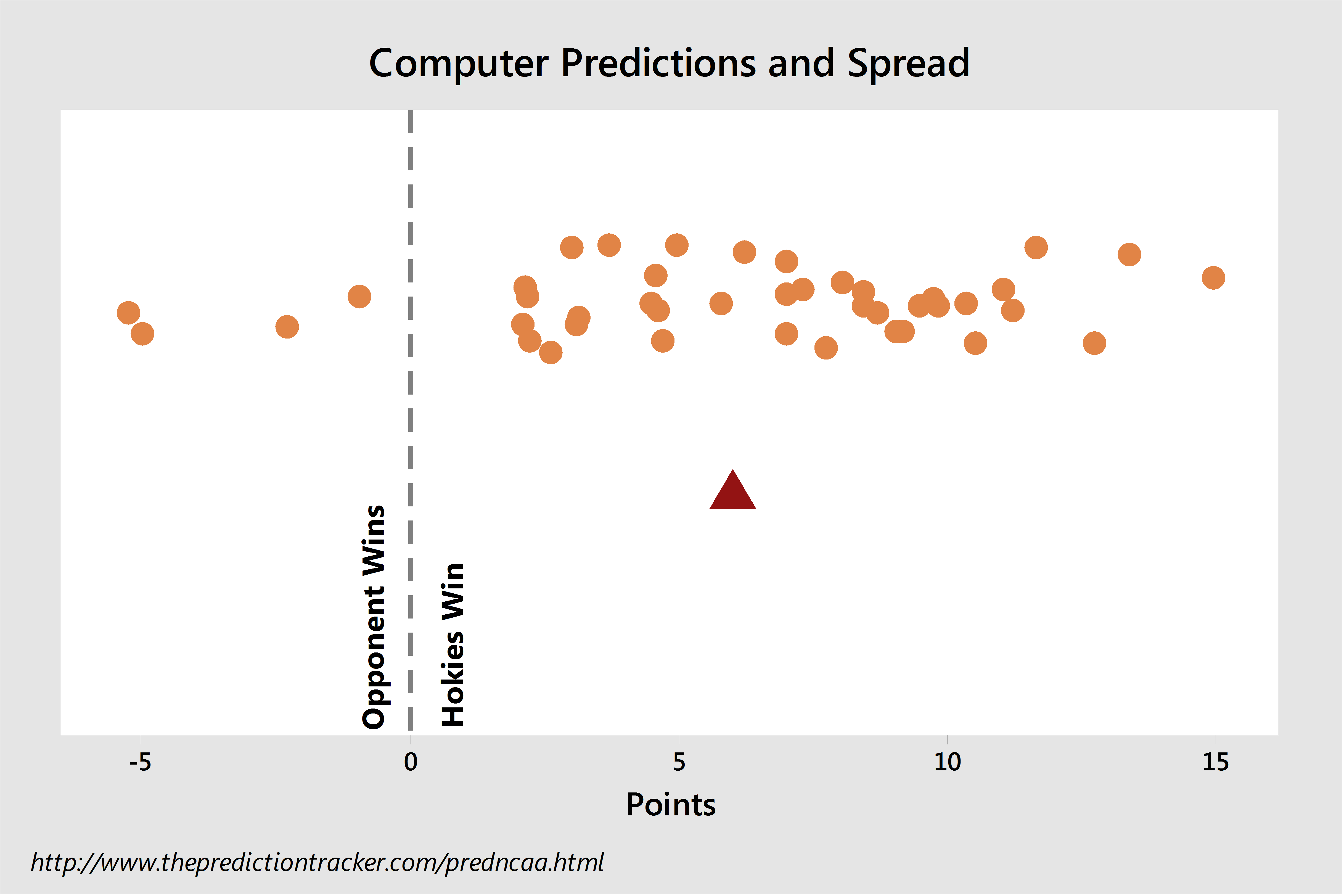 Boston College must be one of the more difficult teams to assess thus far, with various rating systems putting them anywhere from 28th to 108th in the country. The odds of a 6-point favorite winning are 67.3%.
Next is a look at any overall offensive or defensive advantages:
At this point in the season, preseason projections are a major part of the ratings, so seeing the Hokies up to 57th in offense already is a very promising development. The team finished 72nd last season after the Independence Bowl outburst. However, Boston College returns a very good defense that will be a great test for just how much progress Justin Fuente has made to this point.
Who To Watch Out For Against Boston College
Let's see, it's Boston College so there must be some linebacker who seems to be getting into the backfield at will:
LB Connor Strachan currently leads the country with 6.5 tackles for loss on the season. Now would be a good time for Teller and Gallo to be on the field every down.
BONUS! Who NOT to watch out for (other than any offensive player):
RB Myles Willis handles kick return duties for the Eagles, a job that won't even require stretching, pads, or even legs really. Joey Slye is one of two kickers in the country to have 100% of their kickoffs go for touchbacks this season.
Statistical Key to the Game
You're expecting something about fumbles here aren't you?
Tennessee disrupted Tech's ability to stretch the field by disrupting plays at the line, and Boston College won't be any less formidable. If the Hokies are forced to play a short field, the offense could be in real trouble so my concern is downfield passing. The statistical key to the game will be completions of 10+ yards, indicating that the Eagles are not able to dictate plays at the line.
The Stats that Define Virginia Tech's Season
Revisiting my column from this summer on the stats that will define the season, here is how the Hokies performed thus far (each listed as VT - Opponent):
| Opponent | PPP | Pace (sec/play) | ToP |
| --- | --- | --- | --- |
| Liberty | .40 - .21 | 22.7 - 25.5 | 33:42 - 26:18 |
| Tennessee | .33 - .71 | 26.1 - 26.1 | 31:44 - 28:16 |
I will not value time of possession.
Statistical Prediction
Probably because I think the Hokies played Tennessee much closer than the final score would indicate, I am more optimistic about the team than I should be. Boston College has been a thorn in Virginia Tech's side in the past, but that should have nothing to do with this season. I can't imagine Loeffler putting together a game plan that is effective, so while I don't think this will be a shootout, I think the Hokies win comfortably and irrational optimism can return to fans.
Virginia Tech 27, Boston College 10
As always a thanks to Football Outsiders, cfbstats.com, and Minitab Statistical Software.