After three dominant performances in a row, the Hokies travel to the house of horrors known as the Carrier Dome for their first matchup with Syracuse (2-4, 0-2 ACC) since 2002. Tech has a measly 2-6 record in the Carrier Dome. The Orange is under the leadership of former Bowling Green head coach and Art Briles assistant Dino Babers. Syracuse runs the same vertical attack, hurry up no-huddle offense innovated by Briles and is similar to the offense the Hokies faced against Tulsa last season.
"We've gotta do a great job of having some urgency getting lined up and getting communications and being in position to go make plays," Bud Foster said on Tuesday. "And then be good out on the perimeter, because they're gonna take their shots. They're gonna get the ball to him again, like last week, getting the ball to him on screens and little hitches where they can catch the ball in space and create plays with the ball in their hands after the catch."
The Orange run a relatively simple offensive scheme. They spread out the defense and use tempo to keep the defense from making adjustments. Through six games, the Orange have operated at a pace of 20.7 seconds per play, and have exceeded running 90 plays in a game twice (83.2 plays per game).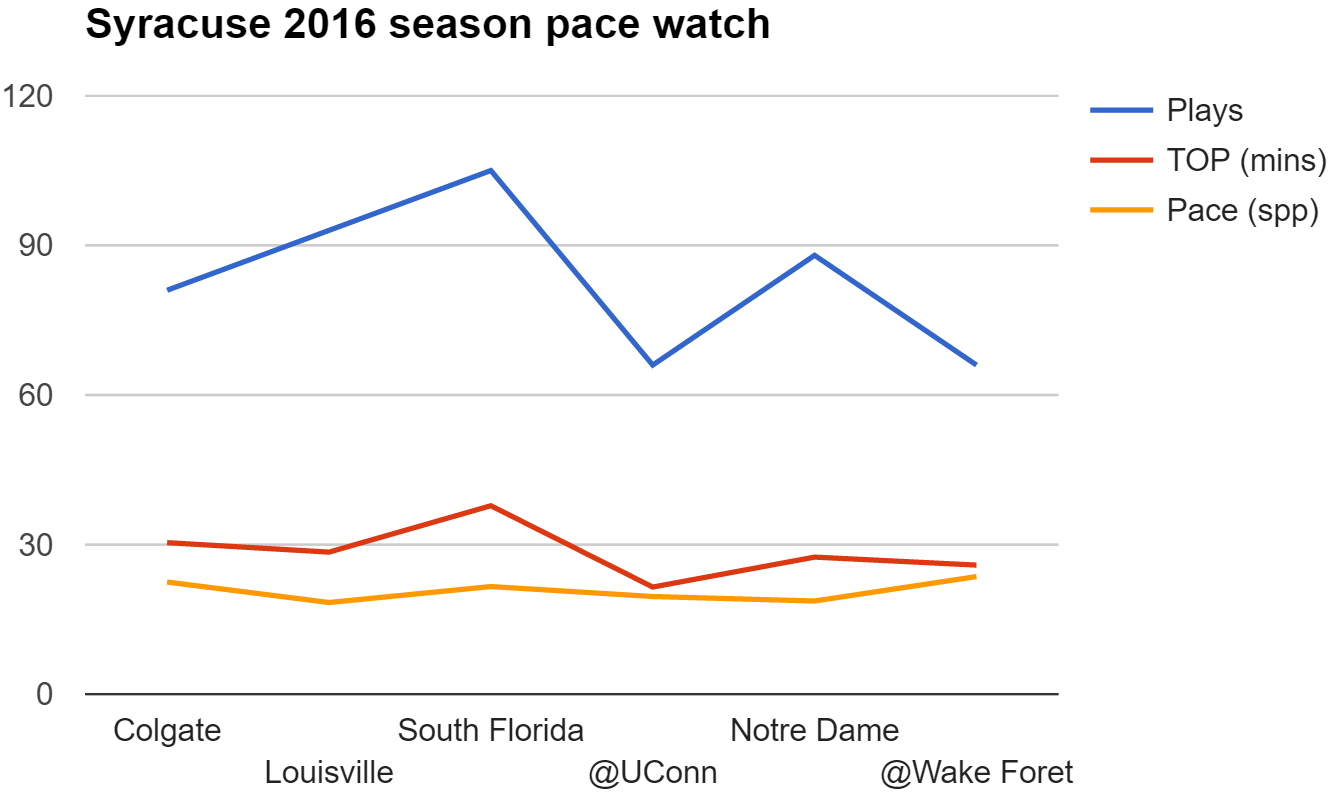 via syracuse.com
The Orange feature a dynamic passing attack focused on Maryland transfer Amba Etta-Tawo (No. 7, R-Sr., 6-2, 202). Etta-Tawo leads the nation in receiving yards (876 yards on 51 catches and 6 touchdowns) and yards per game (146.0). Against the Hokies in 2013, Etta-Tawo caught 4 balls for 69 yards as a Terp. He combines terrific speed with ability to bend his body and find the football. Syracuse will attempt to get the ball to Etta-Tawo horizontally via the screen game some. However, Babers loves to isolate Etta-Tawo and attack defenses vertically. And those deep shots will happen early in the game.
On this play, 'Cuse has a third-and-three against Notre Dame. Etta-Tawo is isolated one-on-one to the bottom of the screen. He runs a go route, and then adjusts to find the football.
These deep shots force the defense to either play softer coverage or devote a deep safety over the top. If the safety plays over the top of Etta-Tawo, it takes a player out of run support and opens up other receivers. If the defense sticks with one on one coverage, Babers will continue to call go routes for Etta-Tawo until the coverage loosens. Then Etta-Towa can feast on quick curl routes.
The Orange don't have a particularly impressive running game. Their offensive line isn't dominant. The running backs, while fast, are not physical enough to run through tackles. Syracuse has to get numerical mismatches in the box like Tulsa did in the Independence Bowl in order to have success on the ground.
Many of Syracuse's run plays are package plays with screens. This forces the defense to keep two or three defenders outside the hash marks where they can't factor into the run game. The Orange will mix in some quarterback draw and a handful of counters, but based on the Notre Dame and Louisville film, their bread and butter run is a basic zone read. However, they add a wrinkle by regularly cross blocking (blocking down on the play-side and pulling two offensive linemen from the back-side) to create a seam in the middle of the defense.
On this play, Louisville has six defenders in the box. They have to account for five Syracuse offensive linemen and two running options — QB Eric Dungey (No. 2, SO, 6-3, 207) and RB Moe Neal (No. 21, FR, 5-11, 169). Do note to defend the double stack receivers, Louisville has two defenders outside both hash marks and a free safety deep in centerfield.
The right side of the offensive line blocks down. The left guard and the left tackle pull front-side, and the center blocks back on the defensive tackle that was aligned over the left guard. Dungey creates a mesh point and options the defensive end to the boundary. This design allows the other five blockers to block five remaining defenders. If Dungey keeps, he can run or throw a screen to the boundary receiver standing at the line of scrimmage. Neal, who had Power 5 offers from Mississippi State, Georgia Tech, Boston College, and N.C. State among others, finds a little seam and has room to roam until he reaches the remaining deep safety.
This play is an example of a screen off similar run action.
While the screens look awkward, Dungey is a decent running threat, and unlike Mitch Trubisky last week, the Hokies will have to account for him in the running game.
The Hokies stopped East Carolina and North Carolina without a numerical advantage in the box. Syracuse popped a couple of solid runs against Notre Dame and Louisville. However, most carries ended up as very short gains or losses, especially against Louisville. Syracuse has given up 16.0 sacks this season (T-104th), and 2.67 sacks per game (T-97th). The Orange were seemingly at a talent and scheme disadvantage when pass protecting against Wake Forest.
Wake Forest capitalized on Syracuse's inexperienced offensive line, which features five first-year starters, three of whom were shifted in midseason due to injury. The Demon Deacons brought more pressure on early downs than expected and forced SU into many 3rd-and-long situations, which in turn led to eight Orange three-and-outs on 14 drives.

"They gave us some crazy looks and we couldn't handle some of them," freshman running back Moe Neal said. "... They were sending a whole bunch of blitzes at us early and often."
Additionally, center Colin Byrne noted Syracuse's focus on high-tempo and snapping the ball quickly is sometimes to the detriment of identifying blitzers. The Demon Deacons sacked Dungey five times, and the Hokies have just as good a scheme and better personnel up front.
The Hokies have big corners that match up well with Etta-Tawo. He's talented enough to get some big plays indoors on a fast track, but Tech's been excellent at limiting plays of 20+ yards.
No defense has held opponents w/o an explosive play on a lower % of drives than Virginia Tech (14.3%).— David Hale (@DavidHaleESPN) October 12, 2016
If Tech can minimize those explosive plays, the Hokies offense should be able to score enough to get a win against a very young Syracuse defense that was torched by Notre Dame and Louisville. Fourteen of the twenty-two Orange defensive players in the two deep this week are freshmen and sophomores. Certainly Lamar Jackson's electric athleticism played a factor in Louisville's route. However, time and again Syracuse had linebackers and safeties taking poor angles on fills, and they allowed Jackson to break contain repeatedly.
Expect the Hokies to take a bunch of deep shots. Notre Dame's Equanimeous St. Brown had four catches for 182 yards and two touchdowns, including a long touchdown on a fade route.
Louisville had three receivers catch passes of over 55 yards. Syracuse's corners and safeties look small and don't have terrific ball skills. Any time the Hokies have a one-on-one matchup with Isaiah Ford or Bucky Hodges, don't be shocked if Jerod Evans automatically checks to a slant, sluggo, or fade. It's unlikely the Orange can handle Virginia Tech's top receivers.