Justin Fuente has been around dysfunctional two-quarterback systems before. In his brief stint at Oklahoma, he admits he was part of a "battle between two bad players."
But that's not what he sees these days in Blacksburg, as he declares that he wants to see both Hendon Hooker and Oregon transfer Braxton Burmeister get in the game at quarterback this season. Unlike his days trading snaps with Eric Moore back in 1996, Fuente says both passers have played well enough to earn the chance to contribute.
"It's not a situation where I'm trying to prep us for down the road or for Covid issues or anything like that," Fuente told reporters Wednesday. "That's all a part of it, but I truly believe that Braxton has a chance to play...Is there an element of rhythm? Certainly, and we take that into consideration. But all things considered, this is the best thing for us right now."
Fuente said he has yet to decide "what that will look like in terms of percentage" when it comes to juggling Hooker and Burmeister: outside of decreeing that Hooker will still start the season at QB, of course. But Burmeister must've shown something to the head Hokie to force his way onto the field when competing with Hooker, considering the redshirt junior won his first six starts and helped turn the 2019 season around.
"The head man knows what he's doing and he's going to put us in the best situation to win," Hooker said.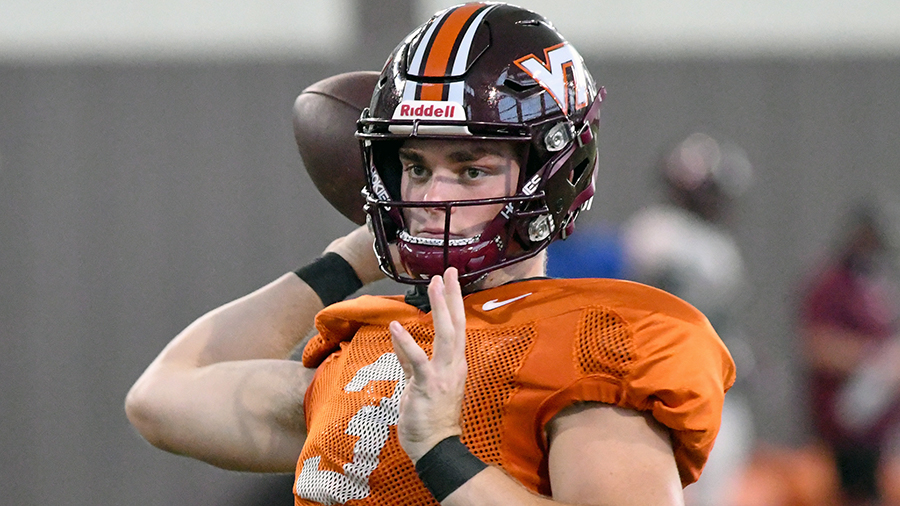 Braxton Burmeister | Virginia Tech Athletics
Burmeister was set to speak to the media Wednesday, but a team spokesperson said he was unavailable, noting that he had been away from "team activities."
But Fuente praised him for his "savvy" and poise on the field, and said he can "really run." Burmeister managed 102 yards and three touchdowns on the ground in his seven games at Oregon back in 2018 — his passing was a bit less stellar, as he completed 57% of his throws for 330 yards, two touchdowns and six interceptions.
"There are situations where he can just make a play out of nothing, and that's something I want to incorporate into my game as well," Hooker said.
Fuente also suggested that there may be occasions where both quarterbacks are on the field at once, noting that "our best 11 guys could change at any time" given the uncertainty around which players may be forced to quarantine at the last minute.
"It may be two QBs; it could be a couple tight ends or no tight ends," Fuente said. "There's so much volatility that we won't know what happens."
Quincy Patterson | Virginia Tech Athletics
Another part of the equation is Quincy Patterson, who increasingly saw the field last season as Hooker dealt with injuries and Fuente tried to rotate in the highly recruited prospect. Fuente said he still has a "huge role" to play on the team this year — even if he won't be rotating in quite as often as Burmeister, necessarily.
"I just told him that am still as encouraged as I have ever been about his development." Fuente said. "And not just because of Covid, but because of his skillset. You don't have to imagine too hard a scenario where you've got to play with your entire roster of QBs."
Fuente said he's not yet begun giving the quarterbacks reps at other positions, Patterson included, but the redshirt sophomore said he'd be open to playing elsewhere if need be. In particular, he'd be open to playing a little running back, noting that it's a bit less complicated than, say, a move to tight end.
"You don't play the sport to watch. You want to be on the field," Patterson said. "But sometimes things don't go your way and you have to, not look past it, but realize you can be used in other ways."
No Covid clarity yet
All that talk of who will take snaps under center is moot if there is no season. And Fuente continues to allow that such a development seems possible.
After admitting last week that he's unsure if the Hokies could field a competitive team right now, due to Covid infections and players quarantining, he said he feels he's in much the same boat these days.
For instance, if the N.C. State game had not been postponed and the Hokies had to play a game Saturday, Fuente didn't exactly sound confident.
"I don't know if we could, to be honest with you," Fuente said. "I don't know if we'd have made it."
He declined to say how many players have tested positive or been instructed to quarantine, but the university has been recording a steady increase of cases over the course of the last week or so. And Fuente even refused to speculate about preparations for games beyond the season opener on Sept. 19.
"I did everything in my power to construct a practice that we got something good out of today with the guys that we had," Fuente said. "Our kids, they want to play in this thing. They do. Their resiliency, their ability to handle the unknown is remarkable and should be commended."
That's all added its fair share of challenges for the players on the field, but Hooker said the grind of sitting on video calls when he gets home might be even worse.
"I miss being in the classroom with a teacher in front of me," Hooker said. "This online school is a hassle."
Payoute's injury fallout
There's also a non-Covid loss for the Hokies to grapple with: WR Jayden Payoute.
Fuente said the redshirt freshman had leg surgery recently and will be out "indefinitely" — that's no great surprise after Payoute himself posted a picture on Instagram while wearing a boot, tagged at a nearby hospital.
"It's a hard thing for everybody because he's continued to improve," Fuente said. "He was poised to be a huge contributor for us now and I know that's only hardened his resolve to continue to work. He's a high character kid and wants to come back as soon as he can."
Indeed, Tech's wide receiver room was already a little light on experience before Payoute's absence. Other than Tre Turner and Tayvion Robinson, the Hokies are reliant on a whole lot of freshmen and other players who haven't seen the field much.
However, Fuente said he is optimistic about the two graduate transfers Tech added in the offseason to help fill that void: Changa Hodge from Villanova and Evan Fairs from Kansas. With coronavirus upending the team's offseason schedule, neither has had the ideal introduction to the program, but he's hopeful they can add some experience to the position.
"I've been really impressed, they were some great pickups that we got in," Hooker said. "They really hit the ground running."
Beyond that, Fuente noted former walk-on Kaleb Smith, who made 10 of his 11 catches in Tech's first three games last season, would factor into the role.