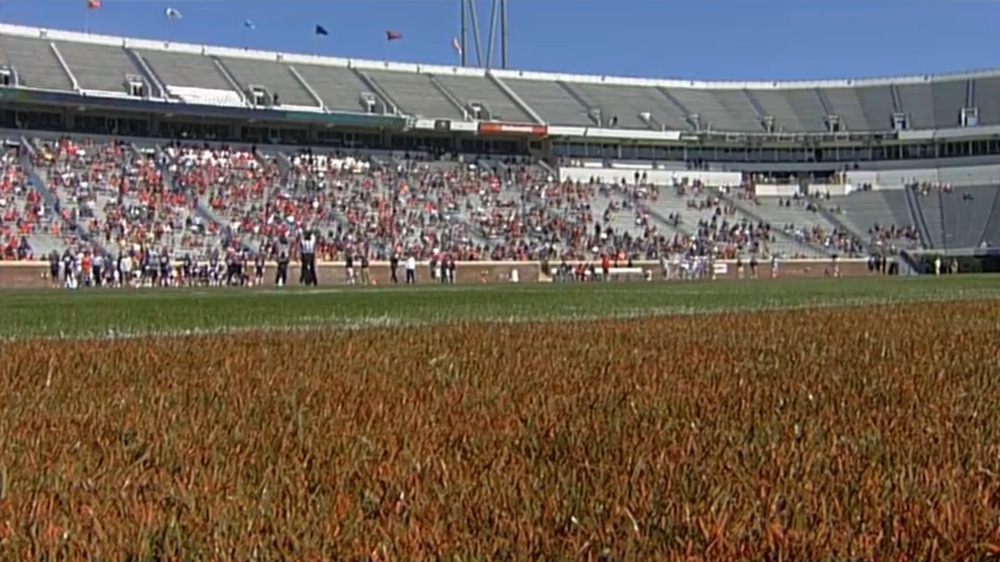 I was unable to track down an official attendance number, but UVa spring game jokes will continue for another year. More grabs are here and here. Thanks, 'Hoos. If you're interested in reading actual football things about the scrimmage, a few writers were among the masses at Scott Stadium.
From Mark Giannotto's recap, UVa's new offense was a bit of a mess.
But Saturday's spring game only confirmed that the Cavaliers will need to solve many of the same problems that ailed them during last year's 4-8 campaign. In a defense-dominated scrimmage that featured 14 sacks and three safeties, Virginia proved its quarterback situation remains in flux, especially with an offensive line that couldn't open up holes in the running game.

Even the final score, with the Orange team besting the Blue team, 18-15, added to the intrigue because backup quarterback Greyson Lambert accounted for two Orange-squad touchdown drives, compared with just one orchestrated by No. 1 option David Watford.
Phillip Sims remains UVa's third string QB.
Andrew Ramspacher details what might have been the play of the afternoon, a 13-yard punt.
Vozenilek felt he had time to pull it off. Yes, the junior wasn't automatically giving this play to the defense.

"I just glanced to see if I had any space to pick it up and punt it like that," Vozenilek said. "I saw that I did, so I did that. If somebody was right on me, I probably would have dove right on it and dove in the end zone and taken a safety."

He turned what could have been a loss of 40-some yards and two points into a 13-yard punt.

The Scott Stadium crowd cheered in approval. The nearest official gave Vozenilek a high-five.

After all, this game didn't need another safety.
According to Michael Phillips, the Cav's defensive front seven looked every bit as good as their counterparts on the offensive line looked bad. David Teel noted their dominance too.
Sure, defensive linemen Brent Urban, Eli Harold, Jake Snyder and David Dean merit props. But there's no denying the o-lines, absent projected left guard starter Conner Davis (knee) Saturday, need work.
Even though this was only Virginia's 12th practice of the spring, it'll be the last time they'll be on display to the public. Mike London decided to use his squad's final 3 practices to prepare for BYU, Oregon and Georgia Tech. We want everyone to feel good about their team at the end of spring ball, Hoos included, so BilldozerVT made a video for y'all.
#BEATOREGON.