I was going to begin by explaining how it's really not that uncommon for a 13.5-point underdog to win. How statistically we were the better team, and how almost any number but the score showed a clear Hokie victory. But no one's going to feel better after reading a bunch of stats that make it look like we won when we didn't.
The Offense
A positive thing about having an offense that barely cracks the top 100 is that it takes a really bad performance against a bad defense to bring it down much further, and even a 10-point showing against Duke doesn't do much damage. We remain somewhere around 95th-100th in offense by most statistical rankings, which is pretty terrible. Rather than hammer on the negative, I'll just say that we're actually not bad at methodical drives (percentage of drives with 10 or more plays), mostly as a result of a Logandozer that can pick up a few yards running on almost any play.
Beyond that I think it's best that we move on to defense.
The Defense
If you read last week's preview of Duke, you know that advanced numbers show we're not just the No. 1 defense in the country, but the margin is fairly substantial. It's easy to be down after the loss, but let me cheer you up some. Holding Duke to 198 yards actually improved our defensive rating. Improved!
The gap is now even larger than last week thanks to improved ratings from our defense. As painful as the offense can be to watch, sometimes you have to appreciate what we're seeing from the defense. Down two DB's against one of the better offenses in the country, we improved an already off-the-charts defensive rating. I think this is getting lost in the media as Virginia Tech just isn't generally being talked about right now, but stat-heads notice. Consider my go-to ratings systems: FEI and S&P+.
FEI: Despite the 66th-rated offense (that's about the most generous system out there) and 112th-rated special teams, FEI ranks us as the 16th-best team overall.
S&P+: Despite the 99th-rated offense, S&P+ rated us as the 6th-best team thanks to the defense.
Okay, so maybe numbers can make you feel a little better...
What the Computers Think
How the computers rate VT and BC: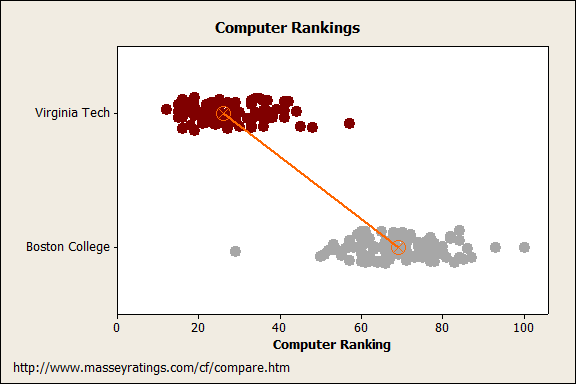 And their predictions: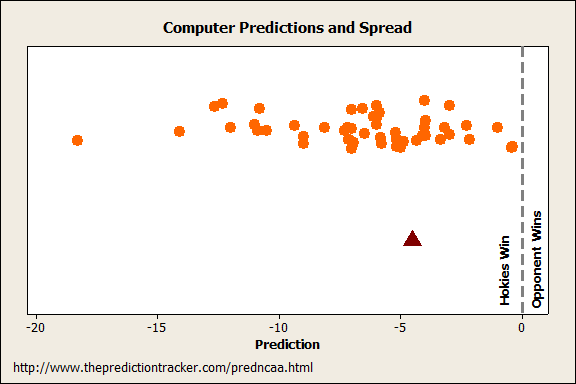 Despite clearly higher rankings, we're a 4.5-point favorite (opened at 6) and computers generally think we should be expected to win by a little more than that. Keep in mind computers don't typically take injuries into account, so being down a couple of defenders may lower the Vegas spread without affecting what computers think.
How We Compare
Like in any game we'd play, we have a substantial defensive advantage. The question again this week is: will that defensive advantage be enough to compensate for what will almost always be an offensive disadvantage?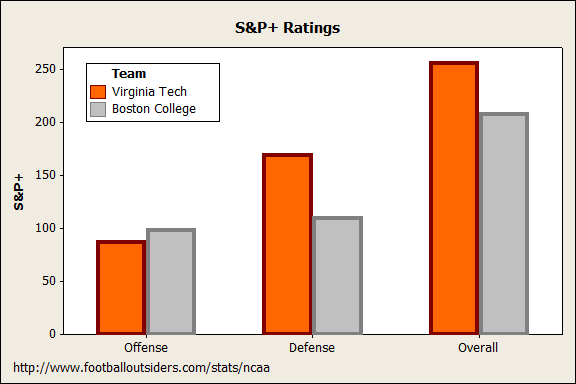 Situationally things are a little clearer:
Boston College has the advantage when Tech's on offense (just like Alabama, Marshall, Pitt, GT, UNC, Duke, the Jacksonville Jaguars, a field of immobile practice sleds, a wet paper sack, etc...). However, our advantage on defense in the highest yet this season. Unless a couple of big breaks go their way (fluky plays can happen to anyone), Boston College should really struggle on offense. I would say shutout potential, but shutouts are really difficult, and even with a substantial advantage, luck (or playing UVa) is required.
Offensive and Defensive Personalities
When Virginia Tech is on offense: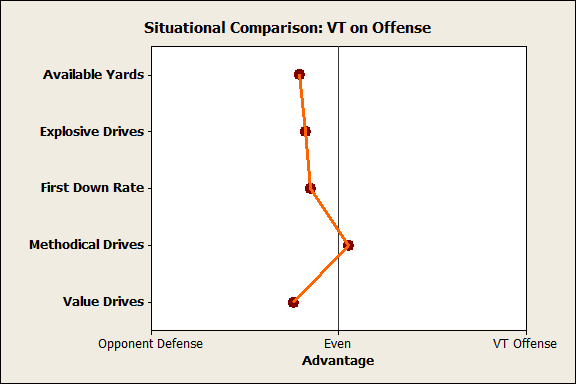 As stated above, we're a decent offense when it comes to methodical drives and that is primarily due to Logan's ability to pick up chunks of yardage to sustain drives. Other than that, BC has a small advantage across-the-board, and these numbers typically favor offense over defense so you really don't want to fall on the defense's side of the line. With that said...
You do want your opponent's numbers to fall on your defense's side of the line! First down rate in particular tells me that we will likely force some three-and-outs in this game, although methodical drives aren't in our favor.
Which offenses do each team compare most similarly to?
Boston College is most similar to:
Temple
Rice
Rutgers
Virginia Tech is most similar to:
Florida (if you think that's a compliment watch more football)
Akron
Tulane
Defensively, how dare you compare Virginia Tech to another team! Seriously, I can do it for you:
The 1985 Bears
Michigan State
Oregon
Cincinnati (this one keeps coming up despite not being ranked very highly)
Boston College's defense is most similar to:
Iowa State
Georgia
Southern Mississippi
Situational Comparisons
When Virginia Tech is on offense: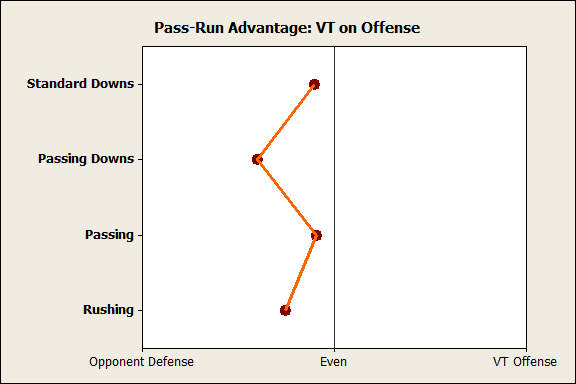 Things don't look too good if we get forced into passing situations. It will be important to use the running game (hold your jokes) to gain yardage prior to third down, as our offense is in much better shape moving the ball on standard downs (when it is not an obvious passing situation). Unfortunately, that doesn't fit well with us having less of a disadvantage passing than we do running. So how about on defense?
I can't come up with much to say for Boston College, other than there's a silver lining for them on passing and on standard downs.
Thoughts?
Share your thoughts, conclusions, expectations, and what numbers you would find more useful below!