It's ACC Tournament time, otherwise known as NCAA Tournament scouting time.
I know most of you don't get to watch much college basketball outside of Virginia Tech. So as you start to compile mental notes as to who you like in your brackets next week, I've written this rundown to catch you up on every team in the conference.
I summarized each squad with four categories: what went right for them this year, what went wrong, their ability to make noise in Brooklyn this week, and their season reviewed in a haiku.
What's a haiku? It's a short poem broken into three lines. Five syllables/seven syllables/five syllables.
Why a haiku? Because it's the shortest possible way to encapsulate a school's entire year. And they're dope.
In fact I wanted to write this entire thing as 15 haikus and send it to Joe. But it felt disingenuous to promise an ACC Tournament preview, and turn in 139 words.
Maybe next year.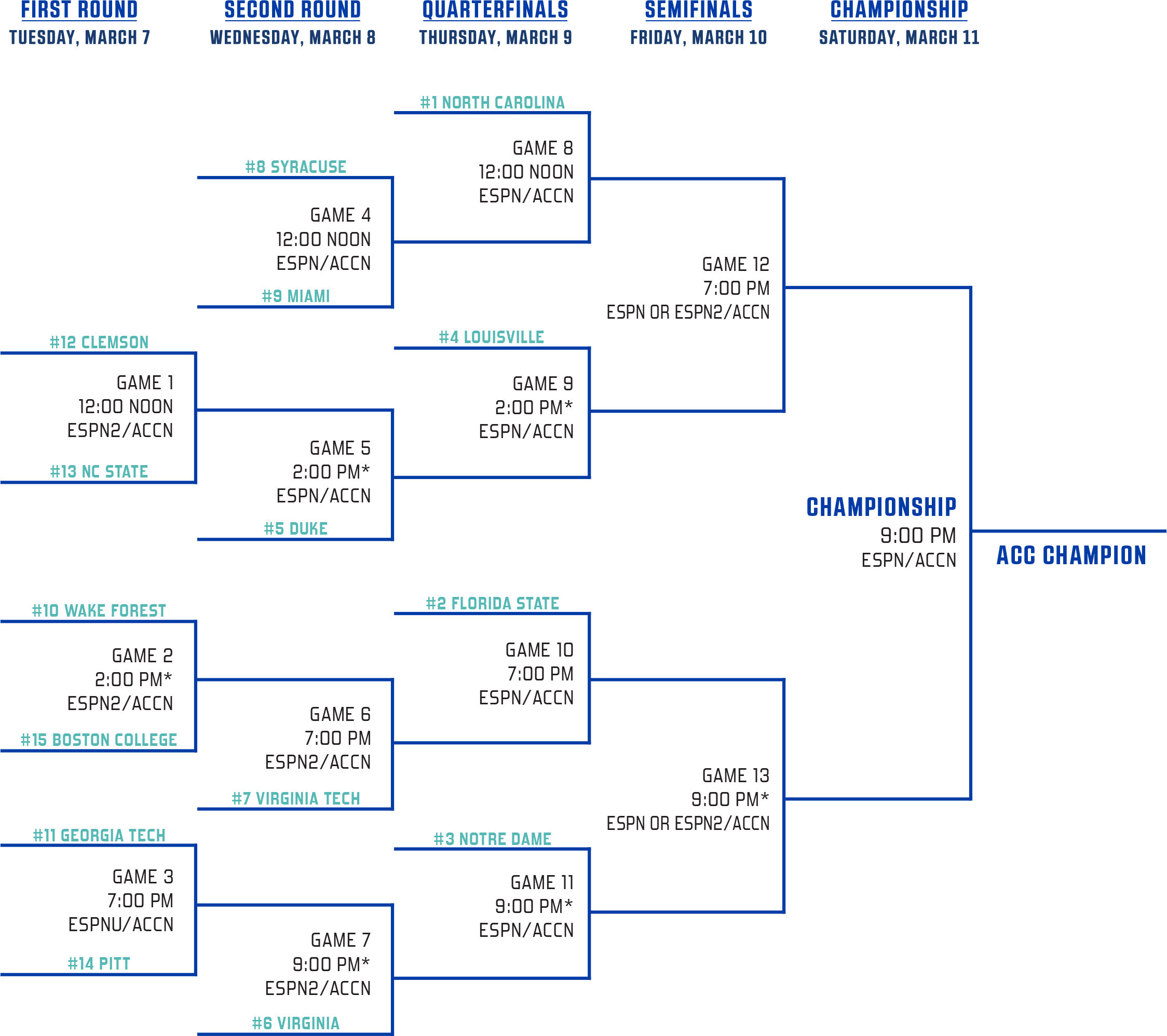 15. Boston College (9-22, 2-16 ACC)
Their season in a haiku:
Another slog fest.
But, doubled their conference wins.
Please, let's laugh at 'Cuse.
What's gone right? The Eagles have already doubled their ACC win total from last season. Sure, they didn't win any conference games in 2016, but progress is progress. (At least says Jim Christian's agent, probably.)
What's gone wrong? Where do we start? Losing to Nicholls and Hartford in the non-conference? Dropping 14 straight to end the year after beginning 2-2 in the ACC? No, let's take it further back.
Things went to shit when the BC administration fired Al Skinner—the coach who went to the most NCAA Tournaments in school history—after one season below .500.
Skinner wasn't just let go, he was eviscerated on the way out. The knives came out from every conceivable corner. Just read Boston Globe' columnist Bob Ryan on the former coach's departure:
Al is Al is Al. I had to smile when I saw that St. John's was interviewing Al. Doesn't St. John's understand that Al is the least-hard-working guy in show business, that in the world of Division 1 college basketball, there is absolutely no one like him? In a world of 24/7/365 basketball zealots, Al is Mr. Casual.
Those aren't just the words of a reporter with a source. They're ones from an athletic department with an agenda. The Eagles won't win, because karma won't allow it.
As BC basketball continues to struggle, Al Skinner maintains the "mistake" he believes they made in firing him: https://t.co/pC1DnjMiI6 pic.twitter.com/7lcVIE3IR3— Steve Hewitt (@steve_hewitt) December 12, 2016
Or maybe it's not karma. It could be that they're just not very good at hiring coaches.
Can they make some noise? Hahahahahahahahahaha.
No.
14. Pittsburgh (15-16, 4-14 ACC)
Their season in a haiku:
This is what you get,
when first round exits aren't enough.
Jamie Dixon laughs.
What's gone right? Nothing. At the very least, BC can show progress (no matter how minimal it is). The Panthers returned six of the top eight players from an NCAA Tournament team, yet hit close to rock bottom.
What's gone wrong? Pitt watched Dixon walk out the door to coach TCU, a team which had won eight Big 12 games in their first four years in the conference. Then they hired Vanderbilt's Kevin Stallings, who the Commodores weren't exactly devastated to see leave. I imagine the Stallings situation in Nashville was like a man telling his wife he wanted a divorce. Except when he tells her, she just laughs and says "okay bye."
Can they make some noise? Stallings benched seniors Michael Young and Jamel Artis for the first ten minutes of their final game against UVA. When the two checked in, Pitt had scored two points. Again, that was mid way through the first half. And Pitt had scored two points.
Just a guess, but moral may not be high for the Panthers right now.
13. NC State (15-16, 4-14 ACC)
Their season in a haiku:
Underperforming,
Gott got got by Debbie Yow.
At least there's Dennis.
What's gone right?

#NCState (14-7, 3-5 ACC) upsets No. 17 #Duke (15-5, 3-4 ACC) 84-82 behind 32 pts from Dennis Smith Jr. #wral(*this dunk didn't count) pic.twitter.com/nMlufh8l7E— Marilyn Payne (@marilyn_payne) January 24, 2017
Man, I forgot State beat Duke! Good times in Raleigh! Right? Anyone alive down there?
What's gone wrong?

So, "It's completely out of hand in Winston-Salem," is what you're telling me? pic.twitter.com/fuCaKmFkM0— Marilyn Payne (@marilyn_payne) February 11, 2017
I almost put this tweet in 'what went right'. Could you imagine Anya fighting some scrub from the Wake student section? That kid may think he could outrun him, but big Beejay has the look of someone who only needs one punch to get the job done.
Can they make some noise? The Pack come into Brooklyn as the third worst team in the league, with a coach who's already been fired, to play a Clemson team they just lost to. In other words, no.
(Speaking of which, why fire Gott so early and let him keep coaching? If you're a good athletic director, you have a short list of coaches you want to move on regardless of if you fired the current guy or not. You won't make a postseason run. Most candidates won't listen to job offers until after the NCAA Tournament anyway. What's the point?)
12. Clemson (16-14, 6-12 ACC)
Their season in a haiku:
Brownell should watch out.
Six straight seasons, no dancing.
Will Wade's an alum.
What's gone right? The Tigers are a ton better than their record implies. They've lost eight ACC games by five points or less, and have one of the best forwards in the conference in Jaron Blossomgame. If just two of those close ones had broken their way, we'd be talking about the Tigers as a 10-seed in the NCAA Tournament.
What's gone wrong? But, when enough games come down to the last few possessions, losing can start to become a habit. And often, that habit is blamed on the head coach. Brad Brownell is 123-101 in seven years there, but only went to the tournament once. Clemson's a tough job, but they may think it's time for a change.
Can they make some noise? The Tigers just beat NC State, their first round opponent, and nearly won against Duke in Cameron. Joe Lunardi has Clemson in his "next four out," and so if the Tigers come out and play for their tournament lives, would a win over the Blue Devils in the quarterfinals be that shocking?
11. Georgia Tech (17-14, 8-10 ACC)
Their season in a haiku:
GT, bubble team.
Wait, is Pastner a good coach?
Nah, smoke and mirrors.
What's gone right? Georgia Tech's had a weird year. They beat UNC, and later Florida State and Notre Dame back-to-back. Great, right?
What's gone wrong? Yes, but all of their big wins came with bad losses. The game after beating the Tar Heels? The Jackets lost to Duke by 53. The wins over the Seminoles and Irish came sandwiched between losses to Virginia Tech, UVA, Clemson, and Wake Forest. They beat Syracuse, then lost to NC State.
Are they good? It's hard to tell. Kenpom has them at 80, which is third worst in the conference. Yet, a win or two could put the Jackets back on the bubble.
Can they make some noise? My guess is no. The deviation in their results is way too big for me to think they can make a run.
10. Wake Forest (18-12, 9-9 ACC)
Their season in a haiku:
A risen phoenix,
from Jeff Bzdelik's ashes.
Wake's a good team, y'all.
What's gone right? Sophomore John Collins has entered wildebeest mode. The forward averages a double-double (well, technically 19 points and 9.8 rebounds), and has only gotten better as the season's rolled along. The Deacs have all the makings of a young team on the rise. They've won three straight, including over tournament teams Louisville and Virginia Tech, and look like they'll sneak into the dance for the first time since 2010.
What's gone wrong? Despite their hot streak, Wake's still on the bubble. The rough part of being a young team on the rise, is that they had to move up from somewhere. Danny Manning's club started 1-4 in ACC play and have had to chip away at the deficit since.
Can they make some noise? Yes. They're the team playing in the first round that's most likely to make it to Thursday. Collins is a legitimate matchup problem for anyone outside of North Carolina and Florida State, and Bryant Crawford is the type of guard who can take over a game.
9. Miami (20-10, 10-8 ACC)
Their season in a haiku:
How's Miami good?
Like Larranaga's tilde,
it's a mystery.
What's gone right? The Hurricanes lost four senior contributors from last year's Sweet 16 team, but still found success. Davon Reed shoots over 40% from three, and drives the bus offensively. But their real success is on the other end. Kenpom ranks Miami as the 19th best defense in the country, 4th best in the ACC. It lead to them winning six out of seven in February, which included victories over UNC, UVA, and Duke.
What's gone wrong? The only thing that's gone poorly is the wide range of results they've seen, particularly in losses. In a way, they remind me of UVA. Sometimes their offense doesn't make it to the arena, they score less than 60 points, and are blown out. But on the flip side, that formula is exactly how they beat both the Blue Devils and Wahoos (in that heinous game where both sides raced to 50.)
Can they make some noise? It's hard to see the Canes breaking through their ceiling, in which they beat Syracuse and then lose to UNC. In fact come tournament time, Miami seems destined for the 8/9 game that looks good on paper, but ends 56-48 on truTV.
8. Syracuse (18-13, 10-8 ACC)
Their season in a haiku:
'Cuse on the bubble?
I thought they lost to BC?
Nice to have Boeheim.
What's gone right? After a terrible (and I mean terrible) start to their season, Jim Boeheim figured out what to do. And that was to drastically pare down his rotation. He originally started by playing seven guys, but more recently narrowed it down even further, gluing guard Frank Howard to the bench over the last month.
The result? Top-ten wins over Florida State, Duke, and Virginia, and a five game surge that rocketed them back into tournament contention.
What's gone wrong? They lost to a bad UConn team, a middling Georgetown squad, and were blown out by both St. Johns (who's 13-18), and BC (please see the top of this column). Even since the turnaround, it's never great to play your guys as much as Boeheim has. Andrew White III averages 37 minutes a game. Tyler Lydon averages 35.7.
That's a hell of a lot of wear and tear for someone who isn't being paid.
Can they make some noise? If Clemson is the face of unlucky breaks, how is Syracuse not the face of lucky ones? Already on the bubble, the Orange beat NC State in overtime, Duke at the buzzer, and UVA, Clemson, and Wake all by five or fewer. Their RPI is 77, with some of the worst losses of anyone in the conversation.
But you know what this sounds like? Last season, when the same exact program snuck into a 10 seed.
And then found their way to the Final Four.
Sometimes life isn't fair.
7. Virginia Tech (21-9, 10-8 ACC)
Their season in a haiku:
Blackshear out. Clarke out.
A freshman who doesn't play.
Yet, still improving.
What's gone right? What's gone wrong? Nothing. And everything. All at the same time. The Hokies weren't deep in the front court to begin the year, and then announced forward Kerry Blackshear Jr. would redshirt. And then lost center Johnny Hamilton after three games. And then lost do everything forward Chris Clarke to an ACL tear.
But for once, it's not a sob story. This Tech squad is not defined by the bad things they've experienced, but by how they've overcome. How they won three down-to-the-wire games in 10 days. How divine intervention stopped London Perrantes' floater on the back of the rim.
It hasn't been the easiest season for a Tech fan's health, but it's certainly been one to remember.
Can they make some noise? If Ty Outlaw, Justin Bibbs, and Seth Allen get hot, there's a possibility they end up in the semi-finals. But Wake and Florida State are such bad matchups, it's tough to see it happening.
6. Virginia (21-9, 11-7 ACC)
Their season in a haiku:
They're at it again.
The Hoos playing great defense,
and throwing up bricks.
What's gone right? The Cavaliers have kept on course despite not having an NBA player to keep them afloat on offense. There's no Malcolm Brogdon, Justin Anderson, or Joe Harris. Perrantes is the closest thing to it, but he's not a pro level guy.
This year has been the strongest appraisal of the Tony Bennett system to date. The Hoos are in a bit of a transition. Kyle Guy, Ty Jerome, and Mamadi Diakite are the future, but can't carry things every night. Perrantes, Isaiah Wilkins, and Devon Hall are the guys for today, but aren't enough to lead an impactful campaign. Yet somehow, Bennett's made it work (for the most part), and they'll head into another NCAA Tournament as a high seed.
What's gone wrong? It's hard not to see them and think of the four game losing streak at the end of the year. UVA dropped to Tech, Duke, UNC, and Miami, and outside of their trip to Blacksburg, didn't look good in any of them.
Sure, they'll say everything's fine now, and beating UNC at home gave them some juice. But can we buy it? Haven't we seen this same squad unable to muster points when it matters most?
Can they make some noise? They've got a pretty damn nice bracket, between the winner of GT/Pitt and then Notre Dame. And with guys like Jack Salt and Jarred Reuter, they have the size to compete with Florida State. It wouldn't shock me at all to see UVA in the championship game on Saturday.
5. Duke (23-8, 11-7 ACC)
Their season in a haiku:
Capel's coaching dreams,
fallen as if they were tripped.
Coach K forever?
What's gone right? They have one of the most talented seven man rotations in basketball. The group of Luke Kennard, Grayson Allen, Frank Jackson, and Matt Jones in the back court is dynamic and offers a variety of scoring options. The front court of Amile Jefferson, Jayson Tatum, and Harry Giles gives the Blue Devils versatility and matchup advantages (particularly against Tatum).
Sure, they've lost a few. They also have 10 wins in the RPI top-50, the same number as UNC and Villanova, and one more than Kansas. No matter what you may want to think, they're good.
What's gone wrong? There are three parts to Duke's season. In the non-conference, they went 13-1. In the first part of the ACC, they went 5-4. And in the latter part of the ACC slate, they went 6-3. Can you guess which part Jeff Capel was the coach for?
It's unfair to pin everything on him. Capel took over in the middle of the Allen trip storm, and guided the group through turmoil. But it's hard not to wonder if those three losses in four games will tarnish his name whenever Duke has to look for a Krzyzewski successor.
Can they make some noise? If by noise, you mean go to another Final Four, then yes. As far as the ACC goes, it wouldn't be surprising at all to see a Tar Heel/Blue Devil rubber match in the semi-finals on Friday.
4. Louisville (24-7, 12-6 ACC)
Their season in a haiku:
Donovan Mitchell,
makes Cardinals 'crootin visits
seem slow and boring.
What's gone right? Mitchell continues Louisville's history of undersized shooting guards who dominate the ball. And it's a role he's really damn good at.
This one counted. The Donovan Mitchell vs. Syracuse highlight reel continues to expand. pic.twitter.com/9ASSCEwhTN— Mike Rutherford (@CardChronicle) February 26, 2017
Rick Pitino's group is also deep, and can throw a bunch of different looks at their opponents.
What's gone wrong? They have a less-than-stellar slate of conference wins. The Cards were swept by UVA, lost to UNC and FSU in their only matchups, and beat Duke before the Blue Devils got rolling. It's not necessarily a knock, but potential games against the Blue Devils and Tar Heels back-to-back could be telling.
Can they make some noise? They're the third best team in the RPI, eighth best in Kenpom. I think it'd be silly to say they're anything other than a real threat to win the conference.
3. Notre Dame (23-8, 12-6 ACC)
Their season in a haiku:
Watch Bonzie Colson.
Bonzie Colson, Bonzie Col-
-son. Bonzie Colson.
What's gone right? It starts and ends with Bonzie, who's a goddamn national treasure. He's a six-foot-five-inch burlap sack of wrought iron and elbows, who somehow averages a double-double despite being shorter than most shooting guards.
The Irish have ridden Colson, V.J. Beachem, tenth-year-senior Steve Vasturia, and a point guard who's inexplicably decent (Matt Farrell) to a nice year. Are they the third best team in the ACC? Probably not. But you can't take it away from them.
What's gone wrong? It's not really what's gone wrong, but more like how perfectly their schedule broke. If you'd notice, Notre Dame doesn't have a ton of great wins. They beat Louisville and Florida State, but outside of that, there's not much. They dropped their lone matchups against Duke, UNC, and UVA, which means their next best W is over Wake or Miami.
Are we sure they're good?
Can they make some noise? I stand by what I said. I'm not sure I buy the Irish. But since I also can't morally bet against Bonzie, I'll give them this: if they get hot, they could go on a run. In both the ACC and NCAA Tournament.
But again, that's a big if.
2. Florida State (24-7, 12-6 ACC)
Their season in a haiku:
Like Jurassic Park,
they have giants all around.
Dwayne Bacon helps, too.
What's gone right? Should we start with Leonard Hamilton signing Dwayne Bacon and Jonathan Isaac in consecutive recruiting classes? The Seminoles have two NBA players in their starting lineup and surround them with a veteran point guard, a seven footer, and four more guys between 6'6" and 6'9".
What's gone wrong? Despite all that length, they can't always hit shots. The worst case being their loss to Georgia Tech, where they hit just 28% of their field goals. When they fell to Duke, the Noles barely cracked 40%. Plus, Isaac tends to drift, and doesn't always give the offense the punch it needs.
Can they make some noise? Their combination of size, length, and athleticism make them a tough matchup for anyone. If Bacon or Xavier Rathan-Mayes can get buckets, they could win the league.
1. North Carolina (26-6, 14-4 ACC)
Their season in a haiku:
Okay we get it.
Carolina's good again.
Do they have enough?
What's gone right? Carolina's been the best team in the ACC all year, and it hasn't really been close. In as deep and chaotic as the league has been, the Tar Heels have slapped together multiple win streaks. They won seven in a row through most of January, and then four straight in mid-February.
Justin Jackson is the conference player of the year. Joel Berry II is a fantastic second scorer. Kennedy Meeks can handle himself inside. Outside of a few early slip ups, the Heels have been brilliant.
What's gone wrong? But, those slip ups make them feel mortal. Duke beat them once and played them well the second time. Miami worked them in Coral Gables, and UVA put the clamps on last week. Although UNC is great, they're not a lock to win in Brooklyn.
Will they win the ACC? Let's jump to predictions.
ACC Tournament Predictions (hey, you made it this far)
First Round:
(12) Clemson over (13) NC State
(10) Wake Forest over (15) Boston College
(14) Pittsburgh over (11) Georgia Tech
Second Round:
(9) Miami over (8) Syracuse
(5)Duke over (12) Clemson
(10) Wake Forest over (7) Virginia Tech
(6) Virginia over (14) Pittsburgh
Quarterfinals:
(1)North Carolina over (9) Miami
(5) Duke over (4) Louisville
(2) Florida State over (10) Wake Forest
(6) Virginia over (3) Notre Dame
Semifinals:
(1) North Carolina over (5) Duke
(6) Virginia over (2) Florida State
Finals:
(1) North Carolina over (6) Virginia
(I know, I'm boring.)