With 1:16 left in the ACC Championship Game, Virginia Tech faced a 4th-and-6 from the Clemson 23-yard-line, down by only 7 points. Few expected the Hokies to even be playing in the game before the season started, but there they were, knocking on the door with less than 100 seconds to go. But instead of moving the chains or sticking it in, Cordrea Tankersley intercepted Jerod Evans to seal a 42-35 win, and championship, for the Tigers.
Justin Fuente would ultimately post 10 wins in his first season in Blacksburg, and multiple offensive records would be broken. And a 7-point loss to a Clemson team that would go on to throttle Ohio State and then defeat Alabama in the playoffs would be seen as a surprising sign of the rising Hokies.
In 2017 a 7-point gap between Virginia Tech and Clemson isn't a surprise, it's the expectation.
Where the Season Stands
Virginia Tech is currently 4-0, but has only faced an FCS team and FBS teams currently rated 47th, 122nd, and 104th by S&P+. Clemson is rated 6th. The actual and predicted score difference and odds of winning each game are:
The odds of each possible regular season win total are now:
12-0...still in play. The odds of an undefeated regular season and plausible playoff berth have now risen to 1.64%. Additionally, the odds of defeating Virginia remained the same this week, while the odds of defeating every other remaining opponent on the schedule increased over last week.
Rankings and Computer Predictions
The computer rankings and predictions for each team: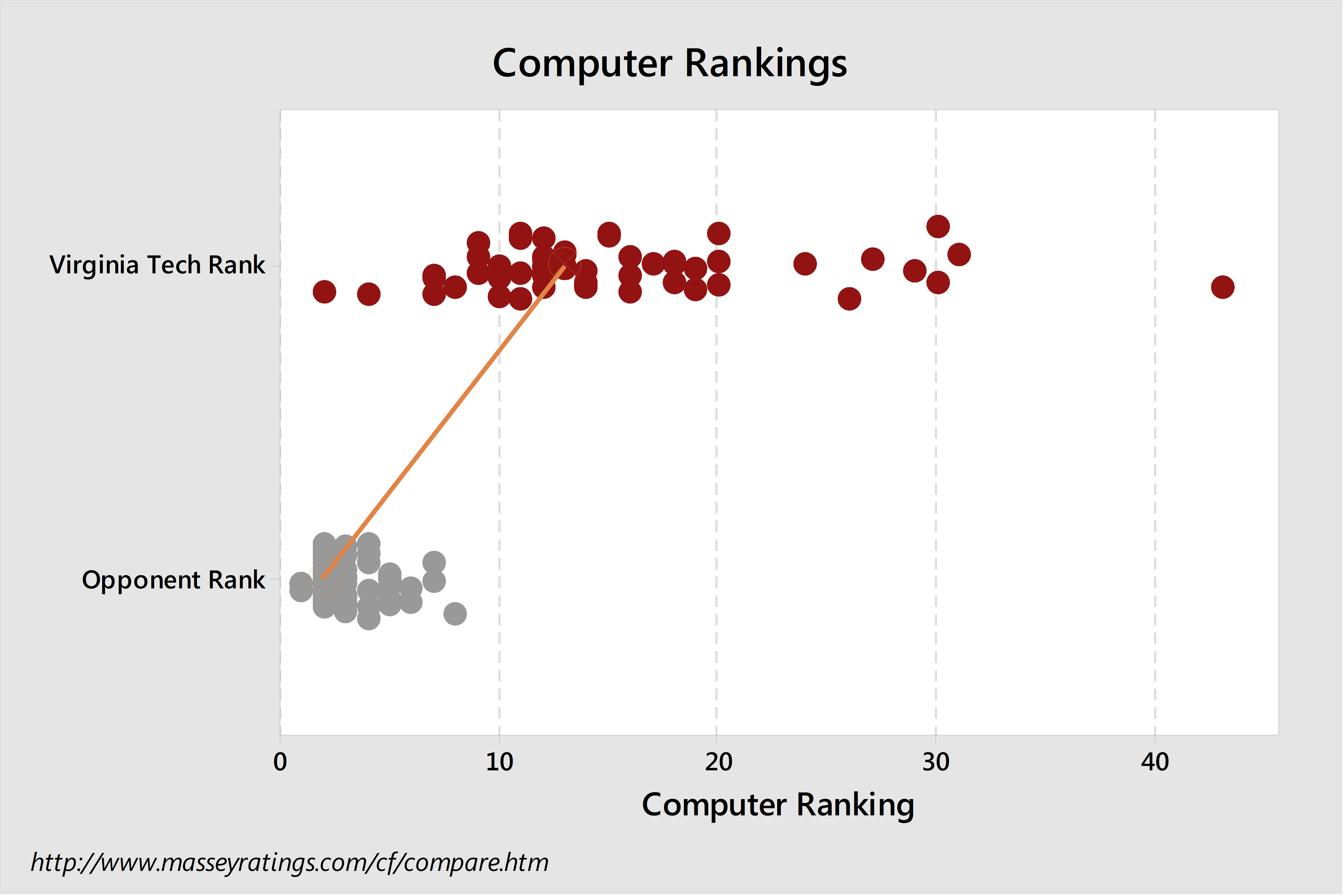 While the computers aren't sure yet what to make of Virginia Tech, rating them anywhere from 2nd to 43rd, there is universal agreement that Clemson remains an elite team. The worst computer rating for Clemson, 8th, is higher than all but a few computer ratings for the Hokies. The odds of a 7-point underdog winning are 30.1%. However, as can be seen above, S&P+ projects an even higher 35.4% chance of Virginia Tech winning.
Next is a look at any overall offensive or defensive advantages:
The Tigers are rated slightly better than the Hokies in both offense and defense. Both teams are among the elite in the country on the defensive side of the ball. Both feature exceptional defensive lines and less-than-exceptional offensive lines, don't expect either quarterback to be afforded much time to sit in the pocket.
Who To Watch Out For
Clemson and Florida State remaining the undisputed leaders of attracting top recruits in the ACC, and the Tigers are loaded with elite talent:
Clemson is third in the country in sacks with 17, and DT's Christian Wilkins (2.5) and Dexter Lawrence (1.5) anchor the line. But statistically, DL Austin Bryant has produced the most sacks with 5 on the season already.
Freshman RB Travis Etienne is 2nd in the country with a 12.70 ypc average; Etienne is a home run threat every time he touches the ball and will be dangerous if the Clemson o-line is able to create lanes for him.
Clemson currently ranks 80th in the country in kickoff return average. However, they face Joey Slye who is first in the country in touchback percentage at 96.67%. The lone return came on a squib kick. No FBS team has scored more touchdowns than Joey Slye has touchbacks.
Statistical Key to the Game
I have faith that the Hokies' defense will get to QB Kelly Bryant regularly and limit Clemson's ability to keep the chains moving, but Travis Etienne worries me. However, I'm mostly concerned about the Tech offense and whether or not they can effectively scheme around a defensive line that will almost certainly push around the Tech offensive line. Not getting put into holes that are difficult to get out of against an elite defense will be critical for both teams, so I think the team that limits tackles for loss will have a huge advantage in this one.
Statistical Prediction
One of the great things about the Hokies under Fuente is the confidence that they can win any game, even if they fall behind or struggle early. Five years ago this would look like a potentially embarrassing blowout, but no longer — I suspect even a loss with be a competitive one. However, I'm not about to start predicting losses around here, and I think Virginia Tech's defensive line is able to create more disruption than Clemson's, and Tech frustrates a Clemson offense that rarely finds any rhythm in the game. Josh Jackson isn't a hero, but does enough to get the job done and Virginia Tech finds itself back in the top 10 with national media jumping on the hype train.
Virginia Tech 24, Clemson 20
As always a thanks to Football Outsiders, cfbstats.com, and Minitab Statistical Software.