It's an annual punchline. "The U" is pronounced back, only for Miami to fall apart by November and fail to win the ACC Coastal Division, much less the conference. Most years, however, the idea that Miami has returned to significance is based on recruiting rankings and some limited on-field success while advanced statistics are largely ignored.
This year is different. Statistically, Miami really has been a high performer thus far and is currently the favorite — albeit a slight one — to win the division. Saturday's contest is likely a divisional championship game, as the winner will easily be the most likely Coastal representative in the ACCCG.
So will 2017 produce a real November collapse? Or can the Hokies take down a great team? Or will Miami's exceptional turnover luck — currently accounting for 4.8 ppg — finally run out?
Where the Season Stands
Virginia Tech is currently 7-1. The actual and predicted score difference and odds of winning each game are: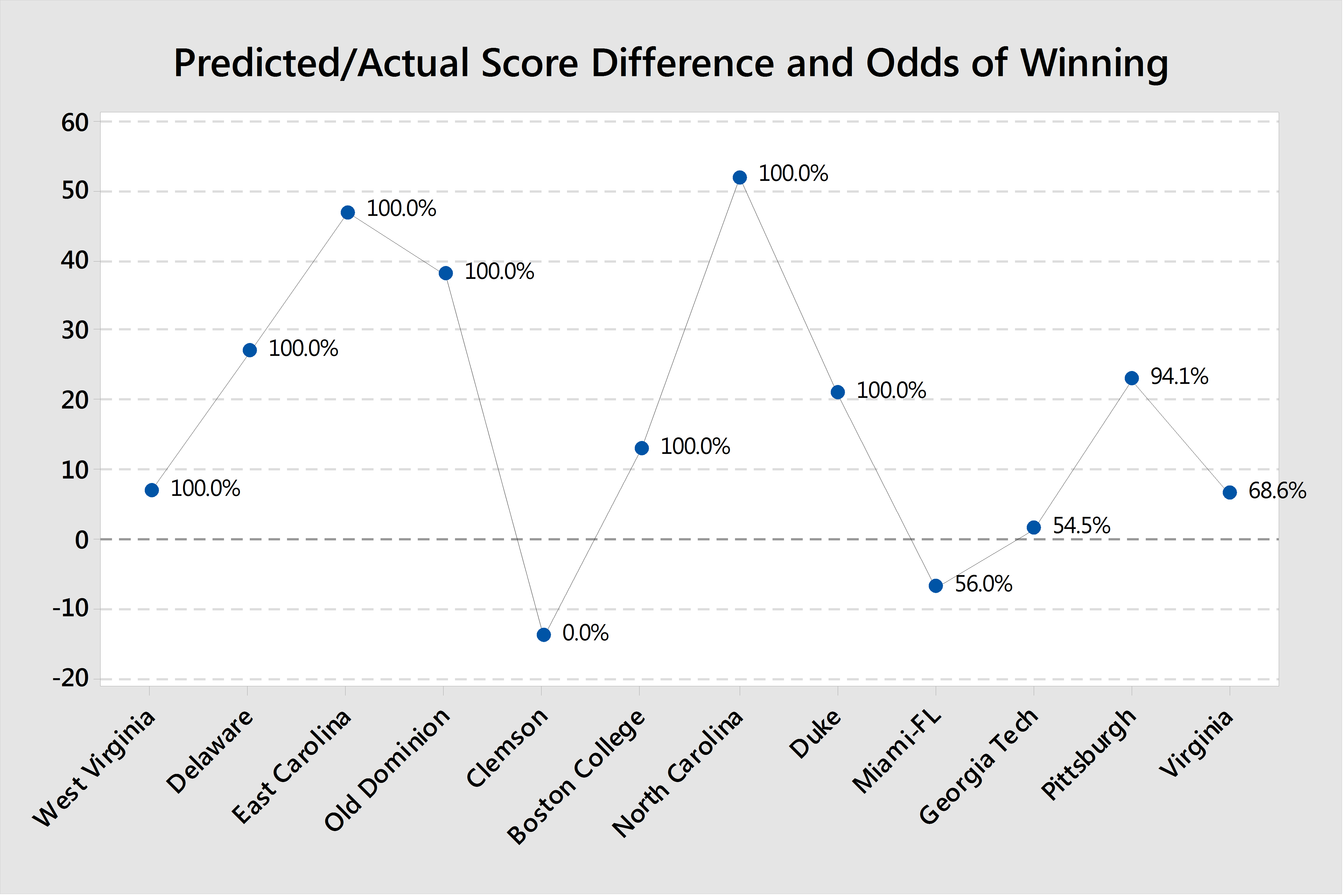 The odds of each possible regular season win total are now:
The predicted chance of beating Miami is based on the spread (VT by 2), while the predicted score differential is taken from the S&P+ ratings (Miami by 7). As a whole, these win odds result in about a 60% chance of a 10+ win regular season and a 90% chance of winning out.
Rankings and Computer Predictions
The computer rankings and predictions for each team: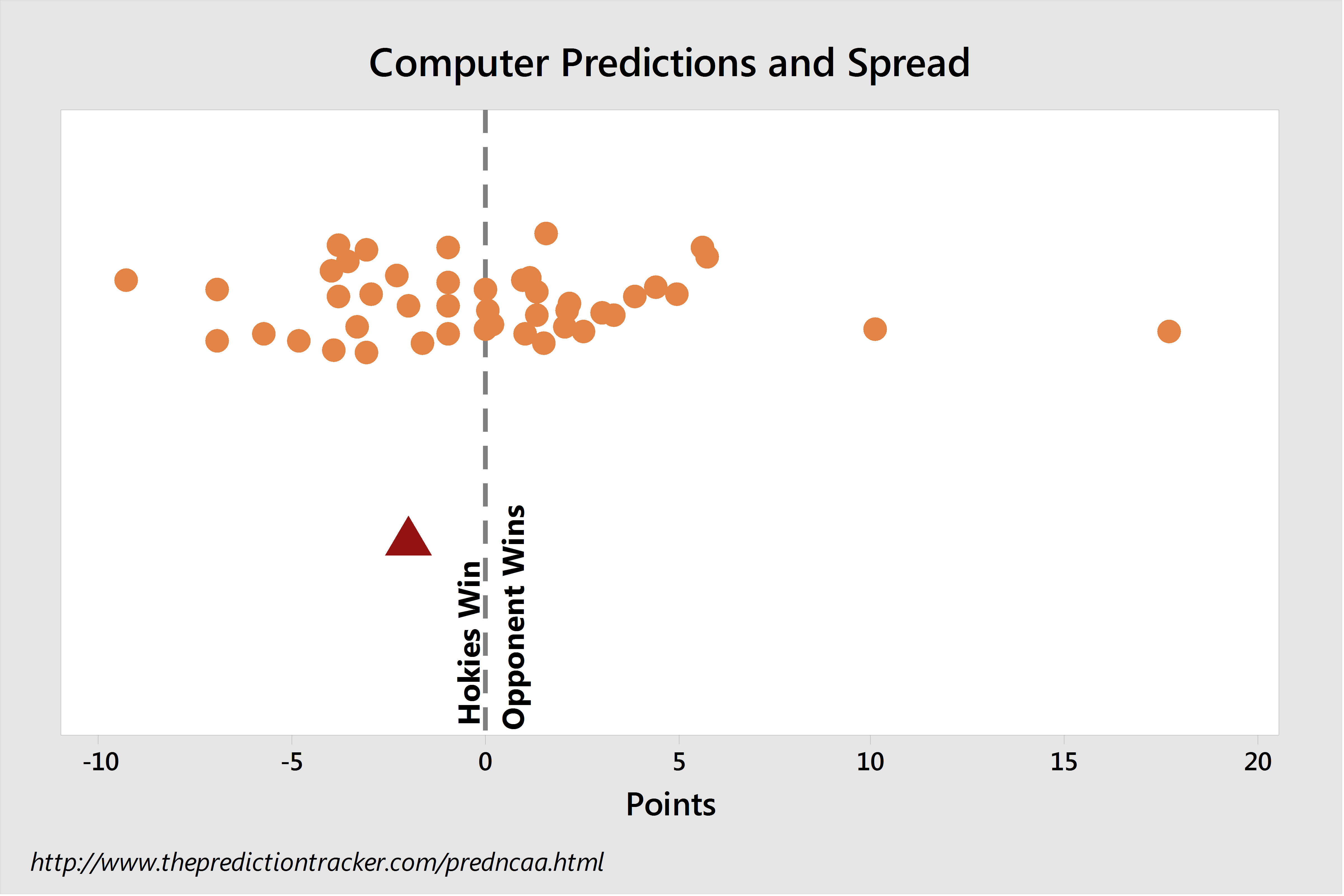 Generally speaking, the Hurricanes have a slight advantage in rankings, but computers that make game predictions are mixed. It is worth pointing out that while computer ratings provide an ability to compare any two teams that is pretty accurate, the betting odds on a game are the most accurate predictor and the Hokies are currently a slight favorite in Vegas. The odds of a 2-point favorite winning is 56.0%.
Next is a look at any overall offensive or defensive advantages: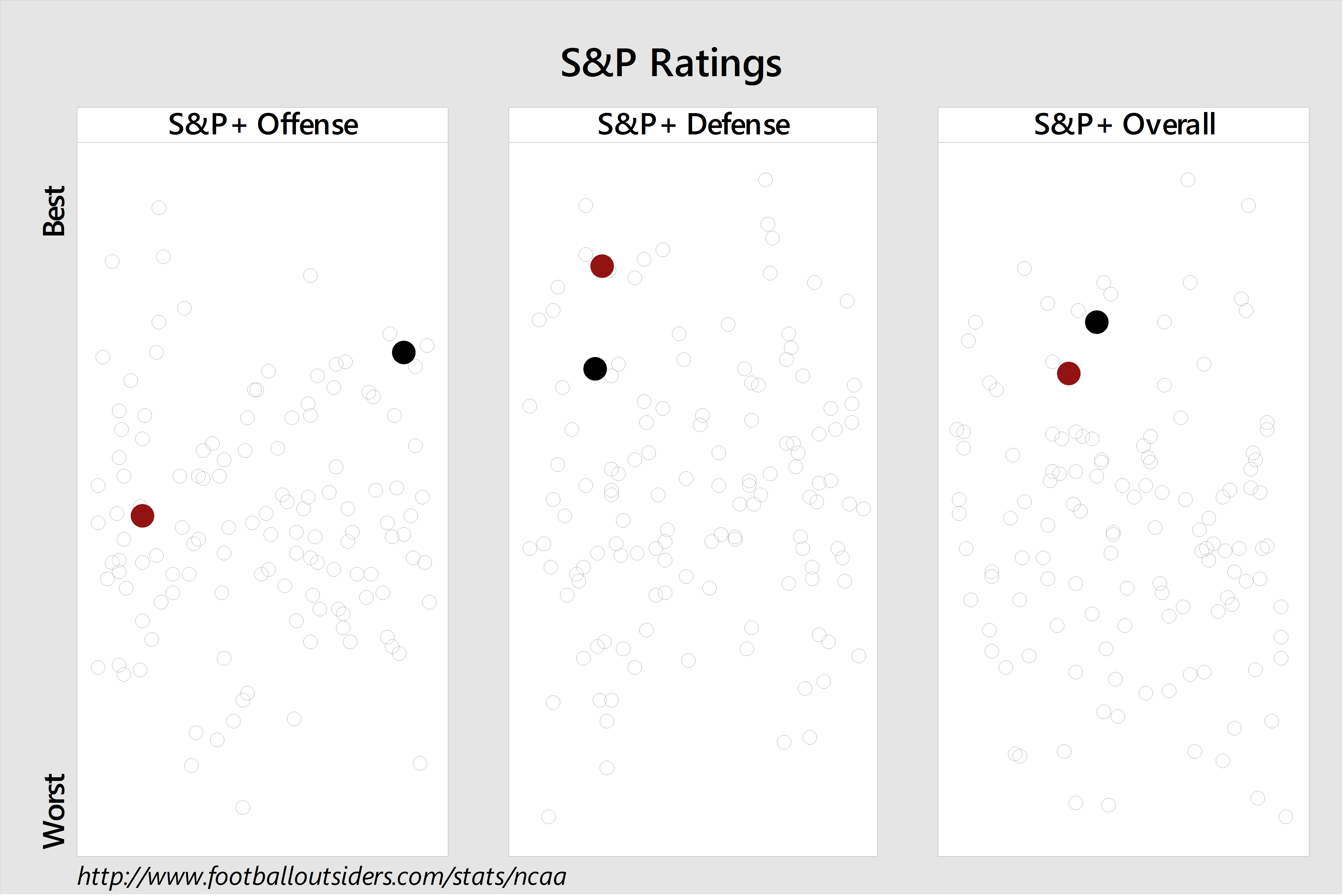 While The U's defense has received much of the attention this season, the Hokies actually enjoy a slight advantage on that side of the ball. However, to this point (and not adjusted for injuries), Miami has a moderate advantage on offense.
When Virginia Tech Has the Ball
Here is an explanation of S&P+ ratings, and FEI ratings. All statistics are now opponent-adjusted.
Who has the advantage in the passing and rushing game when the Tech offense has the ball?
Miami's defense is almost a mirror image of Tech's offense. It's mediocre on rushing, good on passing, good on standard downs, and weak on passing downs.
Offensive and defensive line performance are compared using Football Outsiders' metrics: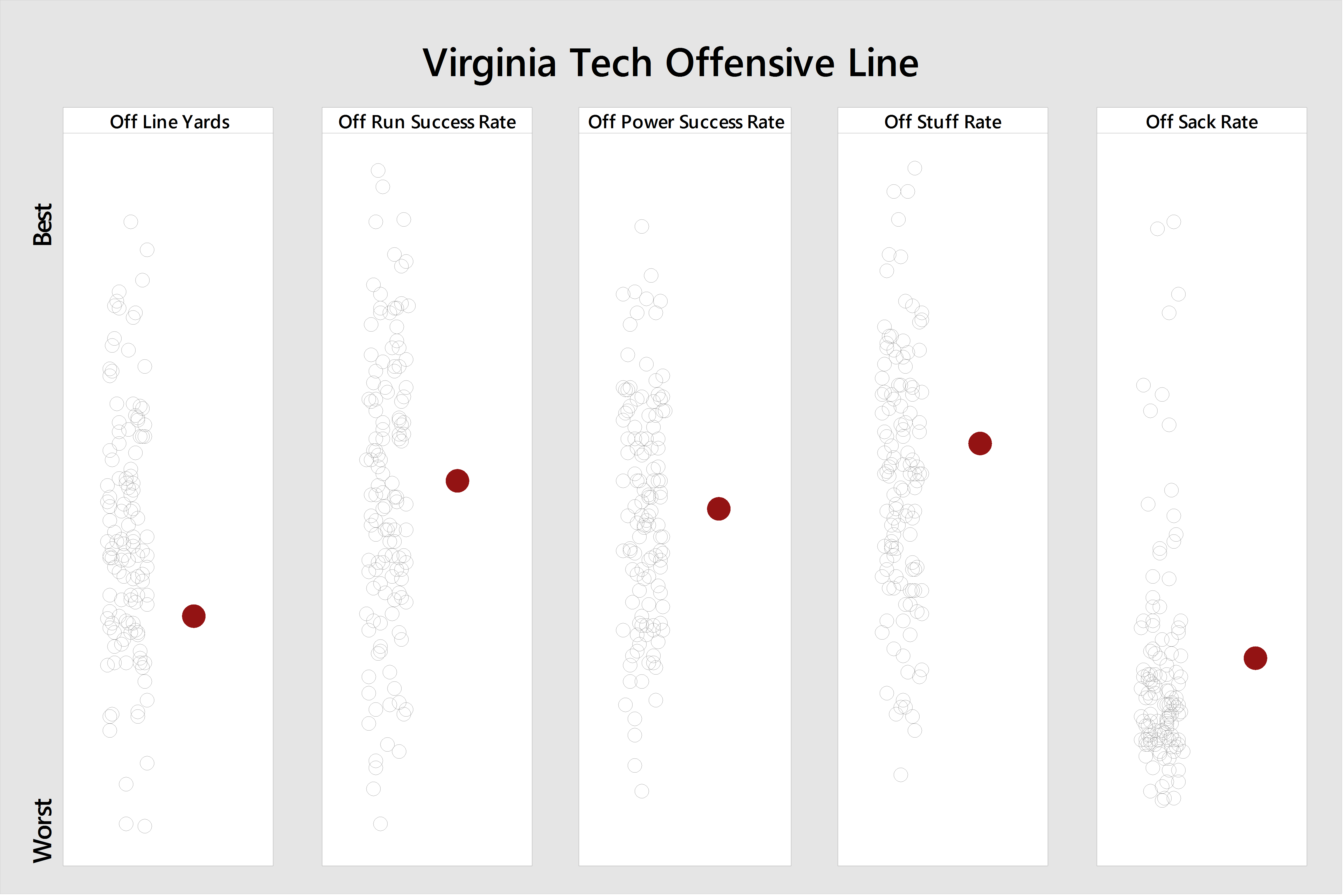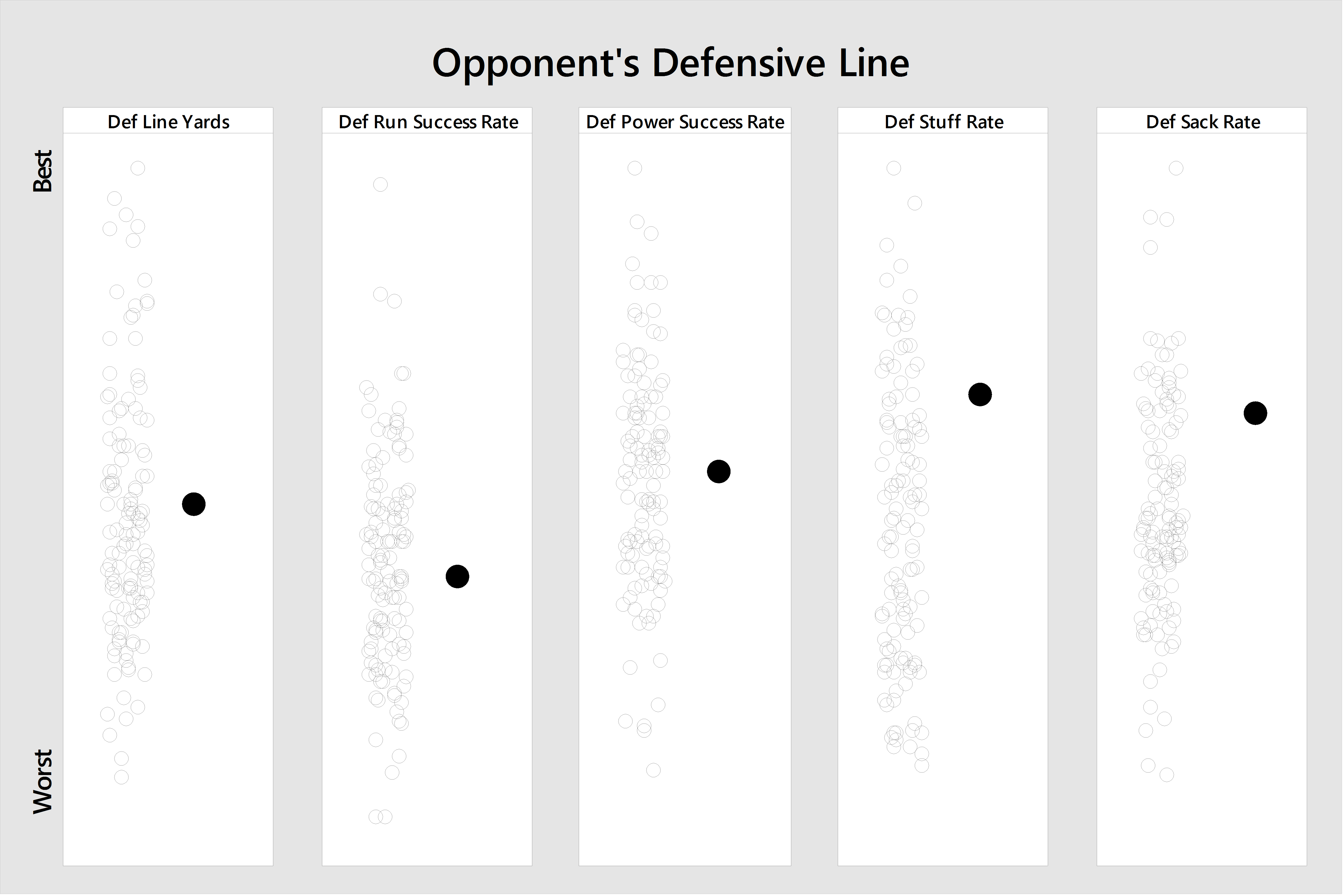 Now let's take a look at the FEI personality traits of the Hokie offense versus the Hurricane defense: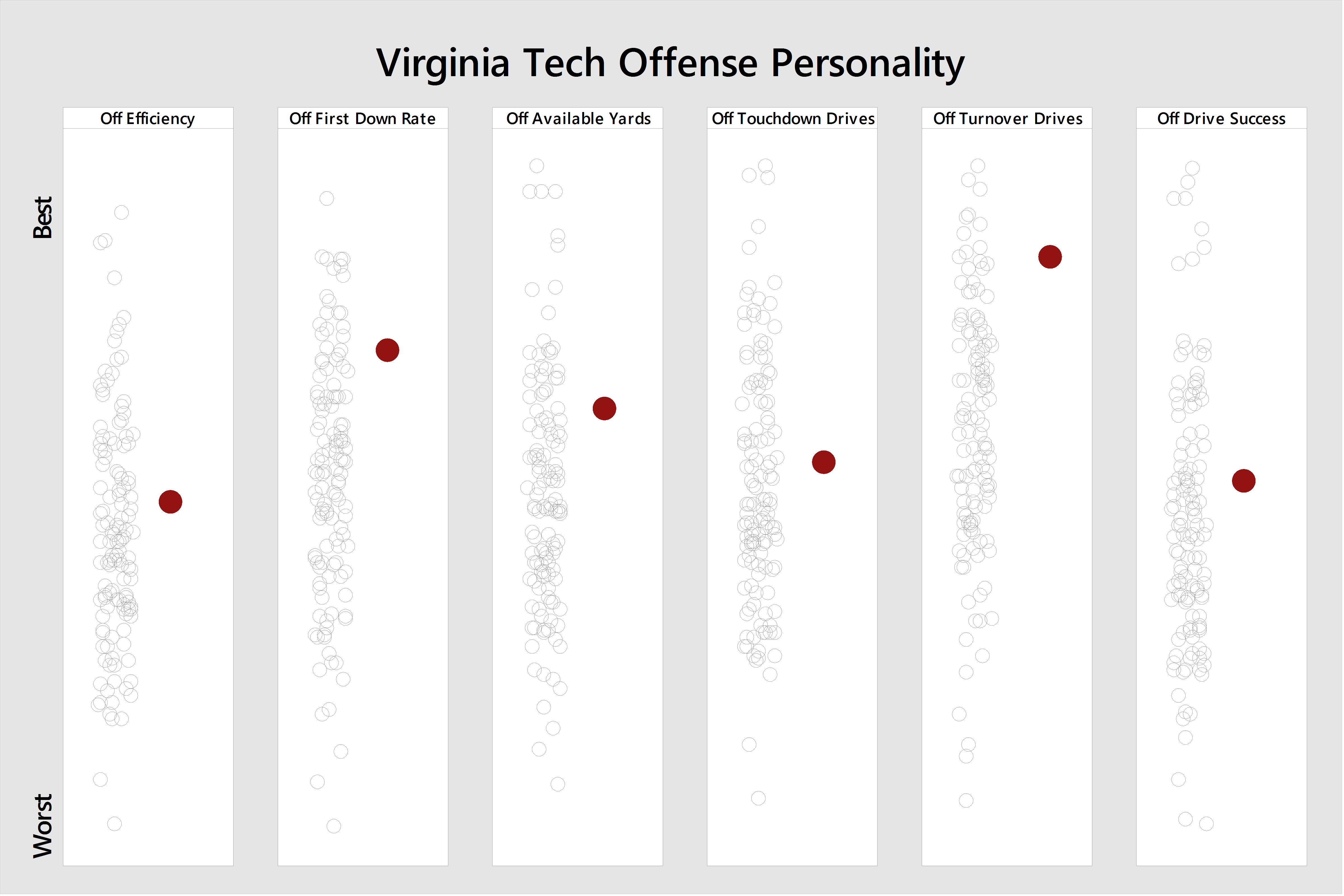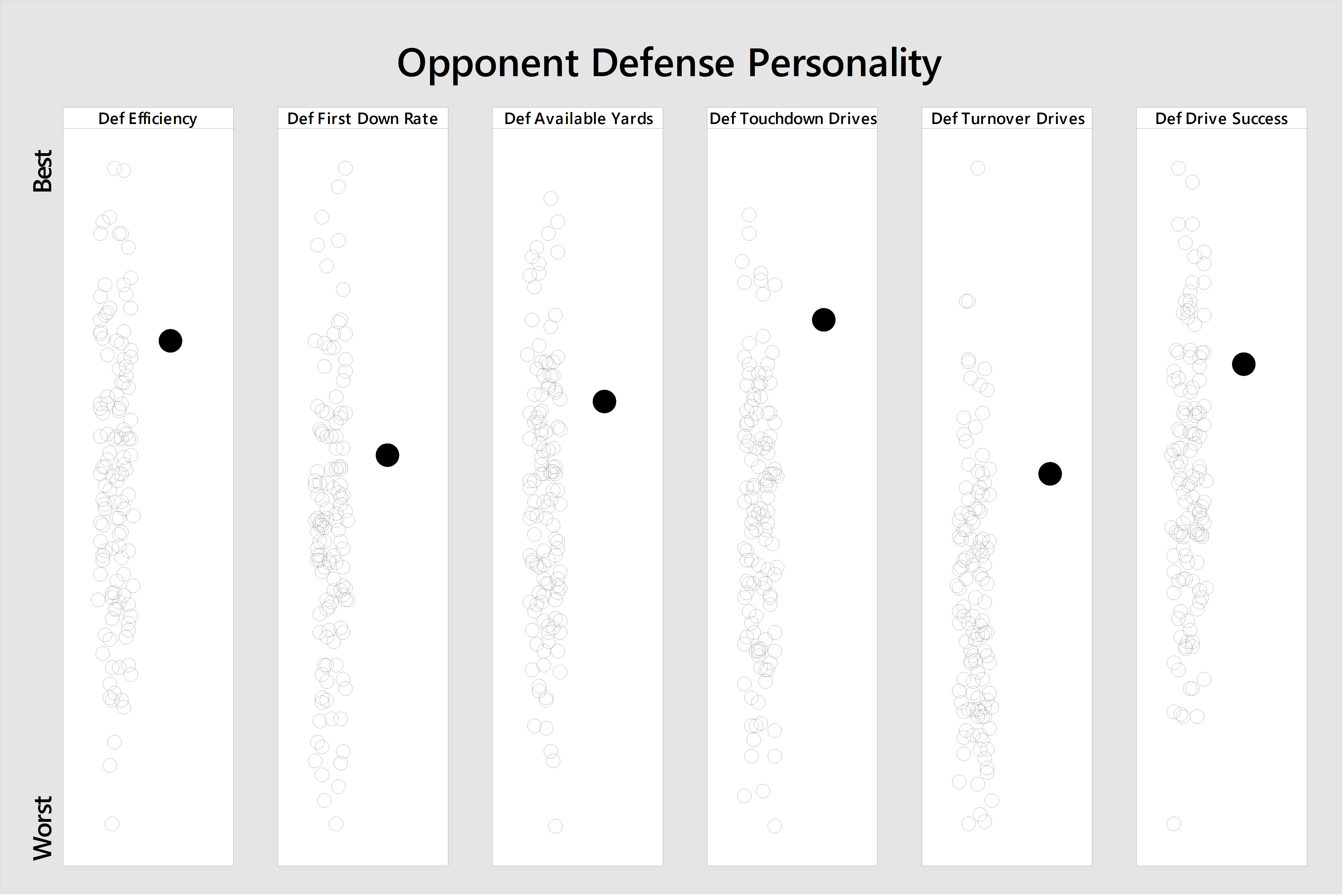 In nearly every metric, this game is strength on strength when the Hokies have the ball. Unfortunately the one weak spot — percentage of drives resulting in a touchdown — is a strength for Miami. Settling for field goals in the red zone could be an ominous sign for Tech.
The Virginia Tech offense is closest in personality to:
LSU
Colorado
Western Michigan
The Miami defense is closest in personality to:
Troy
Marshall
Eastern Michigan
Those are better than they sound.
When Miami Has the Ball
Again, examine pass-run comparisons first:
The biggest gap is in rushing, where Miami presents a slightly above average performance against Virginia Tech's excellent unit.
Offensive and defensive line performance are again compared using Football Outsiders' metrics: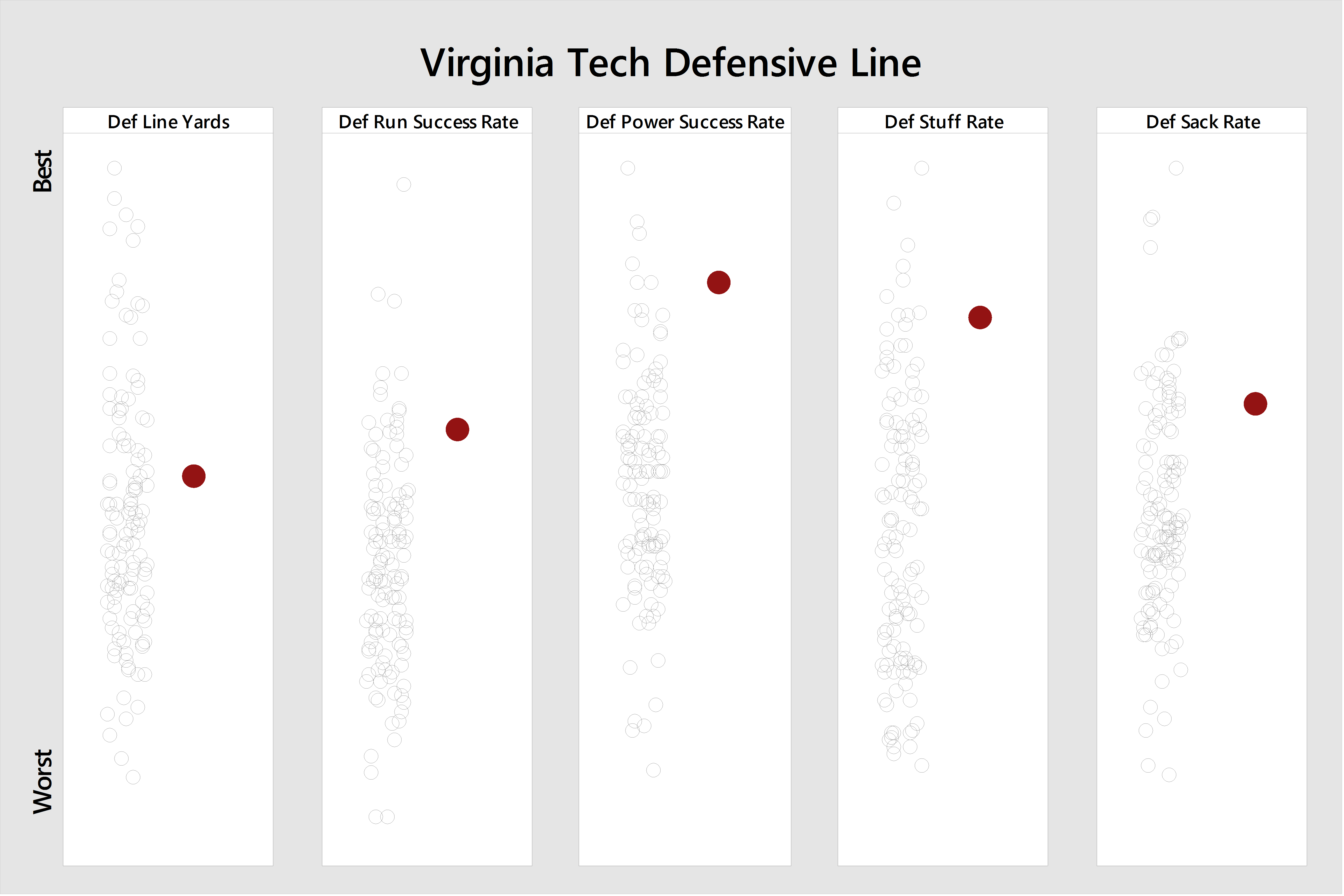 As for personality traits:
To this point most metrics for both teams have been fairly good matchups. However, the Miami offensive line has been very poor at getting the needed yardage on the ground in short situations, while the Hokies' power run defense is exceptional. Additionally, Miami has protected the ball well while Virginia Tech has failed to produce turnovers at a high rate. With that said, Miami has benefitted from immense turnover luck so this stat may not have much meaning moving forward as that luck is bound to run out.
The Virginia Tech defense is closest in personality to:
Northern Illinois
Auburn
Washington
The Miami offense is closest in personality to:
Arizona State
Iowa State
South Carolina
Special Teams
First we look at the Hokie's kicking units:
The Hokies are the No. 9 special teams unit nationally, and are pretty strong at everything except field goal kicking.
When the Hurricanes kick:
Miami, however, is only good at returning punts.
Who To Watch Out For
Miami always signs a class of talented/highly rated recruits, but how has that actually manifested itself on the field.
DB Michael Jackson (No. 28, JR, 6-1, 200) s a real "Thriller". (Why wasn't this game BEFORE Halloween?!). He ranks T-5th in the country with 4 interceptions on the season.
WR Braxton Berrios (No. 8, SR, 5-9, 186) is 6th in the country in punt returns with a 16.33 yards per return average. However, Oscar Bradburn has only allowed four returns all season.
Statistical Key to the Game
While a good team, Miami is largely undefeated due to some great turnover luck — a stat that is typically unsustainable. If this is the game where the luck runs out, the Hokies can likely pull off the win. My stat of the game is turnover margin. I don't think the Hokies have to win it, but at least an even match should do it.
Statistical Prediction
Is the U back? This year, probably, as long as the standard for "back" doesn't mean a national championship game. This team is good enough to win the Coastal (finally). But they won't.
Virginia Tech 24, Miami 20
As always a thanks to Football Outsiders, cfbstats.com, and Minitab Statistical Software.