After a down 3-9 campaign in 2015, Georgia Tech bounced back with a 9-4 record last season. Once again this year, the Yellow Jackets loom as a dangerous Coastal foe. Don't be mistaken by GT's 4-4 record, this is a dangerous team. Georgia Tech lost three of four games in the final 1:22 of regulation or in overtime. And the Bees will be motivated, as they must win two of their three final games to secure bowl eligibility.
Where the Season Stands
Virginia Tech is currently 7-2. The actual and predicted score difference and odds of winning each game are: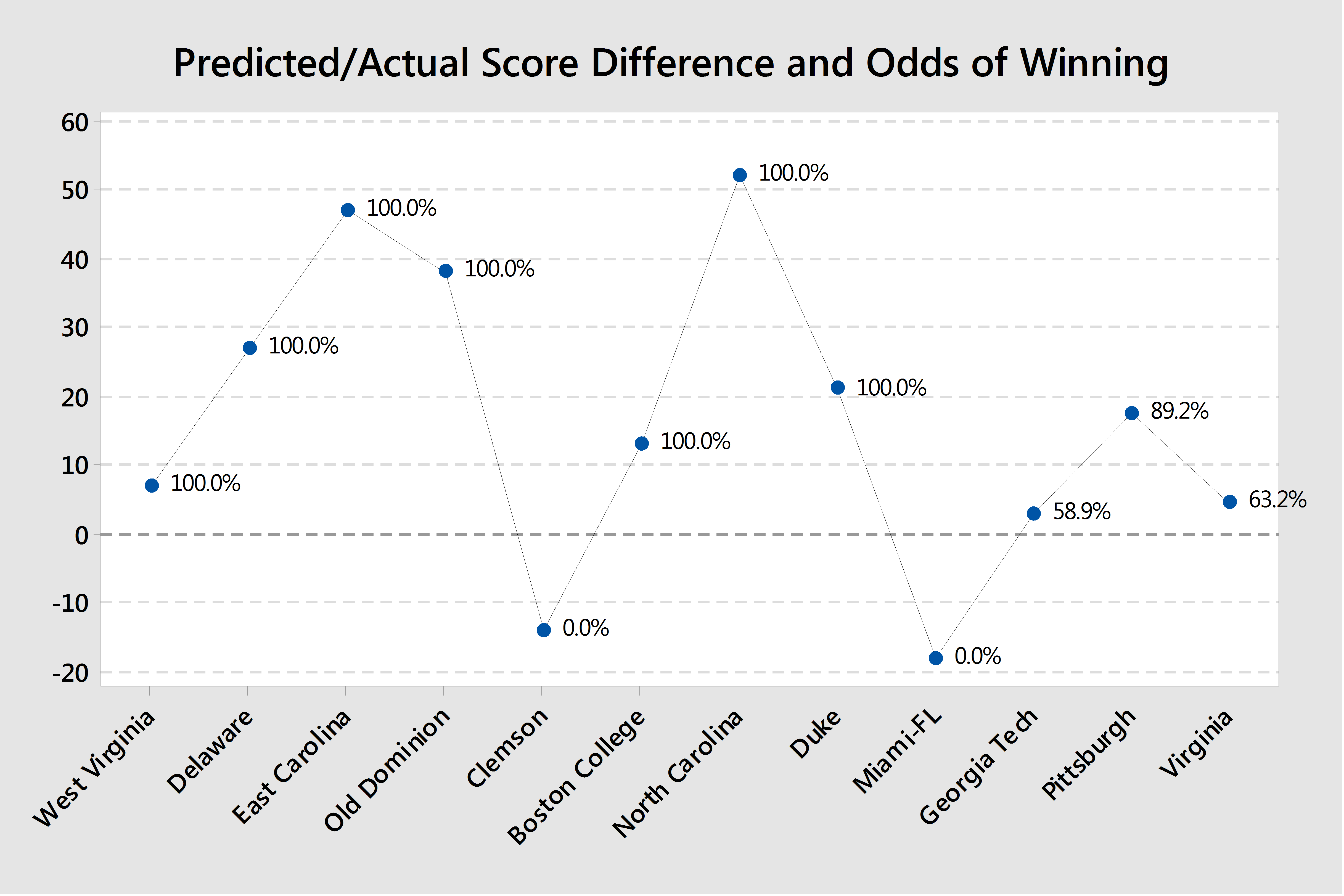 The odds of each possible regular season win total are now:
Of the Hokies' remaining opponents, the Jackets pose the toughest challenge. Although, somehow the Hoos keep sticking around as a non-automatic win.
Rankings and Computer Predictions
The computer rankings and predictions for each team: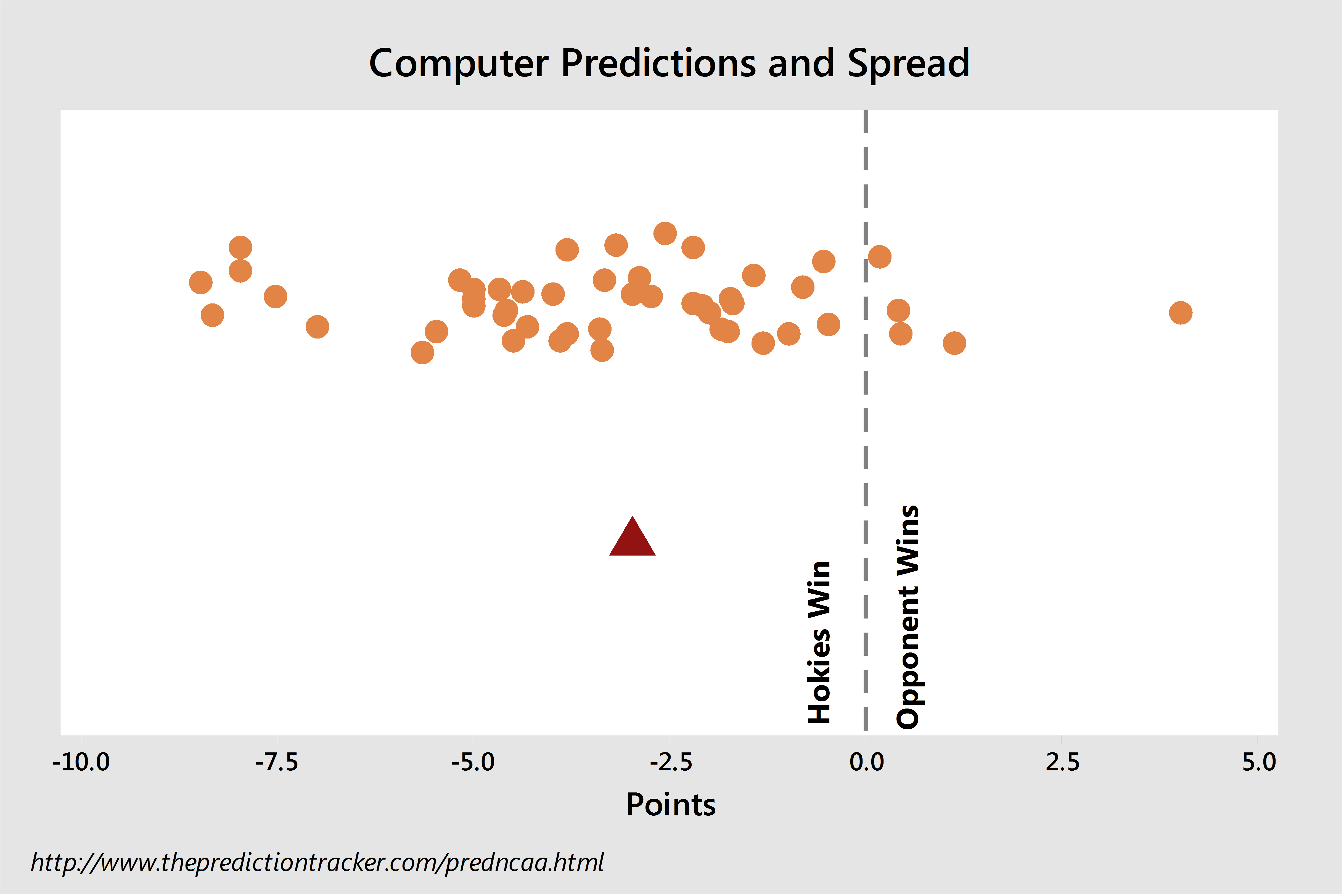 Despite a substantial difference in numerical computer ranking, the actual ability difference between a No. 20-ish team and a No. 40-ish team isn't large, and Georgia Tech enjoys a home field advantage. The odds of a 3-point favorite winning is 58.9%.
Next is a look at any overall offensive or defensive advantages:
The Yellow Jackets have a slight offensive advantage, while the Hokies have a much better defense.
When Virginia Tech Has the Ball
Here is an explanation of S&P+ ratings, and FEI ratings. All statistics are now opponent-adjusted.
Who has the advantage in the passing and rushing game when the Tech offense has the ball?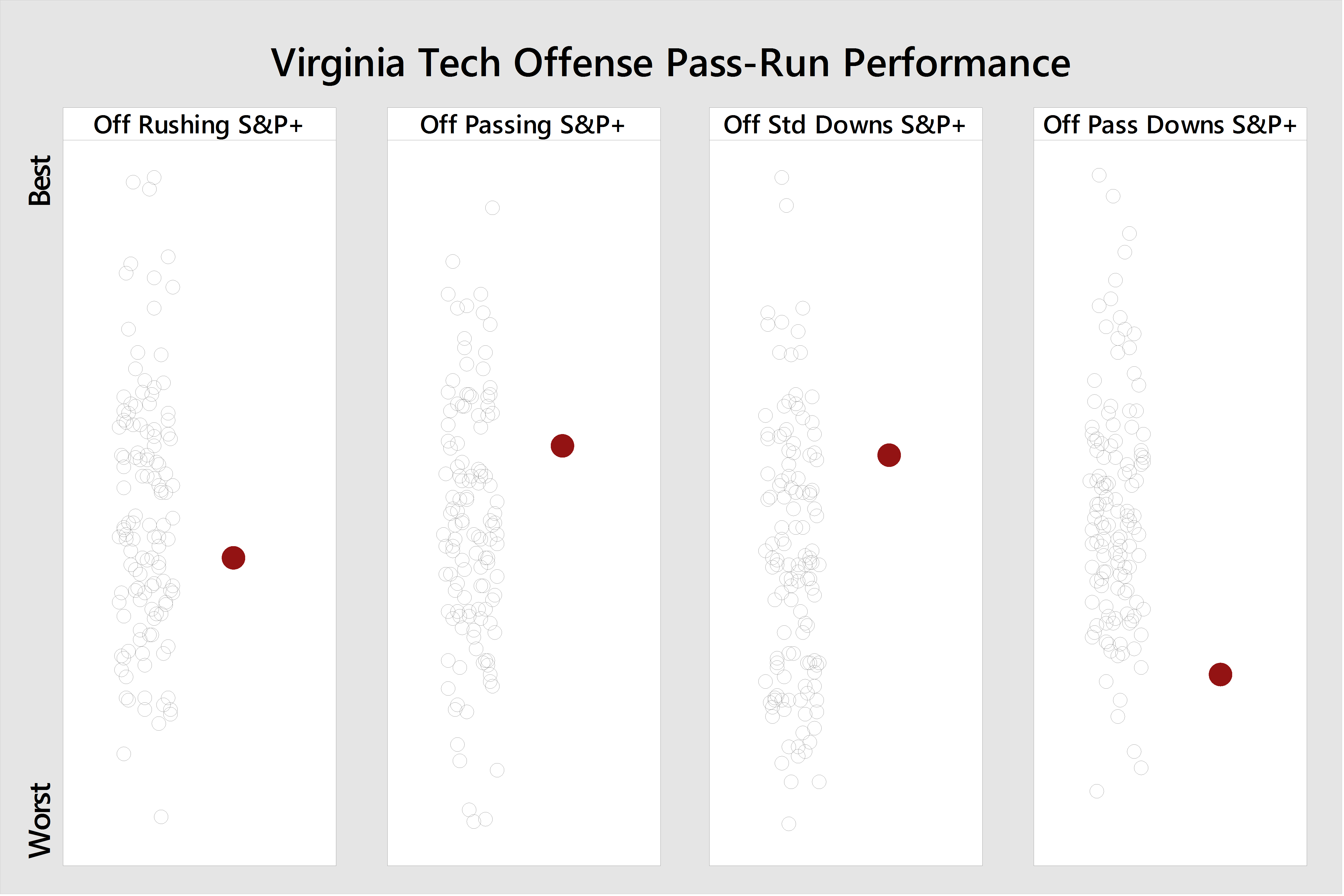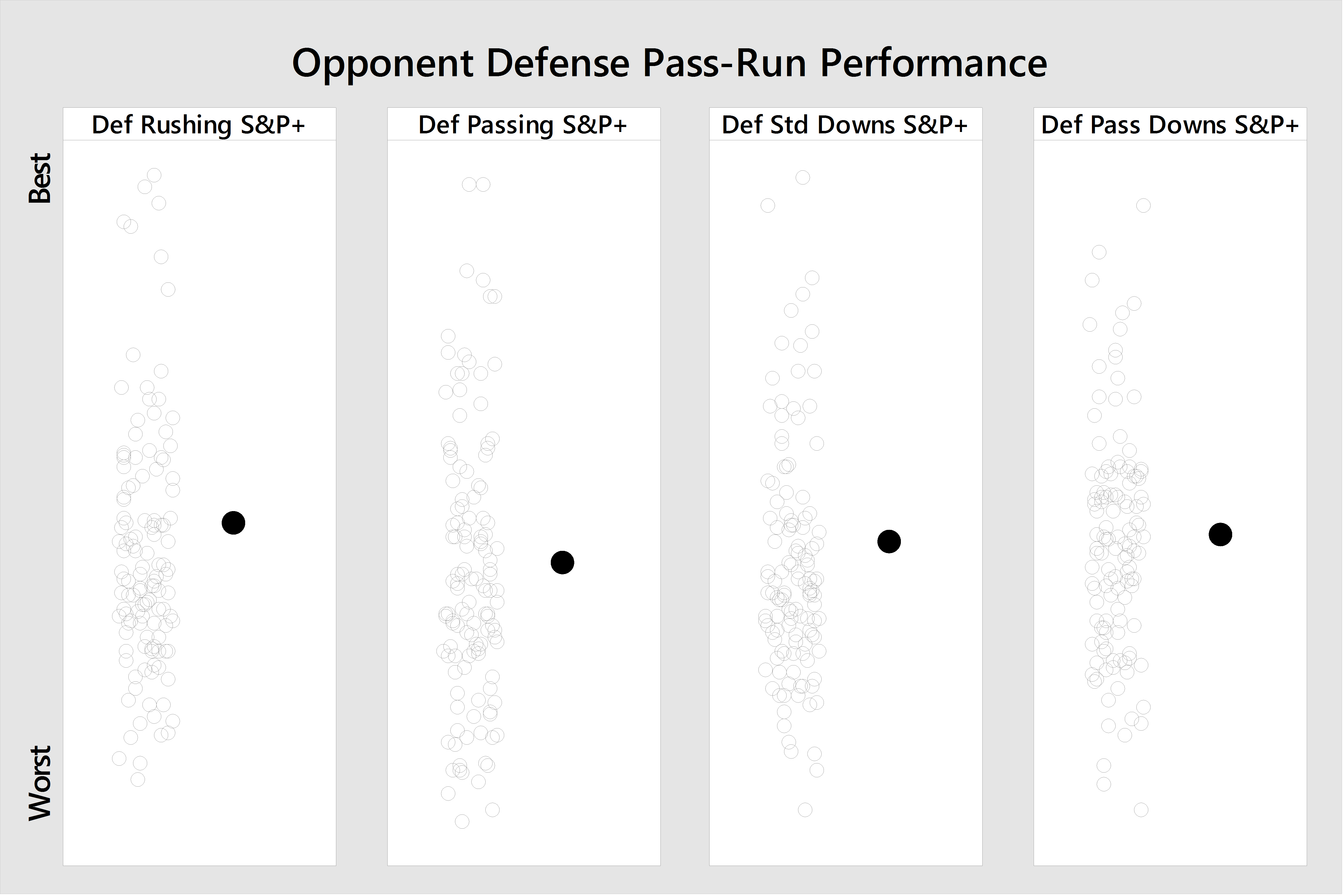 Offensive and defensive line performance are compared using Football Outsiders' metrics: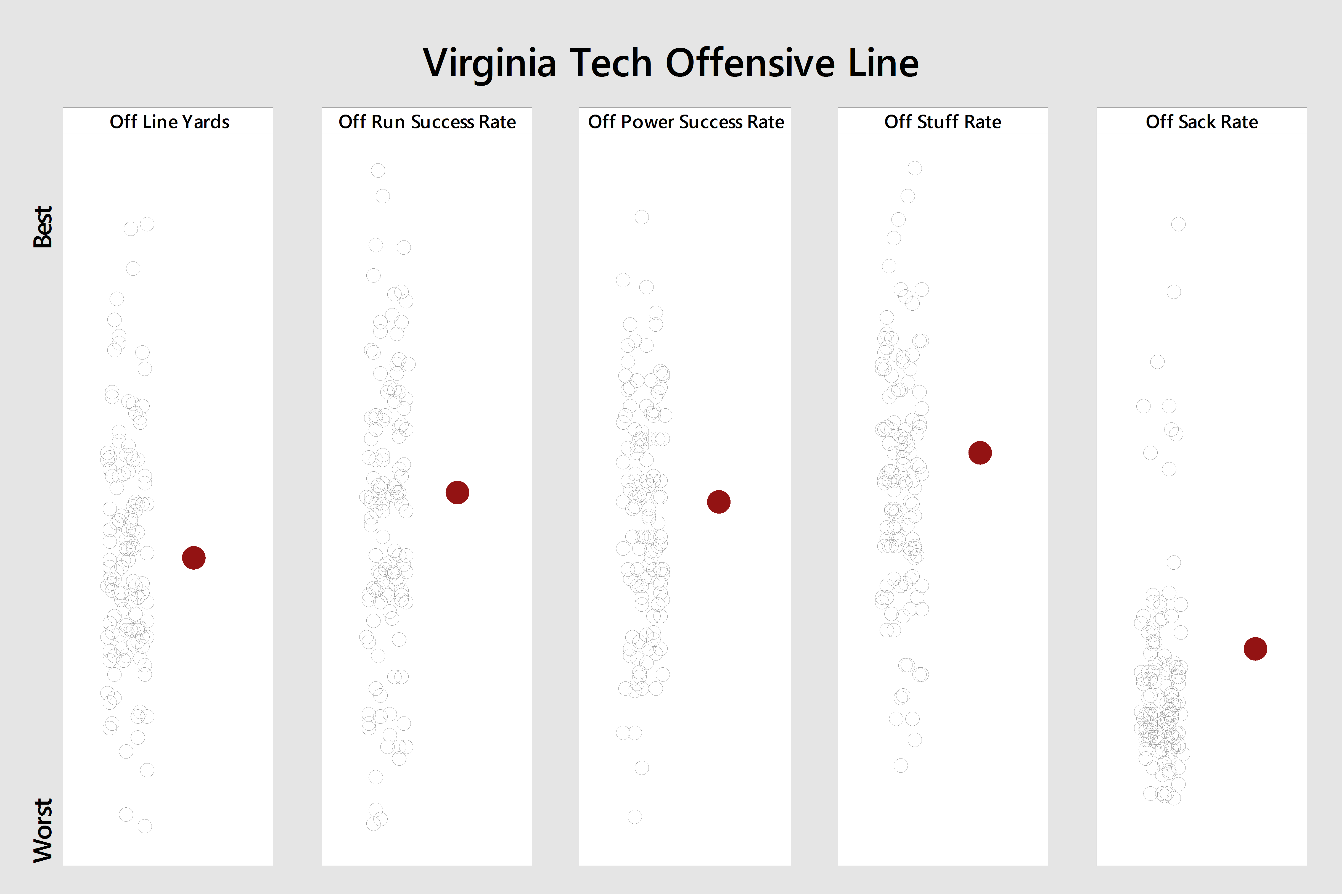 Now let's take a look at the FEI personality traits of the Hokie offense versus the Georgia Tech defense: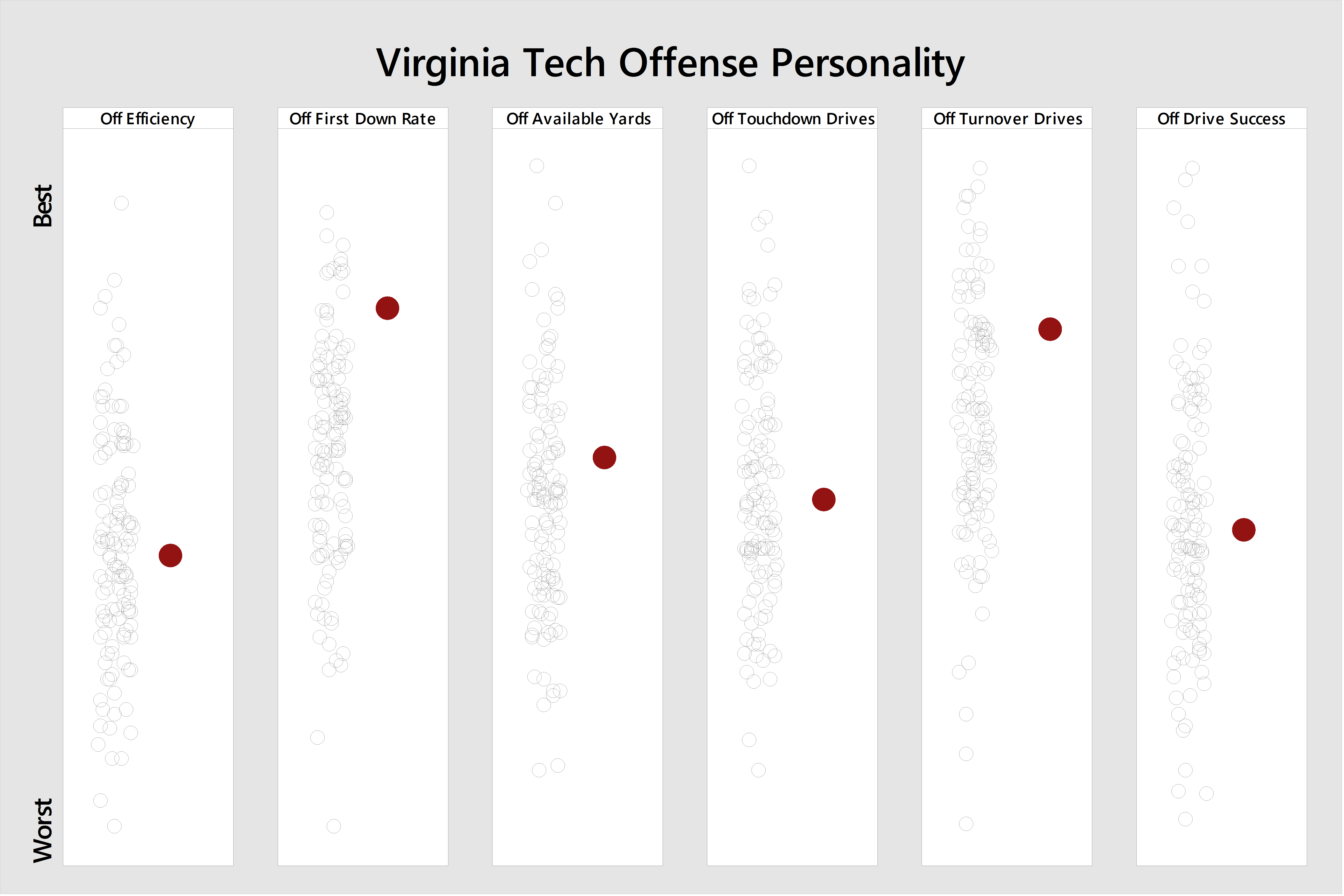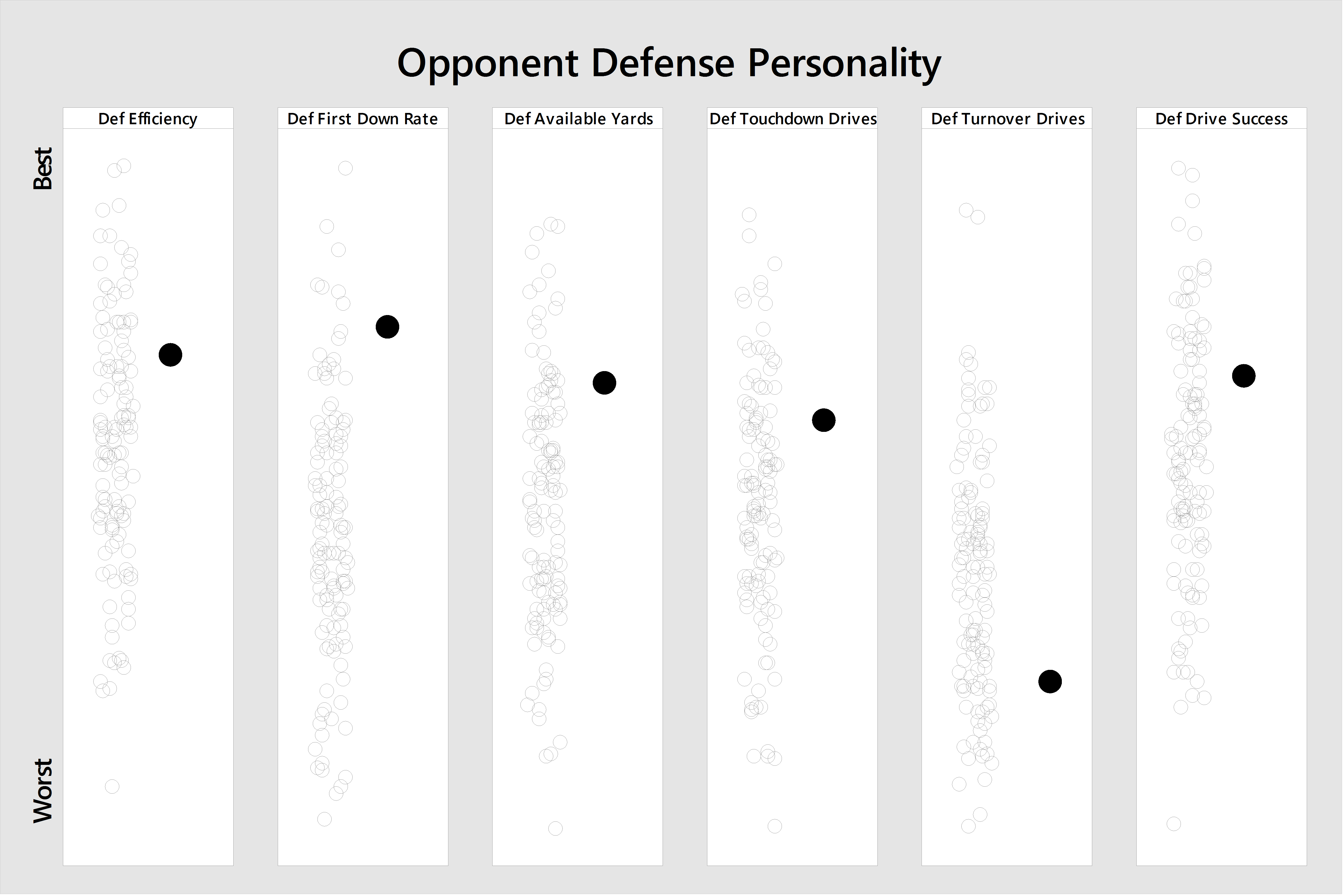 The Virginia Tech offense is closest in personality to:
Colorado
Kansas State
LSU
The Georgia Tech defense is closest in personality to:
San Diego State
Ohio State
UTSA
When Georgia Tech Has the Ball
Again, examine pass-run comparisons first: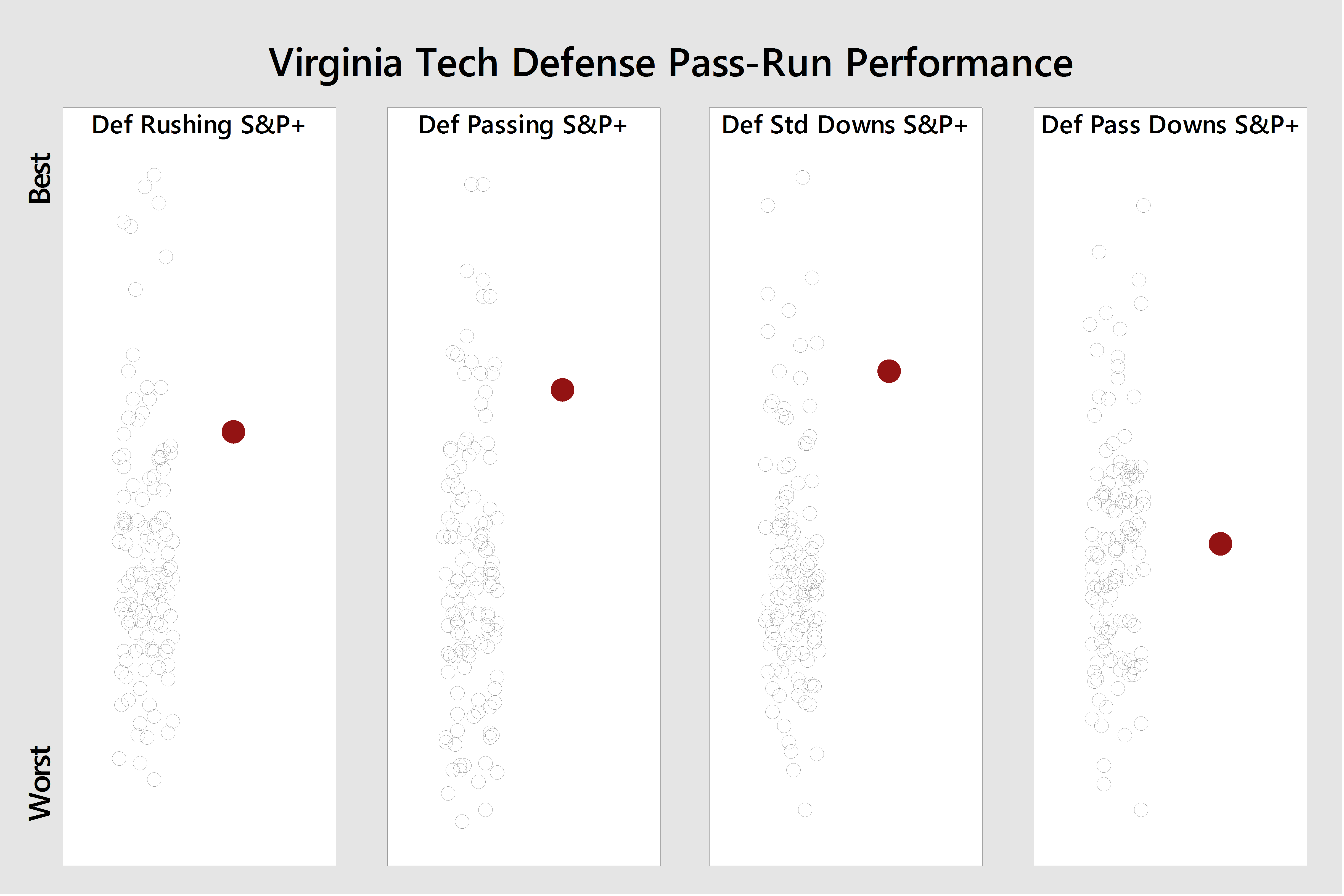 Offensive and defensive line performance are again compared using Football Outsiders' metrics: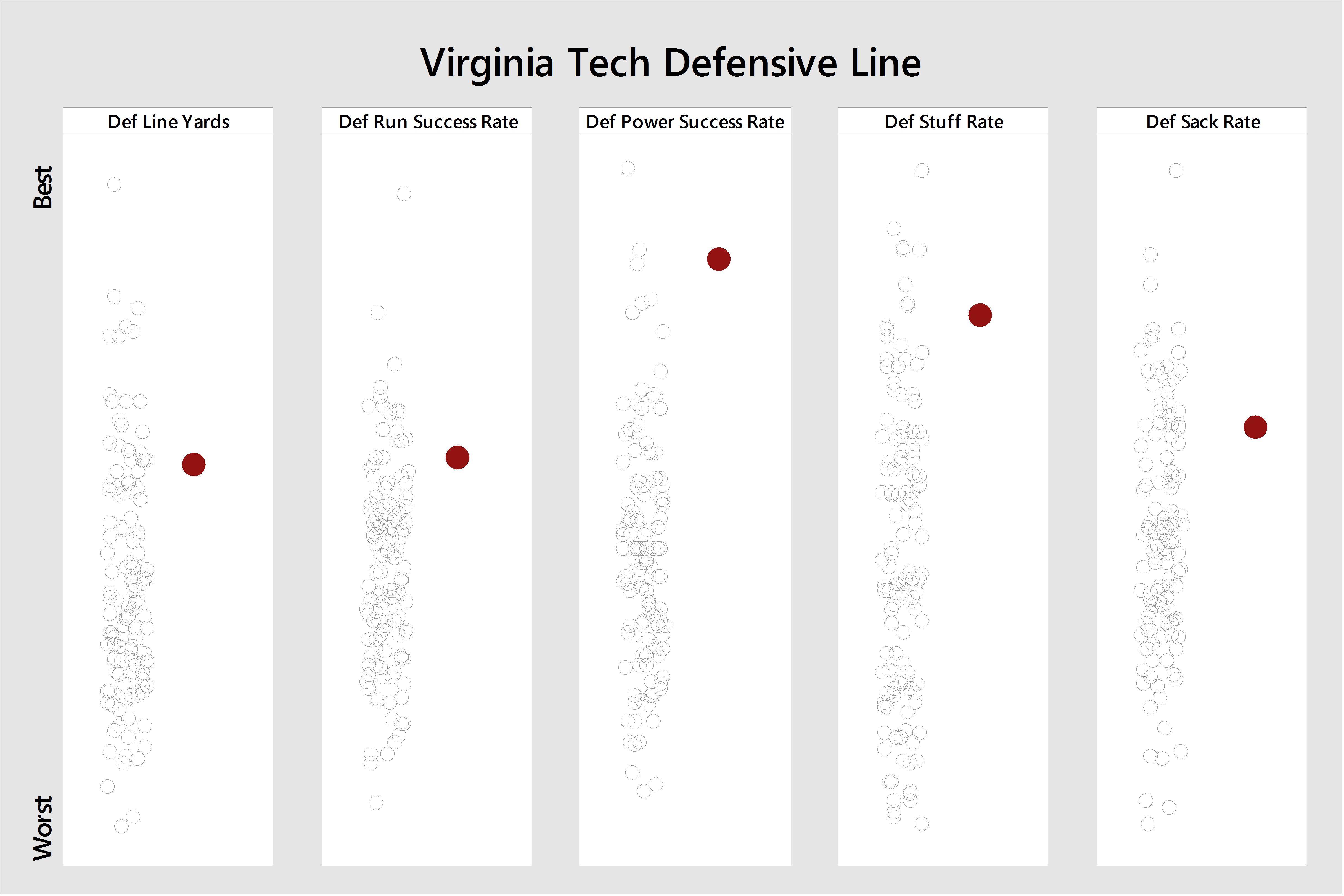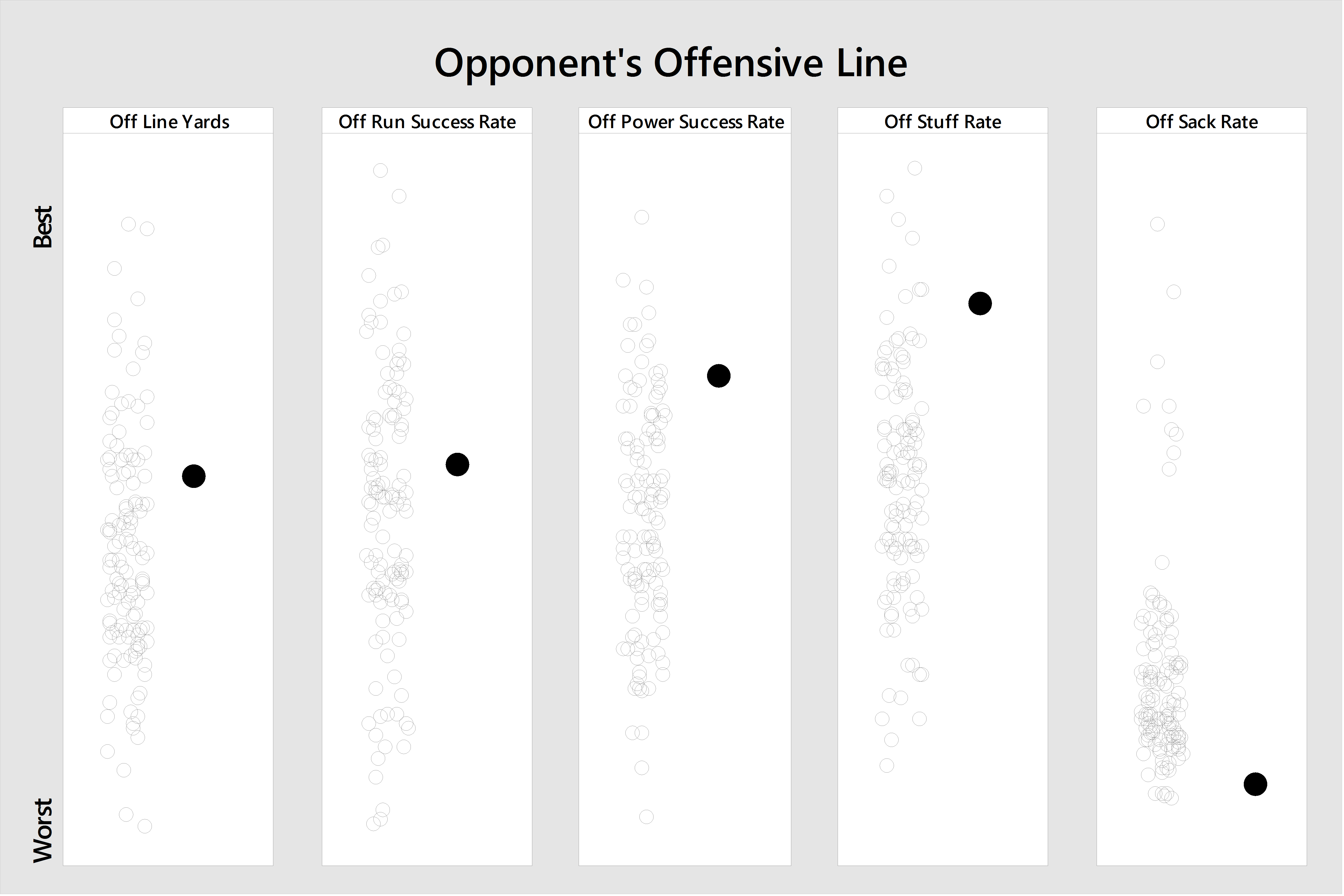 As for personality traits: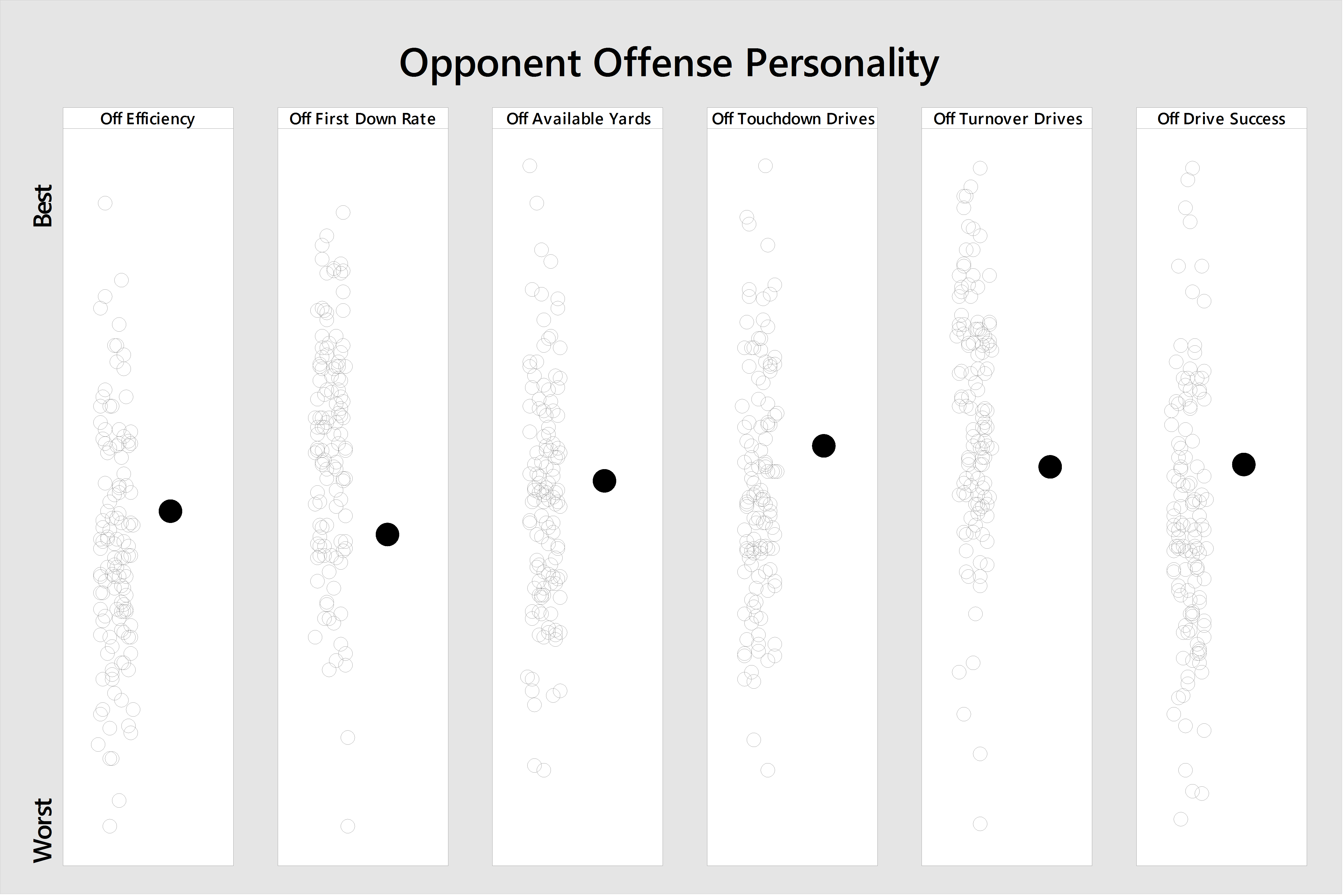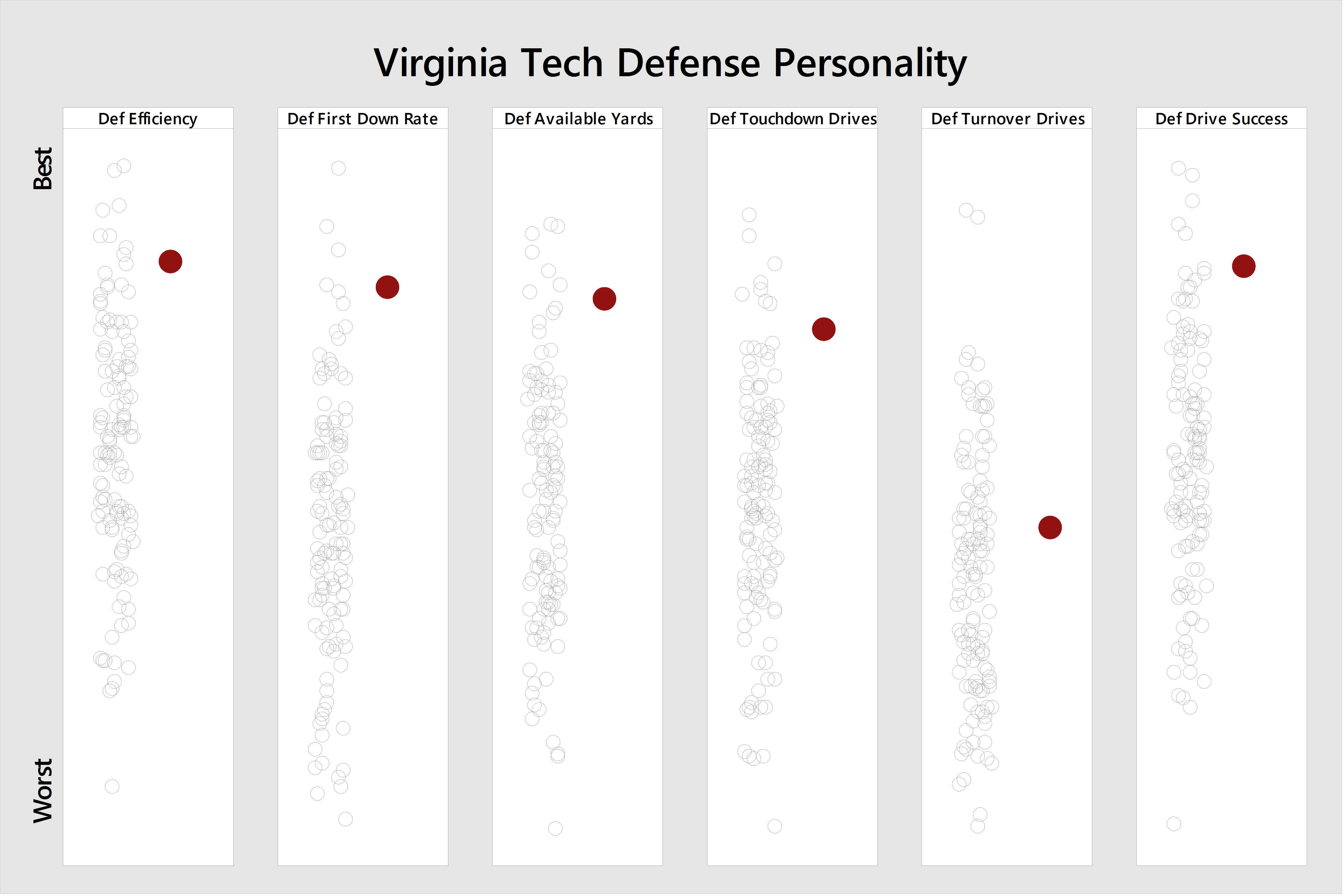 The Virginia Tech defense is closest in personality to:
Northern Illinois
Clemson
South Florida
The Georgia Tech offense is closest in personality to:
Arkansas
Tulane
New Mexico State
Special Teams
First we look at the Hokies' kicking units: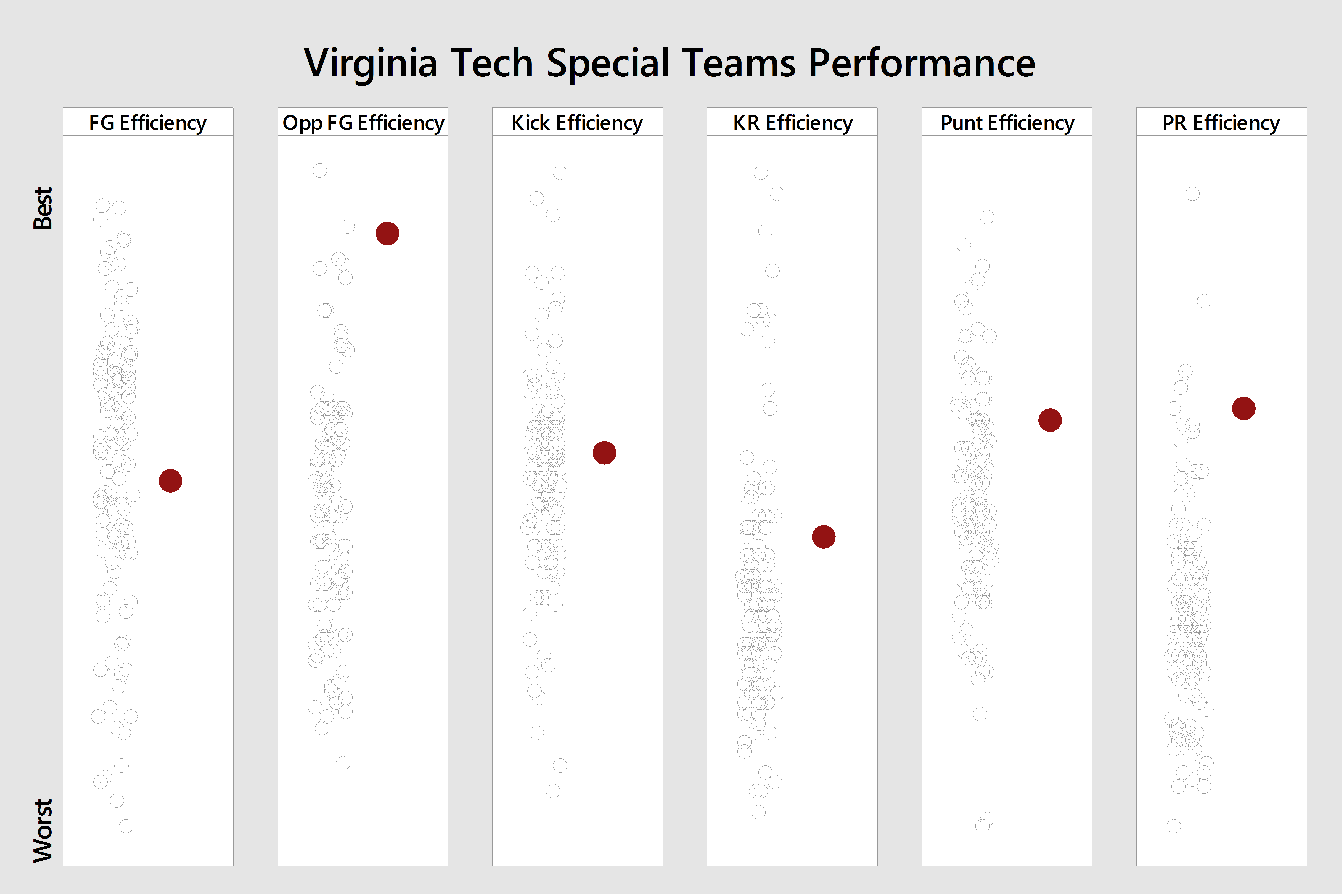 Special teams are back in Blacksburg. The Hokies are rated the No. 7 unit in the country. Some improvement with regards to field goal conversion might move them all the way to No. 1.
And an examination of Georgia Tech's special teams: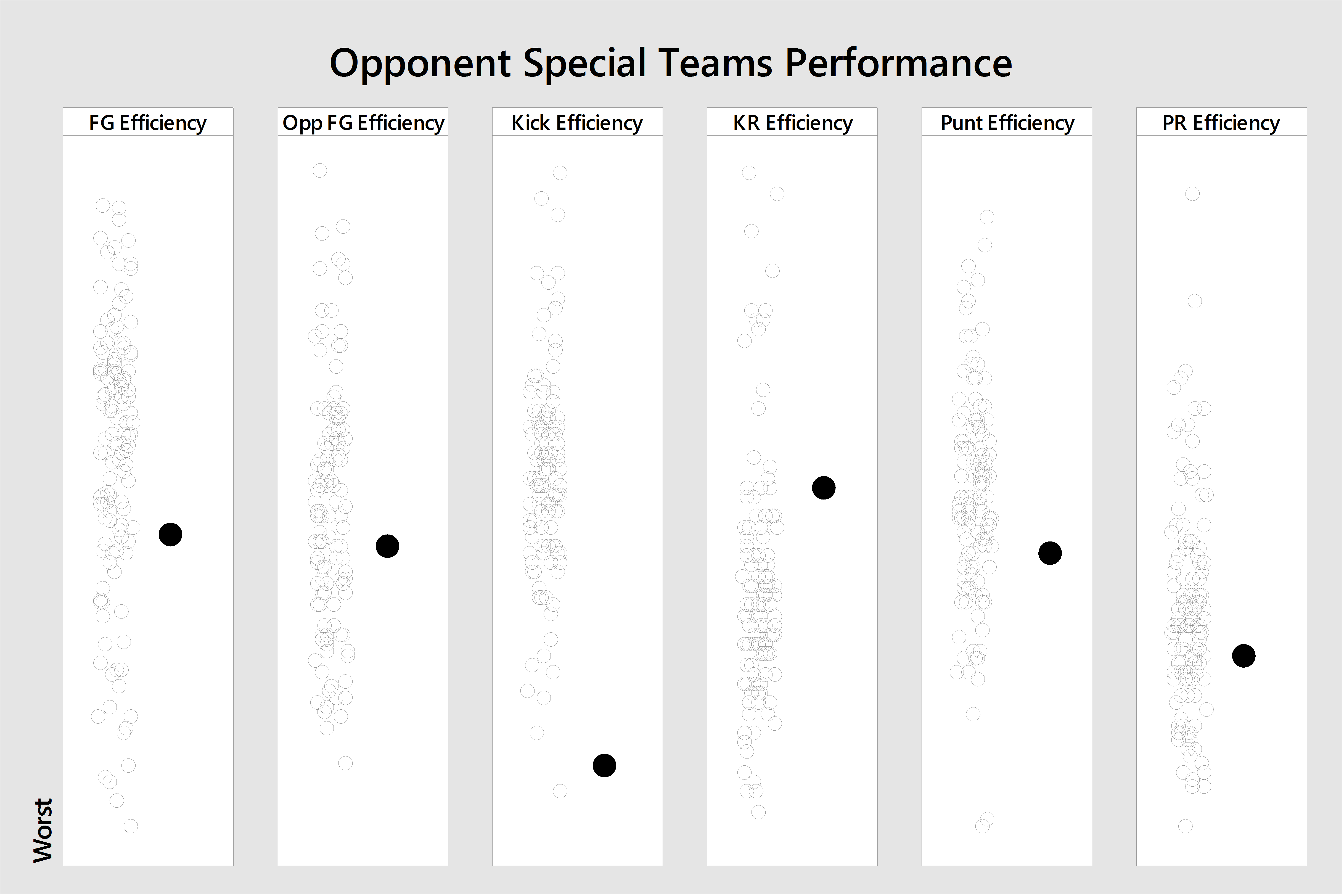 The Yellow Jackets aren't good at kicking off or punting, and the Hokies are good at returning both. Could a special teams touchdown be in the works...
Who To Watch Out For
As always in this game:
The quarterback. TaQuon Marshall leads Georgia Tech in rushing yards (870 total, 4.63 YPC) and touchdowns (14). Marshall completes 41.9% of his passes (36 of 86) for 667 yards, 6 touchdowns, and 2 interceptions.
The A-backs. Qua Searcy and Clinton Lynch each average over 7 yards per carry (7.19 and 7.45, respectively), but have only combined for 1 touchdown (Searcy).
The B-back. KirVonte Benson has rushed for 844 yards, 5.63 yards per carry, and 6 touchdowns.
It's not called the triple option for nothing.
Statistical Key to the Game
Georgia Tech is always a concern on the ground, and are frustratingly good at converting short 3rd- and 4th-downs. Stopping said conversions is critical for a win, so this conversion percentage is the stat to watch this game.
Statistical Prediction
Bud Foster usually prepares well for this game, and has another great defensive unit at his disposal. After the Miami loss, I believe the team will be angry, out to prove something, and will successfully limit the Bees' rushing attack. The Hokies' offense typically performs to the level of the defense, and GT is not strong there so I envision a win, but not a blowout.
Virginia Tech 27, Georgia Tech 20
As always a thanks to Football Outsiders, cfbstats.com, and Minitab Statistical Software.