By:

BeerControlOffense
on October 27, 2010, 11:18 AM
| 40 comments
BCO's College Football TV Viewing Guide
Welcome to the Six Pick Trick or Treat edition. While this isn't some World Wide Leader Superlative Saturday like "Monster" or "Show me", there are some intriguing matchups. This week due to some studying for certification I need for gainful employment, the column will run a bit short. I plan to make it up to myself by heavily drinking Thursday starting around lunch at the Bier Garden. This Six Pick will also be done A cappella, with only my limited knowledge and strong personal bias guiding me, to hell with cfbstats this week.
I would be remiss if I failed to mention the greatest amateur weekend of the year, Halloween. So If you bail on the late games for parties to get your drink on and see some skimpily dressed ladies I understand and fully endorse this decision. If you're an old, married and tired father like I am then you will be on your living room sofa taking in the games. For those missing Herbie and Musburger I promise to watch for you, if you promise to post pics of all the lovely ladies of the evening for me.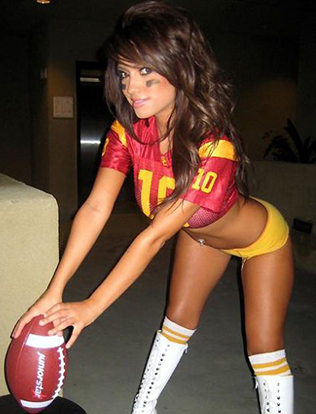 Treats
Thursday, October 28th
16 f$u -3.5 at NC State 7:30 pm ESPN
First, a round of applause for ESPN scheduling a Thursday night game worthy of inclusion in the Six Pick. The last one was da U at Pitt in week 4, so it's about damn time. Part of me misses the good ole days when Chuck the Chest dressed in his red shoes and night shades tried to look cool staring across the field at a dazed and confused Dadgumit. Sure, those Wolfpack and Nole teams usually played sloppy, undisciplined football, but just watching the mannerisms of those two coaches always brought a smile to my face. Now each school has boring coaches, but the trade is each team has improved significantly. I don't want to say back, but it's pretty clear the Noles are heading in the right direction. NC State needs to take care of them now, because in a couple years the divide between the two programs is likely to be considerably larger. This game doesn't settle the ACC Atlantic, but the winner gets to beat its chest as the division's alpha male.
What to look for: The game looking a lot like the VT-NC State game from a few weeks back. A crazed Carter-Finley Stadium amping the home team up, helping them to an early lead. FSU eventually getting it done on the ground, which then sets up the pass. NC State QB Russell Wilson letting it hang out for big gains and big interceptions.
Pick: f$u to win and cover.
Saturday, October 30th
5 Michigan State at 18 Iowa -6.5 3:30 pm ABC / ESPN
I can't decide which is more delightfully absurd at Iowa's Kinnick Stadium, the water tower in the background or the visitor's pink locker room? Was there no site survey performed before building the water tower in the stadium's sight lines? Does changing into your uniform while in a pink locker room automatically make you a sissy boy? This screams middle America heartland machoism. If someone tells me you get an apple pie after saying the Pledge of Allegiance to gain entry into Kinnick Stadium, I'd wholeheartedly believe them. As it sits now, MSU is the only undefeated B1+10 school left and Iowa is the conference's 4th best team. Add Michigan and Northwestern and that's some pretty good football up north. The teams, the game, everything can be summed in one word: balance. Good offenses that can run and pass effectively. Ditto for their defenses, there are no real apparent weaknesses. This should be a very close game.
What to look for: The Spartans are good, but I am not convinced they are national title contender good. Michigan State's QB Kirk Cousins has been playing out of his gourd, he's due for a bad game ... right? Running back Adam Robinson to do some work, grinding out yards and hoping Coach Ferentz doesn't have another Madhatter clock management moment this week.
Pick: Iowa wins by a touchdown and extra point, covering by the narrowest of margins.
***
6 Mizzou +7.5 at 14 Nebraska 3:30 pm ABC
For all intents and purposes this game is for the Big 12 North Championship. The last two weeks certainly have changed the perception and complexion of this game. Let's consider how they got here. Nebraska was humming a long, handing out ass whoopings to every team they played until two weeks ago versus Texas, when they got flattened by the Longhorns. Texas did Nebraska no favors by losing badly to the Iowa State Cyclones the very next week. To confuse our perception more, Nebraska decides to win a shootout with Okie State proving they could both pass and be passed on when the previous seven games showed evidence to the contrary. For their part, Mizzou just snuck around beating nobodies before taking down Oklahoma. As far as I can tell, they are winning without a traditional running game often going five wide with underrated QB Blaine Gabbert showing complete command of the offense. Unlike year's past, it's more than just offense, the Tigers are also winning with good defense, well, good by Big 12 standards. After watching their defensive line last week versus OU, they are legit. It's another must see 3:30 ABC game.
What to look for: The Mizzou defensive line adjusting quite well from attacking a stationary, passing quarterback to chasing a fast, running one. Missouri finding the same holes in the Nebraska pass defense as Okie State, making Bo Pelini spit fire on the sideline.
Pick: I'll take Mizzou getting the 7.5.
***
2 Oregon -7 at SouthernCal 8:00 pm ABC

Yeah, I nerded out and bought one of these and I'm not even an Oregon fan. What of it?
Get ready for it, it's coming at you ad nauseam. The last three weeks, the then no. 1 team (in some poll or another) played a road game with ESPN's College Gameday broadcasting on site. All three weeks resulted in losses for no. 1 team in the land.
This game will go down one of two ways, a continuation of the no. 1 team losing on the road or finally closing the book on the SouthernCal Pac10 domination. If you remember these two teams played last Halloween night, and just as the shirt above states it was a "fright night" for the men of Troy. An eye opening 47-20 loss at Oregon exposed USC as now being very mortal, and severely wounded the program–the Trojans have been 8-5 since.
I would paint a dire USC picture, but let's not pretend they don't have talent, they do, but they are young and lack depth. As we all know the Trojans aren't going to play in a bowl, so it's games like this that can make these kid's season. The Fighting Kiffins would like nothing more than to knock off the Ducks and stay relevantl. If they get blode out, it may be a long damn time before they get another prime time game. Southern California high school kids are watching...
What to look for: Oregon to absolutely work the young defense of Troy on the ground and in the air. USC's improved QB Matt Barkley will be able to move the ball, control the clock and score, but just not enough to keep up.
Pick: Oregon by a couple of touchdowns.
***
Tricks
Saturday, October 30th
22 da U -14.5 at uva noon ESPN
Remember trick or treating as a kid, loading up on candy and such? You rush home all excited to divvy up the payload only to find some jackass gave you a healthy snack alternative or as I like to call it the modern day trick. Well, I'm that jackass. A shit game, only good if you enjoy the Hoos getting a beat down. On second thought, maybe it's not a trick. Speaking of tricks, Scott Stadium's turf was vandalized last week.
I think I may know who the culprit may have been as this piece of photographic evidence is circulating around the C-Ville police, taken around the time of the incident.
What to look for: You know how VT just abused Wake Forest and doook, the Canes will treat the Hoos the same.
Pick: da U by A LOT
***
Florida vs. ugga -2.5 3:30 pm CBS
It's late October in the souf, which means "The World's Largest Cocktail Party" is on the docket. Gone are the days of Georgia dancing in the end zone after a touchdown or Meyer calling late timeouts while running up the score.
It's an ugly affair this season, as both teams have played horrible so far. While coach Urban Meyer is seeing how fast the Gators can go backwards before blowing an engine, it looks as if coach Mark Richt has finally got his Dawgs in first gear after a couple of wins. Looking ahead, whoever leaves Jacksonville with the W, isn't guaranteed positive traction on the rest of their trip to the season's end. There is a potential car wreck waiting to happen. For non Gator and Dawg fans, we are rubber necking to see the carnage left on the college football roadside.
What to look for: Bad football and a confused, pissy Urban Meyer.
Pick: Georgia by more than a touchdown.
As always, feel free to pick against me and others, based on the spread given.
The Beer of the Weekend: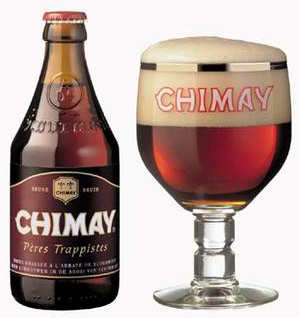 The classic Belgian Dubbel that all others are judged against. Meant to be enjoyed slowly and savored.