Part 1 (#1 – 10)
Part 2 (#11 – 19)
Part 3 (#20 – 29)
Part 4 (#30 – 39)
Part 5 (#40 – 49)
Part 6 (#50 – 59)
Part 7 (#60 – 69)
Part 8 (#70 – 79)
Part 9 (#80 – 89)
Part 10 (#90 - 99 + Bonus)
Welcome to Part 8 of our list of the best Hokie Football Players to wear each jersey number.
Today, we'll take a look at jerseys #70 – 79. This may be the most talented group of the entire series. It features several All-Americans, including arguably the greatest football player in school history. Two of our four retired numbers can be found on today's list. Many of these players went on to great careers in the NFL with plenty of Pro-Bowl selections and several NFL Championships.
So here's the list. (Note: The Honorable Mentions are listed in alphabetical order.)
#70 – Waddey Harvey
I had a tough time deciding on the #70 spot on this list between Todd Grantham, Sergio Render and Waddey Harvey. Todd Grantham was an Honorable Mention All-American tackle for the Hokies in 1988 who went on to a strong coaching career; he is currently the defensive coordinator for Mississippi State. Sergio Render was a dude. But when I saw the above photo of Waddey Harvey, I knew I had my man! Jim "Waddey" Harvey was a defensive tackle at Tech from 1966 – 1968. He recorded an interception in Tech's 24-7 victory over UVA in 1966 (as seen in the photo above). That is a large man; it looks like he's holding a child-sized Nerf football in his hand. Waddey played on two Liberty Bowl teams (1966 and 1968) and was inducted into the VT Sports Hall of Fame in 1995. But he is probably best remembered for introducing Frank Beamer to his future wife, Cheryl. Waddey was dating Cheryl's sister at the time; after one football game, Cheryl asked Waddey if he could fix her up with somebody. They went through the football media guide and Waddey hand-picked Frank Beamer. He set up a blind date for Frank and Cheryl and the rest is history.
(Honorable Mention: Frank Ballard, Tom Dalzell, Todd Grantham, Joe Moss, Sergio Render)
#71 – David Pugh
David Pugh was one of the best defensive tackles to ever play for coach Frank Beamer. He wasn't the biggest DT, but he was rarely taken down and was very quick off the ball. For his career (1998 – 2001), Pugh made 13.5 sacks totaling 106 yards. He was named first team All-Big East in both 2000 and 2001. During the 2000 game against Pitt, the #2 Hokies clung to a 37-34 lead but Pitt had one last shot; with two seconds left on the clock, Pugh sacked the Pitt QB to secure the win.
Following the 2001 season, Pugh was named a third team All-American. Prior to the 2002 NFL Draft, one draft profile from USA Today described Pugh as a "Good old country boy type who simply loves to play the game." You gotta love guys like that!
(Honorable Mention: Jay Hagood, Don Oakes, Vinston Painter)
#72 – Wally Browne
Wally Browne was an offensive tackle at Tech from 1979 – 1982. He was the team's top offensive lineman during his career, and helped the Hokies to the 1980 Peach Bowl; that was only their fourth bowl game in school history. Browne blocked for record-breaking tailback Cyrus Lawrence; Lawrence rushed for a school record 3,767 yards during his career, which still stands today. Wally Browne was a two-time Honorable Mention All-American in 1981 and 1982.
(Honorable Mention: Andy Bowling, Ron Davis, Jason Murphy)
#73 – Jim Pyne
Jim Pyne became Tech's first Unanimous All-American in 1993. He was the top lineman on the 1993 squad that rewrote the school record books for scoring and total offense. Arguably the greatest offensive lineman to ever wear orange and maroon, Pyne incredibly only allowed one quarterback sack during his college career. Let me say that again...he only allowed one sack in over 2,700 career snaps! He went on to play in the NFL for nine seasons. In 2000, Pyne was named to the Big East Conference's All-Time Team. He was the fourth and final Hokie to have his number retired (joining Frank Loria, Carroll Dale and Bruce Smith); after that, the athletic department decided to retire jerseys rather than numbers, which would allow them to still be worn by current Hokies. That means that no future Tech football player will ever wear Jim Pyne's #73.
(Honorable Mention: Bill Houseright)
#74 – Derek Smith
Derek Smith was an anchor on the offensive line from 1996 – 1998. The offensive tackle had his best year in 1998, when he was named All-Big East and a third team All-American. He was part of several memorable games in Hokie history, including the 1998 matchup with Clemson. The Hokies traveled to Death Valley for the second game of the season and dominated Clemson 37-0. It was the worst home loss for Clemson in 22 years. Smith was also a major factor in Tech's 1998 Music City Bowl victory over Alabama. I'll look for any excuse to show highlights of the Hokies beating Bama.
At the end of the season, Smith proved to be prophetic when he said that next year's team (1999) would be one of the best in the country. He singled out defensive ends Corey Moore and John Engelberger when he said "I got to play in two all-star games against the best college players. We have the best two I faced all year right here."
(Honorable Mention: Gene Breen, Donnie Bruce, Brandon Frye, Andrew Miller)
#75 – George Preas
George Preas was an offensive tackle at Tech from 1951 – 1954. He made the All-Southern Conference team in 1953 and 1954 as well the Honorable Mention All-American team in 1953 and 1954. He was a major force on the undefeated 1954 squad that went 8-0-1 and remains one of the best teams in school history. Coach Frank Moseley called Preas the best lineman he ever coached. After graduating from Tech, Preas was drafted by the Baltimore Colts and embarked on a brilliant 11 year NFL career. Preas, along with former Tech teammate Buzz Nutter, helped the Colts capture NFL titles in 1958 and 1959. In the 1958 title game (aka "The Greatest Game Ever Played"), Preas cleared the way for Alan Ameche's game winning 1-yard touchdown run in overtime. Here are some highlights of that game; Preas is the right tackle wearing #60 and fellow Hokie Buzz Nutter is the center wearing #50 (you'll have to watch it on youtube).
Colts Hall of Fame running back Lenny Moore called Preas the "unsung hero" of the 1958 championship team. Preas was inducted into the Virginia Tech Sports Hall of Fame in 1983.
(Honorable Mention: Al Casey, Russ Moon, Herb Thomas, Bernie Vishneski, Todd Washington)
#76 – Duane Brown
Duane Brown was an awesome offensive tackle and field goal blocking extraordinaire during his time in Blacksburg. He was an All-ACC selection in 2006 and 2007. One of my favorite memories of Duane Brown came during the 2007 victory over #16 UVA, which clinched the ACC Coastal Division title for the Hokies. As the final seconds ticked down in that game, QB Sean Glennon took a knee; he was then knocked to the turf by UVA linebacker Clint Sintim. Duane Brown immediately got in Sintim's face and gave him a piece of his mind. THAT's what an o-lineman is supposed to do...always stand up for their quarterback. During the 2007 ACC Championship game against BC, Brown blocked not one, but two kicks! He blocked a BC field goal attempt and later added an extra point block that was picked up by Brandon Flowers and returned 75 yards for a defensive two-point conversion. Brown has the distinction of having the first two blocked kicks in ACC Championship Game history.
The Houston Texans surprised many people when they selected Brown in the first round of the 2008 NFL Draft; but Brown quickly established himself as one of the top left tackles in the NFL. He could very well wind up in the NFL Hall of Fame once his career comes to an end.
(Honorable Mention: Jerry Green, Dave Kadela, Padro Phillips, TJ Washington, Allen Whittier)
#77 – Tom Beasley
Tom Beasley was a standout defensive lineman for the Hokies during the mid-1970s. He played on the same defense as star linebacker Rick Razzano, and Beasley was a force along the defensive line. At the end of the 1975 game against UVA, Beasley had a sack and forced fumble on UVA QB Scott Gardner; that secured a 24-17 victory for the Hokies. He was named an Honorable Mention All-American in 1976 and was selected by the Pittsburgh Steelers in the 1977 NFL Draft. Beasley won back to back Super Bowls with the Steelers in Super Bowls XIII and XIV; he became the second Hokie to win two Super Bowls (joining Carroll Dale). Beasley was inducted into the VT Sports Hall of Fame in 1988. His son, Chad, was a defensive lineman at Tech from 1998 – 2001.
(Honorable Mention: Jim Burks, Tom Hughes, Ed Wang, Sands Woody)
#78 – Bruce Smith
This was the easiest selection on the entire list. BRUUUUUCE is one of the greatest defensive football players of all time. During his time at Tech, he had 71 career tackles for a loss and 46 sacks! He won the Outland Trophy his senior year as the nation's top interior lineman. Smith was named a first team All-American in both 1983 and 1984; in 1984 he joined Frank Loria as the only Consensus All-Americans in school history. Here are some highlights of Bruce's time at Tech (be sure to MUTE the video):
The Buffalo Bills selected Bruce with the #1 pick in the 1985 NFL Draft and he did not disappoint. He ended his career as the NFL's all-time sack leader with 200!
But he's probably best remembered for his cameo in the 1994 film Little Giants.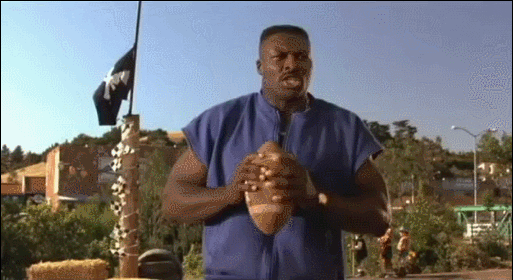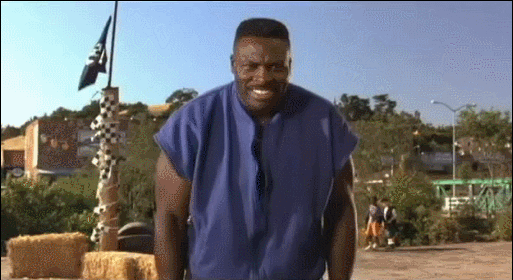 Simply put, Bruce Smith is the greatest Tech football player of all time. If I were tasked with creating a Mount Rushmore for Tech football, I would carve Bruce's face into the mountain alongside Michael Vick and Frank Beamer; I'd have to think about who would get the fourth spot (maybe Bud Foster?). I'm not even going to put an Honorable Mention on here for fear of angering Bruce.
#79 – Roger McClure
Roger McClure was an offensive guard who earned Honorable Mention All-American honors in 1941. Prior to McClure's arrival, the Tech football team had experienced some lean years. After an amazing 1932 season which saw the Hokies go 8-1, Tech averaged just four wins over their next seven seasons. McClure helped the Hokies return to their winning ways; during his three seasons in Blacksburg, the Hokies won 18 games. McClure doubled as a guard and a kicker. In fact, according to the 1943 Bugle his nickname was "Miracle Toe." He had a reputation for being one of the best kickers in the nation. One of McClure's field goals in 1941 proved to be the game winner in a 3-0 upset of defending national champion Georgetown. During the final game of the 1942 season against VMI, McClure took over for the injured fullback. He wound up scoring a touchdown and then kicking the extra point. The Hokies beat VMI 20-6 to finish the season 7-2-1, easily their best season in a decade. Tech students voted McClure as the school's "Best Athlete" during the 1942-1943 school year. I think I can safely say that Roger McClure is the best guard/kicker/fullback in school history.
(Honorable Mention: Jon Dunn, Doug McDougald, Ross Orr, Josh Redding)
Here's our list after eight weeks:
#1 – Isaiah Ford
#2 – Jimmy Williams
#3 – Bryan Randall
#4 – David Wilson
#5 – Tyrod Taylor
#6 – Jason Worilds
#7 – Michael Vick*
#8 – Vinnie Fuller
#9 – Vince Hall
#10 – Frank Loria**
#11 – Xavier Adibi
#12 – Maurice Deshazo
#13 – Bruce Arians
#14 – Torrian Gray
#15 – Don Strock
#16 – Jim Druckenmiller
#17 – Kam Chancellor
#18 – Brandon Flowers
#19 – Danny Coale
#20 – Jayron Hosley
#21 – Rashad Carmichael
#22 – Lee Suggs
#23 – Nic Schmitt
#24 – Ron Davidson
#25 – Frank Beamer*
#26 – Cody Grimm
#27 – Jarrett Ferguson
#28 – Ken Oxendine
#29 – Frank Peake
#30 – Dave Smigelsky
#31 – Curtis Taliaferro
#32 – Darren Evans
#33 – Ken Edwards
#34 – Ryan Williams
#35 – Mike Johnson
#36 – Carter Wiley
#37 – Phil Rogers
#38 – Rick Razzano
#39 – Lyndell Gibson
#40 – Ben Taylor
#41 – George Del Ricco
#42 – James Anderson
#43 – Jimmy Richards
#44 – Terry Smoot
#45 – Cyrus Lawrence
#46 – Jamel Smith
#47 – Nekos Brown
#48 – Nick Cullen
#49 – Chris Ellis
#50 – Ki Luczak
#51 – Jack Prater
#52 – Buzz Nutter
#53 – Kyle Albright
#54 – Kent Thomas
#55 – Darryl Tapp
#56 – Corey Moore*
#57 – Wyatt Teller
#58 – Cornell Brown*
#59 – JC Price
#60 – Woody Baron
#61 – Billy Conaty
#62 – Blake DeChristopher
#63 – Harold Grizzard
#64 – Jake Grove*
#65 – Newt Green
#66 – Scott Hill
#67 – Don Thacker
#68 – Mike Zeno
#69 – Eugene Chung
#70 – Waddey Harvey
#71 – David Pugh
#72 – Wally Browne
#73 – Jim Pyne**
#74 – Derek Smith
#75 – George Preas
#76 – Duane Brown
#77 – Tom Beasley
#78 – Bruce Smith**
#79 – Roger McClure
*Retired Jersey – the number can still be worn by Tech football players
**Retired Number – the number will never be worn by another Tech football player