Until Virginia Tech loses, I will no longer try to talk reality into those who think no one can stop an 11-1 Hokies' regular season run. In fact, this week I may just fuel the fire.
Where the Season Stands
Virginia Tech is currently 4-1. The actual and predicted score difference and odds of winning each game are: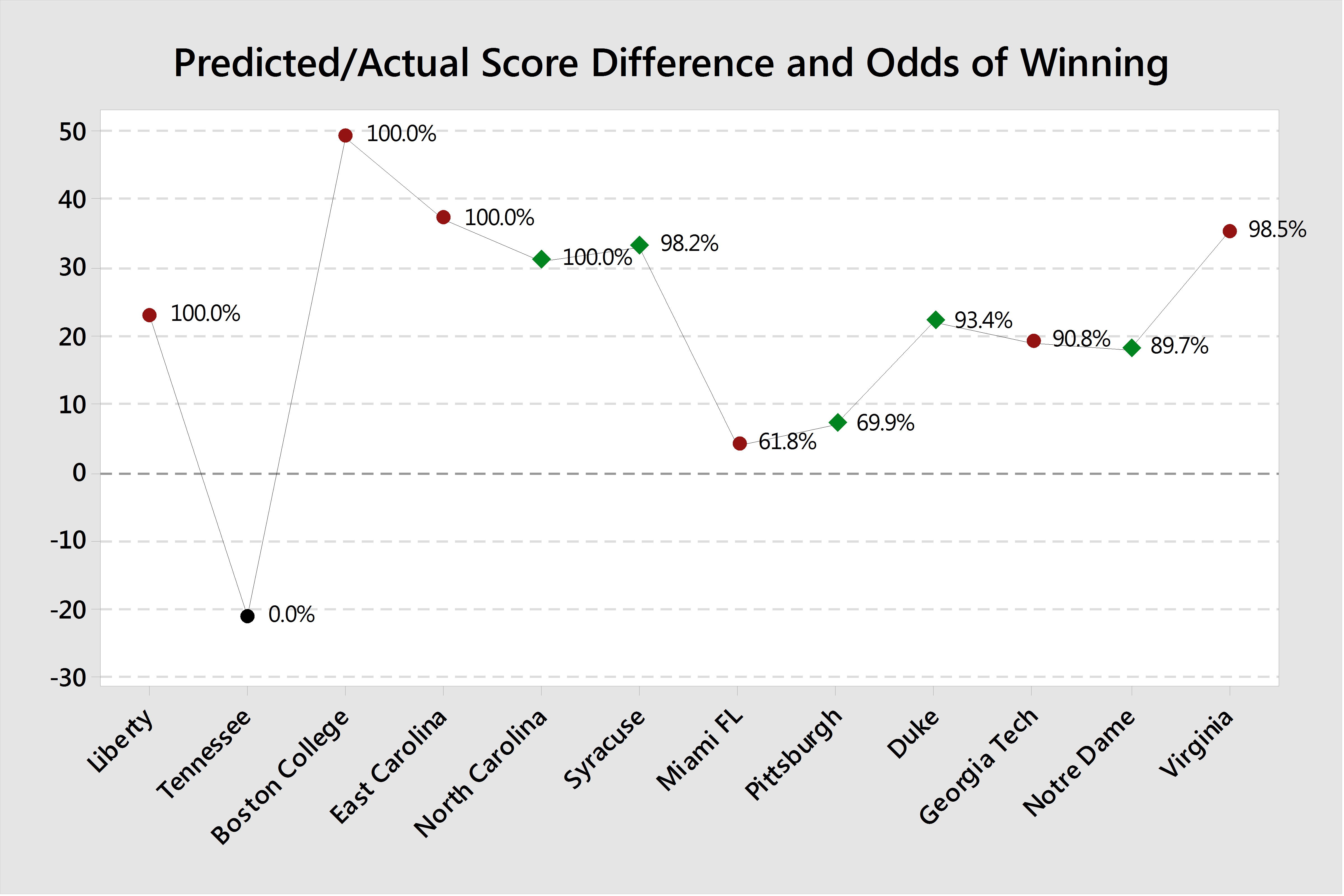 The odds of each possible regular season win total are now:
As one fellow Hokie put it, "I better call the doctor if this thing doesn't go away in four hours". To give a little reality check, however, it should be noted that other methods aren't quite as optimistic still. One is Football Study Hall, which calculates the following odds of each win total:

Additionally, ESPN's FPI gives Tech just a 0.7% chance of winning out. Still, it's safe to say that the odds of an 11-1 regular season are substantially higher now than almost any neutral party would have given before the season.
Rankings and Computer Predictions
The computer rankings and predictions for Virginia Tech and Syracuse: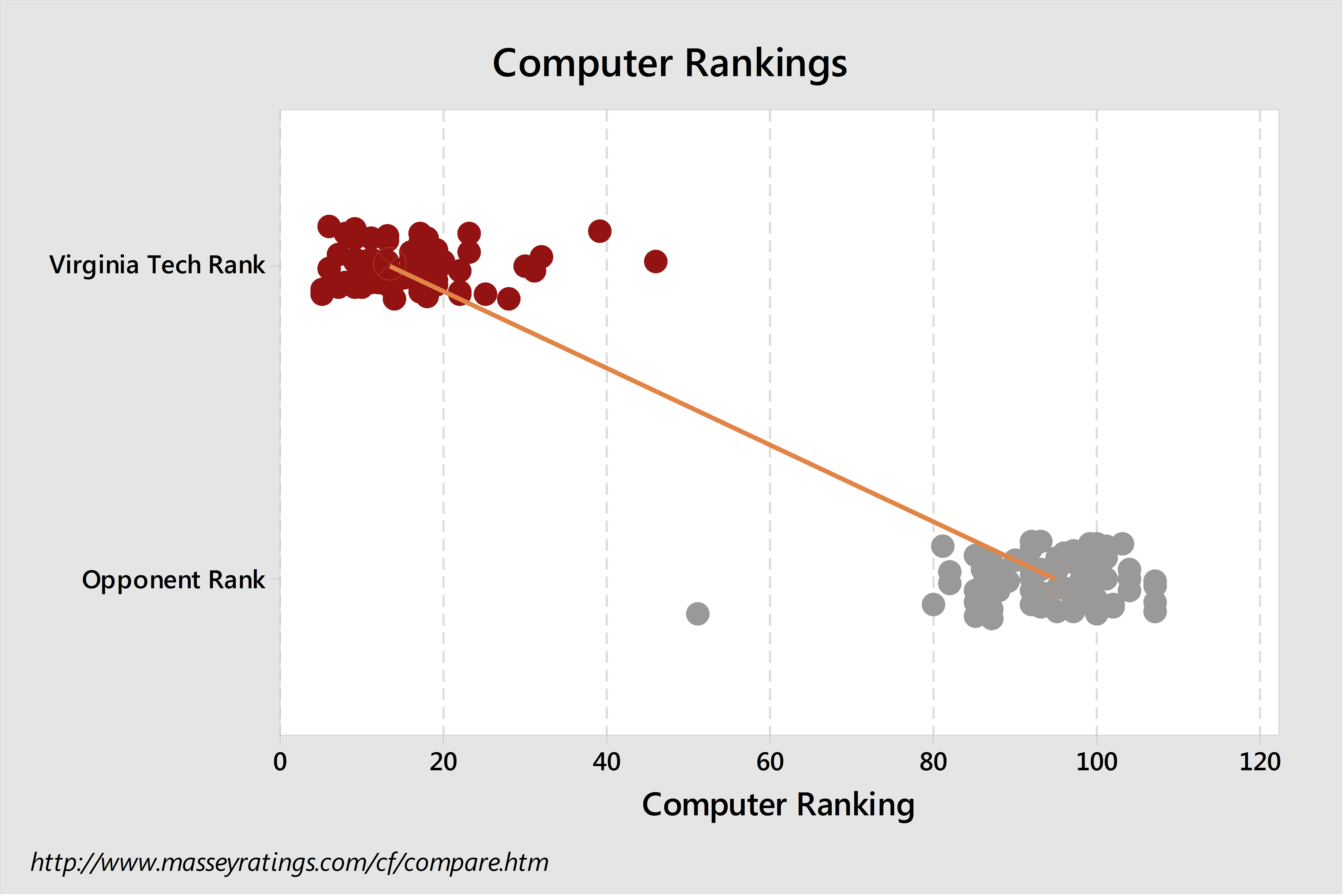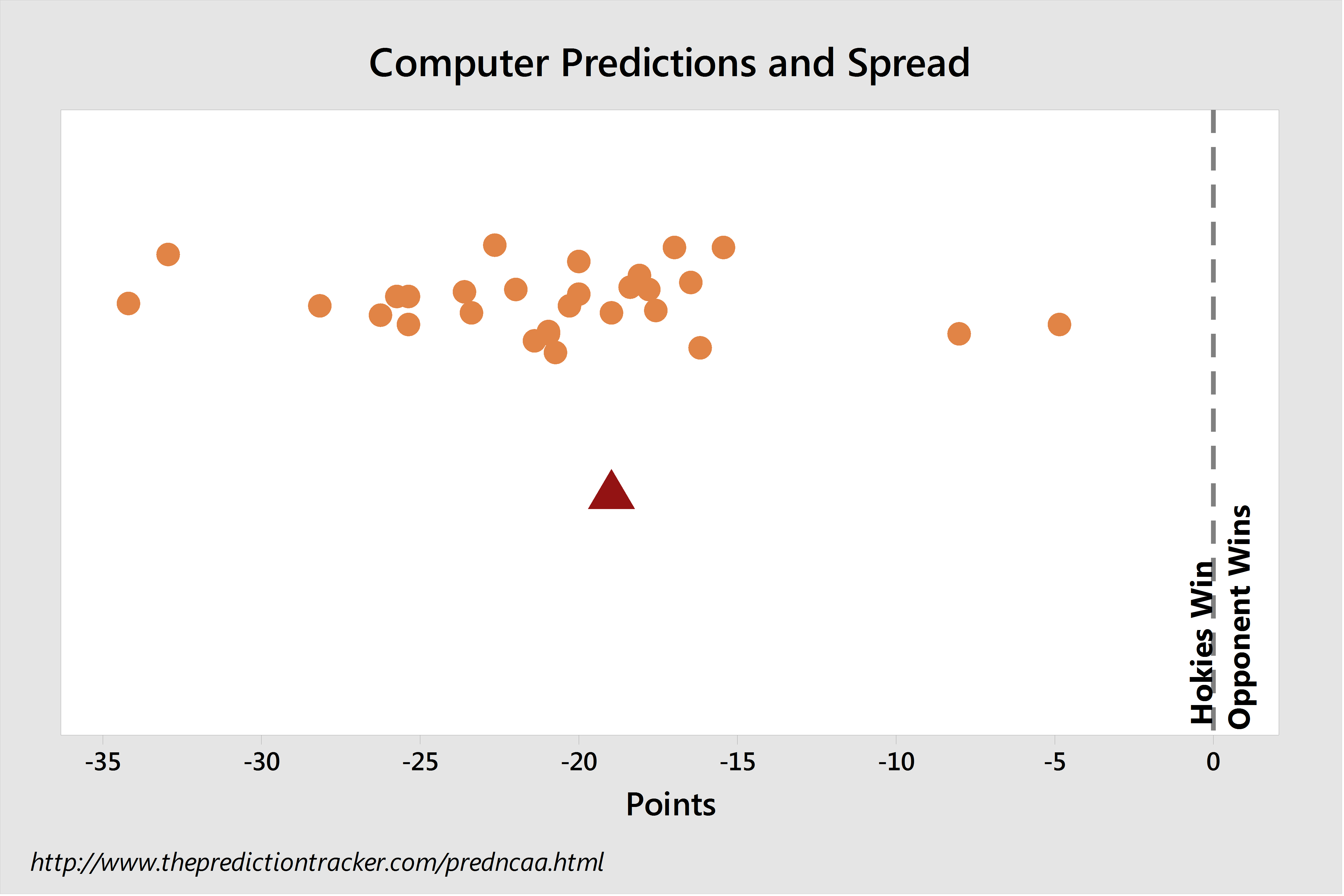 When was the last time computer ratings all clustered Virginia Tech around such a high ranking? Or when the lowest computer rank for the Hokies was higher than the highest for their opponent? Time will tell whether it lasts, but for now enjoy the ride. The odds of a 19-point favorite winning are 90.8%.
Next is a look at any overall offensive or defensive advantages:
S&P is still not very bullish on the Hokie offense, and in all fairness the numbers for the UNC game are pretty abysmal outside of the score: 264 total yards of offense at 3.2 yards per play. Creator Bill Connelly confirmed the ratings make no adjustment for weather, so for now just accept that while the rain hurt the offense rating it also helped the defense.
When Virginia Tech Has the Ball
Here is an explanation of S&P+ ratings, and FEI ratings. All statistics are now opponent-adjusted.
Who has the advantage in the passing and rushing game when the Tech offense has the ball?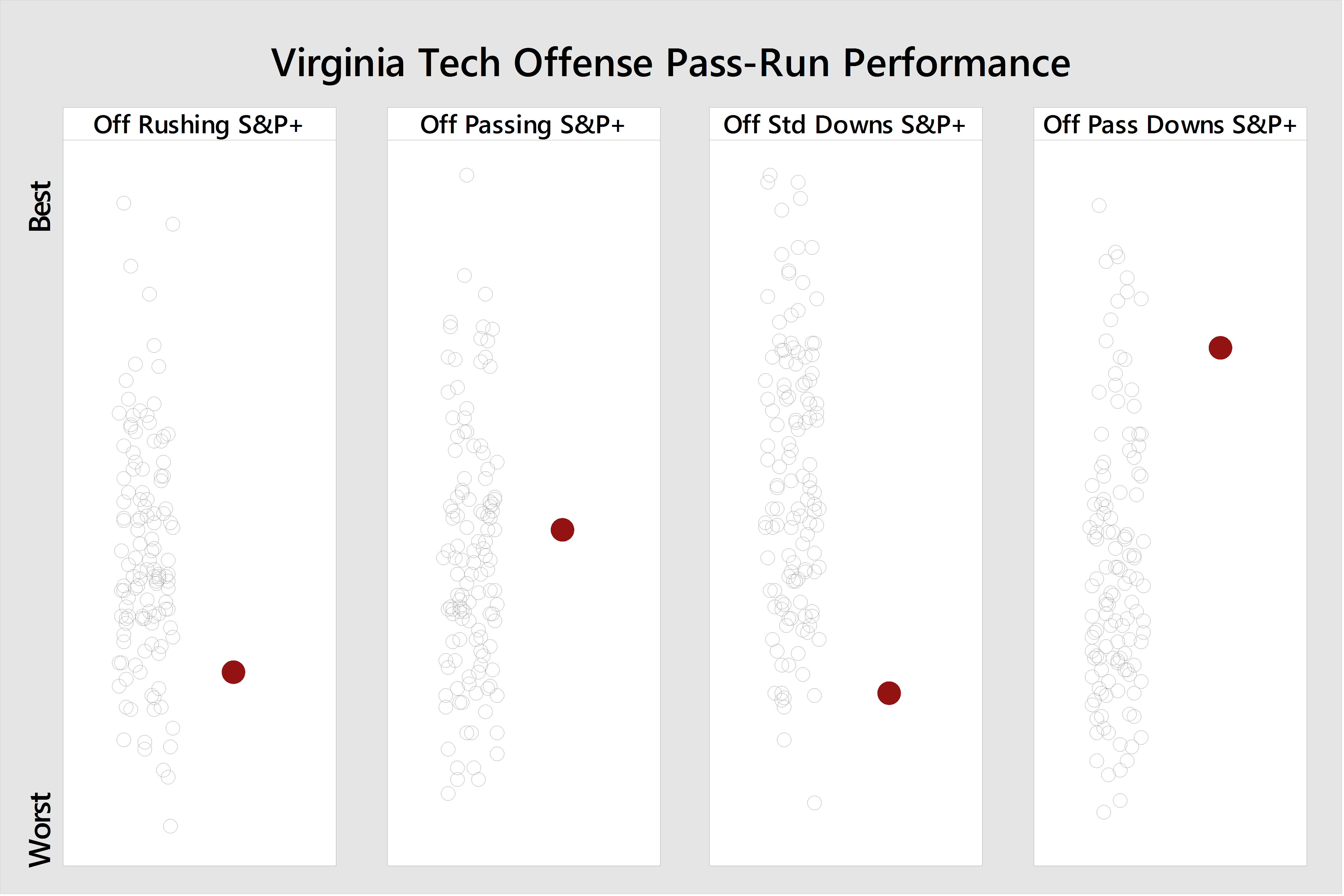 It's safe to say that Syracuse isn't particularly good at stopping any form of offense on any type of down, but Virginia Tech looks to be substantially more prepared to take advantage via passing and rushing..
When Syracuse Has the Ball
Again, examine pass-run comparisons first: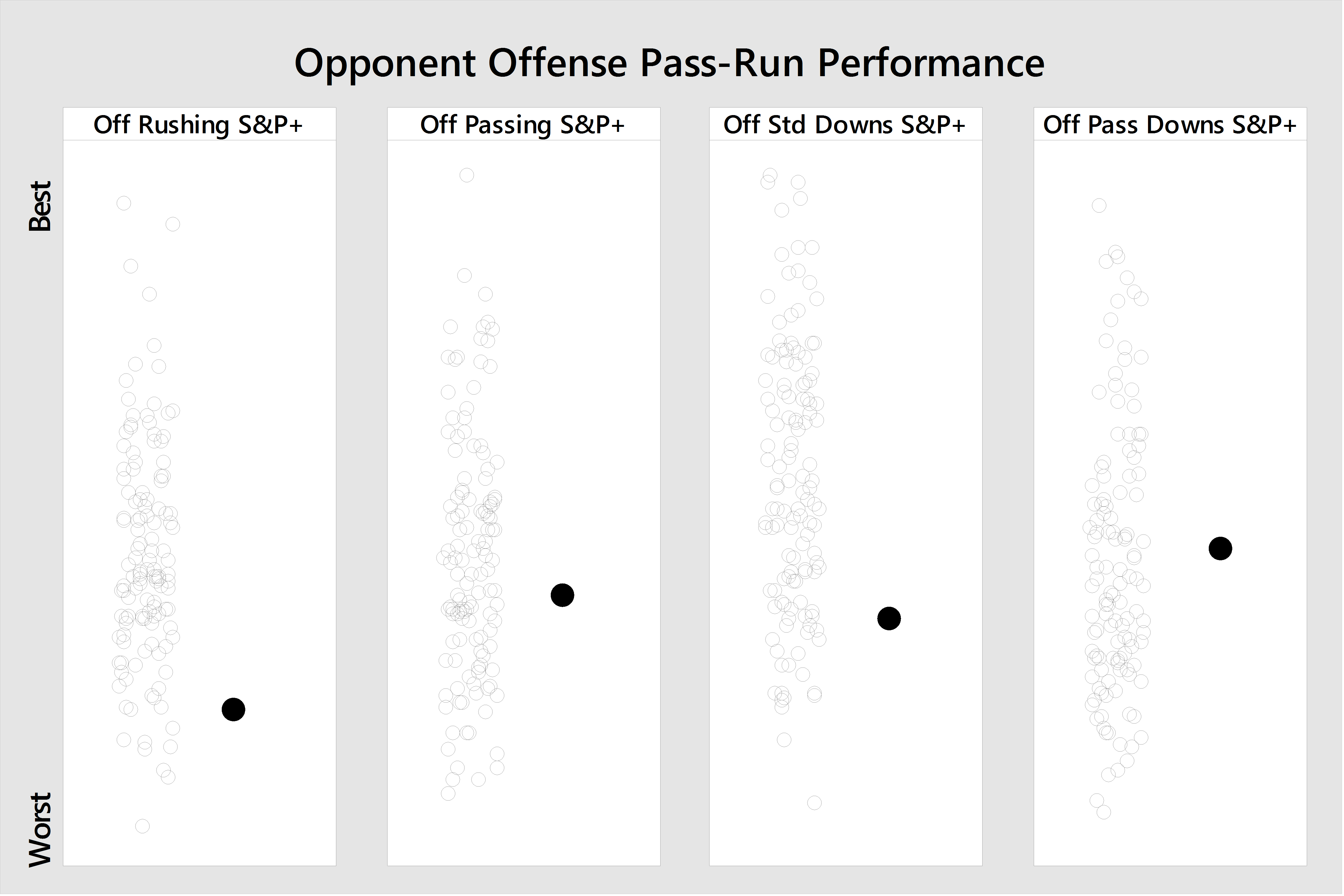 Much has been made of the Syracuse offense, but it is in fact a high volume but not great offense. On top of that, Bud Foster has put together an elite defense thus far, especially against the pass. It will be interesting to see which side exposes the other.
Who To Watch Out For
I'm not even looking into defensive player for two reasons: the Syracuse defense isn't good enough to warrant it, and Justin Fuente is great at simply scheming around a single good defender. But otherwise:
Sophomore QB Eric Dungey is 6th in the nation with 1,886 yards passing at a 64.6% completion rate.
WR Amba Etta-Tawo leads the country with 146 yards per game.
Brisly Estime leads the country with a 21.86 yard punt return average.
Sean Riley has returned more kickoffs than anyone else in the country (26) but whatever, because Joey Slye remains No. 1 in the nation with a 65.39 yard kickoff average — the only kicker in the country averaging MORE than a touchback's yardage.
Statistical Key to the Game
Simply stopping Syracuse from accumulating yards, especially through the air, can be difficult. However, stalling drives is critical given that the Orange rely on such a steady attack. So my statistical key to the game is not total yards, but points per drive — keeping the yardage gained from turning into many points is key.
The Stats that Define Virginia Tech's Season
Revisiting my column from this summer on the stats that will define the season, here is how the Hokies performed thus far (each listed as VT - Opponent):
| Opponent | PPP | Pace (sec/play) | ToP |
| --- | --- | --- | --- |
| Liberty | .40 - .21 | 22.7 - 25.5 | 33:42 - 26:18 |
| Tennessee | .33 - .71 | 26.1 - 26.1 | 31:44 - 28:16 |
| Boston College | .64 - 0 | 27.5 - 26.1 | 35:15 - 24:45 |
| UNC | .41- .05 | 28.9 - 19.4 | 39:59 - 20:01 |
I will not value time of possession. Even if it seemed important against UNC.
Statistical Prediction
I'm buying into Fuente successfully selling his 1-0 each week mentality and don't think Virginia Tech will take their eye of the ball. I think Syracuse's defense keeps Tech's offense looking good, and the defense is again very effective and shuts down another offense. Hokies cruise over the Orange.
Virginia Tech 41, Syracuse 20.
As always a thanks to Football Outsiders, cfbstats.com, and Minitab Statistical Software.