Boston College has had a roller coaster season. At times the Eagles have looked like an obvious ACC Atlantic Champion, and at others one with Scot Loeffler as offensive coordinator. In six games, the team has posted a percentile performance of at least 60%, but in the remaining two posted a 14% (at Purdue) and a 36% (at N.C. State). In five of their games, the team had a post-game win expectancy of 89% or higher; in the other three it was 23% or lower; by luck the Eagles beat Temple in spite of the 23% expectancy.
When the Boston College Eagles win, it looks like a convincing win. And when they lose, well, it's a pretty convincing loss. Except for one win that they had no business getting.
Sound familiar?
Where the Season Stands
Virginia Tech is currently 4-3. The actual and predicted score difference and odds of winning each game are:
The odds of each possible regular season win total are now:
Every remaining game is very winnable, but none have the Hokies favored by more than a very small amount. As a result, there is about a 35% chance of not making a bowl game without an additional makeup game being added. Whit Babcock has been an excellent AD thus far, and I trust him to have a plan for one if it is possible.
Virginia Tech Leads the Nation In...
Backed-up Turnover Rate and Inside-10 Turnover rate. All turnovers are painful, but some turnovers are more painful than others. UNC was on the verge of icing the game against Virginia Tech, and instead fumbled the ball on the one-yard-line. The resulting Hokies' drive ate up almost the entire remaining clock and gave the team an unexpected lead. Backed-up Turnover Rate and Inside-10 Turnover Rate refer to the percentage of plays started inside a team's own 5-yard-line or inside the opponents' 10-yard-line that have resulted in a turnover.
As painful as parts of this season have been, the Hokies are tied for first in both categories by not having given up a single one of these on the season.
Rankings and Computer Predictions
The computer rankings and predictions for each team: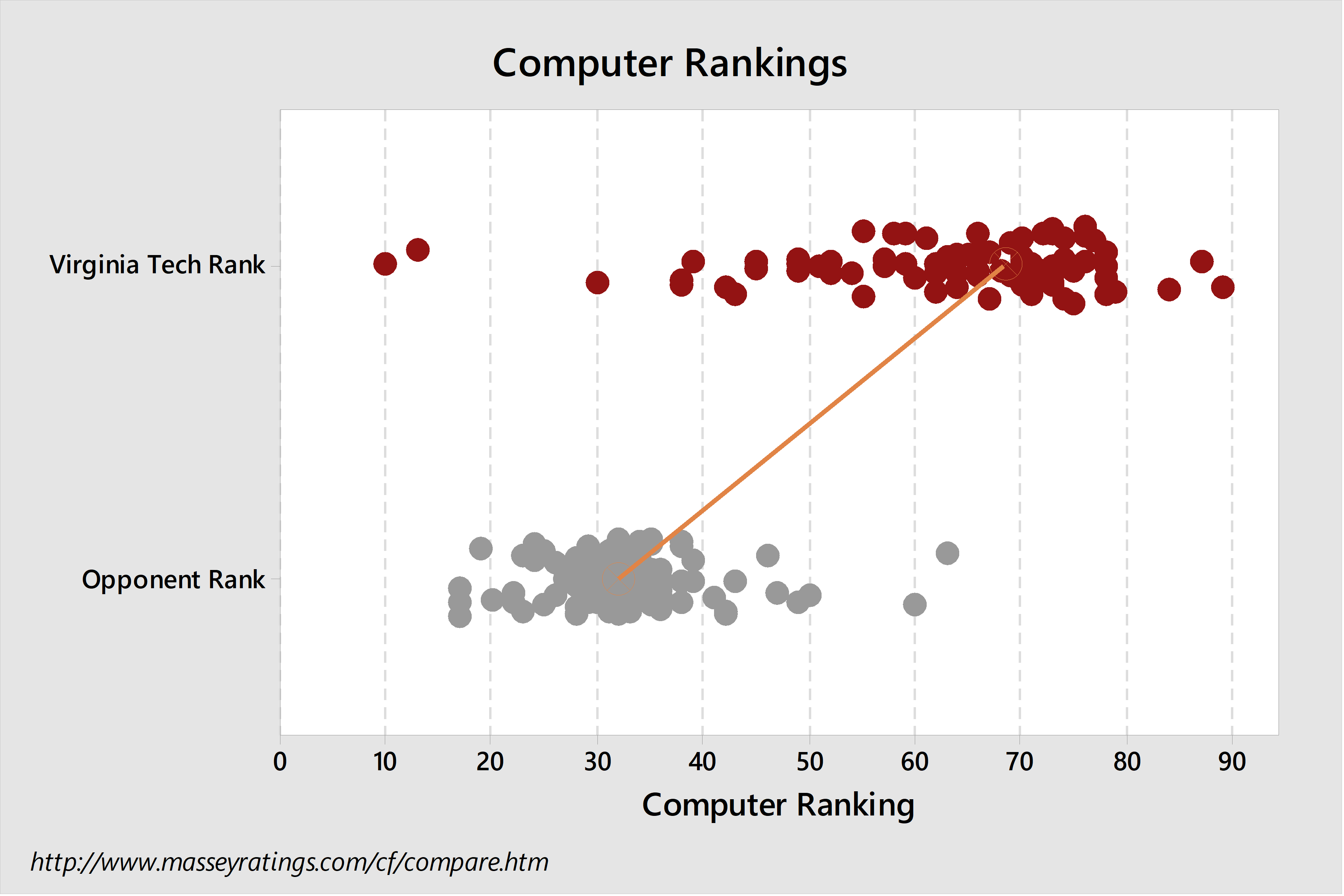 There's no question that Boston College is the higher ranked team, but teams do cluster near the middle so the abilities of each are not that far off. Virginia Tech also has home field advantage, making this an ever more challenging game to predict. The odds of a 2-point underdog winning is 44.0%.
Next is a look at any overall offensive or defensive advantages: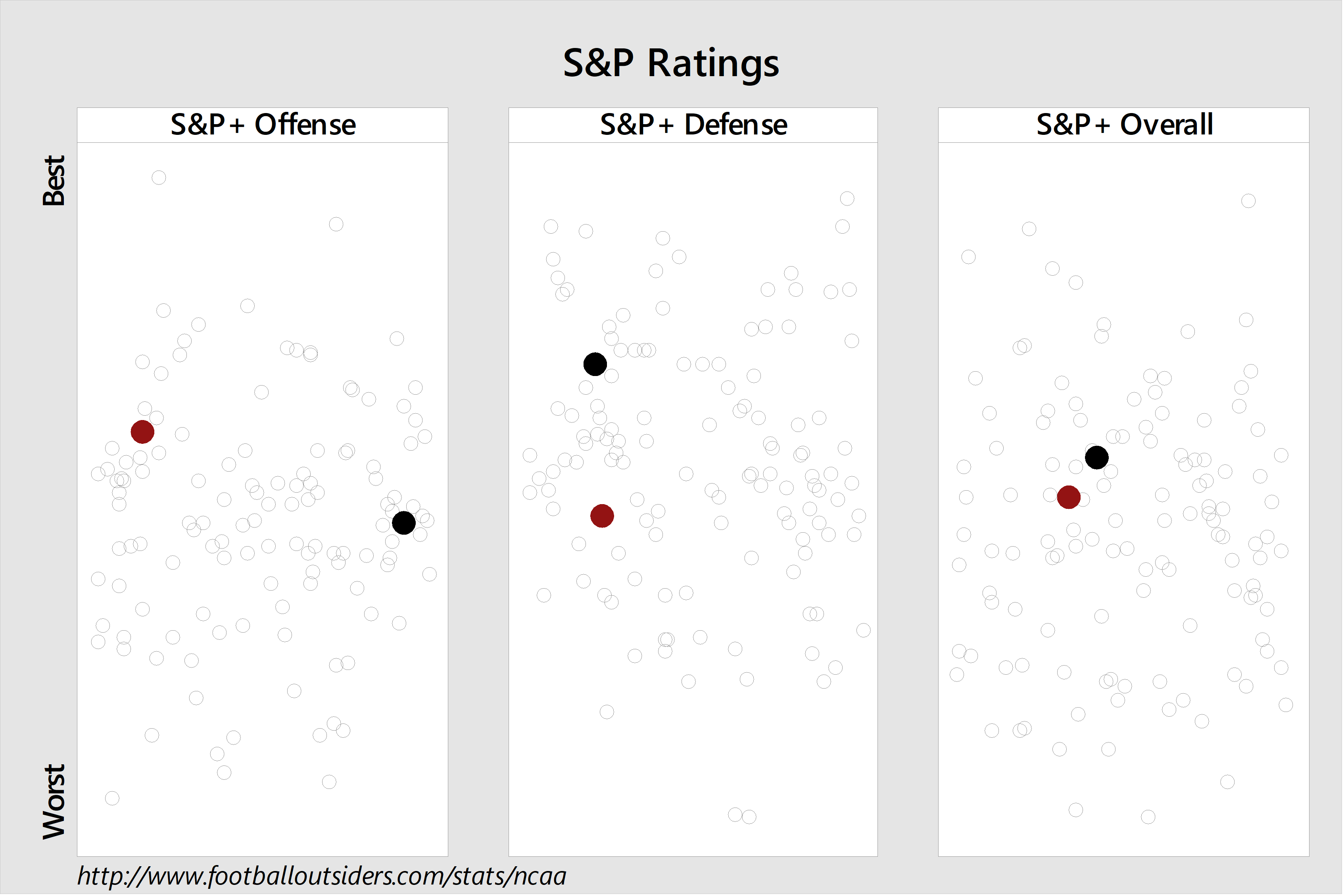 By opponent-adjusted numbers, BC's offense is not nearly as good as advertised despite being led by noted Tom Brady coach Scot Loeffler. The team has put up some high points in certain games, but none of those were against decent defenses — not that the Eagles will face a decent defense on Saturday. The team clearly has the advantage on the defensive side of the ball.
When Virginia Tech Has the Ball
Here is an explanation of S&P+ ratings, and FEI ratings. Most statistics are now opponent-adjusted.
Who has the advantage in the passing and rushing game when the Tech offense has the ball?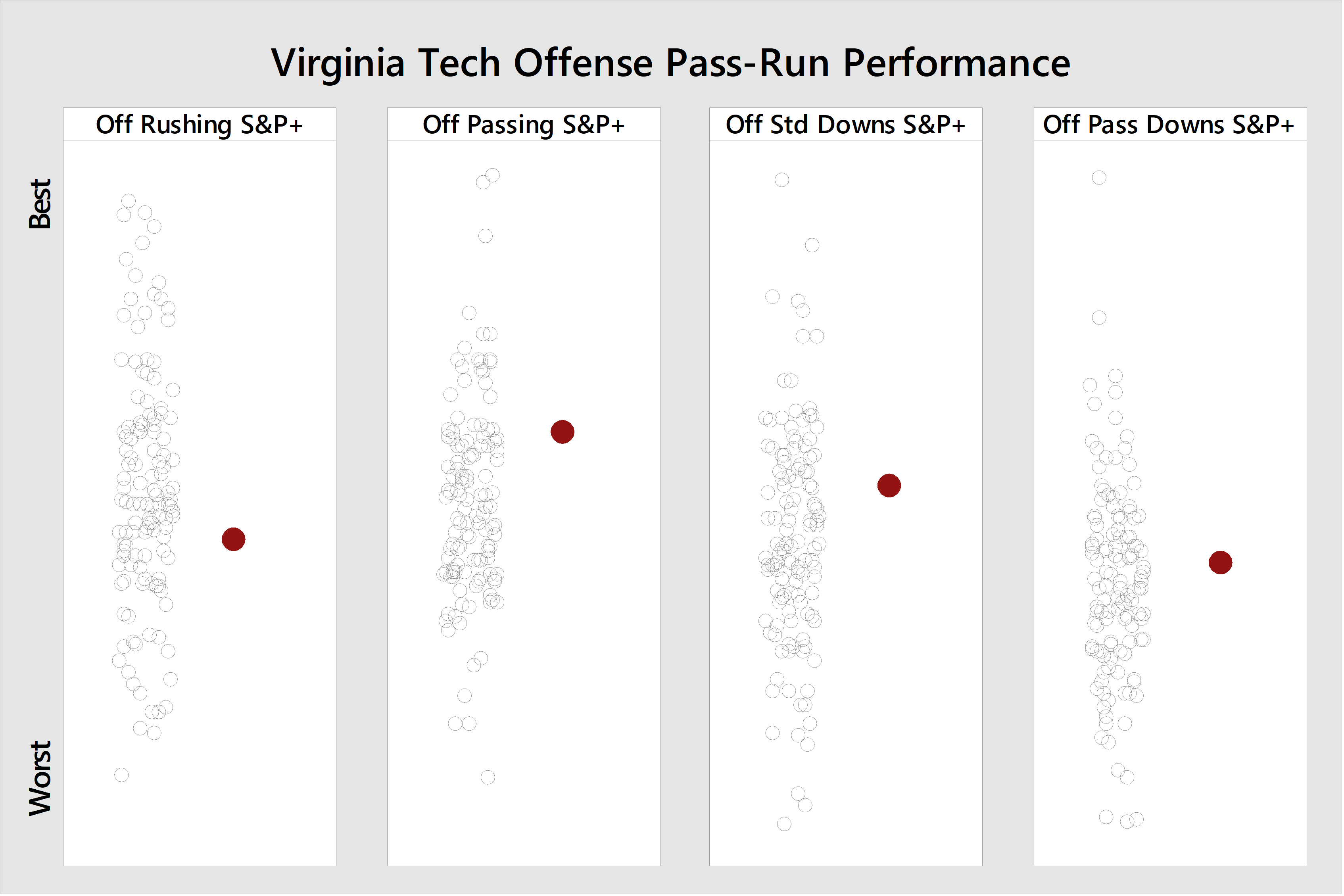 The Tech passing attack has actually been fairly good while the rushing game leaves something to be desired. The Eagles' defense matches up strength-on-strength and weakness-on-weakness.
What style offense do the Hokies use and what style will they face?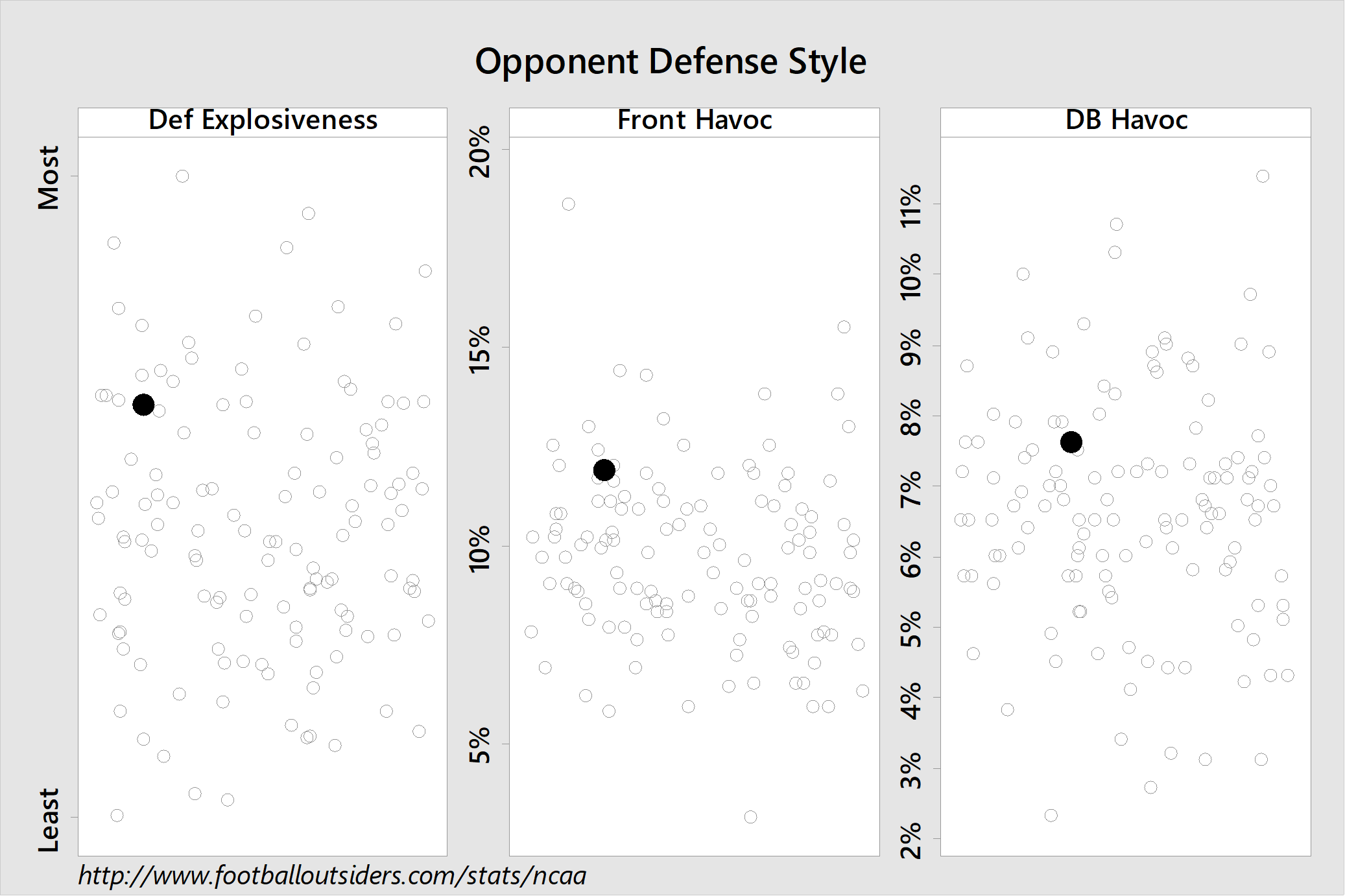 One of the highlights of the VT offense has been explosiveness, but again the Eagles line up strength-on-strength in being one of the better defenses at stopping explosiveness.
Offensive and defensive line performance are compared using Football Outsiders' metrics: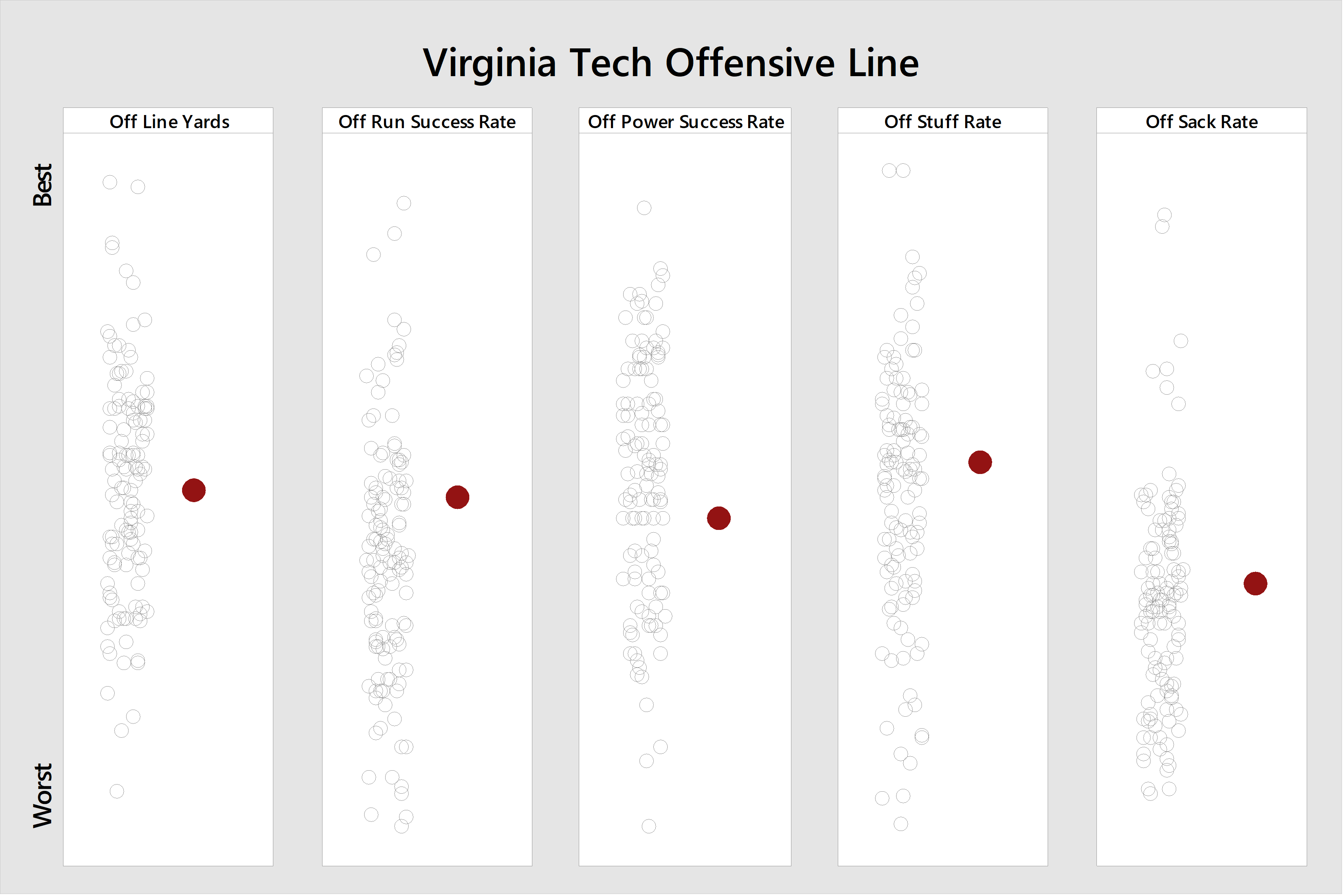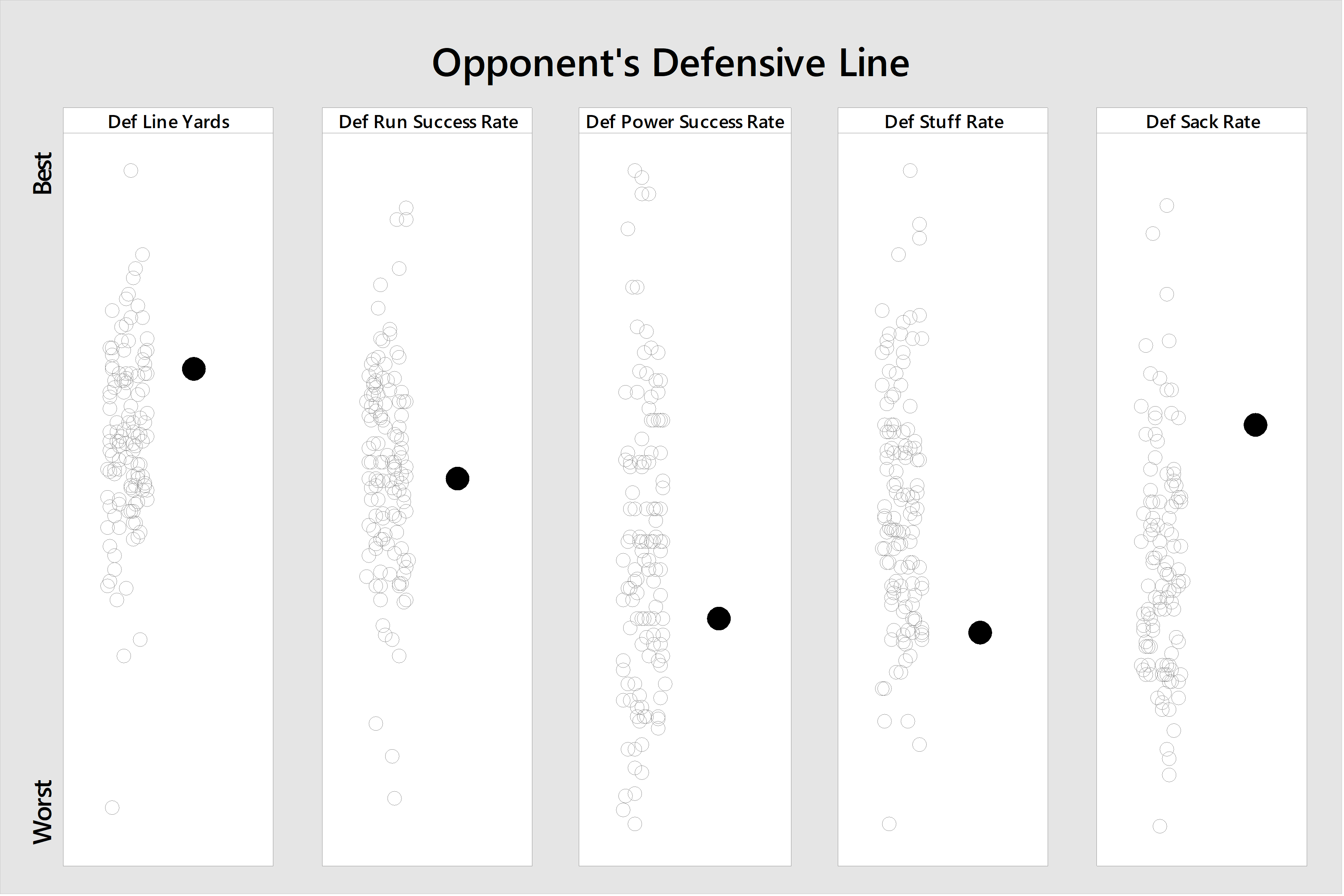 The Virginia Tech offense is closest in personality to:
Penn State
Notre Dame
UL-Lafayette
The Boston College defense is closest in personality to:
Iowa State
Central Florida
Penn State
When Boston College Has the Ball
Again, examine pass-run comparisons first:
The numbers actually flip the narrative on the BC offense. Running back AJ Dillon might have NFL potential, but overall the Eagles' rushing offense is well below average while their passing game is surprisingly effective.
What style offense do the Eagles use and what style will they face in the Hokies defense?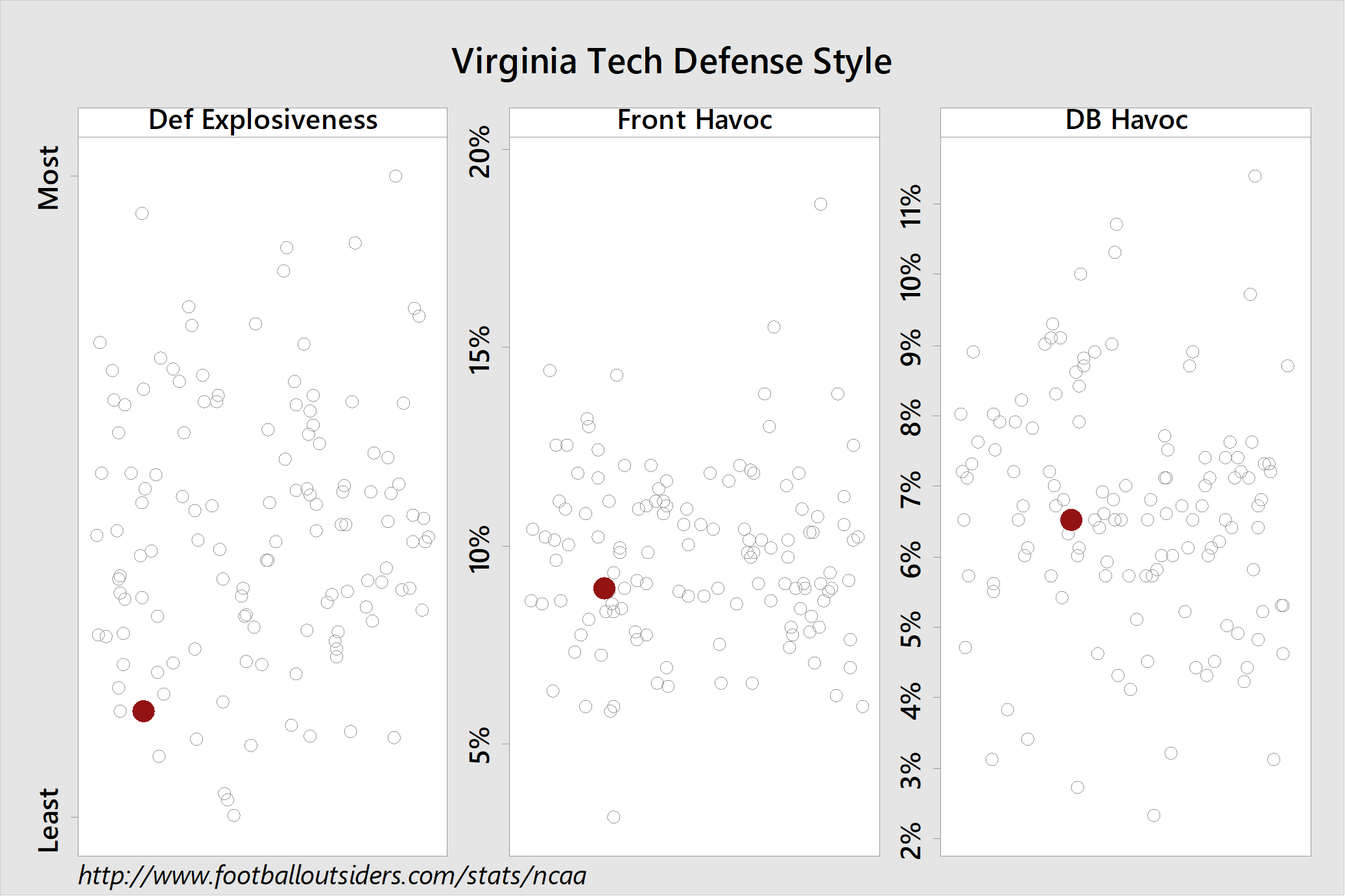 The Boston College offense is a molasses-slow, run-heavy attack that has not been particularly explosive, but will face a defense that is downright awful at stopping explosive plays.
Offensive and defensive line performance are again compared using Football Outsiders' metrics:
The Virginia Tech defense is closest in personality to:
Syracuse
Air Force
Rutgers
The Boston College offense is closest in personality to:
Florida Atlantic
Wake Forest
Illinois
Special Teams
First we look at Tech's kicking units: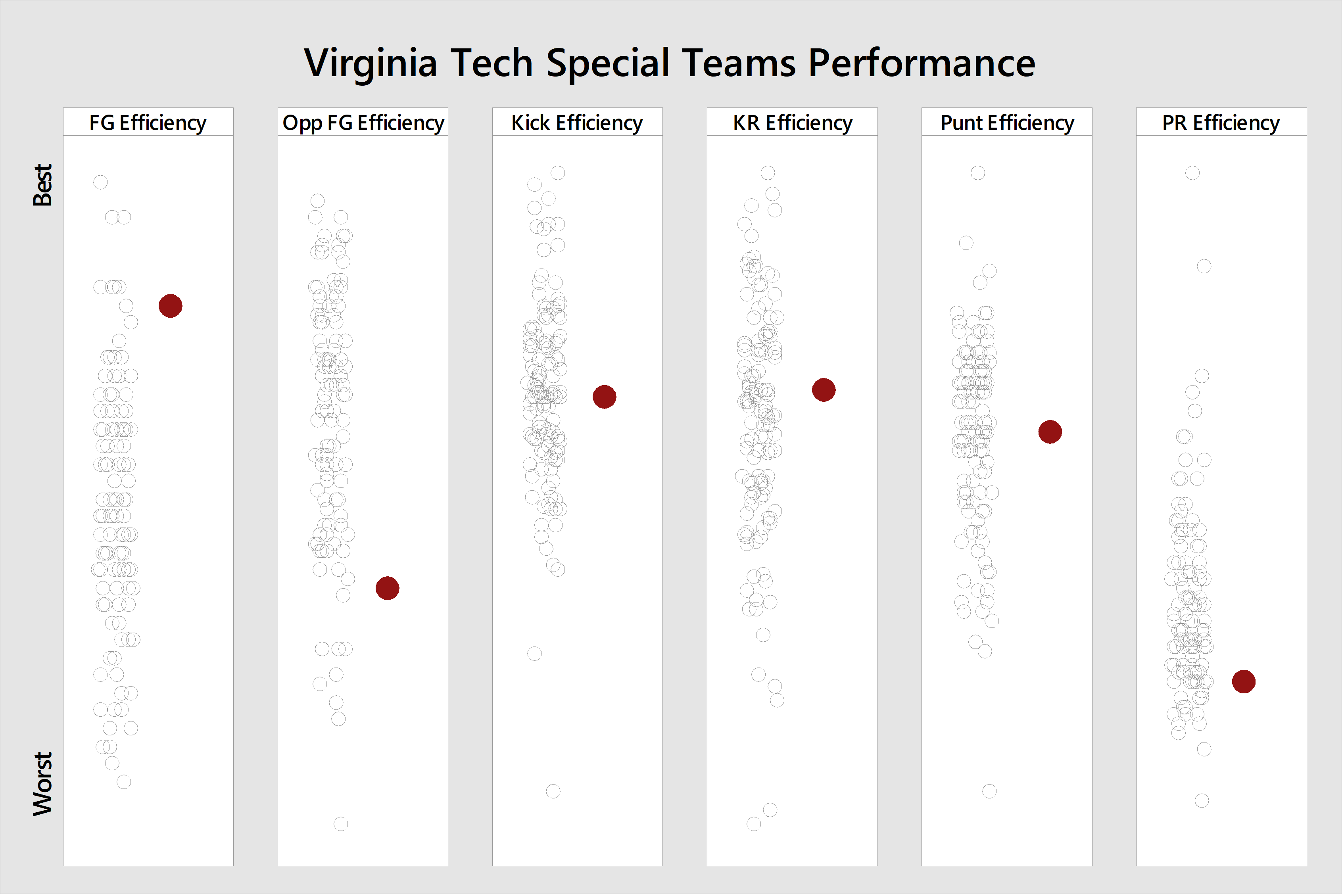 FEI is much less impressed with Hokie special teams than S&P+, ranking the unit 59th (compared to 10th). The low ranking on kicking and punting is confusing, as those units could not perform much better than they have to this point.
When the Eagles kick:
The Eagles have been great at kick returns, but it's not clear that will matter as the Hokies rarely provide an opportunity for a return.
Who To Watch Out For
Based on last week, it feels like the focus should be on the offense. However, Boston College has playmakers on the other side that can't be ignored:
RB AJ Dillon is a future NFL back that does not have a high YPC average (5.80), but is a workhorse. He ranks No. 2 nationally with 23 carries per game, and 4th nationally with 133.5 yards per game.
DL Wyatt Ray is tied for 3rd nationally with 9 sacks on the season, and pairs with Zach Allen who is 14th nationally with 12.5 TFL.
DB Hamp Cheevers is tied No. 2 nationally with 5 interceptions on the season. He's first nationally in most-West Virginia-name-not-from-West Virginia.
Statistical Key to the Game
Until proven otherwise, Virginia Tech needs to find a way to stop explosive plays to have any hope of winning games. The offense would be more than effective enough to win the division if the defense was up to its usual standards.
Hold the Eagles to 3 or fewer plays of 20+ yards and the win will follow.
Statistical Prediction
This game, like so many others remaining, could go in any direction. I'm comforted somewhat that the rankings still show the Hokies as competitive, because the team I've watched recently doesn't look like it could beat even UConn or Rutgers. So maybe this is the week Virginia Tech proves the season isn't hopeless...
Virginia Tech 28, Boston College 27
As always a thanks to Football Outsiders, cfbstats.com, and Minitab Statistical Software.