There is no good news to follow: if you can't handle the ugly truth, now would be a great time to stop reading.
Since playing Notre Dame, the Hokies have not had a 50+ percentile game yet. When one unit has performed well, the other has not. Against Georgia Tech, the Virginia Tech offense put together an 85th percentile performance while its defense gave a mere 12th percentile. Against Boston College, the defense managed a 57th percentile while the offense gave a 25th percentile.
Worse, there's no light on the horizon this season. Virginia is a clear favorite and Marshall is a good team. Everyone knew the streak against Virginia was going to end eventually, but I always hoped it'd be a fluke, not a result of a Virginia team being clearly better. That situation is far more foreboding looking forward. A team that is looking to take a step towards national respect now finds itself needing to earn respect in its own state.
Where the Season Stands
Virginia Tech is currently 4-6. The actual and predicted score difference and odds of winning each game are: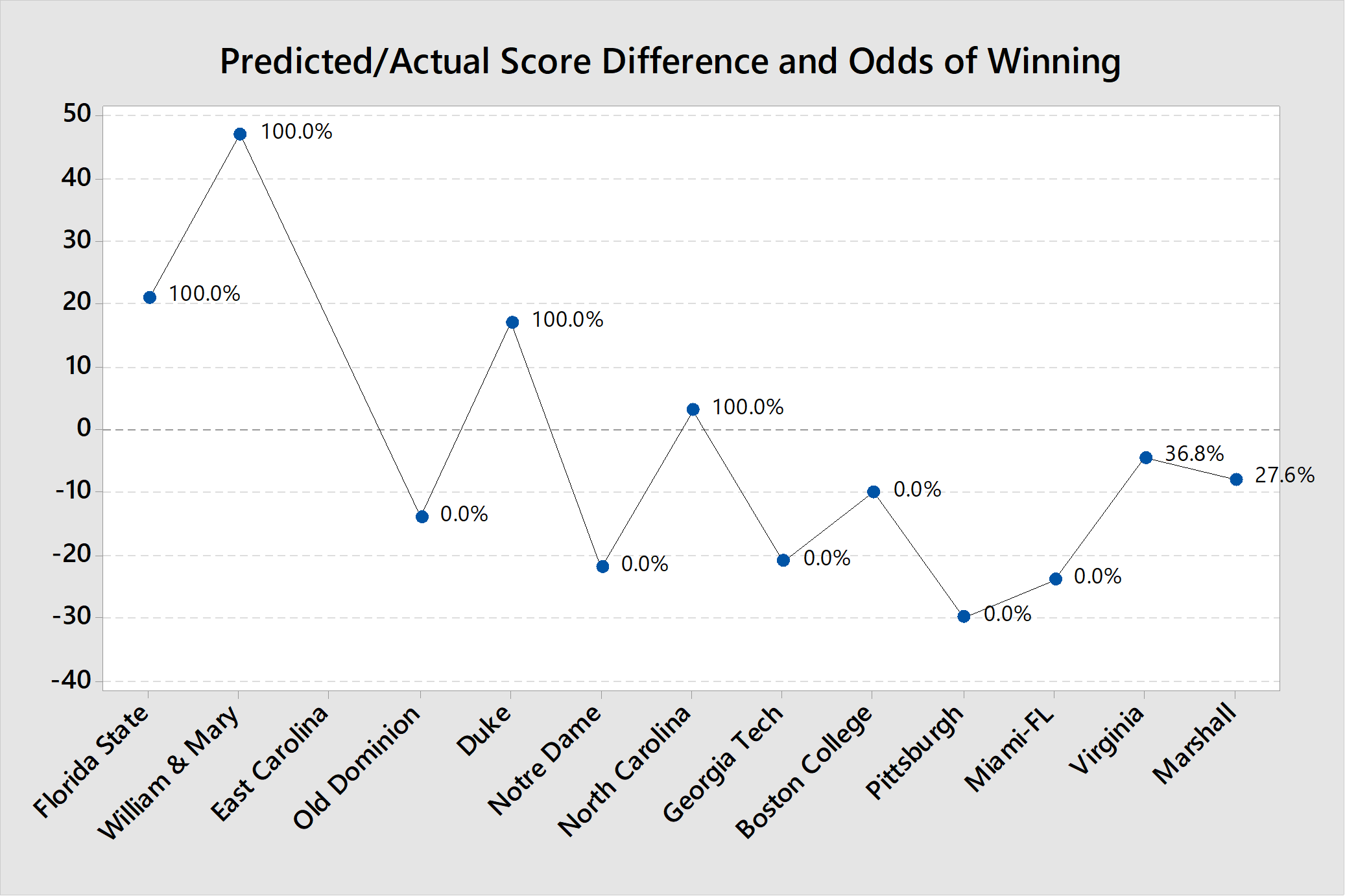 The odds of each possible regular season win total are now: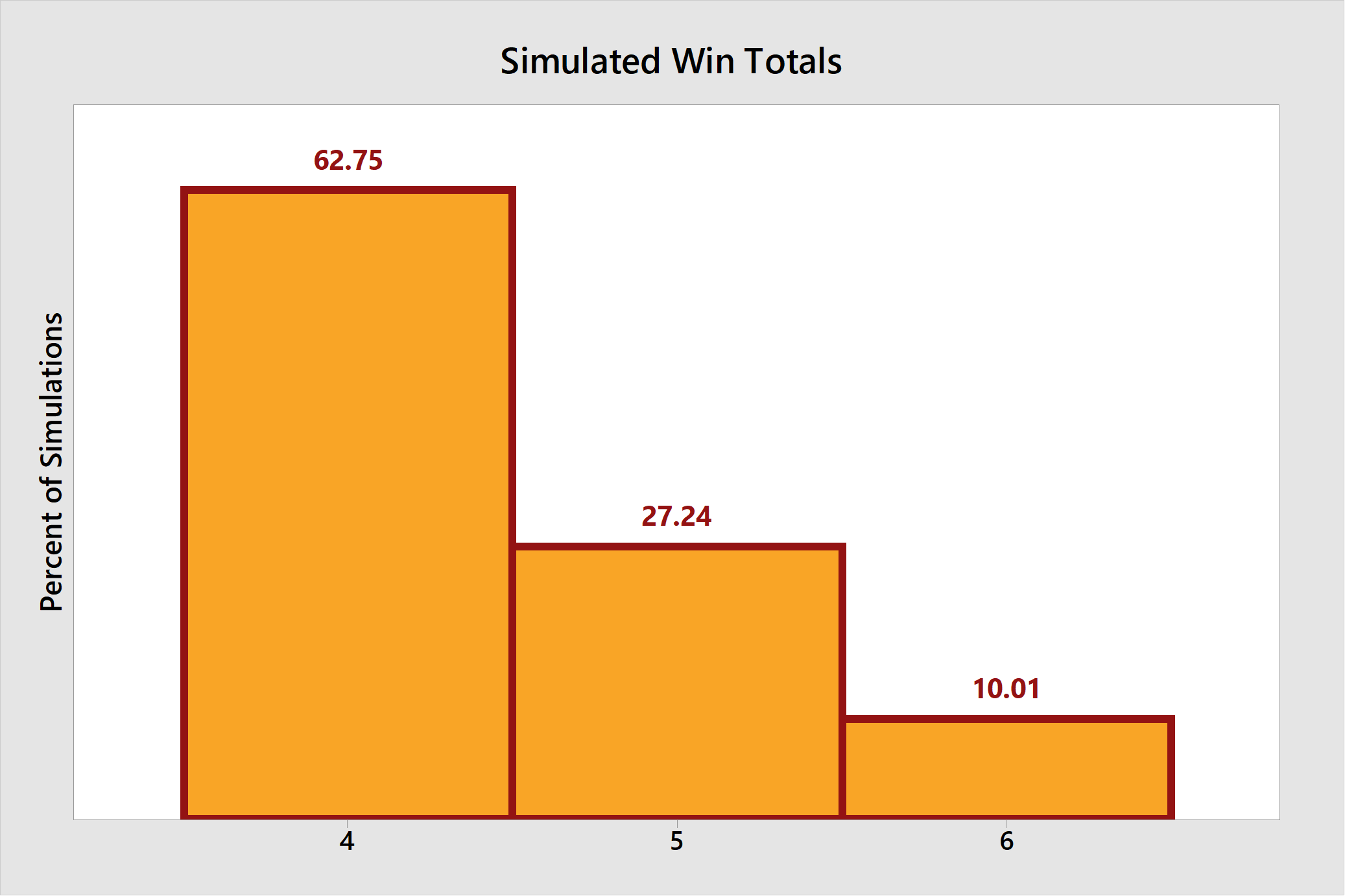 That is sobering to say the least. Whit Babcock was successful in scheduling an additional game should the potential for bowl eligibility exist, but the opponent — Marshall — is no pushover. A win against the Cavaliers would be far from a guarantee of a bowl appearance. That said, the future games named in the deal with the Thundering Herd make sense from a geographic perspective, and there are worse teams to play out of conference than Marshall.
Rankings and Computer Predictions
The computer rankings and predictions for each team: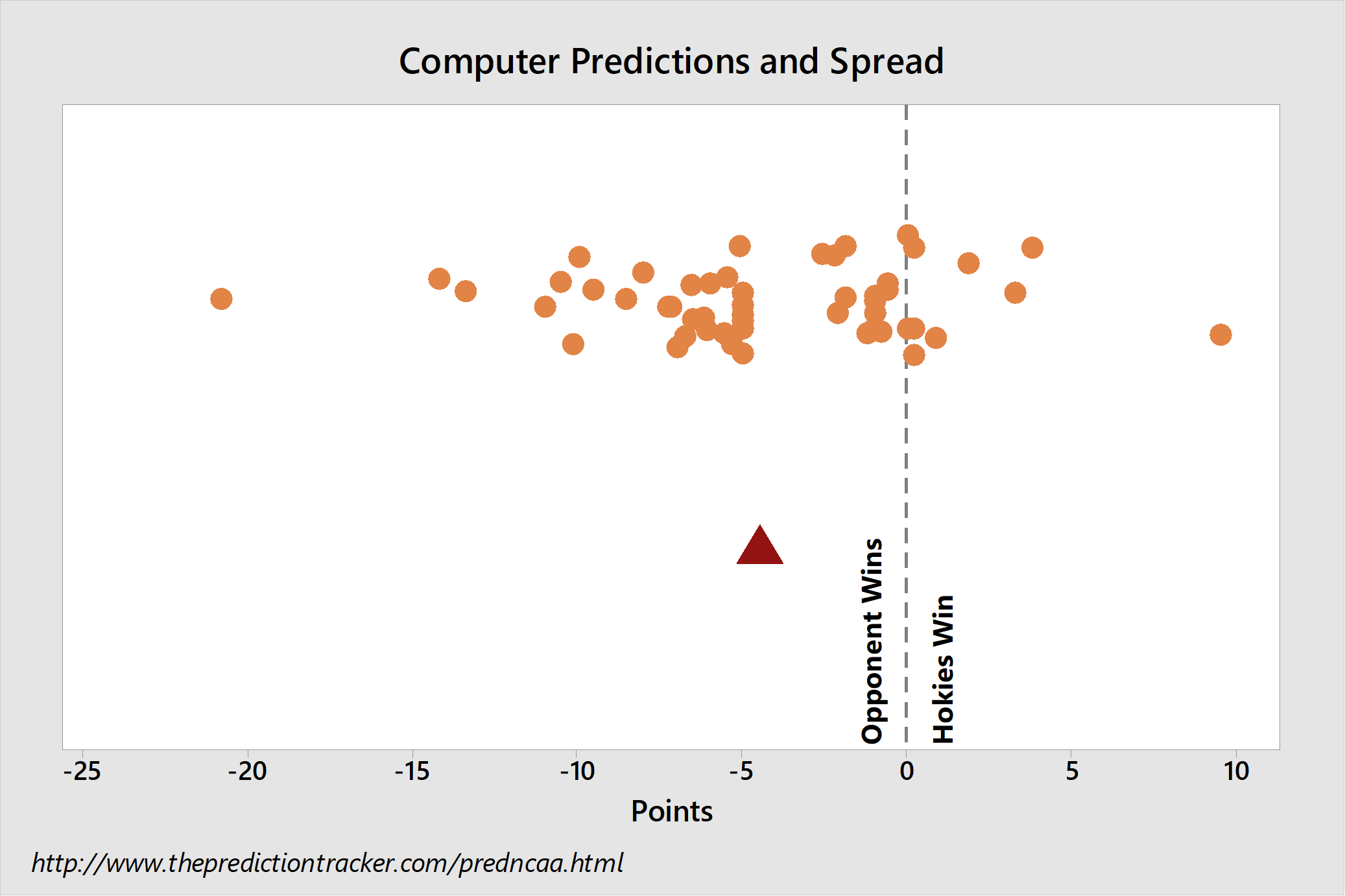 On the bright side, there are computers that believe Virginia Tech is more likely to win this game, not all hope is lost. The odds of a 4.5-point underdog winning is 36.8%.
Next is a look at any overall offensive or defensive advantages:
While both teams feature a middling offense, on the defensive side of the ball, the Hoos have a distinct advantage, led by a good secondary that excels at creating turnovers.
When Virginia Tech Has the Ball
Here is an explanation of S&P+ ratings, and FEI ratings. Most statistics are now opponent-adjusted.
Who has the advantage in the passing and rushing game when the Tech offense has the ball?
Across the board this is a strength-on-strength matchup in these metrics. Finding some success in the run game should be possible, but fans have been disappointed in such matchups before.
What style offense do the Hokies use and what style will they face?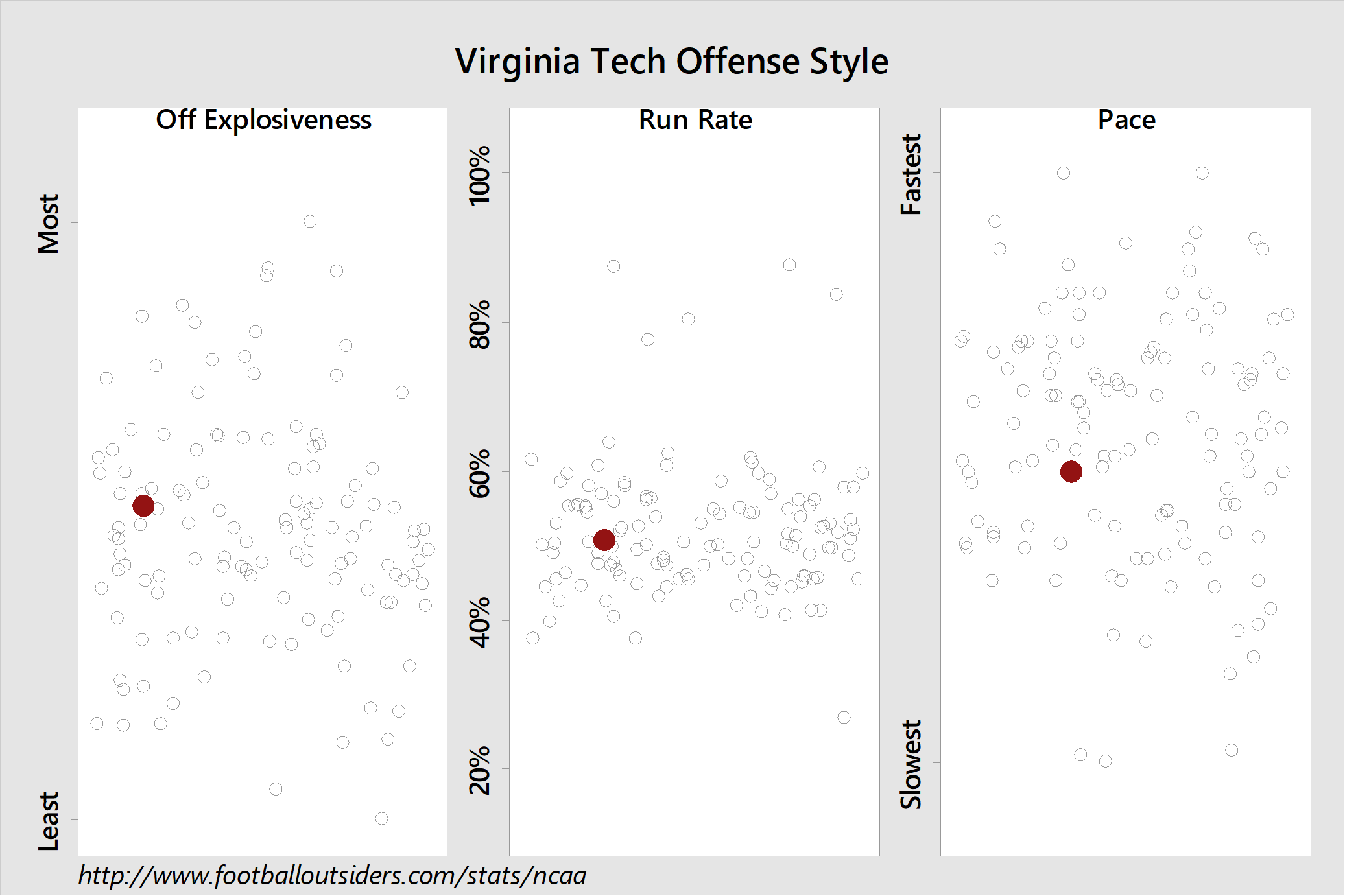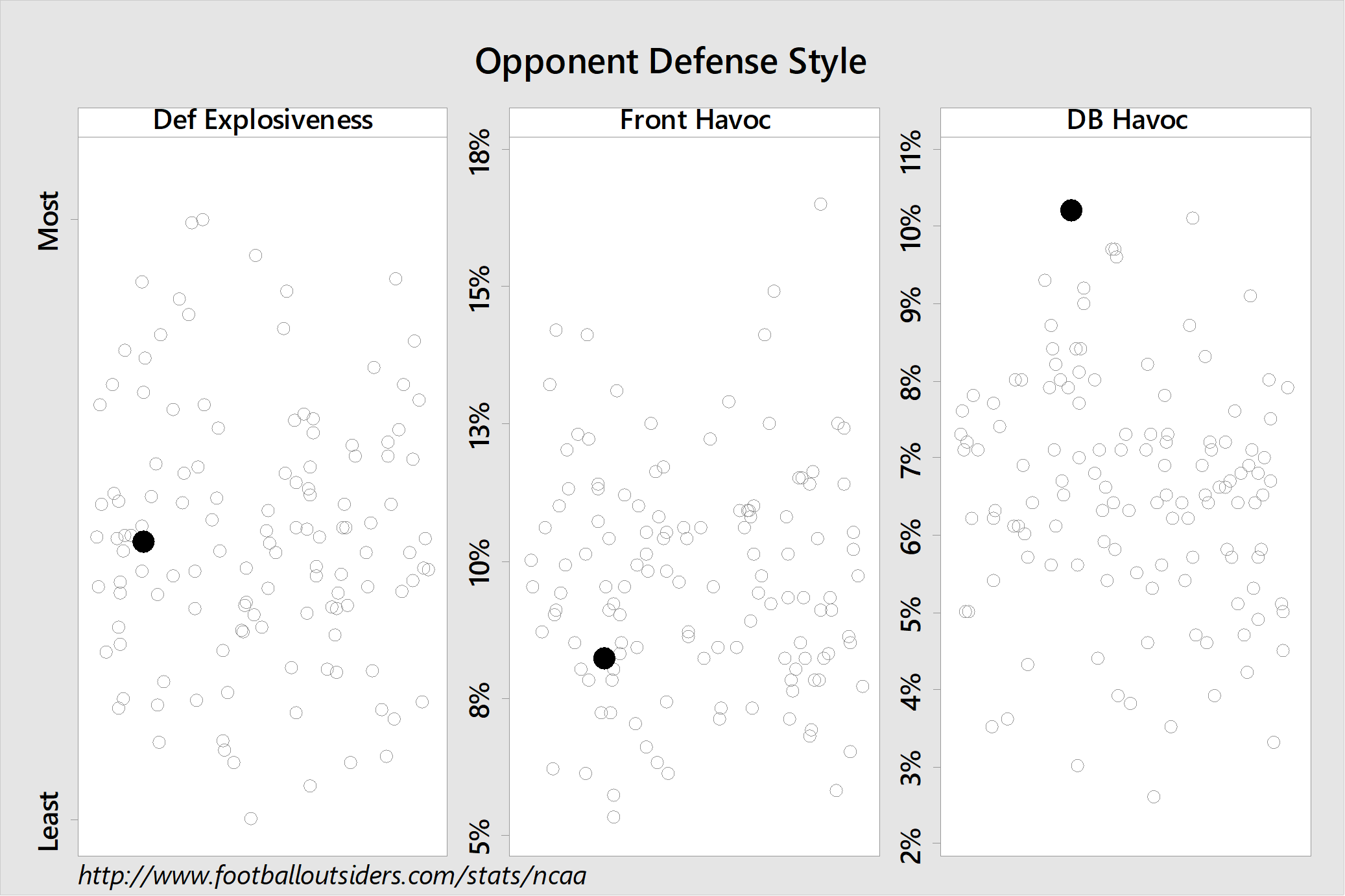 The Cavaliers secondary is a ball-hawking bunch, leading the nation in DB Havoc. Ball security will be really critical in this game because the Hokies defense can't be trusted to stop even the average UVA offense.
Offensive and defensive line performance are compared using Football Outsiders' metrics: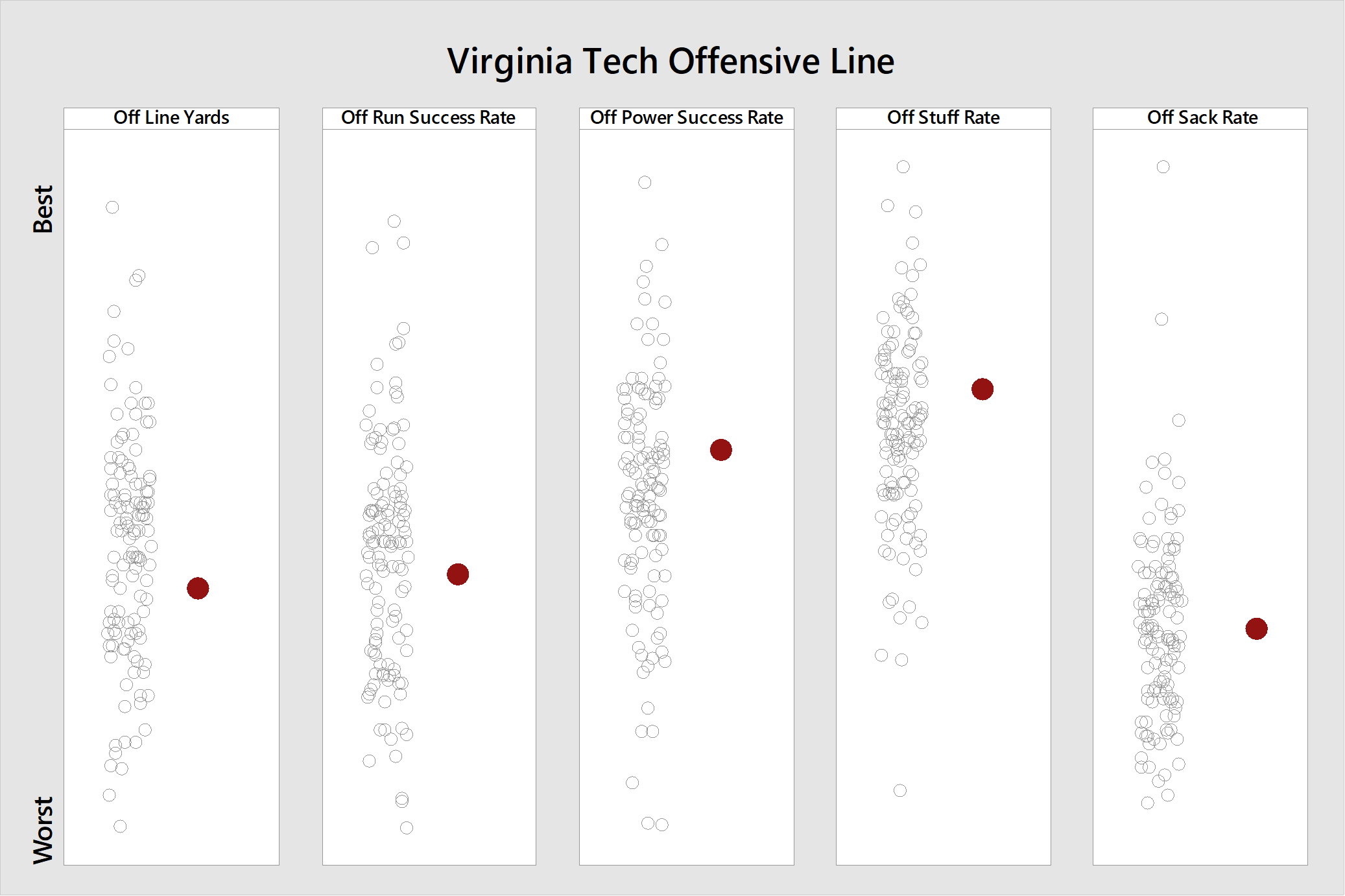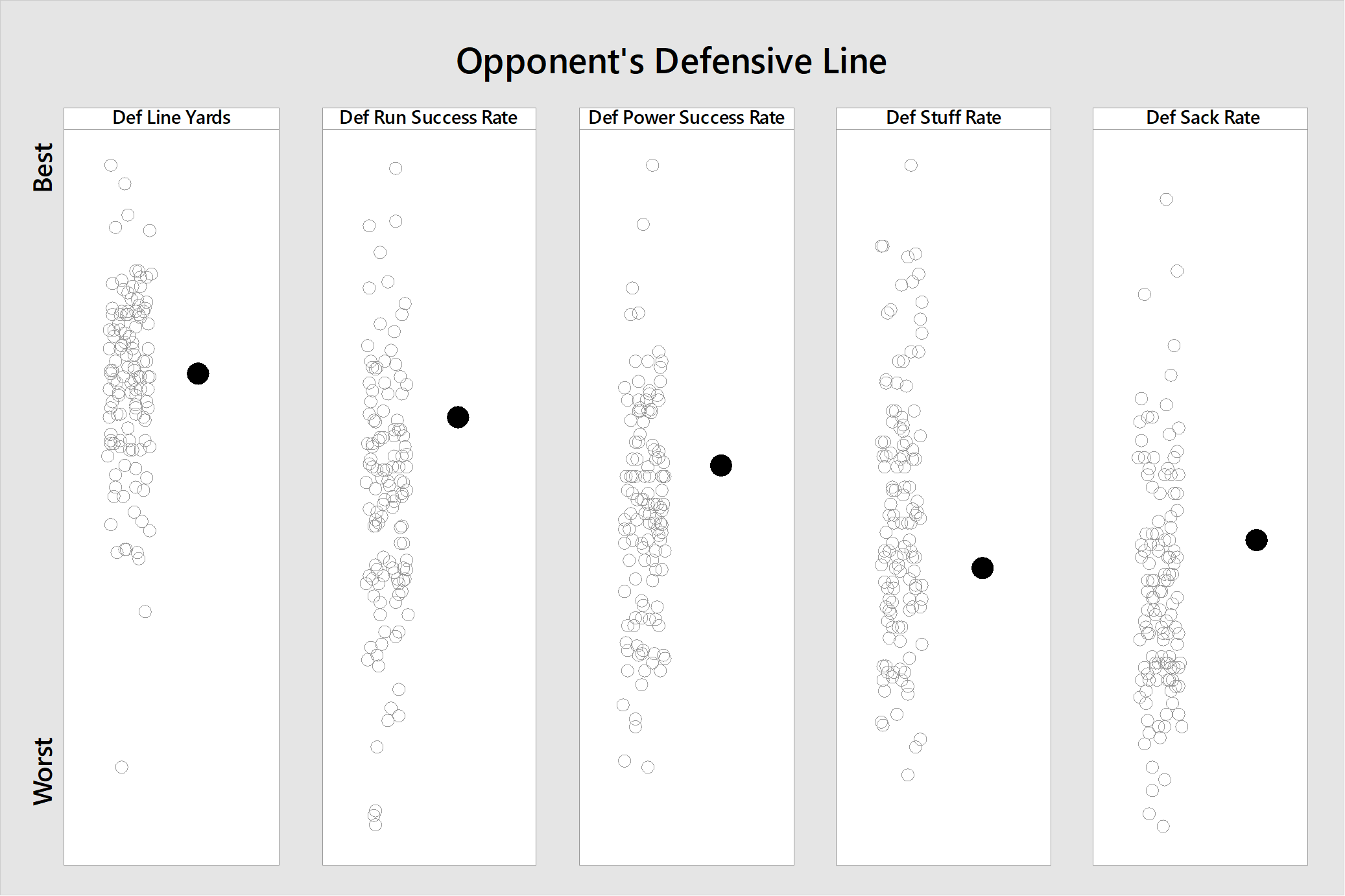 The Virginia Tech offense is closest in personality to:
Temple
Penn State
Arizona State
The Virginia defense is closest in personality to:
Southern Miss
Utah State
San Diego State
When Virginia Has the Ball
Again, examine pass-run comparisons first:
This is again strength-on-strength, if you can call any of the Tech metrics "strengths". Passing downs will be interesting — the Cavaliers have been terrible when forced into 2nd- or 3rd-and long, but the Hokies defense has likewise been pretty poor at stopping teams in those situations.
What style offense do the Cavaliers use and what style will they face in the Hokies defense?
The Hoos feature a fast paced offense, but have not been particularly explosive. But, as noted for several weeks now by anyone watching Virginia Tech football, the Hokies have a propensity for giving up big plays. This Bud Foster defense could best be described as "break-don't-bend".
Offensive and defensive line performance are again compared using Football Outsiders' metrics:
The Virginia Tech defense is closest in personality to:
Air Force
Wake Forest
UTSA
The Virginia offense is closest in personality to:
BYU (!)
Coastal Carolina
Iowa
Special Teams
First we look at the Hokies kicking units: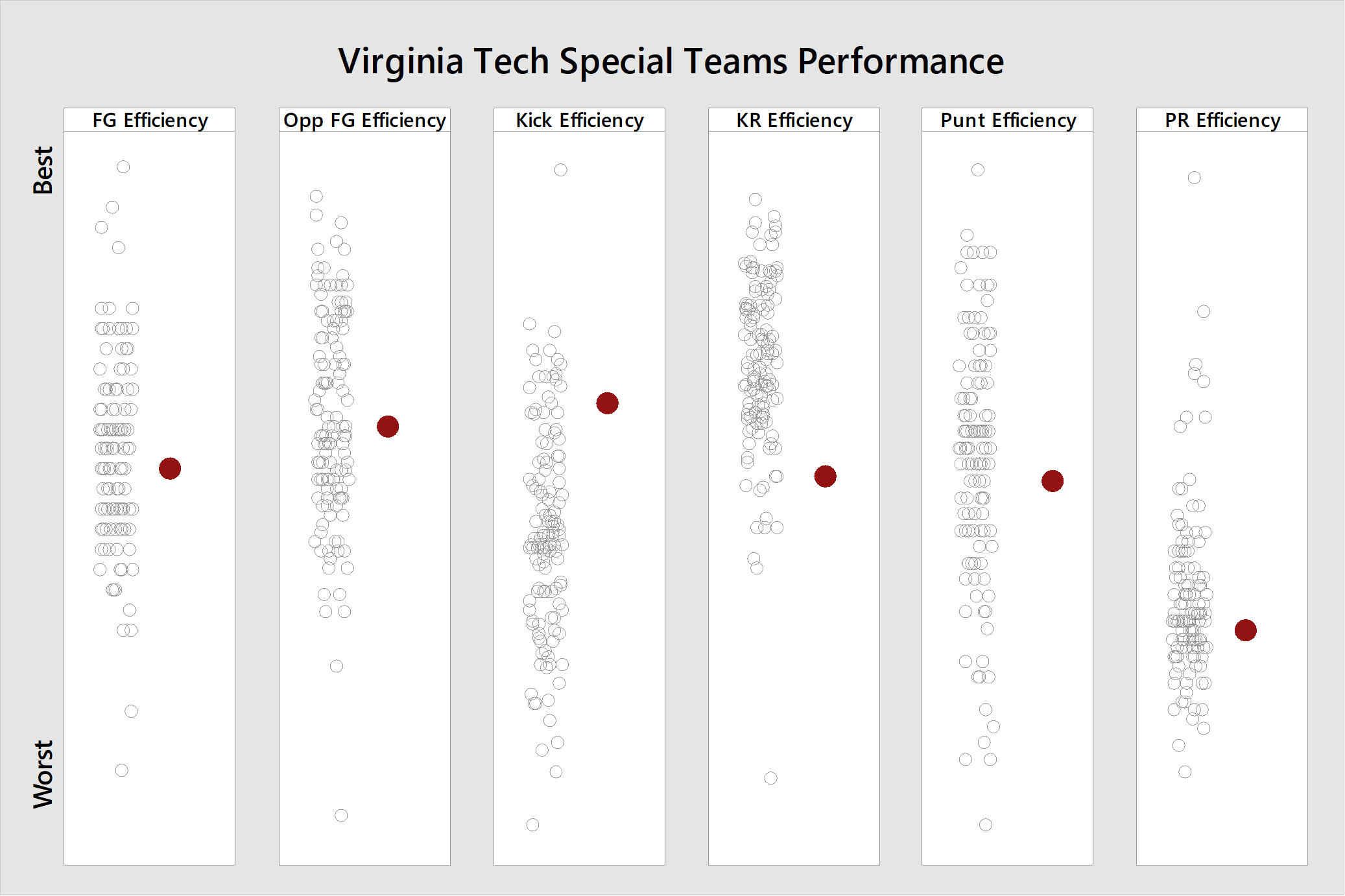 The Virginia Tech special teams have been excellent on kickoffs, but terrible at returning kickoffs. It's difficult to recall a return where past about the 15-yard-line it felt like there was even a chance of breaking one for a big gain or TD.
When the Hoos kick: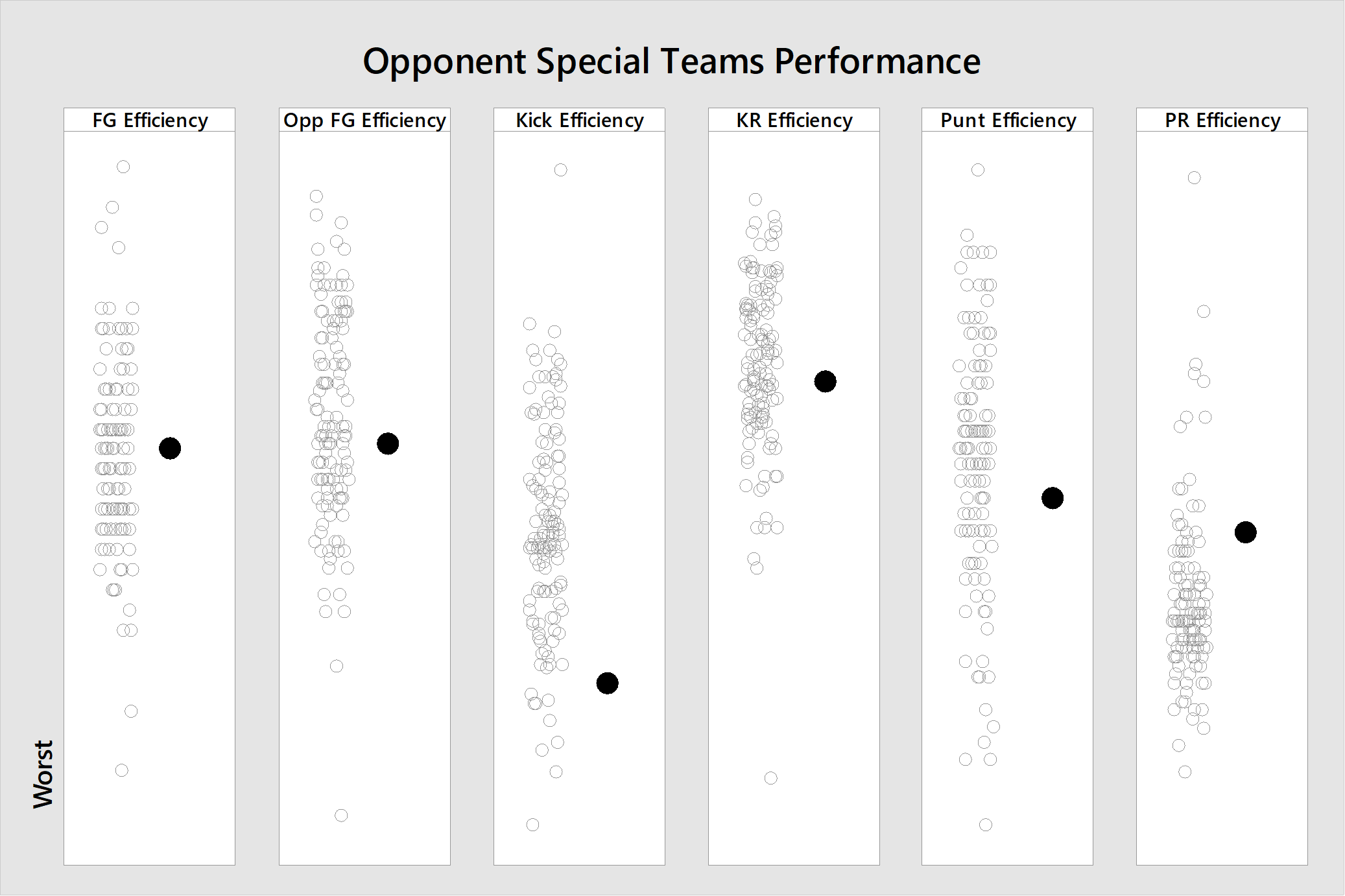 On the other hand, the UVA kickoff unit is among the worst in the country, ranking 109th with a return average of 23.35 yards. Perhaps this is the week.
Who To Watch Out For
The top-ranked DB Havoc rate doesn't come from, just anywhere...the Cavaliers have two playmakers as defensive backs:
SR DB Juan Thornhill (No. 21, SR, 6-0, 220) is 4th nationally with 5 interceptions.
JR DB Bryce Hall (No. 34, JR, 6-1, 200) is 1st nationally with 19 pass breakups.
Sr WR Olamide Zaccheaus (No. 4, SR, 5-8, 190) is 11th nationally with 7.1 receptions per game and has a 71.6% catch rate.
Statistical Key to the Game
Ball protection is key because the Hokies will have trouble winning a game in which they lose the turnover battle. The defense just isn't good enough to make that many stops in a game, and isn't forcing enough turnovers.
Turn the ball over once or less, and Virginia Tech might just turn it around just in time to keep one streak alive.
Statistical Prediction
It's difficult to have any confidence in the Hokies winning this game, and Virginia absolutely smells blood in the water. They are confident, but haven't come across as too cocky, like a couple of times in the past when they were ultimately embarrassed (38-0, bro).
I really believe this Hokies team is struggling due to lack of experience and even talent at certain positions, However, it is still really engaged and really, really wants this game. They know winning this game would do a lot to change the apathy of fans, and will come out fired up to show they are not the disaster they are being made out to be.
The UVA streak-breaking win will have to rely on some fluke game in a future season, because the Hokies can still win ugly and make it 15 in a row.
Virginia Tech 27, Virginia 24
As always a thanks to Football Outsiders, cfbstats.com, and Minitab Statistical Software.