Well, 4-4 is a tough pill to swallow, especially for what was supposed to be the first really good Virginia Tech team in years. There's no way to sugarcoat a .500 record eight games into the season, and even the most optimistic fans must surely be disappointed with that result.
One of the most valuable aspects of analytics is they allow us to go deeper than W-L to better evaluate how good a team really is and what should be expected moving forward. While wins and losses may paint a portrait of what a team has done to date, efficiency, turnover luck, opponent adjustments, and other factors help determine what might to expect moving forward. So not to excuse four losses — especially when poor coaching decisions and ill-timed, unnecessary penalties deserve part of the blame — but let me pick everyone's head up for a minute.
According to Brian Fremeau, only UNC and Louisville beat Virginia Tech in yards per play and only UNC gained a higher percentage of available yards. Bill Connelly doesn't share his full data, but he indicated on Twitter that both Liberty and Miami had post-game win expectancy under 50% against the Hokies. The teamrankings.com luck ranking has Liberty and Miami as the top two luckiest teams in the country. Virginia Tech ranks 113th. The Hokies' SP+ rating went up after the Miami loss.
In short, the results to date do not reflect the quality of Virginia Tech.
So given that, should 4-4 Virginia Tech be an even matchup against 4-4 Pittsburgh or do their underlying metrics suggest not? Will home field advantage tip the scales in the Panthers' favor? Did the school set a hard limit on the number of fans in attendance, or deem it not really necessary because typical Heinz Field attendance keeps fans well distanced?
Where the Season Stands
Virginia Tech is currently 4-4. The actual and predicted score difference and odds of winning each game are: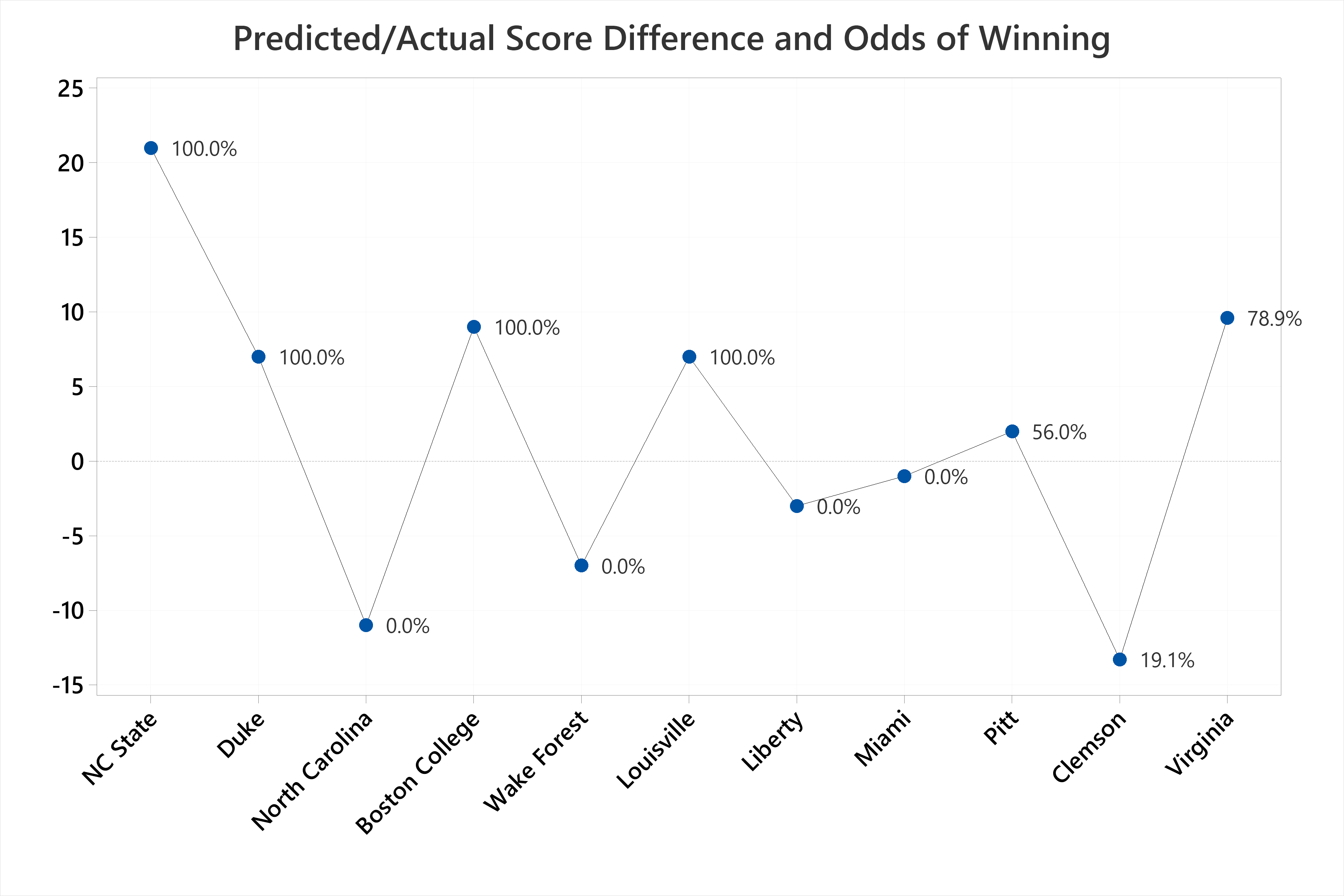 The odds of each possible regular season win total are now:
That's about an 84% chance of 1 or 2 more wins, and the rest is spread fairly evenly between winning out and losing out. The good news is that if there's only one more win to be had, it's most likely to come against Virginia — a result that wouldn't cure a 5-6 season but might lessen the blow a little.
Based on FPI, the odds of each ACC team beating the ACC teams on their schedule is:
I'm not going to even try to work out a scenario where Virginia Tech appears in the ACC championship game, but if I had to I'm pretty sure it involves winning out, some unlikely game results, and massive COVID outbreaks on a couple of teams that last for weeks. At this point, the most successful outcomes involve just having a winning record and finishing 7-4 would be a huge finish.
That said, the Hokies continue to hover around a 20% chance of beating Clemson which...isn't bad...
Virginia Tech Leads the Nation In...
Among teams that have played a "full" season so far, Virginia Tech has the highest run percentage in the nation at 62.3% for a non-triple option offense. And why not? Cincinnati is the only team in the country with a higher rushing average and the Hokies are gaining more rushing yards per game than anyone else as a result (again, excluding triple option teams and those that just started their season).
That efficiency will meet a challenge on Saturday, as the Panthers have the second lowest rush average per carry allowed in the country (2.4). Will the Hokies continue to try to keep the ball on the ground or take to the air? The answer is jet sweep. When in doubt, jet sweep.
Rankings and Computer Predictions
The computer rankings and predictions for each team: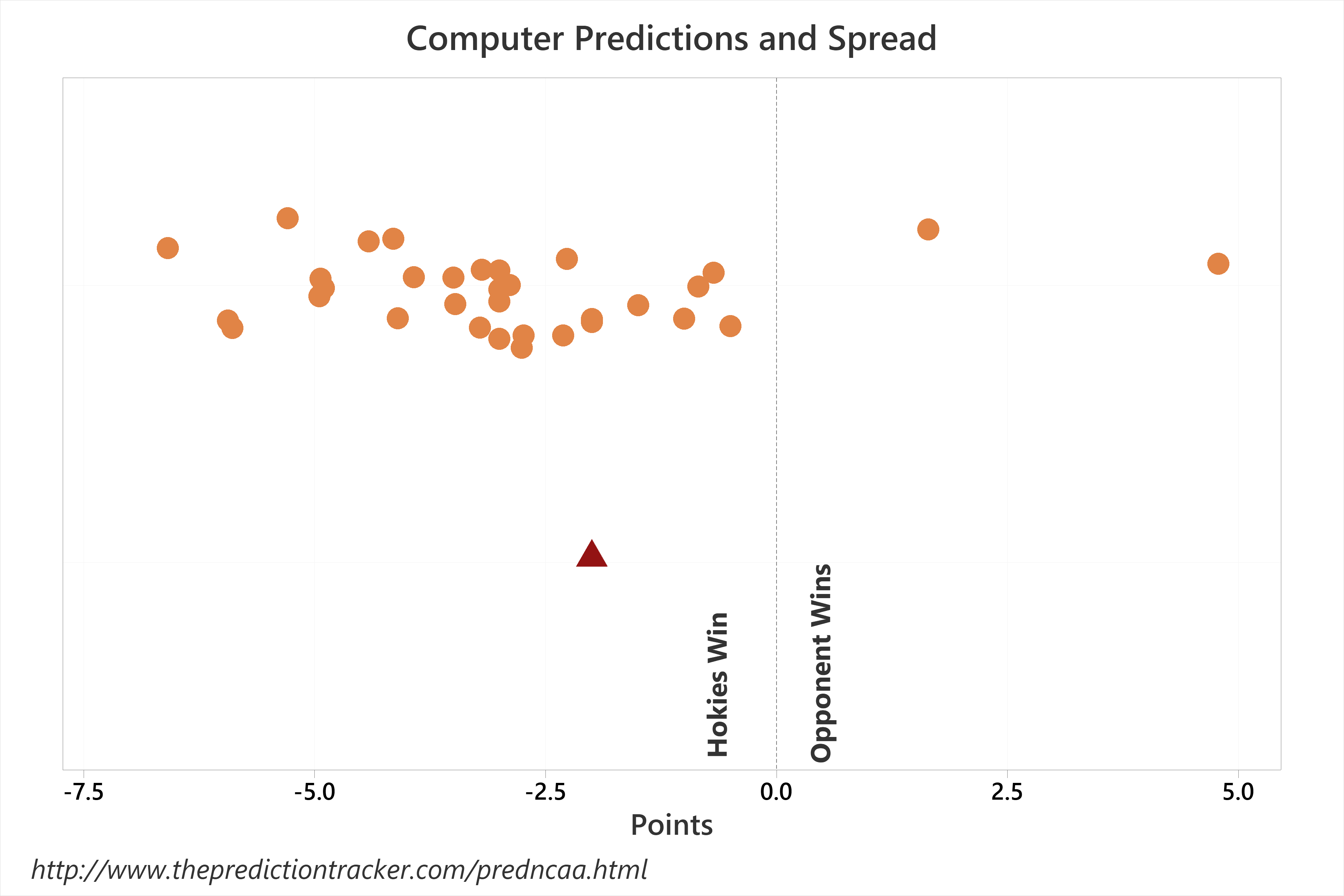 On a positive note, almost every computer predicts the Hokies are more likely to win this game than the Panthers. Less positive, games vary a huge amount from expectation and those computers all give Virginia Tech only a slight edge, aided by Pitt's home field advantage. The odds of a 2-point favorite winning is 56%.
Next is a look at any overall offensive or defensive advantages: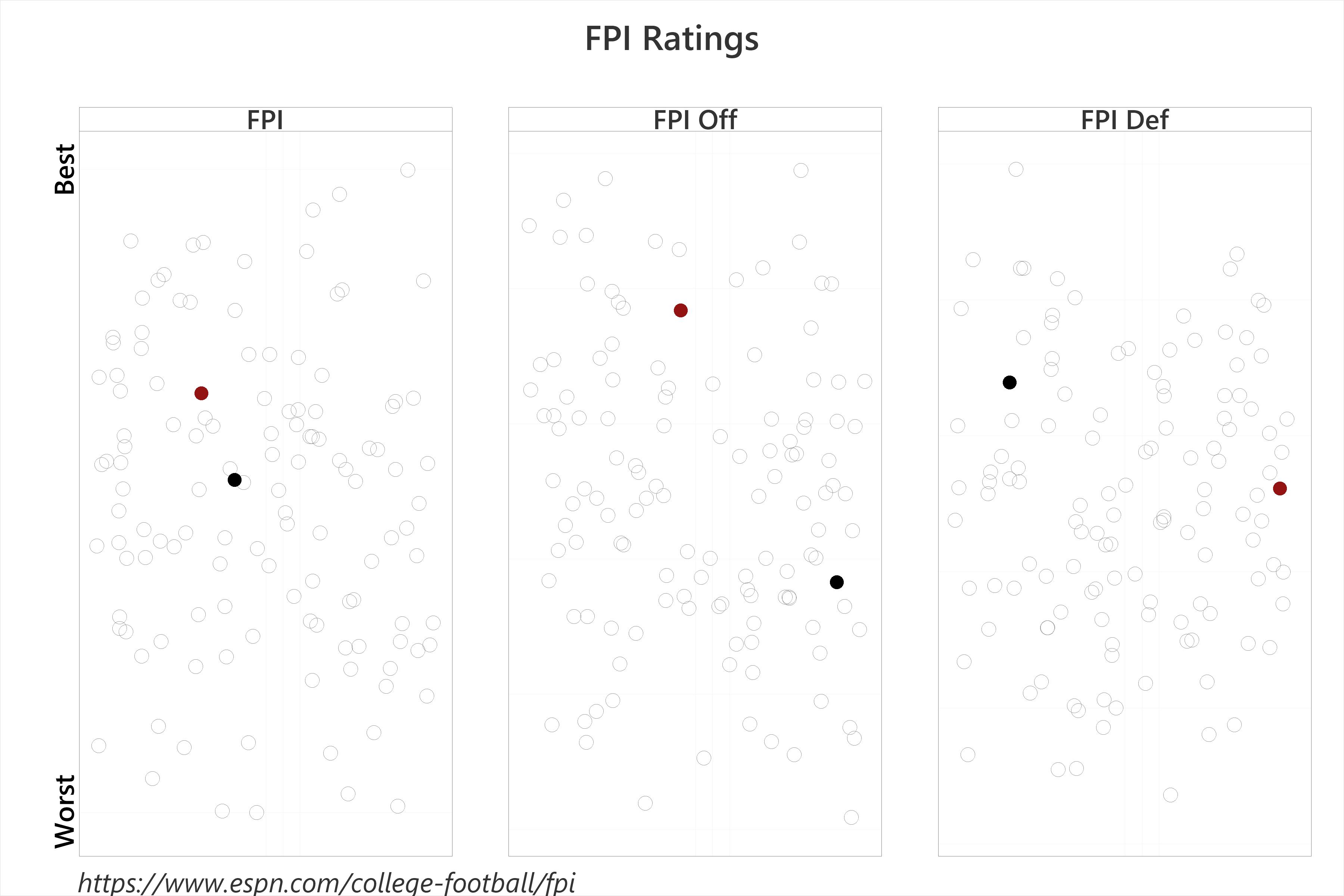 Subpar offense, good defense? Yep, that's a Pitt team. Only thing missing is a bruising running back. The matchup is definitely strength-on-strength, especially on the line as one of the better offensive lines in the country will face one of the best defensive lines.
Who To Watch Out For
Kenny Pickett is STILL the quarterback of the Pittsburgh Panthers:
QB Kenny Pickett is 18th nationally in pass attempts per game at 34.5 so look for a heavy passing load. It's not just media but the team itself that seems hellbent on convincing people Pickett is a good quarterback. He ranks 55th nationally in passer rating, 49th in YPA, and 52nd in completion percentage. Pitt is 47th nationally in sack percentage allowed. The best pass defense Pitt has faced is Syracuse, who ranks 45th nationally in opponent QBR. And yet 34.5 times a game, they drop Pickett back to pass.
All those passes have to go somewhere, and freshman WR Jordan Addison leads the team and is 23rd nationally with 6.5 receptions per game
SR DL Patrick Jones II has 8.0 sacks on the season for a total loss of 72 yards — 9 yards per sack! Among players with at least 5 sacks, that's the highest average yardage loss per sack.
Statistical Key to the Game
Line control on offense will be critical for the Hokies. Whether via play-calling or execution, Virginia Tech has to avoid taking tackles for loss as they are unlikely to execute well enough in a drop-back passing game which requires time for plays to develop. The Hokies currently allow 5.25 TFL/game, and if Pitt is going to win they will have to exceed that number because they are unlikely to win it in other ways. If the Hokies can limit the carnage to 5 or less a win should happen. Six or 7 and this becomes a toss up. Eight or more and I hope no one wasted their good bourbon watching it.
Statistical Prediction
As with so many other games, I feel like the Hokies have the ability to win this easily but play-calling could easily shoot themselves in the foot. For every time it seems like Brad Cornelsen really takes advantage of an opponent's weaknesses, there's another where he plays into their strength. And I have no idea what Saturday will bring, but feel like I will probably read way too much into what happens on the first few plays on offense.
Virginia Tech 30, Pitt 27
As always a thanks to ESPN, Football Outsiders, cfbstats.com, and Minitab Statistical Software.