For those playing along at home, and that's less and less of the fanbase each week, mark a 47-14 ass whooping at Pitt on your Hokie bingo card. That's the same Virginia Tech squad that closed as a 6.5-point favorite, the one that SP+ predicted a near 6-point Tech win. Obliterated by a fellow, then-4-and-4 squad.
It was more of the same for Tech. A hollow defensive performance punctuated by a La-Z-Boy soft coverage cushion which allowed 404 passing yards. Fun fact: Pitt embarked on six scoring drives of 65-or-more yards. And the offense, well, it managed to get out its own way and exhibited brief signs of life in the second quarter before flatlining down the stretch.
It was, quite simply, embarrassing football, put forth by a head coach in over his head, wrapped up by a tone-deaf post-game press conference.
That was a blend of aloof, defensive and condescending that settles the stomach about as well as a chili-cheese dog seconds before a four mile jog.
Perhaps the low point was Justin Fuente's response when he was grilled on Tech's abysmal performance on money downs — 3/11 and 0/3, on third and fourth down, respectively.
"Yeah on 4th-and-1, that's a play we've been running for four years, it's been pretty good for us. It worked pretty good every time we run it through the history of time for us."
Consider me shocked that perhaps the play calling tendency of the QB power might help Pitt overcome an otherwise 8-against-10 disadvantage with one-yard to defend.
Right before the play ran, ACCN's Eric Wood said, "I would bet Hendon Hooker keeps the ball in his hands here with Khalil Herbert running in front of him to block."
And... yup:
That analysis also glossed over Tech couldn't win a plus-two matchup and the only (attempted) goal-to-go touch for Herbert was a dead on arrival pass out of the backfield instead of letting the man cook from one-yard out.
And for good measure, Fuente proceeded to follow a line of thinking that led him to provide an insightful look at a failed attempt against Miami.
"Versus Miami, it's 3rd-and-8 and we called the inside zone into Cover 2 and our right guard got his ass whooped by the three-technique."
Seemingly, this was supposed to evidence why another purported good play call — run against two-high/softer box —failed. When in reality it was another example of passing the buck.
Or maybe it bottomed out when Fuente was asked if he was cognizant of the fanbase's frustration.
"No," said Fuente. "I mean, I'm sure people are upset, but I mean guys we're playing football in the middle of a pandemic. The most extraordinary of circumstances we've ever seen. I couldn't be more proud of our guys and how they've hung in there through the entire thing. Do we expect to play and win? Yes, absolutely."
Unfortunately, the pandemic does not excuse the coaching malpractice that bungled away the Liberty game, nor the coward-ass offensive approach against Miami that wasted an inspired defensive effort, the downward recruiting trend — which now includes an in-state commit flipping to Boston College — and any and every mismanagement of the program, the media that covers it and its fanbase. Hey, remember when Tech, which has rifled long field goal attempts all season, decided to run Quincy Patterson on 3rd-and-26 from the Pitt 39 instead of trying to pick up some yards for a manageable field goal attempt. Those shortcomings have been consistent, pandemic or not.
"The notion that something terrible is wrong or whatever is just ridiculous."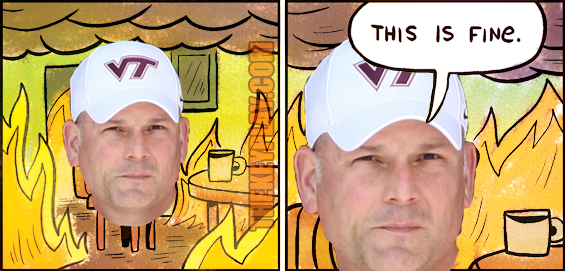 (It's not fine.)
No, the worst part of that was Fuente's flippant response when asked if he might consider taking over offensive play calling.
"No, that's the most ludicrous crap I've ever heard. Next question."
It was a fair question, although perhaps Fuente's right that it doesn't make much sense for him to grab the sticks from Brad Cornelsen on a week's notice. The unsettling part is what's between the words.
Fuente's going to do things his way, to a fault. He won't change, and that's exactly why Virginia Tech must.