Parity.
It is the six-letter word that has come to define the contentious debate about the state of college football. We read about it ad nauseam. "The Rich are Richer than Ever..." "Highest-rated [Alabama recruiting] class ever might get better." "Is Georgia's two-year run the best ever?"
At the upper echelon of college football, success is highly correlated with recruiting rankings. There is no getting around this. Teams like Alabama and Georgia dominate the sport because they accumulate the most talent — more, in fact, than they ever have before. That talent is reflected in recruiting rankings, which are tracked by sites like 247Sports and ESPN.
At the same time, there are some programs that always seem to get the most out of their talent. Who are these programs? And what do they get right that other programs don't?
I ran some numbers and came up with a methodology for evaluating the best development programs in college football — those that consistently do more with less. In doing so, I also identified what I believe are the key ingredients for success through player development. To what degree do recruiting rankings matter? And why do some schools out-perform them?
This is my attempt to answer those questions.
It Ain't That Easy
Winning in football is really, really hard. How hard? Let me illustrate it for you.
Like many of you, March Madness is one of my favorite times of the year. I love the upsets, buzzer-beaters, and, well, the madness. Say what you want about the lack of parity in college football; there is certainly no such shortage in college basketball, which features a new champion almost every year and where mid-majors like Florida Atlantic and San Diego State regularly make the Final Four.
By contrast, since the introduction of the College Football Playoff in 2014, 78% of the available playoff spots have gone to just five programs. There has not been a first-time national football champion since Florida in 1996. From a statistician's perspective, this does not make sense. We would expect football to have more parity, primarily because of the short season length: the fewer the games, the more random the outcomes.
But that's not the case. Why? It's a function of how recruiting translates differently to success, which I boiled down to two basic principles.
1) In college basketball, there is no recruiting benchmark required to win a national title.
In football, the requirements for winning a national title are clearly defined: you must have a blue-chip ratio over 50%, and you must average roughly a top-15 recruiting class over the previous four years. This litmus test has held up for nearly two decades.
By contrast, the two most recent basketball champions — UConn and Baylor — ranked outside the top-50 in 247Sports Composite talent. Of the last three basketball champions, none had a five-star recruit on their roster. You certainly need a handful of top-100 recruits to win a title. But basketball recruiting benchmarks change every year, which means they don't matter very much.
2) Football recruiting rankings are mostly predetermined.
We tend to associate recruiting rankings with coaches: a good coach will recruit highly-rated players, and a bad coach will recruit lowly-rated ones. But from a pure rankings perspective, there is incredibly little variation in football recruiting classes within programs over time. Most programs have a rigidly defined recruiting ceiling and floor that transcends coaching staffs, win-loss record, and many other variables.
This presents a challenge for the plebeians of college football; that is, the preconditions for success are highly exclusive. To win a championship requires an elite level of recruiting that most programs will simply never achieve.
And this phenomenon holds true not just if you want to be a championship program, but merely compete at a top-15 or top-25 level, too. In short, the "coaching and player development" route provides a much easier path to winning at a high level in basketball than football. (Perhaps this is due to the lack of a one-and-done rule in football, and the fact that it's just easier to develop 4-5 players than it is to develop 40 players.)
So doing "more with less" in football is hard. But it's not impossible. We know this because there are several programs that do it really well, and we're going to take a look at them.
The Best Development Programs
Who gets the most out of their talent? To measure this, I looked at the end-of-season SP+ rankings (to account for strength of schedule) and compared it to a team's composite talent ranking on 247Sports, going back to 2017. Using a simple linear regression, I spit out a "development rating" (far right column) that shows how many "adjusted" points per game a team performs relative to expectation based on their recruiting.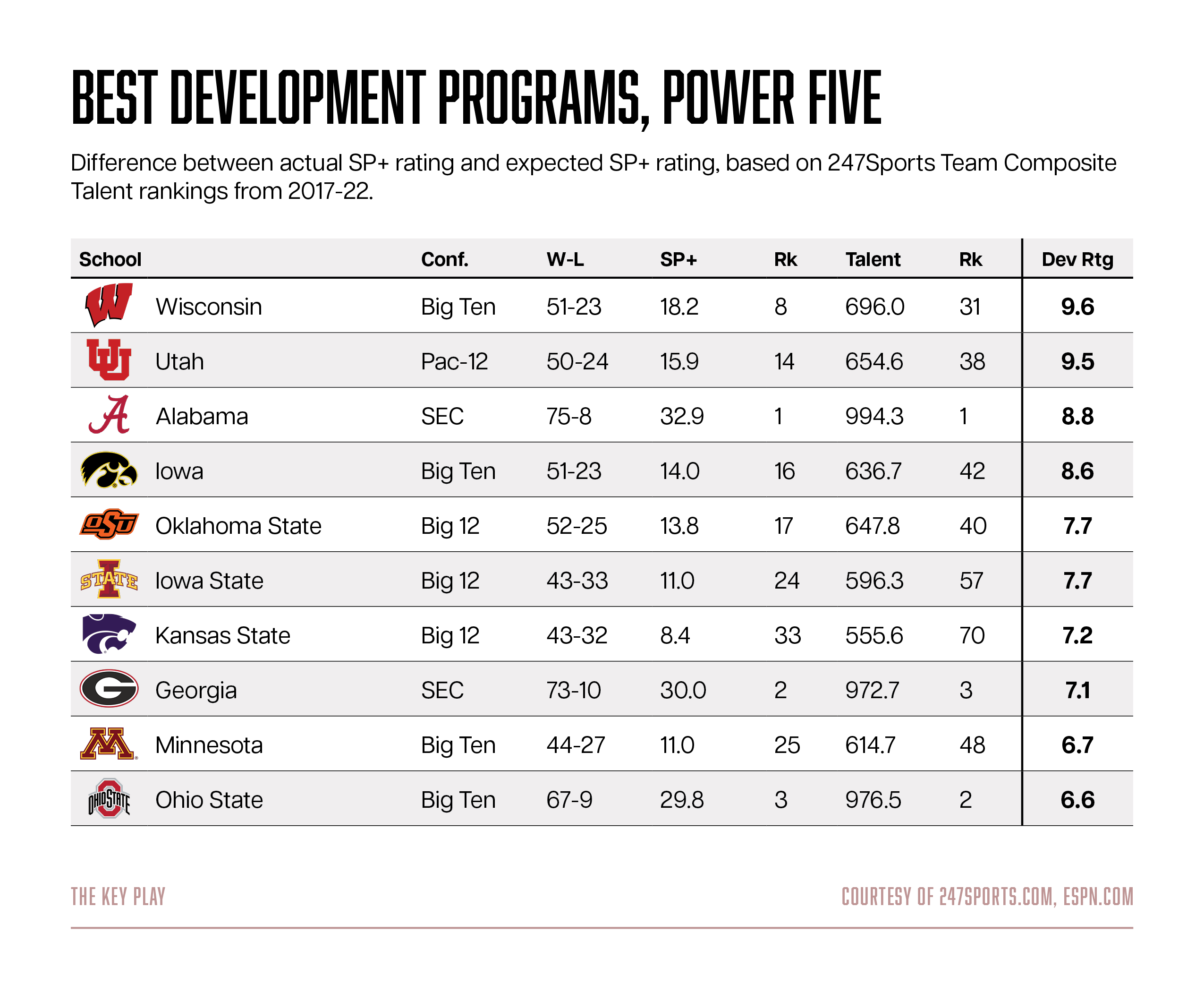 To no surprise, Wisconsin gets the most out of their talent, followed by Utah, Alabama, and Iowa. As with any metric, it's not perfect, but it does give you a good feel for who the biggest overachievers are.
What are the key ingredients to being a good developmental program? First, let's be clear: every program's success starts and ends with the head coach. If you do not get the head coaching hire right, nothing else matters. But beyond that, I identified three major factors.
1. Coaching continuity
The average tenure for each head coach on this list is 10 years. Kirk Ferentz (24 years) and Mike Gundy (17) are the two longest-tenured head coaches in the FBS. Continuity on the assistant staff is just as important: at Iowa, defensive coordinator Phil Parker has been on board just as long as Ferentz, and both Oklahoma State and Utah have veteran strength coaches that have become synonymous with their respective programs.
The longer a coach has been at a school, the more time they have to establish relationships with high school coaches in their state. Longevity, combined with success, is a huge selling point on the recruiting trail.
2. Recruiting Identity
"Identity" is a chalkboard slogan that every coach will preach, but what it looks like in practice is harder to picture.
Utah might be the best example of having a clear recruiting identity that translates to success. In any given year, their roster is composed of roughly one-third Polynesian players, who happen to be the most overrepresented ethnic group in the NFL. (By one account, Samoans boys are 56 times more likely to play pro football than their American-born counterparts).
That pipeline has forged Utah's identity of physical, smash-mouth football teams that win games by dominating the line of scrimmage. It's also created a tight-knit cross-cultural bond that few other programs can rival.
3. Institutional Alignment
Institutional alignment means having your school administration, athletic department, and coaching staff be on the same page with regards to what the program needs to be successful. It is perhaps the most overlooked component to winning. So again we should ask: what does it look like in practice?
To give one example, I recently read an article that delved into how UCF — the newest member of the Big 12 — elevated their football program over the past decade to earn a bid to a Power Five conference. As UCF moved up, their rival South Florida was left stranded in a watered-down American Athletic Conference.
It wasn't always this way. South Florida used to be the preeminent program in the rivalry, and would've been far more attractive to a Power Five conference even 15 years ago. What changed?
Across the board, UCF invested in facilities, bumped up coaching salaries, and created a direct-support organization to streamline athletics. There was a clear emphasis on football from both the athletic department and university president.
At South Florida, coaches had to beg for many of those infrastructure upgrades.
UCF also made consistent coaching hires, tabbing coaches like Scott Frost, Josh Huepel and Gus Malzahn — all offensive minds with up-tempo systems. That allowed them to maintain stability in coaching transitions and avoid prolonged rebuilds. In contrast, South Florida's coaching hires were fairly incongruent in terms of scheme — from the Gulf Coast offense of Willie Taggart to an old-school defensive mind in Charlie Strong to a first-year head whistle in Jeff Scott — which necessitated a large-scale rebuilding project from Day One.
Thus, when assessing the growth of UCF, we would be wise to look beyond just the head coaching hires. Sure, the Knights hired great coaches who won them a lot of games. But they hired coaches who fit a specific identity, allowing them to maintain success across hires, while their athletic administration supported football from the top down.
(For the record, UCF would've finished 10th on this list if I had included Group of Five programs. Among that top-10, only one other program — Appalachian State — did so across three different coaching staffs.)
Finally, there are three teams on this list that might seem a little surprising: Alabama, Georgia, and Ohio State. What gives? Simple: they are just that good. Bear in mind that just because you recruit elite talent doesn't mean you can't also be elite at developing said talent. After all, Georgia won back-to-back national championships with a former walk-on quarterback. When you combine great players with great coaching, dynasties are usually the end-result.
If you take away anything from this piece, it should be how coaches like Nick Saban and Kirby Smart make winning look way easier than it actually is. It's never that easy — at least it shouldn't be.
What's the Plan For Brent Pry?
Since this is indeed a Virginia Tech blog, I thought it might be worthwhile to discuss how the lessons learned from this study apply to the Hokies. First, let's take a step back in time.
In 2001, Virginia Tech had the third-highest paid coaching staff in the country. Former Virginia Tech athletics director Jim Weaver greatly enhanced the school's facilities, overseeing a new football locker room and a massive expansion of Lane Stadium. During the early 2000s, there were few programs in America more committed to investing in football than Virginia Tech.
As for Beamer, he won so many games because he surrounded himself with an excellent staff. Take a gander at the 2004 Virginia Tech football media guide. The average tenure for Beamer's assistants that season was 10 years. Half of those assistants had previous Power Five experience. On the recruiting front, Jim Cavanaugh and Bryan Stinespring were arguably the two best recruiters in program history, locking down Richmond and Hampton Roads. They helped Virginia Tech dominate in-state recruiting: in 2005, 20 of the Hokies' 22 starters were from the Commonwealth.
Beamer's heyday checked every box on our list: coaching continuity, recruiting identity, and institutional alignment.
Fast forward to today. How are things going? Not as great as they once were, but a lot better than they used to be.
Let's start with recruiting. It has been written before that Brent Pry wants to recruit the state of Virginia, as well as a six-hour radius from Blacksburg. I think it would be more prudent to focus on the "six-hour radius" part than the Virginia part. Over the last few years, the state of North Carolina has actually outpaced Virginia in population growth, as parts of NOVA and the 757 have stagnated. This partly explains why, since 2020, the Tar Heel state has produced almost twice as many NFL Draft picks as Virginia has. Among four key mid-atlantic recruiting states — Virginia, North Carolina, Tennessee, and Maryland — Virginia has produced the fewest draft picks.
So recruiting the Commonwealth matters, but it can't be everything, like it was in 2005. Pry is surely aware of this, which is why his 2024 recruiting class features marquee commitments from each of those states listed.
As for institutional alignment, this is an area where Virginia Tech is in a far better spot than they were at any point during the 2010s, making upgrades to their support staff, coaching salaries, and facilities. Granted, in the age of NIL, it's hard to say how much these things matter; there is certainly a point of diminishing returns with support staff, and facilities upgrades can only go so far. But they aren't playing catch-up like they once were.
But to demonstrate how Pry has assimilated to Virginia Tech as an institution, I can offer one anecdote. In January, the Virginia Tech coaching staff went all-out on Signing Day, staging a mock draft where they brought in every signee and their family onto a Zoom call to be recognized by the staff. The social media team did a fantastic job marketing the event. For Pry, it showed how much he was invested in the relationship aspect of recruiting.
Pry's predecessor, in contrast, could not have cared less about Signing Day. For him, it was just another Wednesday. His only comments on the players came in routine press conferences. In fact, a former Tech worker once told me how deflating it was to spend an entire year working on a recruiting class, only to see the head coach give almost zero public recognition to the efforts by everyone involved.
I'm not here to give a lovey-dovey treatise about how Pry's affability and southern charm is going to win football games (we saw last year how quickly the "new coach" smell can turn rancid). But Pry has now checked two of our boxes for program success, and with time he can check a third. He fits the culture. He has an identifiable recruiting strategy. The administration is investing in the places where it needs to.
In other words, Pry is winning off the field. The hope is that he can start winning on it, too.