The Big Eleventy is a made-up conference that's composed of all of the teams that have been ranked more than half of the last two decades. The name "The Big Eleventy" is both a nod to common FBS naming conventions, and those "Big" conferences' failure to accurately track their memberships in their titles.
Once conference membership is determined, I break down a bunch of statistical comparisons among the 20-or-so member schools. As each new season is added, the season from 20 years ago is booted out.
This season we bid adieu to the year 2000.
Can you imagine... Where you will be... In the Year 2000?
The USA College Football Encyclopedia has the following title for the 2000 football season: "The year of Oklahoma's new millennium, Stupid Computer picks, and Northwest Surprises". Indeed, the Sooners took home the national title that season. And Bobby Bowden, when pressed for comment prior to finding out if his Seminoles would play against the Sooners in the Orange Bowl, stated "I hope that stupid computer picks this thing, because it's dumb enough to pick us". This sentiment proved accurate.
With the exception of the pre-season AP poll, the Hokies were ranked in the Top 10 the entire season. The Hokies spent the month of October ranked #2. As far as the round robin (below) trade-off is concerned, Tech drops a forgettable loss to Miami, and also drops a win over Clemson in the Gator Bowl.
Membership Changes: 2020
When I ran the numbers for the conference in 2019, two teams were on the bubble and needed to stay in the poll almost the entire season to stay in the conference: Miami and Nebraska.
Only Miami managed to do that. Nebraska, a team that in 2001 had managed to stay in the AP poll for 20 years in a row, is now below the 50% membership threshold. They won't be eligible for re-entry until 2024 at the earliest.
TCU didn't have as high of a bar to clear, but they didn't make the AP poll at any point this season so they dropped out as well. If they can stay in the poll for >3/4 of next season, they'll rejoin the Big Eleventy next season.
Just Missed the Cut
The following list are teams ranked >40%, listed after their next potential season to join:
2021 Oklahoma State – 49.3%, Texas Christian 46.1%, Penn State – 45.2%
2022 West Virginia – 44.4%
2023 Texas A&M – 41.2%, Stanford – 40.2%
Teams on the Bubble
The following list are teams ranked <60%, listed after next potential season to drop:
2021 Miami – 50.9%
2022 Virginia Tech – 58.7%
2023 Boise State – 54.7%, Notre Dame – 57.5%
2024 Auburn – 56.7%
Creating the 2020 Big Eleventy
It's become something of a tradition to eke out the numbers of the Big Eleventy each year. Of concern this season was how to determine the percentage of time ranked for each team. Not only were several conferences not even considered in the week 1 and 2 AP polls, countless postponements, cancellations, and rescheduled games were dizzying to track. So while I added nothing new (statistically) to track this season, the tracking mechanism itself is hereby simplified going forward — no more dropping out bye weeks.
In typical pandemic year fashion, I worked exclusively on a totally different (and much more extensive) statistics project until Joe reminded me about doing the Big Eleventy a couple months back. I responded something cool like "Nah, I don't even think I'm going to run the Big Eleventy this year". Regardless of the big game I talked, I'm no badass — just a statistics nerd and I got to work right away on it.
Regardless of our experiences or worldly palates, it seems like everybody agrees that some element of "dumpster fire" comes up when sampling a bite of 2020. Not really even creative, but I did that instead.
Rankings
When I started doing this exercise, Virginia Tech was right in the middle of most of these comparisons. With the loss of the seasons from the mid-90's to 2000, and not as many impressive seasons to replace them, it's not a surprise to see the Hokies are falling off a bit.
The Hokies have been ranked the entirety of 7 seasons over the past two decades. They have been absent from the poll altogether only once (2015). The Hokies have actually both started and finished in the Top 10 quite a lot over the last 10 seasons, and that's the most impressive stat for the Hokies on this chart (Ranked #11 of 18).
Wins & Losses
Virginia Tech manages to have a pretty respectable Winning percentages when averaged over the past 20 seasons. It's no secret that the Hokies record against Top-10 teams is where things start to get shaky. There's not a great record in Bowls to share, either (8-11); and the Hokies only shot at a National Title was 21 years ago now; it dropped off last season.
Round Robin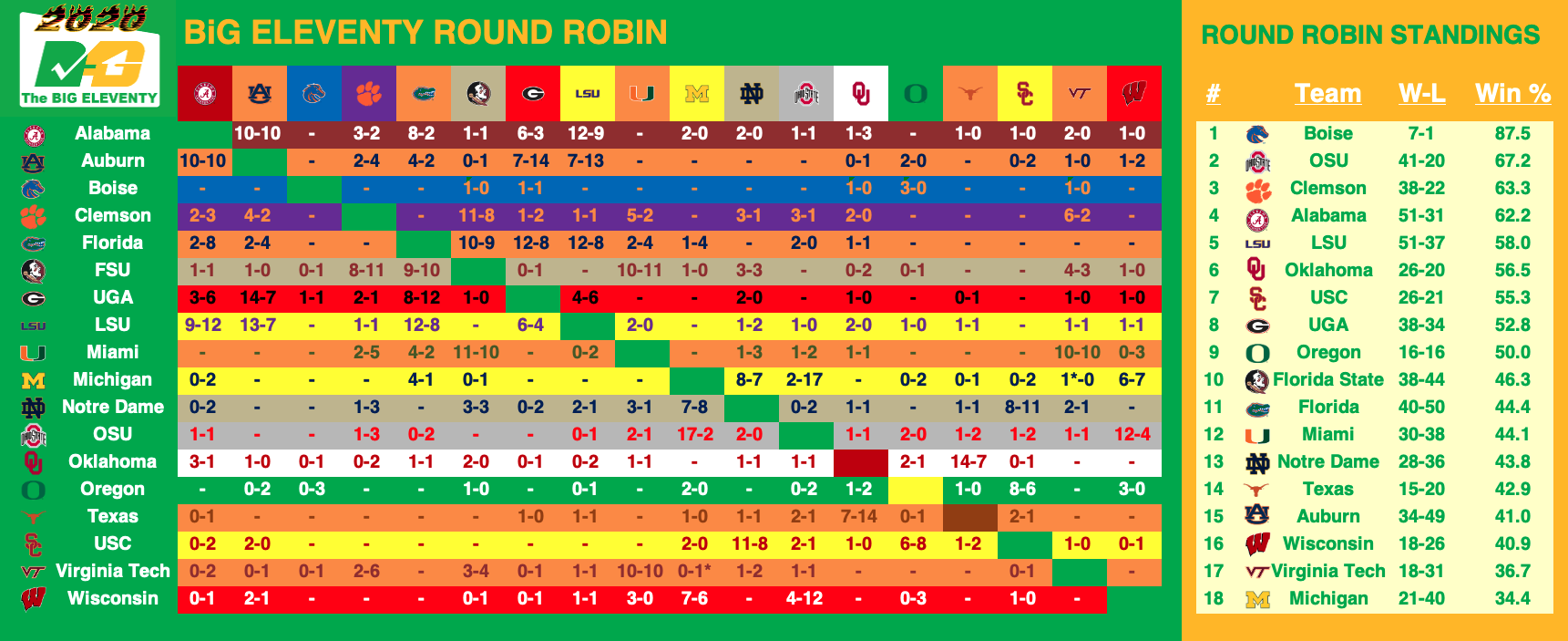 As the Hokies record vs these common opponents go, it is bizarre to see that teams Tech did well against (Nebraska, Tennessee) dropped out of the Big Eleventy. Meanwhile, the Hokies lost their lone contest against newcomer Boise State. It's interesting how these things shake out. Tech's a respectable 10-10 against Miami, but they're likely to drop out sometime in the next season or two as well.
Metric and Recruiting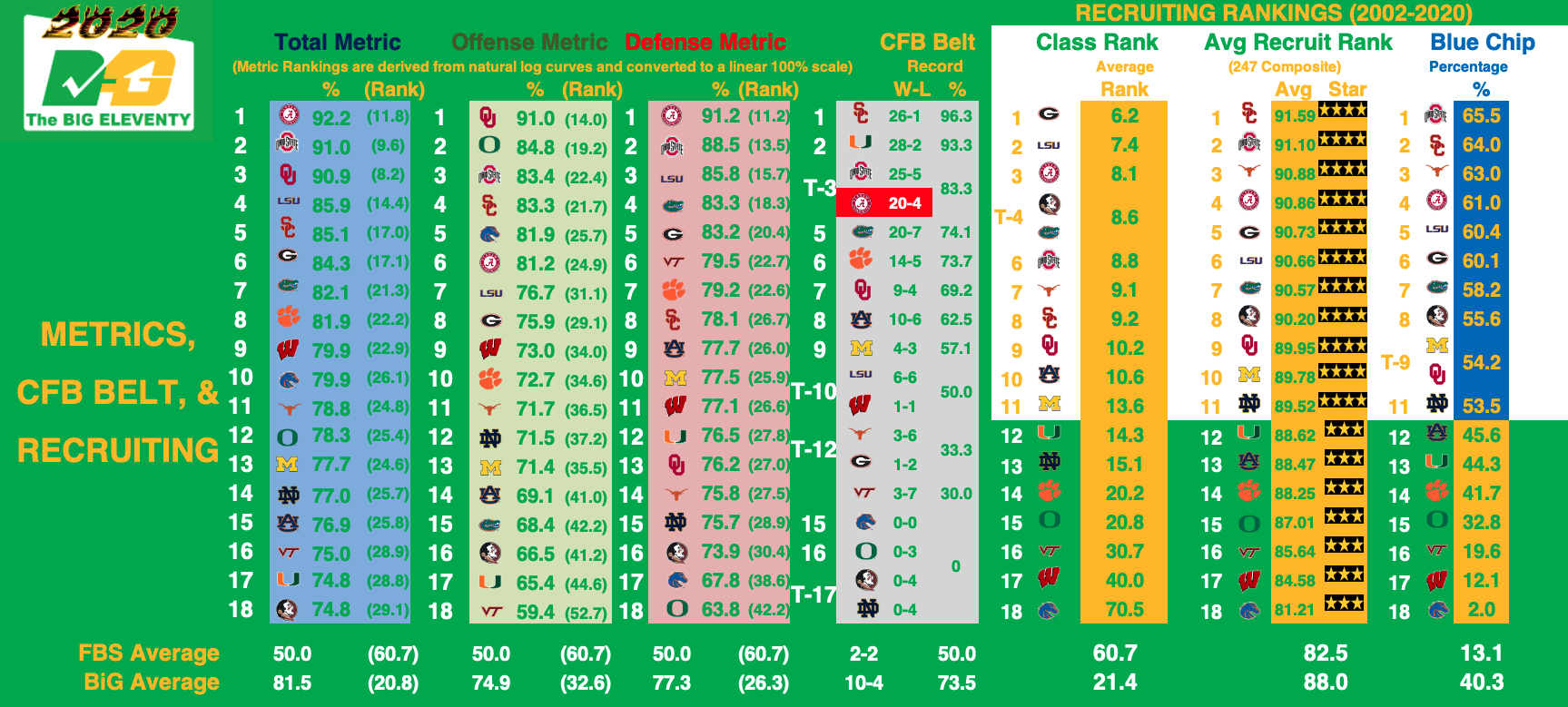 While the first three charts have given an overall pessimistic view of how the Hokies are doing with regard to these peers, the last chart kind of gives us the "why".
Virginia Tech has never been much of an offensive power; a dead last finish isn't likely to come as much of a surprise or ruffle any Hokie fans' feathers. Unfortunately, Virginia Tech's beginning to drop off in defensive standing (5th after 2018 and 6th last year as well).
The recruiting rankings, however, are sobering. The Hokies never really recruited at the level of most of these schools; they pretty much split with peers Oregon and Wisconsin with ~20% blue chip recruits over the years.
There aren't many schools in the Big Eleventy that don't attract a high number of blue-chip recruits. There are a few programs that do well with recruits and aren't ranked half of the time, either (Penn State, several SEC schools, UCLA, etc...).
For schools to succeed without the ability to attract top recruits, a lot of things have to click to have sustained success.
Frank Beamer had the foresight to eschew transfers and Junior College players in favor of selecting a ton of Prep players and utilizing the redshirt like some kind of fashion statement it was never meant to be.
This helped the Hokies overcome their talent deficit — playing with more established veteran players. It also didn't hurt that he employed the best Defensive Coordinator in the land for two and a half decades.
Justin Fuente can't really follow Frank Beamer's blueprint; there have been few FBS-level players coming out of prep schools since about 2015. And Bud Foster has retired; while the offense has improved it definitely hasn't been successful enough to compensate for that.
It remains to be seen how the next season will shake out; but for any chance at remaining in the Big Eleventy long term, Virginia Tech needs to find their spark and exceed expectations more often than not.
Previous editions of the Big Eleventy series: 2019, 2018 (plus the Entire AP Poll Era), 2017, and 2016.