LULZ
1-0. I cannot tell you how good that feels to write. Again, we're one-and-zero. That hasn't happened since 2008, but you don't need me to remind you of that. You were there for the losses, and you felt the pain and frustration. It's been a disappointing start to the last three years of Hokie football. But today, we got off on the right foot, finally. I'm ecstatic.
I hope this post will be a place where we can share all of our thoughts from the game. Mine are as follows:
-- The offense didn't look that much different than those called by Stinespring, but the execution was that much better. Rolling up 518 yards is all well and good, but not turning over the rock once, especially when the game was over two minutes into the second quarter, shows me the focus was there.
-- Logan had just an OK debut. His numbers were average, and he didn't make any costly mistakes, but he missed some wide open guys, over threw some balls, and fired some lasers when touch was needed. Tomorrow though, the only thing I'l remember is him lowering his shoulder and trucking some mountain-man back to Appalachia.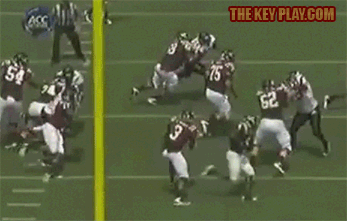 -- Gayle is going to live up to the hype. He dominated the line of scrimmage.