By:

Joe Lanza
on November 27, 2010, 3:53 PM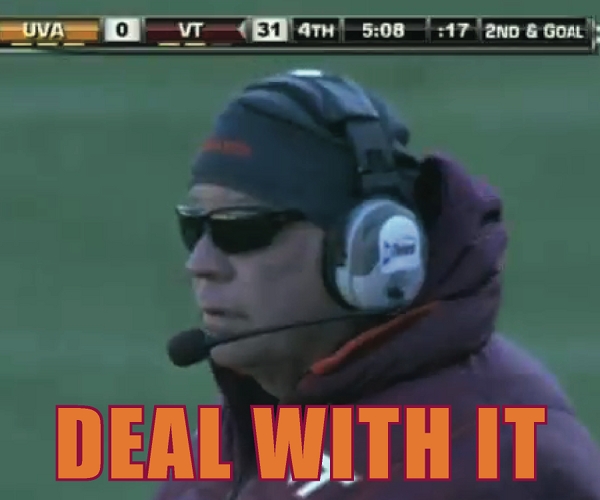 Billy Hite doesn't want to hear your excuses Hoos.
We completely dominated UVa. We held the Hoos to 291 total yards. Our running game was unstoppable: 201 yards and 4 scores among Wilson, Evans, Williams and Tyrod.
Kyle Fuller went hammin'. As well as Jayron has played this season, I have been more impressed with Fuller in the secondary because he's a true freshman and appears to be the real deal. He's played whip, corner and nickel and hasn't disappointed. He's got the brains and the open field tackling skills. He finished with ten tackles and two pass breakups.
DRAGERBOMB'D. We got a lot pressure with the front four: Chris Drager, Derrick Hopkins, Dwight Tucker and J.R. Collins all had sacks. On a somewhat related note Mike London must have taught left tackle Morgan Moses his letters and numbers.
We got stops when they matted the most on third and fourth downs, and inside the red zone. UVa only converted 1 of 12 third downs and 0 of 3 fourth downs.
Congratulations to Tyrod Taylor for becoming the Hokies all-time career passing leader with 6,356 yards (and counting), and to the seniors for going 4-0 against UVA. It's not time to get too mushy yet.